You know nothing about the talent of iChun Util's creator
 If you are a longtime and professional Minecraft player, you don't need help to know iChun Util. iChun Util stands for iChun Utillities which is a Mod programmed to support starting the same author's modules such as PortalGun, Sync, Back Tools Mod, Minecraft Morph Mod and GraviGun. iChun Util is a library of shared classes among all iChun's mods.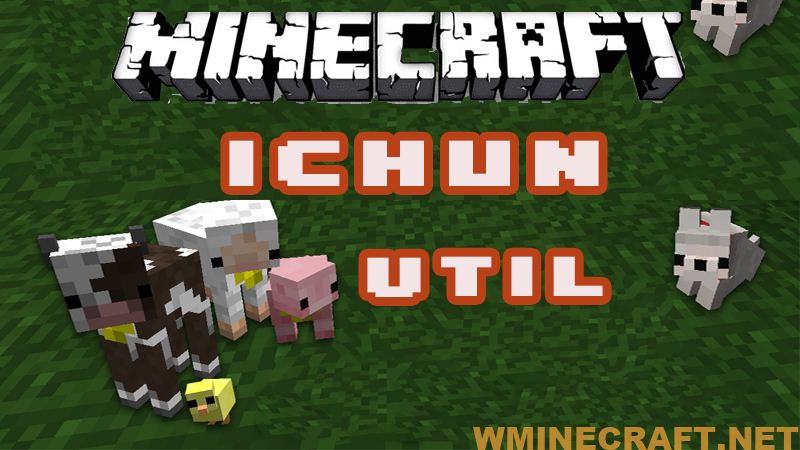 What do you know about iChun Util?
iChun Util Mod is a shared library required by some iChun Mods. Made for Minecraft 1.5 and up. iChun is a mod developer. Despite having many talents, quite a few people know it. If you are wondering why is that, simply because most of your mods are accidentally programmed by him. They are often very small in size and have no specific or precise purpose.
At a glance, you will see that all iChun mods are quite simple for the user. But to program these mods is not easy, because the way these mods operate changes and has a direct impact on the environment in the game. This not only changes or adds items, mobs, blocks, iChun mods have to interact with everything even in the environment of other mods without causing conflicts. This means that the compatibility of these mods must always be absolute. Creating these mods seems difficult but extremely simple for the author, who created it. Because the results of the mods he created have proved this.
However, iChun's real talent was shined and recognized after his work programmed by one of the famous youtubers in Minecraft world. SkyDoesMinecraft made a Video Mod Spotlight introducing the mod iChun's Portal Gun. Since then, iChun's mods have been more known and applied more.
Relative Post:
Download Gravity Gun Mod 1.14/1.12.2 and 1.10.2 – Half-Life 2 Guns
Portal Gun Mod 1.14.4/1.12.2 and 1.10.2
Useful Backpacks Mod 1.16.4-1.15.2 Minecraft – More boxes
IChun Util versions and functions updated
iChunUtil version 6.1.0
– Fixed bug with EntityLishedRenderer.
– Added Angelic as Guardian effect.
– Added a new Easter Egg.
– Change the structure code.
iChunUtil version 6.1.1
Fixed an issue caused by a thread conflict between the network stream and the main thread, causing a crash in both iChunUtil and other mods (such as IC2)
Fixed a bug where it was not possible to create compact stores on dedicated servers.
– Some tweaks to iChunUtil's EntityBlock, including API events and changes. Not currently used by any AFAIK mod.
– Change the registered name of Compact Porkchop to match Minecraft's property naming convention.
– Large code cleanup and refactoring. Java 8 also used cleverly in terms of code and is now becoming a tricky request.
iChunUtil version 6.3.1
– Fixed a server problem with World Portal
The dump code is updated to match 1.10.2. Some of the World Gate's render artifacts can be reduced
iChunUtil version 6.3.2
– Correctly implement some shader tools to improve performance.
– Fixed random twins of particles causing some crashes with other mods (and vanilla) when breaking blocks.
– Fixed the failure to use items when the world portal was displayed in the first person perspective.
– Fixed bizarre rendering when holding two items with both hands while displaying the world portal in first person perspective.
– Fixed bug where EULA alerts never show up in disturbed environments.
– Fixed World Portal issue starting the client off the server when a non-player entity entered it.
Showcase:
How to install:
How to Use Forge to Install Minecraft Mods (Client Side)
How To Install The Fabric Mod Loader After Downloading It
The newest Minecraft Mods are available right now.
How to download iChun Util Mod
Minecraft Game version 1.5.2:
Minecraft Game version 1.6.4 – 1.6.2:
Minecraft Game version 1.7.2:
Minecraft Game version 1.7.10:
Minecraft Game version 1.8.0:
Minecraft Game version 1.10.2:
Minecraft Game version 1.12.2 – 1.12.1 – 1.12:
Minecraft Game version 1.15.2:
Minecraft Game version 1.16.1:
Minecraft Game version 1.16.3:
Minecraft Game version 1.16.5:
Author: iChun – Source: Curseforge