The salient features of BuildCraft Mod and how to download BuildCraft Mod
The game industry in the world today is developing quite strongly, the game is bought quite a lot of copyright that makes a fairly popular game client Mod phenomenon. This is one of the terminologies in the gamer community. And when it comes to the world-famous game mod, it is impossible not to mention BuildCraft Mod for Minecraft. Please join us to learn about BuildCraft Mod and BuildCraft mod download through the article below.
What is the BuildCraft Mod?
BuildCraft Mod is a great game mod and indispensable when playing Minecraft games on the computer. BuildCraft Mod now has two versions: 1.11.2 and 1.12.2, which support automation technology in Minecraft games. This BuildCraft Mod expands the game with modern machinery and tools. Specifically, the mod adds many types of machines and equipment to help players perform tasks automatically, add pipes to transport items, liquids or energy and bring a better experience for players.
See more:
TooManyItems (TMI) for Minecraft 1.12.2/1.8/1.7.10 
Extra Utilities 2 (1.12.2-1.7.10) Download 
Litematica Mod for Minecraft 1.16.5/1.15.2 [With Fabric]
Outstanding features of BuildCraft Mod version 1.16.2 and version 1.12.2
Automation machinery
BuildCraft provides players with a variety of machines, equipped with automation. They need Redstone Flux (RF) power to operate and are powered by one or more engines. Some of the common machines used in Minecraft are ore mining machines, pumps, automated manufacturing tables, refineries, fuel tanks.
Engine
The engine is used to operate machines. You can pull items out of the warehouse with wooden tubes. The engine is turned on when loading the Redstone and accelerates when the machine is hot enough. If the engine is overheated, it may explode.
Pump: The pump will pump liquids and transport them through waterproof pipes.
Automatic board: The machine operates when provided with a recipe and raw material, which will pump out the craft items. A nearby chest will have material pulled out of it for use.
Refinery: When powered by a stirring engine, the oil is slowly converted into fuel, so it is easier for players to have fuel than crafting.
Storage tank: Contain liquid, including lava, water, oil and fuel.
Transport
Pipes are used to transporting items, liquids and strength between inventory. There are 8 different types of tubes each with unique functions, which are Wood, Pebble, Stone, Sandstone, Iron, Gold, Diamond and Obsidian. Pipes can be combined with waterproofing pipes to allow them to produce waterproofing pipes that can transport liquids or red rocks to create Pipes to allow them to transport energy.
Construction
BuildCraft supports the construction of fully automatic buildings, in some cases destroying square blocks at the request of the player.
Gate
Used to detect engine temperature, energy, MJ energy storage, machine status, inventory, pipe items or Redstone signals.
Screenshots: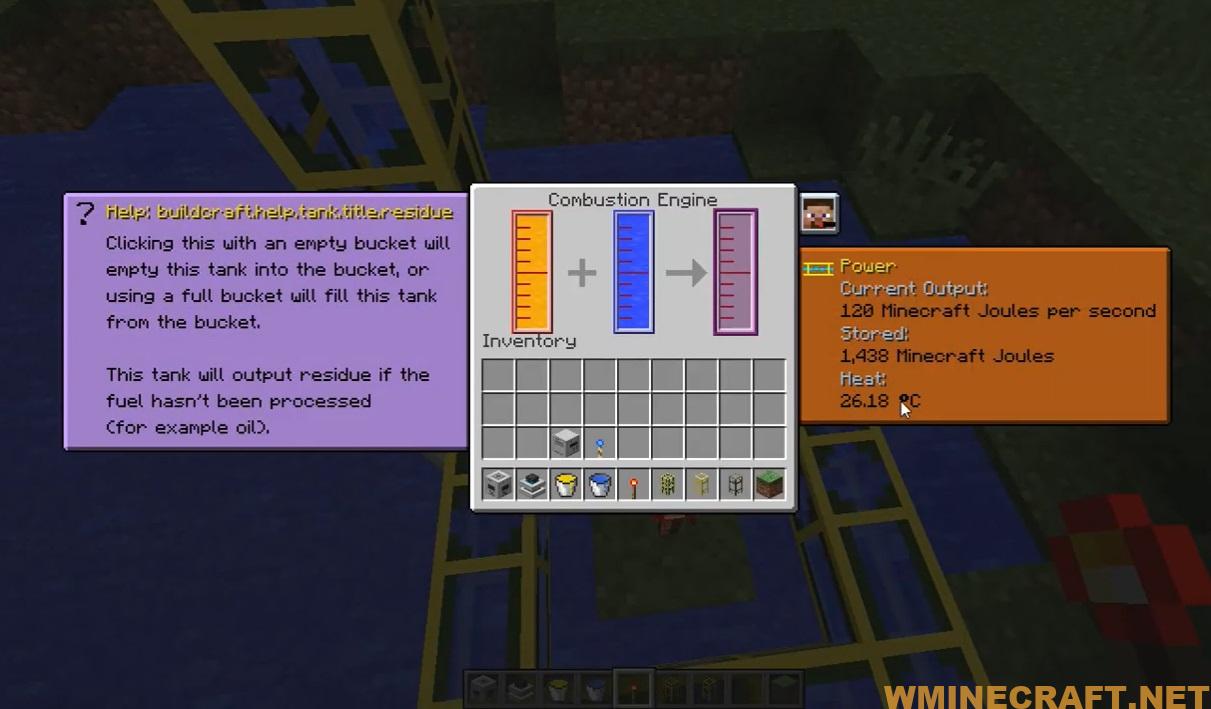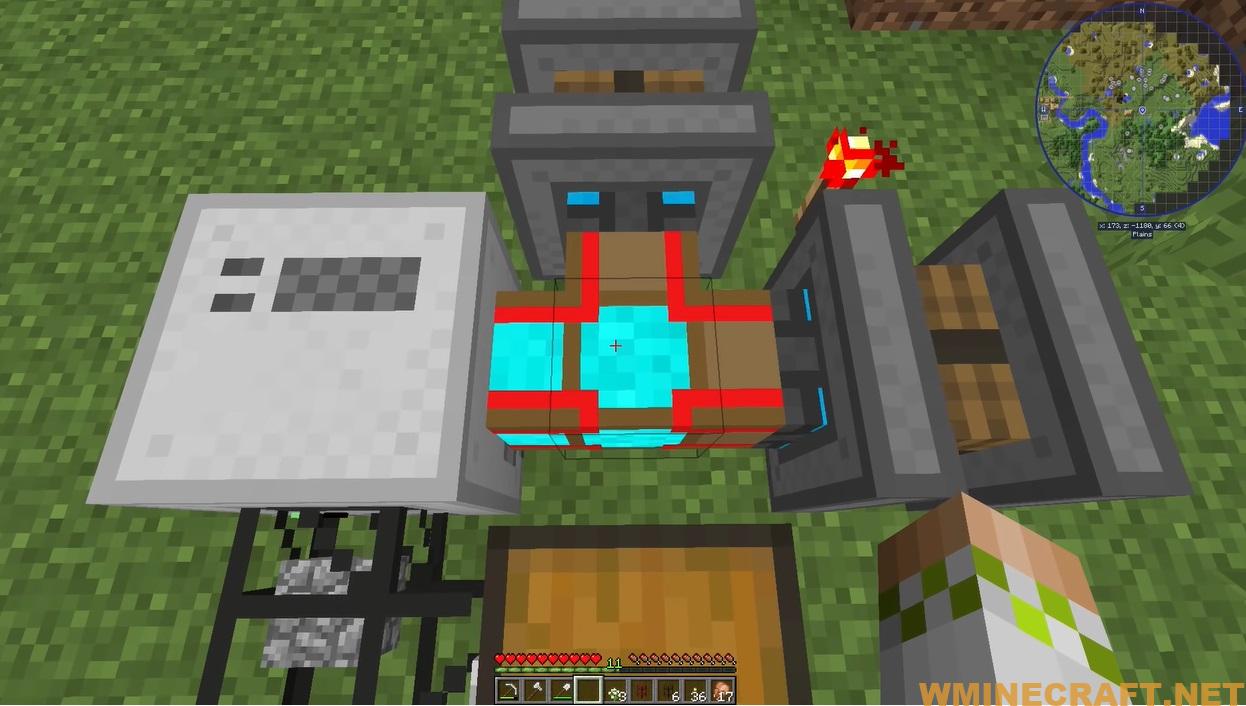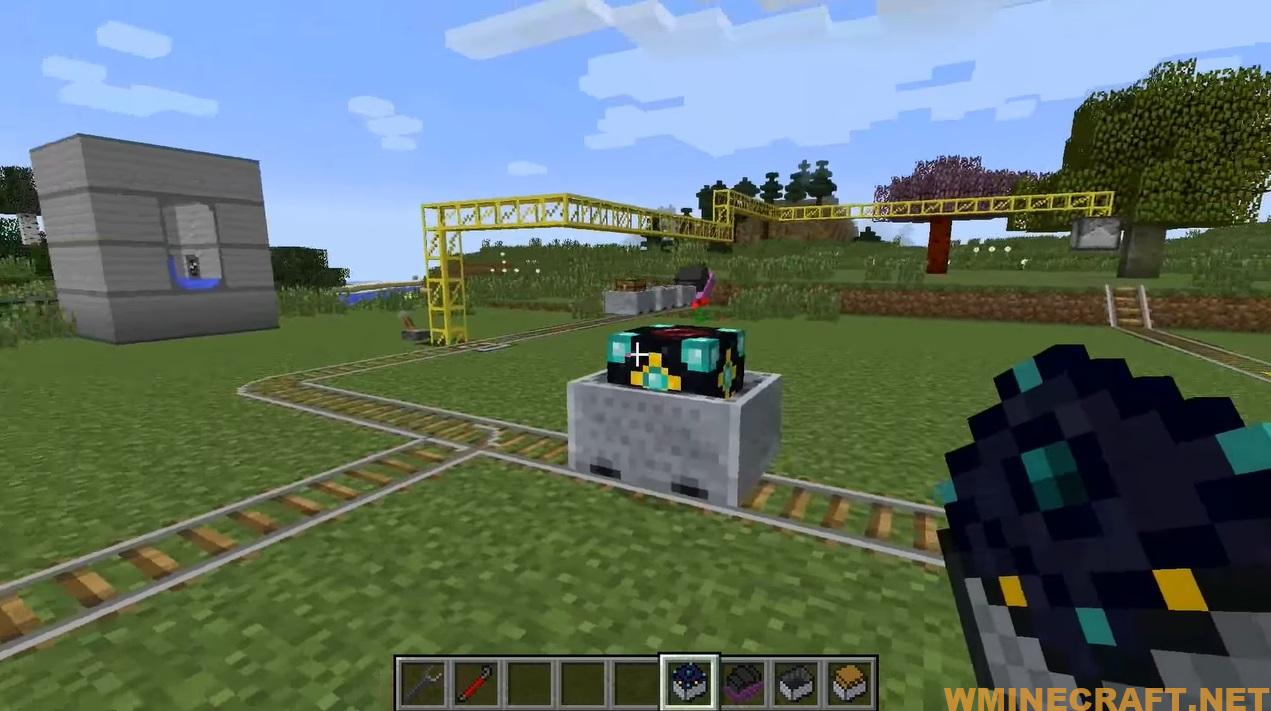 How to install:
How to Use Forge to Install Minecraft Mods (Client Side)
How To Install The Fabric Mod Loader After Downloading It
The newest Minecraft Mods are available right now.
Video Tutorial:
Minecraft Forge (Modding API) Installation Guide
5 steps to successfully install Forge Minecraft
1. Access and Download select Minecraft forge version, then download the installer.
2. Requires installing Java on a computer. Open the .jar file you just downloaded, make sure 'Install Client' is selected, and click the OK button.
3. Run Minecraft and select the Forge profile, then click Play.
4. Select the Minecraft Forge menu on the left and the Mods button below Multiplayer.
5. Successfully, you can enjoy the mod just installed.
BuildCraft Mod Download Links:
Minecraft Game version 1.5.1
Minecraft Game version 1.4.7/1.4.6
Minecraft Game version 1.4.5
Minecraft Game version 1.5.2
Minecraft Game version 1.6.2
Minecraft Game version 1.6.4
Minecraft Game version 1.7.2
Minecraft Game version 1.7.10
Minecraft Game version 1.8.9
Minecraft Game version1.11.2
Minecraft Game version 1.12.2
Minecraft Game version 1.16.2-1.16.1
Link Download : Updating 89%