Free up in Minecraft with Useful Backpacks Mod
Useful Backpacks Mod helps you to add more boxes of objects for Minecraft games. With this interesting mod, you will get 3 more backpacks to comfortably accommodate objects.
Are you passionate about Minecraft open world games? You play the game and you feel your dozens of storage boxes are not good enough when you want to move many objects but are stopped by the chests. So how can you continue to play the game more comfortably? Come to Useful Backpacks Mod, it will help you supplement your Minecraft with 3 different Backpacks so you can unleash your gear. Join us to learn more about Useful Backpacks Mod!
What is Useful Backpacks Mod?
Useful Backpacks Mod is a Minecraft Mod that complements Minecraft 3 Backpacks game to comfortably accommodate furniture, including: Small Backpack is a small backpack, also known as a level 1 backpack of a mod made from 4 leather, 4 any type of wool and 1 string can hold up to 15 player items; Medium Backpack is a medium-sized backpack made of 3 leather, any 4 wool can hold 54 stacks; Finally, the Large Backpack is made up of 2 Medium Backpacks, 3 leather, and 4 types of wool with a capacity of 117 types of inventory.
How do you install Useful Backpacks Mod in Minecraft?
Download and install the recommended Minecraft Forge and Uteamcore! Mod for your Minecraft version. Download the latest mod version for your Minecraft version. Put the .jar file into the mods folder of your Minecraft installation.
Relative Post:
Draylar's Battle Towers Mod [1.16.4-1.15.2] – Tower of Minecraft
Minecraft Backpacks Mod 1.15.2-1.12.2-1.10.2 – Craftable backpacks
Reptile Mod 1.16.3-1.15.2-1.14.4 (Komodo dragons, Spiders, Sheep Minecraft)
Screenshots: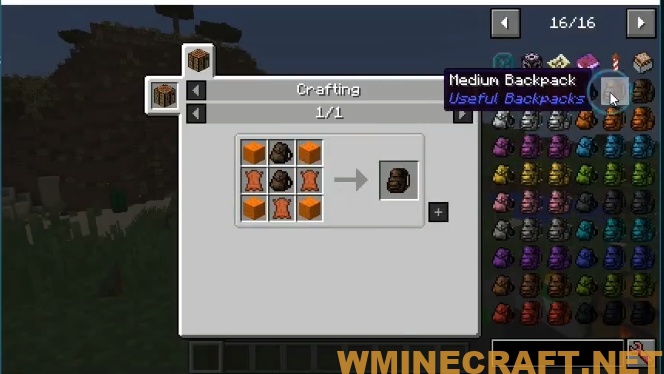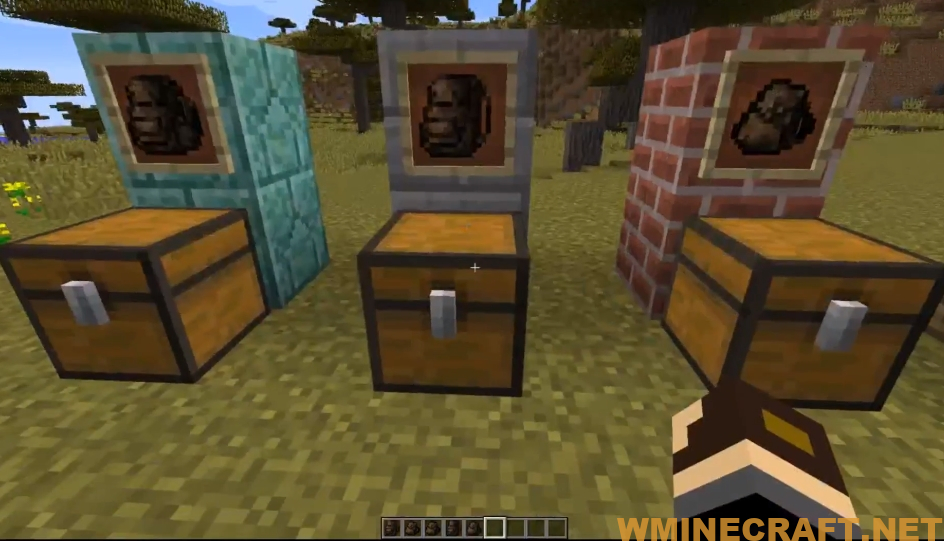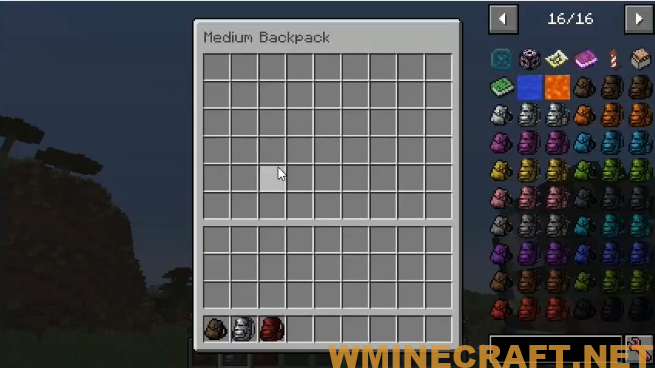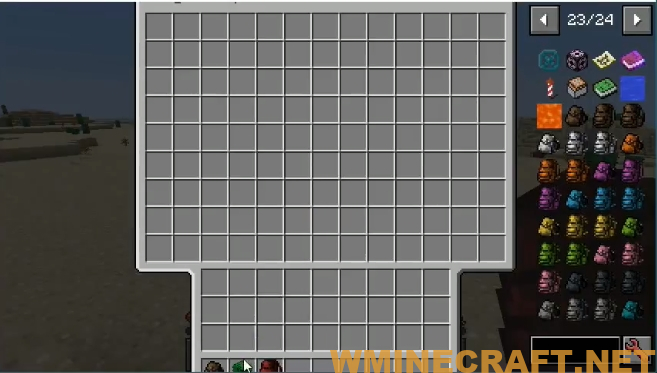 Useful Backpacks Mod allows Minecraft players to carry multiple rucksacks at the same time, changing the colors of the backpacks with the colors available in the game. With Useful Backpacks Mod in particular and other rich mods, your game play will become much more interesting.
Useful Backpacks is a Mod Backpack that gives us a lot more room for the items you can collect. If you are a hardworking person who likes to cultivate and exploit the property. But hate to go home many times to store things when the bag is full, then this is definitely the Mod you will love.
The Backpack levels in Useful Backpacks Mod
In this Mod we will have 3 levels of Backpacks and a total of 17 different colors.
Small Backpack: Small Backpacks is a mod's small backpack, or tier 1 backpack.  It is made of 4 leather, 4 any type of wool and 1 string. Small Backpack can hold 15 stacks of items for you!
Medium Backpack: Medium Backpacks is the mod's medium-sized backpack. Medium Backpack is an upgraded version of the Small Backpack. That is why it's crafting formula will include 2 Small Backpack, 3 leather and 4 any wool. The Medium Backpack can hold up to 54 stacks of items for you!
Large Backpack: Large Backpacks is the ultimate level backpack of the mod! The Large Backpacks are really huge. It can hold up to 117 stacks! The Large Backpacks are made of 2 Medium Backpacks, 3 leather and any 4 types of wool.
Useful Backpacks Mod's crafting recipes in Minecraft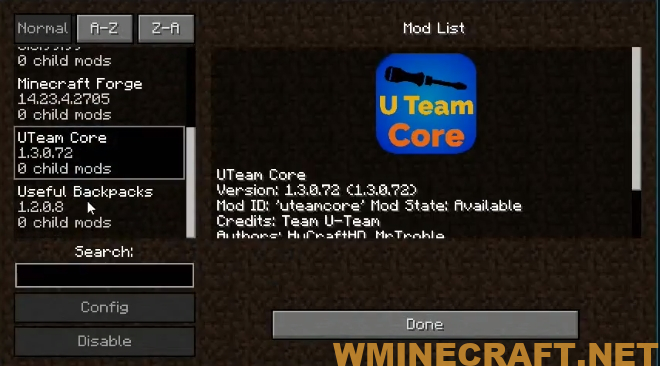 The recipe is quite simple, and the ingredients are not that difficult to find. To get Backpack 1 (Small Backpack) we need 4 wool, 4 leather and 1 color thread, depending on your preferences.
Small
Medium

Large
Mod Requires:
How to install Useful Backpacks Mod for Minecraft
To run this Mod you must first install Minecraft Forge and U Team Core.
Download the mod.

See instructions for downloading and installing Minecraft Forge

After you have installed Forge successfully

Now on the main screen of your computer, hold down the Windows R key

After the frame as you press (% appdata%) and press Enter

Navigate to the Mods folder and copy the downloaded File and Paste into it
I hope that the above comments on Useful Backpacks Mod will be of help to you!
Minecraft Forge (Modding API) Installation Guide
5 steps to successfully install Forge Minecraft
1. Access and Download select Minecraft forge version, then download the installer.
2. Requires installing Java on a computer. Open the .jar file you just downloaded, make sure 'Install Client' is selected, and click the OK button.
3. Run Minecraft and select the Forge profile, then click Play.
4. Select the Minecraft Forge menu on the left and the Mods button below Multiplayer.
5. Successfully, you can enjoy the mod just installed.
How to download Useful Backpacks Mod 1.16.5/1.15.2
Minecraft Game version 1.10.2:
Minecraft Game version 1.12.2:
Minecraft Game version 1.13.2:
Minecraft Game version 1.14.2:
Minecraft Game version 1.14.3:
Minecraft Game version 1.14.4:
Minecraft Game version 1.15.1:
Minecraft Game version 1.15.2:
Minecraft Game version 1.16.1:
Minecraft Game version 1.16.2:
Minecraft Game version 1.16.3:
Minecraft Game version 1.16.4:
Minecraft Game version 1.16.5:
Author: HyCraftHD, U-Team – Rating: 4.64 − 220 votes – 658,655 views – Source: Curseforge