Minecraft is a game all about exploration and creativity. The randomly generated landscapes make every world feel unique, but sometimes you just want to know what you're getting yourself into. That's why we've put together this list of the best Minecraft seeds! These seeds will give you exciting starting points for your next adventure. Whether you're looking for a world filled with mountains and caves, or a lush jungle landscape, we've got you covered. So get ready to start exploring – with these seeds, the possibilities are endless!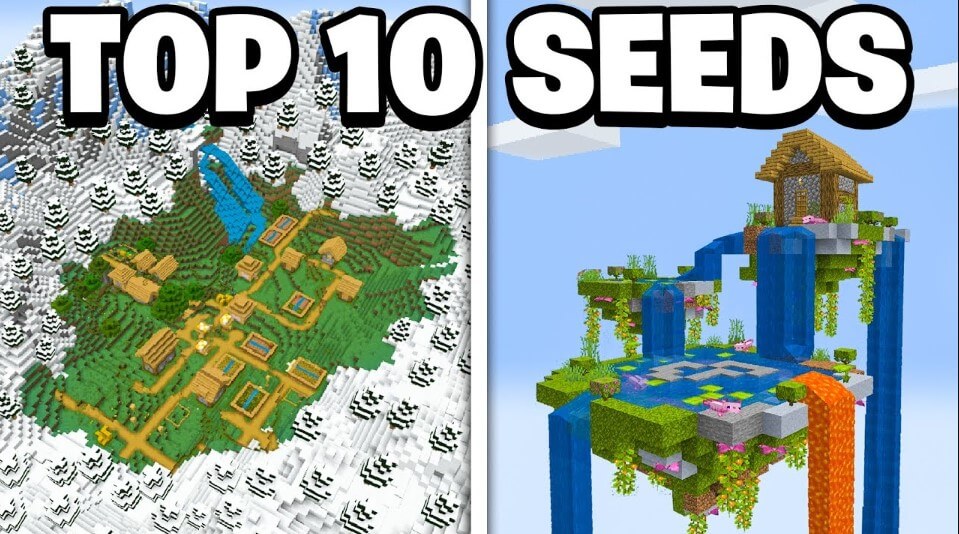 Best Java Seeds for Minecraft 1.19
The King of Java
Seed: 1542201397407325465
This seed was first discovered when Minecraft 1.18 was made available. Due to the wealth of its materials, buildings, and biomes, it soon rose to the top of our list as the greatest Java Minecraft seed. We verified that Minecraft still had all the features we loved it for after the update to 1.19. Additionally, it has been modified to incorporate the most recent biomes and features added in the substantial 1.19 content release. It is one of the best Minecraft seeds we've ever seen as a result of this.
Key Locations

Woodland Mansion: Spawn
Village: -208 -272
Jungle Temple: 648 520
Desert Temple in Mangrove Swamp: 344 1048
Cluster of Ancient Cities: 936 3080
The Island Journey
Seed: -2135836821937050197
With this amazing island seed, you are placed on an island that is more than 3,000 blocks tall and roughly 1,500 blocks wide. There are many different types of biomes and many useful constructions on the island. This island is the ideal location for a multiplayer server because it offers all temperatures. The entire seed feels more like continents because of the distinctive world generation in the surrounding places. For those with creative imaginations, this is a fantastic universe!
Key Locations

Spawn: 1184 -736 (far from world center!)
Village: 1760 -1520
Village: 1664 -336
Ancient City: 1400 -552
Ancient City: 1176 -1144
Historic outposts
Seed: 4621406263537149610
This map is a fantastic seed for you to utilize as we launch Minecraft 1.19 since it offers two Pillager Outposts a short distance from spawn that appear to guard the surface of a long-forgotten evil beneath. People who enjoy immediate challenges with significant rearward progression will adore this universe. With limited supplies, they must first deal with outposts before facing the considerably more difficult mission of destroying the three underground Ancient Cities. Visit the settlement close to spawn if you need a respite from the danger!
Key Locations

Outpost: 288 -224
Outpost: 528 -480
Ancient City: 120 -51 -136
Ancient City: 424 -51 -152
Ancient City: 424 -51 152
Village: 816 -544
Team Jungle
Code: 1559701409609232210
In this world, you birth right next to a line that divides the arid and damp climates, so you'll have plenty of opportunities to thrive right away. Players can reach the Desert after a short trip from the Jungle, where they begin. If you're seeking for biome diversity when you start the Minecraft 1.19 Wilds upgrade, this is the first world to try. There is no shortage of resources because there are plenty of constructions suitable for either climate.
Key Locations

Village: -208 176
Village: -192 -272
Shipwreck: 232 -328
Shipwreck: 424 56
Village: -272 656
Jungle Mansion Spawn
Code: -1499506341495013861
This seed is what we're referring to as our initial idea starter seed for the Minecraft 1.19 Wild Update. Although it isn't especially spectacular, it serves as a good option for gamers that seek a simple spawn and peaceful Roblox experience. You start out in a jungle with a temple there as well. Additionally, you get access to valuable ore directly next to the spawn point through a sizable ravine. The fact that players also begin close to a mansion may be the best aspect, providing them with the ideal challenge!
Key Locatons

Mansion: 344 376
Jungle Temple: 88 88
Village: 112 -464
Ocean Monument: -328 -264
Best Bedrock Seeds for Minecraft 1.19
Seed: 79067
Biodiversity
When the upgrade was initially launched, we regarded this seed as the peak of 1.18 world creation, but since it adapted to the update so well, we decided to include it among the greatest 1.19 Bedrock seeds. The game still has clusters of almost every overworld structure and nearly every biome within a few thousand blocks of spawn, even after the world creation change. Additionally, it includes a few small areas of the Mangrove Swamp biome nearby and a 1,000-block row of many Ancient Cities immediately south of spawn.
Key Locations

Jungle Temple: -168 216
Village: 200 312
Mushroom Island: -400 -400
Pillager Outpost: 472 376
Ancient City: 392 504
The Clash
Seed: 3546842701776989958
You should begin your next Minecraft 1.19 adventure with this seed if you believe that the best Minecraft seeds are those that are impossible to duplicate. A desert village with a Pillager Outpost, Shipwreck, and Desert Temple inside of it has somehow produced next to spawn, making it one of the most perplexing world generation accidents you'll ever see. The newest Biome to be introduced to the game is a Mangrove Swamp, which is also close to where you begin.
Key Locations

The Clash: 205 155
Jungle Temple: 616 -318
Desert Temple: -152 808
Ocean Monument: -216 -792
Biome War Island
Seed: 5890542
This seed places you on a sizable island with a variety of climates and excellent access to the newest Wild Update features. The enormous 2,500-block diameter spawn island has practically every construction and biome added in Minecraft 1.19. It also includes many Outposts and Villages, as well as the majority of biomes from prior upgrades. This island seed made the list of the greatest Bedrock seeds for early 1.19 because nearly every resource in the game is accessible at spawn.
Key Locations

Ancient City: -280 184
Outpost: 488 360
Village: 216 -888
Jungle Temple: 1096 312
Ancient City: 472 40
The View from 1.19
Seed: 5147723731320877628
This seed combines the greatest features of 1.19 and 1.18 by placing you in the Stony Peaks biome, which looks out over a large number of other biomes, numerous buildings, and stunning views. Without ignoring the significant modifications to world creation in 1.18 that made it possible, it actually is the finest seed to take on a complete view of what 1.19 has to offer. You've discovered the perfect map if you're searching to play or design a special adventure.
Key Locations

Cluster of Ancient Cities: Southwest (-X, +Y) of spawn
Badlands: -540 190
Mangrove Swamp: 750 -1800
Village: -432 -70
Village: -768 -704
The Jungle of Eden
Seed: 4923725547689910475
You start off in this planet on the edge of a ring of craggy outcrops that surrounds a lush oasis. If you want a 1.19 seed with a jungle theme, this is a nice map to start with because there are a few Ancient Cities nearby to explore. There is only one Village and at least four Outposts within a 900-block radius of spawn, so you might have your work cut out for you. This map's spawn is an exact representation of the Garden of Eden: seclusion, privacy, and beauty!
Key Locatins

Ancient City: 104 104
Ancient City: -232 -232
Outpost above Anicent City: 88 -680
Outpost: -744 -888
Outpost: -856 -536
Outpost: 360 504
Village: -360 616