First, get the Fabric Mod Loader.
Downloading the Fabric Mod Loader is of course the first step in using it. By clicking the yellow "Download Fabric" button above or by going here, you can access the official Fabric Mod Loader download website. When you land on the Fabric download page, a "Download Installer (Universal/.JAR)" button will be shown. When you click that, Fabric will immediately begin downloading. The file must be saved or kept, depending on your browser.
Open the Fabric Mod Loader Installer in step two.
The true name of the file after Fabric has been downloaded is "fabric-installer." Right-click this file, choose "Open With," choose "Java," and then select "Okay." If you don't have Java, you can go here to access our instruction on how to install Java for Minecraft. The Fabric Installer will open when you accomplish this.
Install Fabric for the desired version of Minecraft in step three.
You can find a version of Minecraft in a drop-down box while the Fabric installer is active. Choose the version of Minecraft you wish to use to play Fabric modifications by clicking here. After ensuring that "create profile" is selected, click "Install." The installation of Fabric has been successful, according to a pop-up that follows. You must play the version of Minecraft that you wish to install Fabric in without any modifications or anything else if Fabric doesn't install properly. Repeat steps 2 and 3 one more time, and Fabric will install!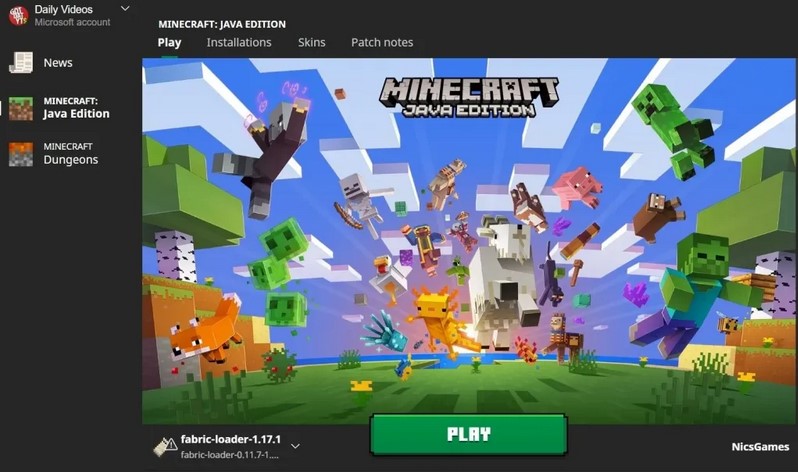 Step 4: Launch Minecraft and choose a fabric
We must confirm that we are playing Minecraft with Fabric after installing Fabric. To achieve this, launch the Minecraft launcher and select the Play button's small arrow. After that, a "Fabric" profile will appear here. Click "Play" after selecting that installation. The Fabric mod loader will then be installed in Minecraft when it launches.
Install certain mods in Step 5.
If you don't have any fabric mods for the fabric mod loader, using it isn't really worth it. So, to get the best Fabric experience, we advise acquiring mods as soon as possible. Make sure the mod you are downloading is for the same version of Minecraft as the Fabric Mod Loader you installed. Each Fabric mod has a distinct download procedure. If not, the mod won't function.
We have a specific video on how to accomplish this here for installing Fabric modifications. But it's really quite simple. Simply hit "R" and the Windows key on your keyboard simultaneously. Run will launch as a result. Enter "%appdata%" into the text field of this app. After that, a.minecraft folder will appear. When you open it, a "mods" folder will appear. If not, make one now! Finally, restart Minecraft after dropping the Fabric modifications you wish to install into this folder. Just make sure to use the Fabric version that you installed to open it. Your Minecraft Fabric mods will already be in-game when it launches!
Enjoy Your Mods in Step 7!
Congratulations! You now understand how to download, set up, and mod the Fabric Mod Loader. Some of the coolest modifications in Minecraft are fabric mods, and they typically update more quickly than mods on other mod loaders. This is excellent if you want to use mods as soon as the most recent version of Minecraft is available.