Storage Drawers Mod
Storage Drawers Mod 1.16.5/1.16.4 and 1.15.2 uses Jabba and Bibliocraft's concepts, culminating in a highly intuitive, lightweight, and stylistic storage approach intended to supplement these mods rather than replacing them. Several of the mod's distinctive features and attributes could also be modified in the setup, such as measurements for base storage and outputs for recipes.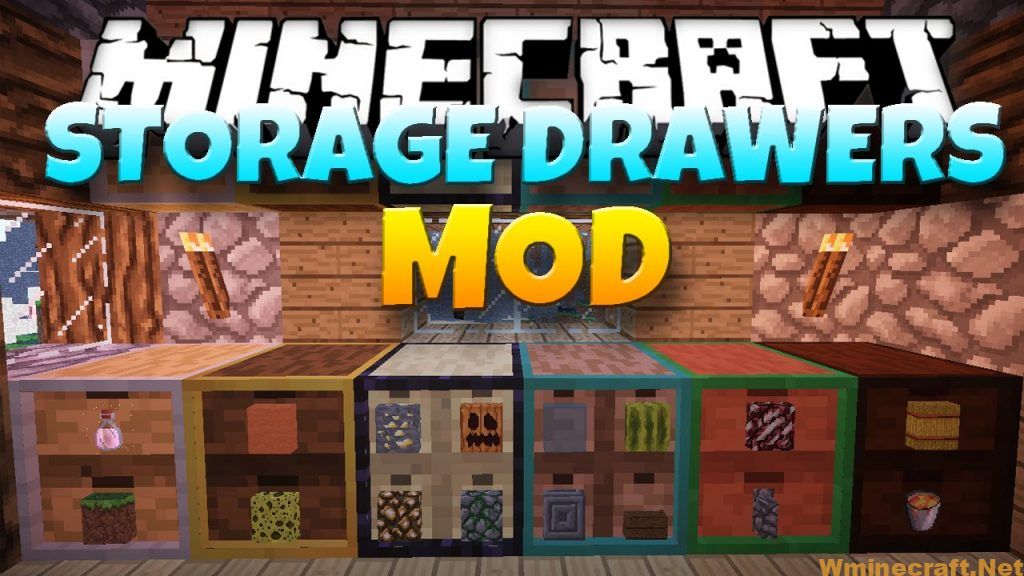 What is Storage Drawers Mod?
In the Storage Drawers Mod Minecraft, storage tools use in-world interfaces to attach and remove things from the inventory.
See more:
Download Falling Tree Mod 1.16.5/1.15.2
Timber Mod 1.16.4/1.15.2/1.14.4
BspkrsCore 1.16.3-1.12.2-1.7.10 – Bspkrs's Minecraft Mods
Of those containers, there is no typical notched inventory. Engagement is identical to Jabba, which is reliant on click inputs. Clicking on one of the front drawers would connect with that drawer. There are also user interfaces for storage systems that can come in handy to display the exact number of items kept in each drawer and to adjust the various potential drawer modifications.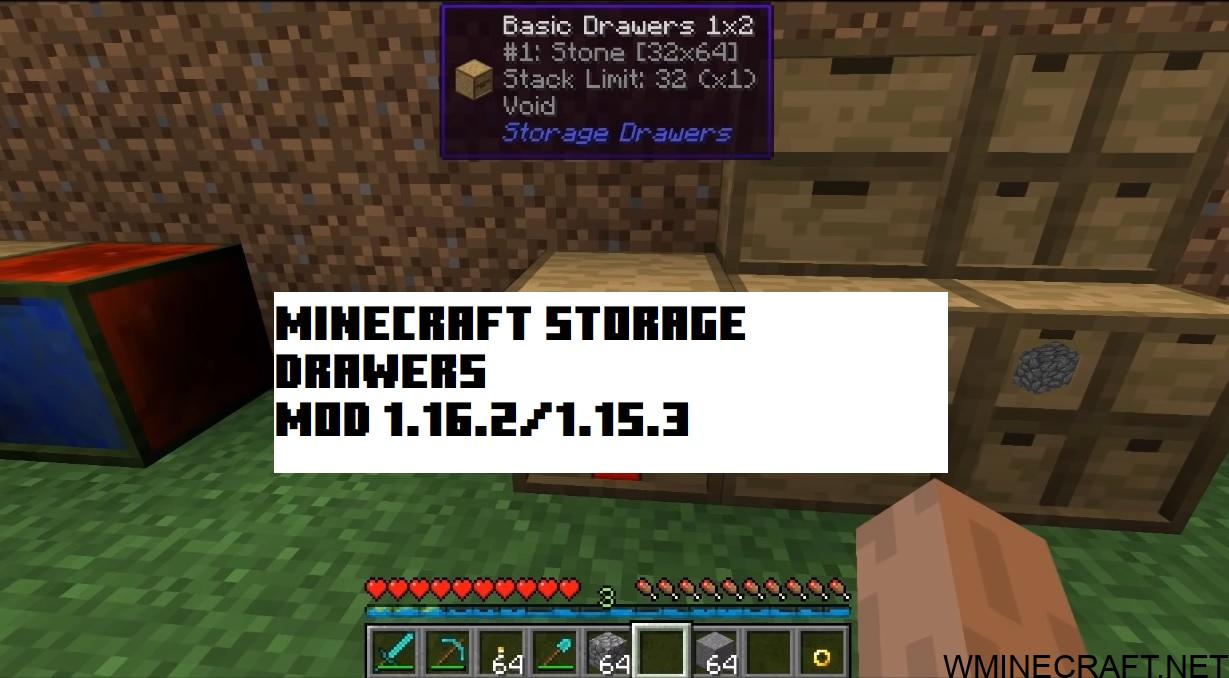 Features:
The wooden drawers in Storage Drawers are the key storage component, available in a wide range of formats and designs. When crafting to get a fitting block, you can choose from several of the Vanilla plank colors.
Upgrades ought not to be implemented sequentially, so you can select the size you want from the beginning. When you need an estimation of how full your drawers are, there are indicator options for putting a fill mark on your drawers.
Compacting Drawers are a unique stone-colored drawer that rather than crafting auto-converts compressible objects. The drawer can hold a collection of the materials internally, and allow you to install or withdraw the content in many forms.
The second special block in the mod is the Drawer Controllers. Inside 12 blocks it will scan for any related drawer, and then show all those drawers as a wide unified inventory. It allows you to hook up an object and interact with the whole drawer store.
 Screenshots :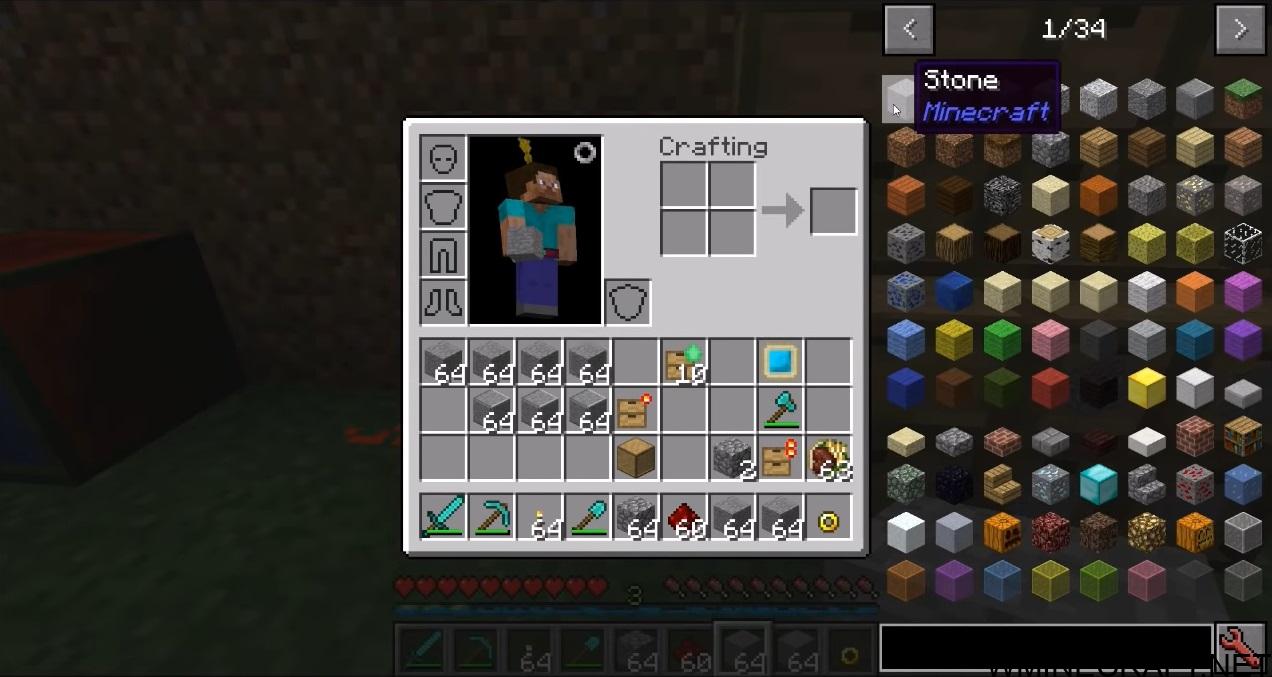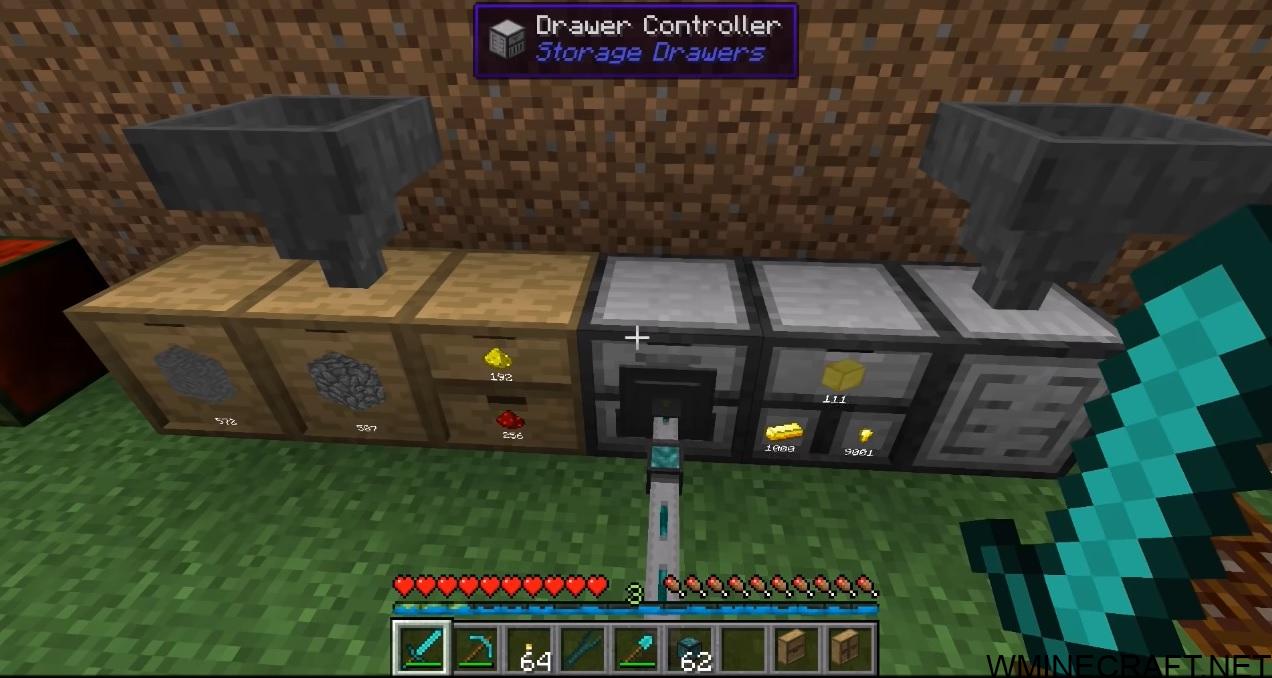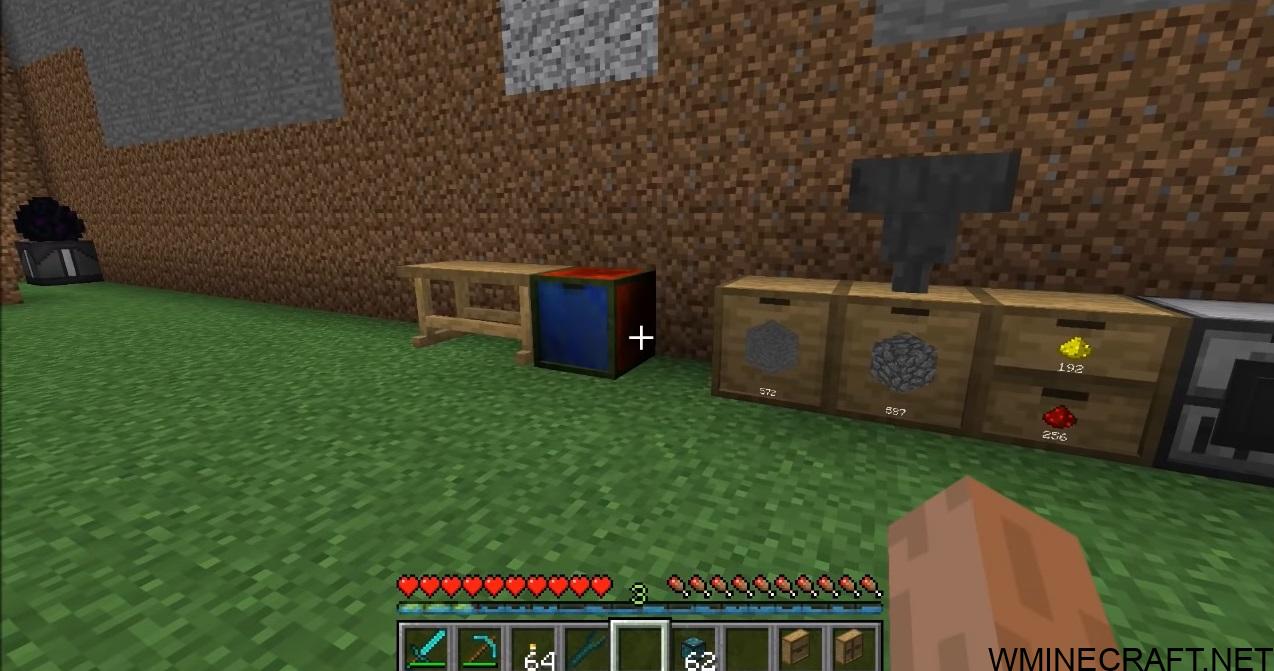 Just like every other shader bundle, a powerful computer with a strong graphics card and CPU is necessary to produce the best results practicable. You can still pursue SEUS with a slower Machine though by properly configuring the configurations.
Usage:
There is no traditional slotted inventory with these containers. Interaction is click-based similar to Jabba. Clicking on one of drawers on front will interact with that drawer.
Right-Click: Insert full stack in hand into drawer (or partial stack if the drawer fills).
Double-Right-Click: Insert all compatible stacks in inventory into drawer (or until drawer fills).
Left-Click: Remove a single item from the drawer.
Shift+Left-Click: Remove a full stack from the drawer.
Shift+Right-Click with empty hand: Open a UI to see exact item counts and manage applied upgrades. If the drawer is taped, removes tape instead.
The shift-click behavior is reversed from Jabba. This is based on the theory that you normally interact with stacks in Jabba, but will want to normally interact with single items in Storage Drawers. The controls can be reversed in the mod config to match Jabba.
Style, Choices, Upgrades: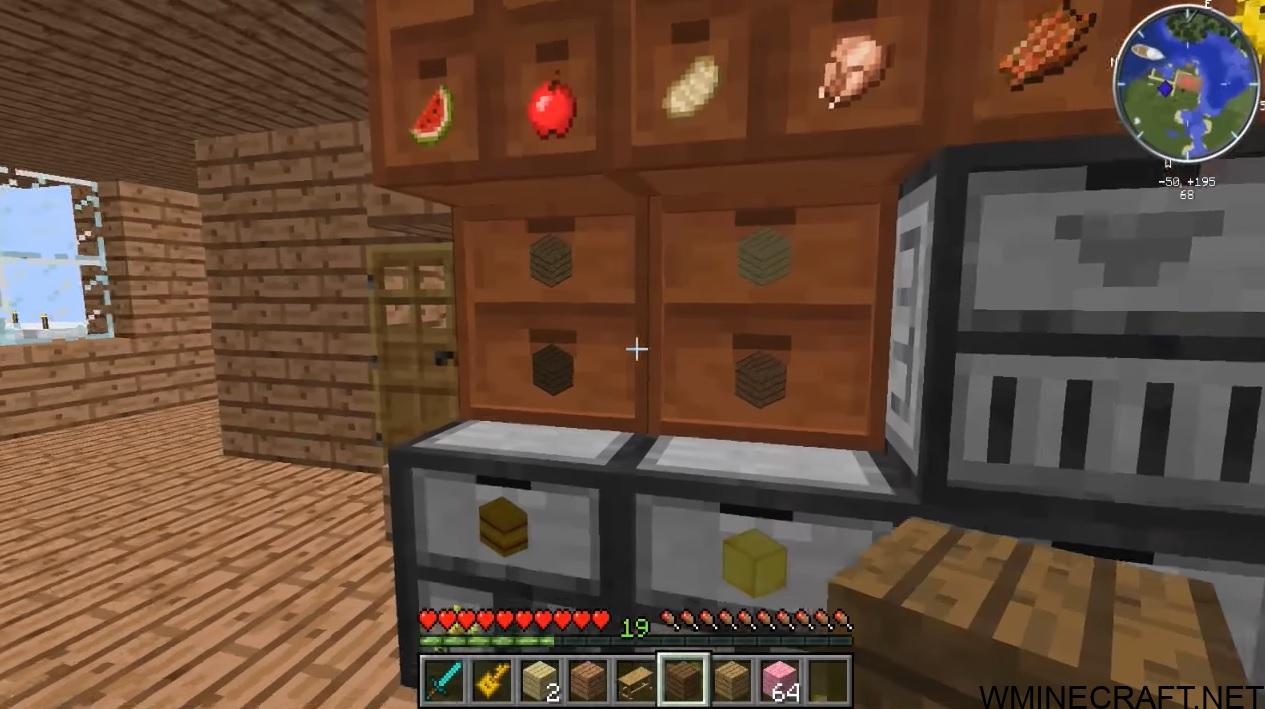 The wooden drawers are the main storage block in Storage Drawers, and they come in a variety of configurations and styles. You can pick from any of the Vanilla plank colors when crafting to get a matching block.
Drawers come in five configurations, trading capacity, and compactness at different points:
Half-size 2×2: Stores 4 stacks per drawer.
Half-size 1×2: Stores 8 stacks per drawer.
Full-size 2×2: Stores 8 stacks per drawer.
Full-size 1×2: Stores 16 stacks per drawer.
Full-size 1×1: Stores 32 stacks per drawer.
Capacity can be further boosted with storage upgrades. Upgrades do not need to be applied in sequence, so you can pick the size you need from the start.
If you need an estimate of how full your drawers are, indicator upgrades are available to put a fill bar on your drawers.
Level 1: The indicator bar will light up when the drawer is full.
Level 2: The indicator bar will fill proportional to how full the drawer is.
Drawers can also be locked or unlocked with the drawer key. When a drawer is locked, it will maintain its current item association even if the last item is removed. This will prevent pipes and other transport systems from re-filling that drawer with other items.
How to install:
Make sure you have already installed Minecraft Forge and Chameleon Library.
Locate the Minecraft application folder.

On windows open Run from the Start menu, type %appdata% and click Run.
On mac open finder, hold down ALT and click Go then Library in the top menu bar. Open the folder Application Support and look for Minecraft.

Place the mod you have just downloaded (.zip file) into the .minecraft/shaderpacks/ folder.
When you launch Minecraft and click the mods button you should now see the mod is installed.
Video:
Minecraft Forge (Modding API) Installation Guide
5 steps to successfully install Forge Minecraft
1. Access and Download select Minecraft forge version, then download the installer.
2. Requires installing Java on a computer. Open the .jar file you just downloaded, make sure 'Install Client' is selected, and click the OK button.
3. Run Minecraft and select the Forge profile, then click Play.
4. Select the Minecraft Forge menu on the left and the Mods button below Multiplayer.
5. Successfully, you can enjoy the mod just installed.
Minecraft Storage Drawers Mod 1.16.2/1.15.2 Download Links:
Minecraft Game version 1.7.10
Minecraft Game version 1.8.0
Minecraft Game version 1.8.9
Minecraft Game version 1.9.0
Minecraft Game version 1.9.4
Minecraft Game version 1.10.2
Minecraft Game version 1.11.2
Minecraft Game version 1.12.2-1.12.1-1.12
Minecraft Game version 1.14.4
Minecraft Game version 1.15.2
Minecraft Game version 1.16.1
Minecraft Game version 1.16.2
Download From Server : 
Minecraft Game version 1.16.3
Download From Server : 
Minecraft Game version 1.16.4
Download From Server : 
Minecraft Game version 1.16.5
Download From Server :
Author: jaquadro ❘ Rating: 4.37 − 170 votes ❘ 834,172 views