Special features and experiences of MrCrayfish's Furniture Mod
Mrcrayfish Furniture Mod is a Minecraft Mod version of more than 80 furniture for you to decorate your dream home in the open world of Minecraft. With many special features, they will help you have an enjoyable experience.
If you are a crazy fan of Minecraft survival game, you will not be familiar with the concept of Mod or Minecraft Mod, right? Although this game is full of creativity, the system of items is abundant and is regularly updated, but if you want to play the game more diverse, you must install more Mods.
Mod is the key to help you exploit more deeply the features in Minecraft, providing players with many items, tools, buildings, features… for you to unleash your creativity and build the world in style.  its own way. Furniture Mod makes up for the shortcomings that Minecraft has overlooked after many updates – it's the real furniture system. Please refer to this article to know the special features and experiences of Mrcrayfish Furniture Mod.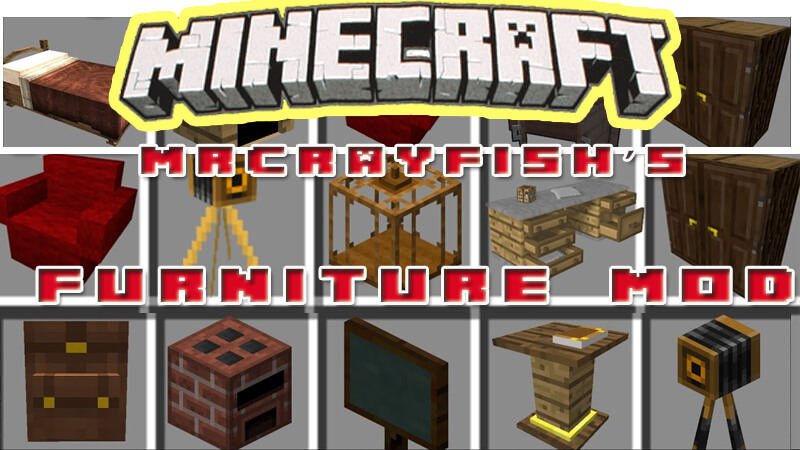 More than 80 new pieces of furniture are included in the Mr Crayfish's Furniture Mod, which you may use to furnish your house and garden. It includes a wide range of brand-new tables and chairs that seem noticeably more streamlined and tidy than the default choices. Compared to the more inventive methods some players have proposed, everything in this mod brings furniture closer to the player scale and occupies a lot less room. Tables and chairs are more practical and can even be used for seating, if desired.
You also create couches and sofas that resemble real furniture more closely. By fusing two sofas together, you can even create sofas that are unusually long or curved! Like stairs, they will naturally combine to form corner couches, L-shaped couches, or U-shaped couches that fit in any room. Additionally, you can include coffee and end tables that are the same height as sofas. The storage capabilities of the end tables, as well as many other furniture pieces included with this mod, are a terrific bonus. Other methods of creating end tables often require sacrificing finances and space in order to make them appear good. With them, individuals can store a few objects within them like chests while also having an attractive appearance.
Countertops, drawers, and cabinets may all be used to make a stylish and practical kitchen! Each of these also has storage compartments, which is quite useful for food storage. Instead of storing those objects in your usual storage spaces, you can now place them where they normally belong. Even practical sinks are available for your kitchen, and each cabinet and countertop is available in a variety of wood and stone types to suit your personal tastes.
This mod has you more than covered if you wish to enhance already existing designs like those found in the mansion. The buildings and communities that the game randomly generates can now be upgraded to be a little more sleek and contemporary with a lot more functionality added as well. Bring existing builds to the next level by making your map rooms appear more like a place you would actually congregate at to discuss locations and planning.
You may also embellish your windows with a variety of shades to either completely block the light or let some of it come through. They are similar to the common wooden shades you would see in many homes and can be opened and closed with only a right click. Instead of relying just on torches, candles, and lanterns, this allows you a little more control over the lighting and mood of specific rooms.
Even new fencing that can enhance the current fence posts is added in this modification. Your outdoor spaces can now benefit from a little more color and individuality, and they usually go better with modern homes than with farms or ranches. You can enjoy the splendor of the sunset or sunrise while sitting in outdoor chairs that are more appropriate for an outside setting. Additionally, this mod adds even more realistic details to make your homes appear more authentic. If you want to mimic a postal service in your world, it provides mailboxes with nine storage slots so you can receive "mail" or packages. You can also keep them open so people can leave you messages or gifts if you choose! With this mod, it adds a little wholesome touch and allows the player more options for role-playing.
Relative Post:
Vehicle Mod 1.16.3 one of the mods you should try (MrCrayfish's)
Spino's Vehicles for Minecraft – Cars Mod Minecraft
Fex's Vehicle Pack 1.12.2 (New Vehicles and Models)
The special features of Mrcrayfish Furniture Mod
Mrcrayfish Furniture Mod has 3 features: Includes more than eighty unique furniture pieces, the function works in several blocks, not just a decoration and a fully functioning mail system, send items and blocks to players around your server.
Includes more than eighty unique furniture pieces
This mod adds in what Minecraft has been missing for years, furniture! It includes over 80 unique pieces of furniture to decorate your bedroom, kitchen, living room and even your garden! Turn your house into the dream house you have never been able to have until now.
The function works in several blocks, not just a decoration
This feature helps you create blocks with a variety of colors according to your ideas. It is the tool for you to decorate your room with rich interior.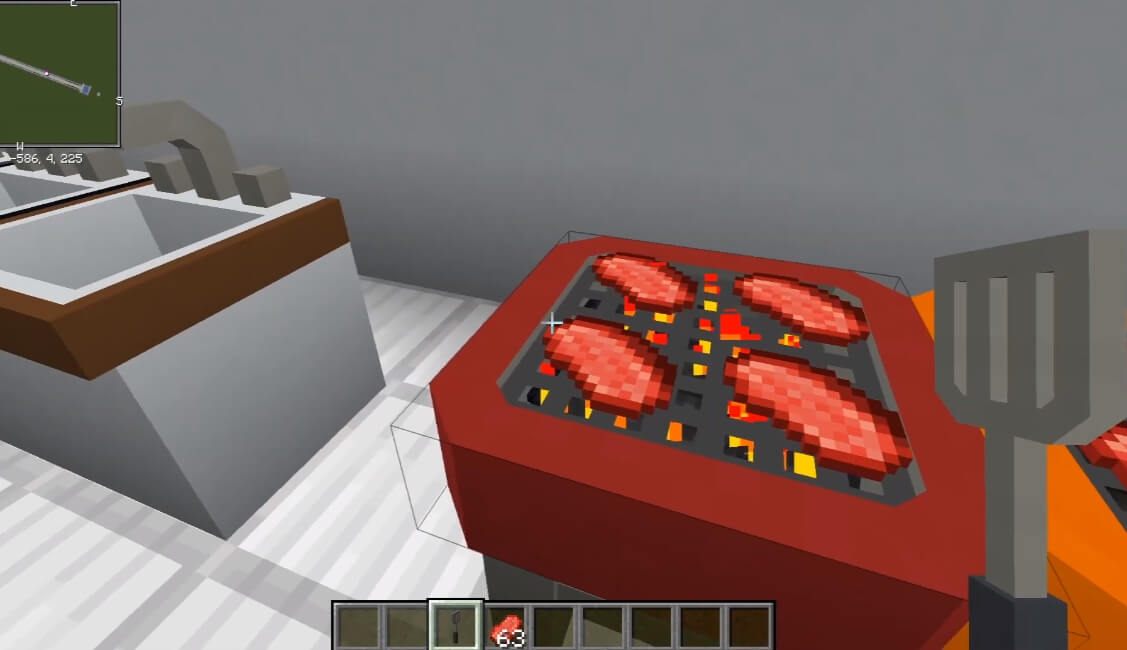 A fully functioning mail system, send items and blocks to players around your server
In addition, you can also send items created by you to other players. You can also exchange items together to enhance the aesthetics of your rooms with comfortable interiors.
The interesting experiences of Mrcrayfish Furniture Mod
One of the interesting features of Minecraft is that players can freely build their houses and buildings. But the amount of home decoration items in Minecraft is quite modest and not enough to satisfy fussy and demanding players. MrCrayFishs Furniture Mod 1.16.1/1.15.2 is a mod that adds to the game items such as tables, chairs, refrigerators, even TVs and desktops… This is a great mod for players who like to enjoy the gentle life of building houses, planting trees, decorating houses and not speaking, these decorative items give the game a warm, comfortable, modern feeling more.
New Updated!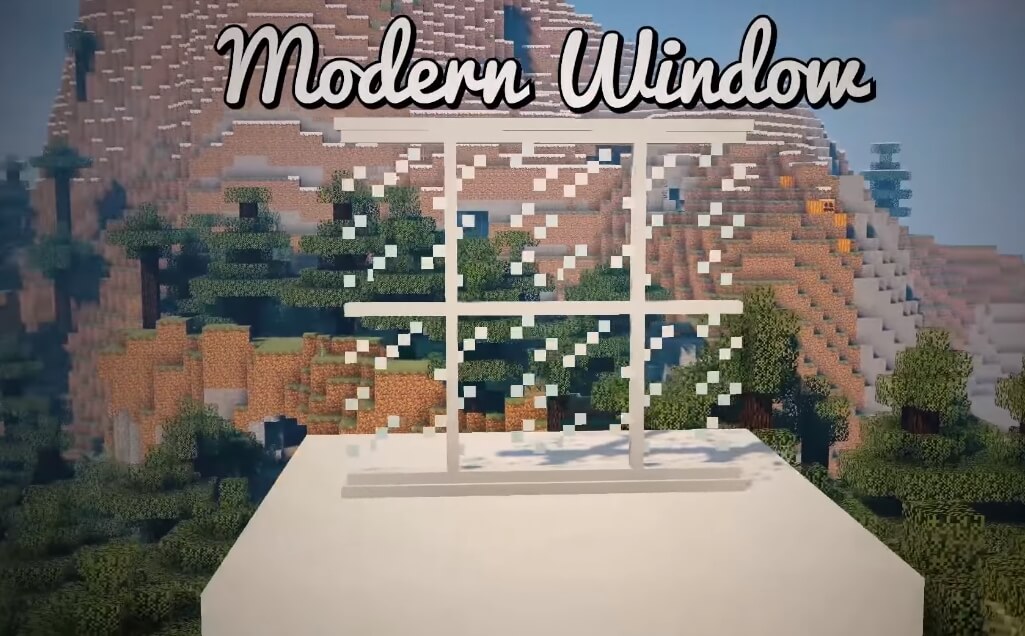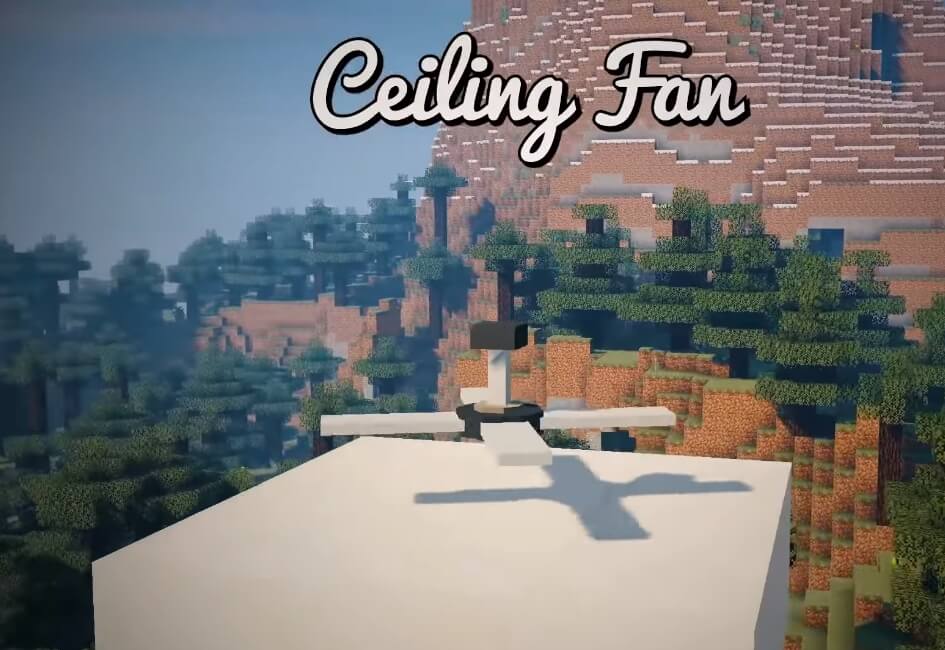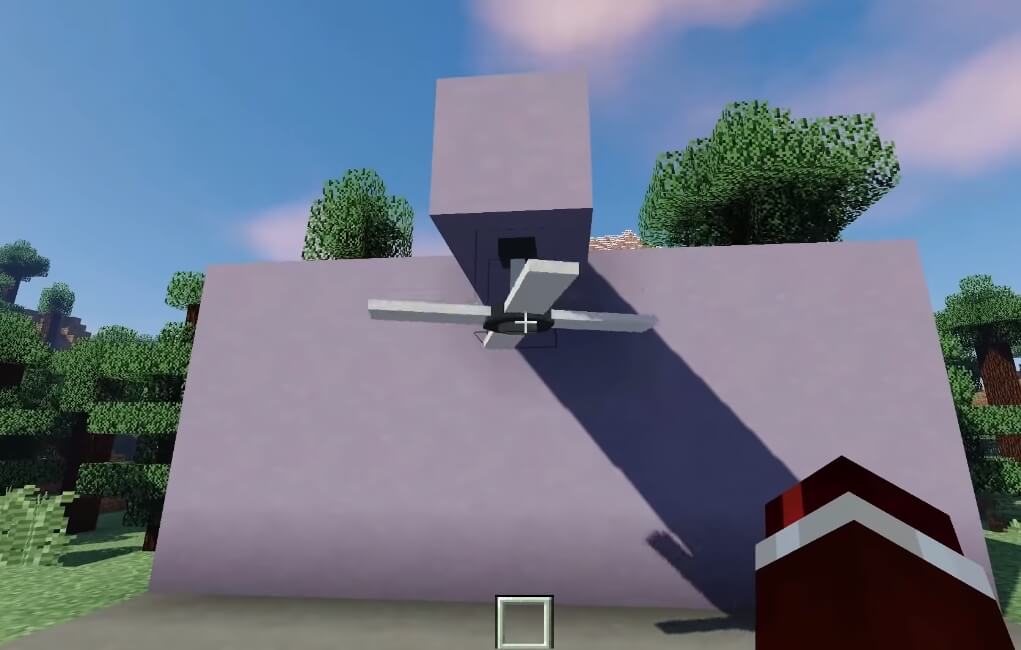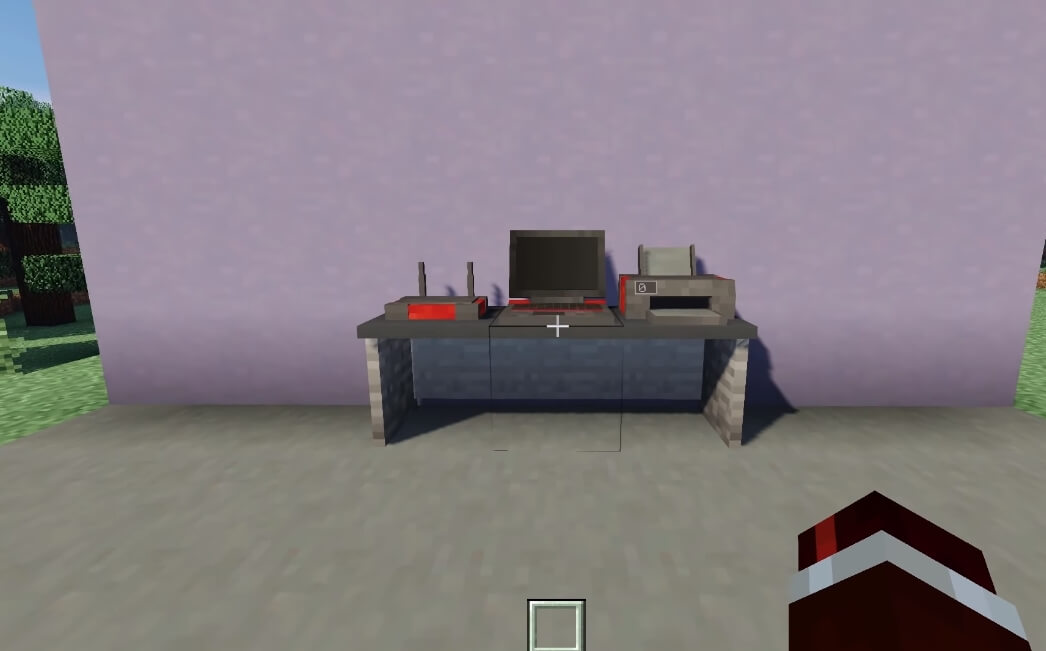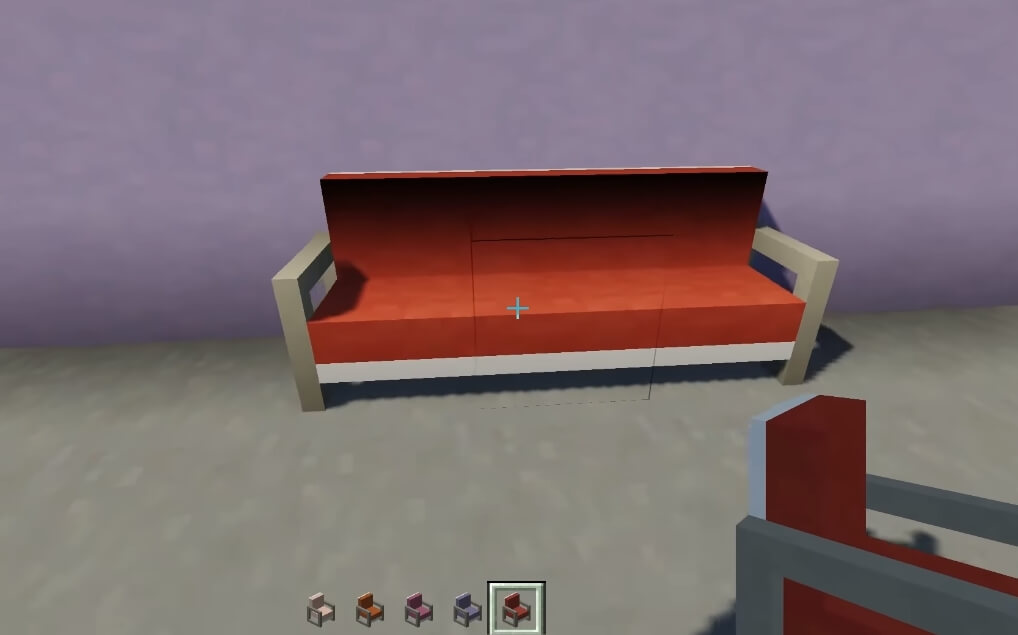 MrCrayfish's Furniture Mod adds more than 80 unique furniture pieces to decorate the kitchen, bedroom, bathroom, living room, garden and more in Minecraft. So far, it is the best furniture mod for Minecraft and has a lot of different options.  MrCrayfish's Furniture Mod not only has a lot of different pieces of furniture, but each piece of furniture also has a variety of color options.  Some furniture can also be used. For example, you can keep things on a shelf and put things in a drawer. You can even sit on the chair and couch that MrCrayfish's Furniture Mod adds.

MrCrayfish's Furniture Mod comes with a wide variety of new tables and chairs that are significantly more streamlined, clean-looking than the standard options. You can even make sofas by combining one sofa into longer shapes! Plus you get end tables which match both height as well as color scheme from single piece set to use in addition or instead of an existing table – perfect for matching your style while still having room on top where all those pesky snacks go when they pile up during game night (or work lunch).
Hopefully this article will help you understand more about Mrcrayfish Furniture Mod. Please update this Mod for the most enjoyable experience.
Recent Update:
Video tutorial:
How to install Minecraft Furniture mod?
Choose the Minecraft version you want, You have already installed Minecraft Forge
Locate the minecraft application folder.

On windows open Run from the start menu, type %appdata% and click Run.
On mac open finder, hold down ALT and click Go then Library in the top menu bar. Open the folder Application Support and look for Minecraft.

Download the Mod
Move the downloaded Jar (zip) file into the "mods" folder
Launch Minecraft and Enjoy the mod.
Minecraft Forge (Modding API) Installation Guide
5 steps to successfully install Forge Minecraft
1. Access and Download select Minecraft forge version, then download the installer.
2. Requires installing Java on a computer. Open the .jar file you just downloaded, make sure 'Install Client' is selected, and click the OK button.
3. Run Minecraft and select the Forge profile, then click Play.
4. Select the Minecraft Forge menu on the left and the Mods button below Multiplayer.
5. Successfully, you can enjoy the mod just installed.
Minecraft Furniture Mod Download Links:
Minecraft Game version 1.5.2
Minecraft Game version 1.6.2
Minecraft Game version 1.6.4
Minecraft Game version 1.7.2
Minecraft Game version 1.7.10
Minecraft Game version 1.8.9
Minecraft Game version 1.9.4
Minecraft Game version 1.10.2
Minecraft Game version 1.11.2
Minecraft Game version 1.12.1 – 1.12
Minecraft Game version 1.12.2
Minecraft Game version 1.13.2
Rift Modloader version:Download From Server
Minecraft Game version 1.14.3
Minecraft Game version 1.14.4
Minecraft Game version 1.15.2 – 1.15.1
Minecraft Game version 1.16.1
Minecraft Game version 1.16.3-1.16.2
Minecraft Game version 1.16.4
Minecraft Game version 1.16.5
Minecraft Game version 1.17.1
Minecraft Game version 1.18
Author: mr_crayfish – Source: Curseforge