Minecraft Forge is Minecraft's modding API. Minecraft Forge 1.18.1, 1.17.1, is a modding API (Application Programming Interface), which makes it easier to create mods, and also make sure mods are compatible with each other. It is the foundation of the majority of current mods of Minecraft. Developers can customise Minecraft based on it. With Minecraft Forge, Minecraft is limitless! To do this, the staff of forge have always updated versions to make mods compatiable with the update of Minecraft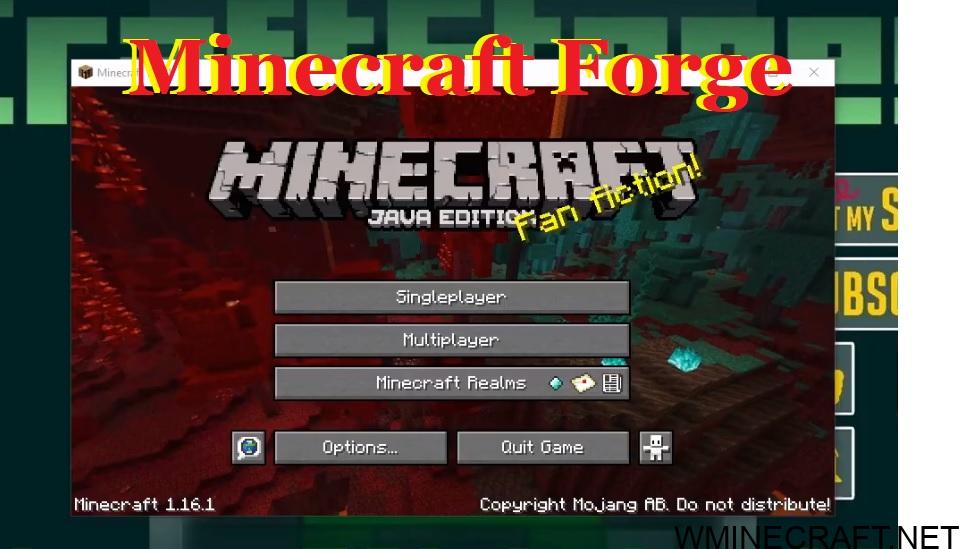 The fundamental requirement is that the player must play the Minecraft variant for which Forge got installed before being able to use it. To be more accurate, Forge would require Minecraft version 1.18.1, 1.17.1 to run properly, without any problems. Forge could then be used afterward in the Minecraft launcher from the Play drop-down.
Changes to Minecraft Forge are broadly applicable to just about any iteration in or beyond Java Version 1.1. Further, keeping the Forge up to date all the time is greatly advantageous and strongly suggested for the consumers. When it comes to itself, Minecraft Forge lacks a proper user interface.
It is necessary to bear in mind that multiple variations of Forge could not be run over the same Minecraft installation, nor could you have a mod modified for a prospective/old iteration of Forge operate alongside those modified for that variant.
 Forge Screenshots: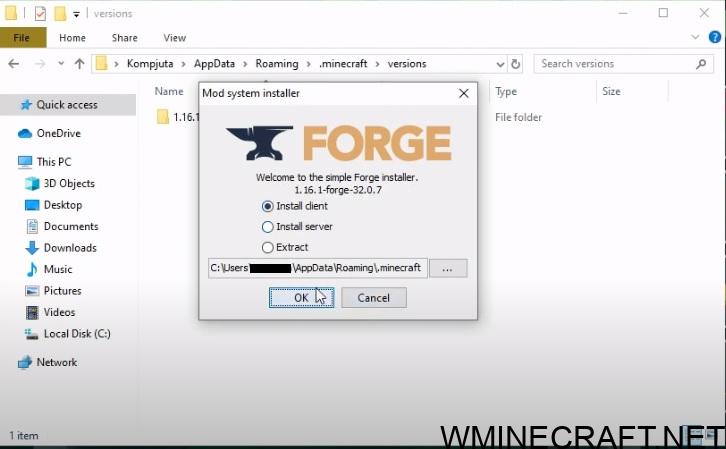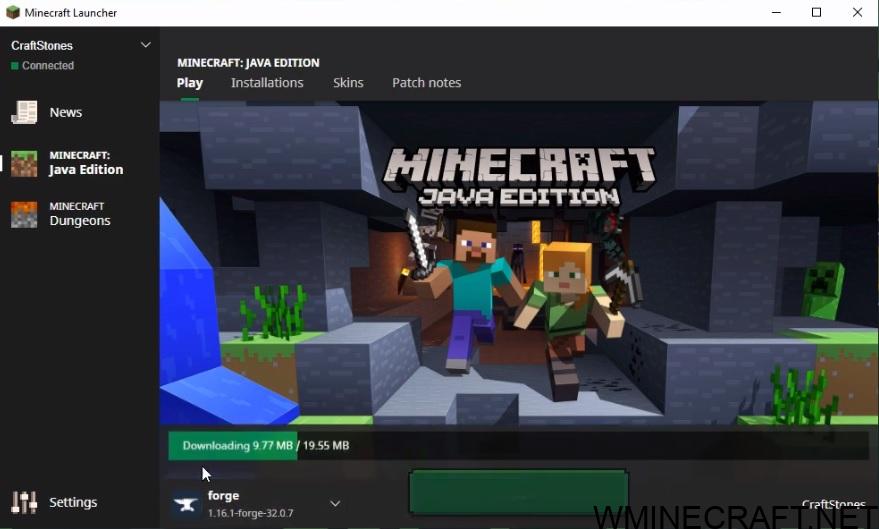 How to install Minecraft forge:
Download Minecraft Forge.
Run the installer as Administrator.
Select Install Client or Install Server if you want to install it for your server.
Click OK.
Open Minecraft launcher and select Minecraft Forge in the Profile menu (Ex: Forge 1.16…).
Run and Enjoy
How to install Minecraft forge for Mac PC:
Download minecraft forge. Double-click the Forge file. This file has a coffee mug image with a .jar extension.
Select "Install Client" from the next screen and click OK.
Create mods folder
Open Finder on your Mac and go to Go > Library in the menu.
Go to Application Support > minecraft in Finder and create a new folder called mods. This is where your mods will go.
Install mods

Find the mod on the web you want to install and download the file to your computer. It will be a file ending in .jar.
Drag and drop the downloaded file into your new mods directory in the ~/Library/Application Support/minecraft/mods folder.
You're now ready to play the new mod!

Advice:
Many mods have the addition of incompatible spaces with other edits. You can correct this problem by changing the "dimension id".
Video Minecraft Forge Review Install and Tutorial
Is Minecraft Forge safe?
To make things easier, modders came up with an API called Minecraft Forge that that made it incredibly easy to install and try out different mods for the player's entertainment.
And now Forge is required any time you want to install a personal favorite mod onto your game. However, people are still worried about the kind of content they get over the internet regarding forge and mods for their game.
We recommend users to download mods at reputable websites for example Minecraft Forge homepage, or at our website, because our website re-uploads forge from the official website, Wminecraft Website is completely safe. , security.
Minecraft Forge 1.18/1.17.1,1.16.5,1.15.2…1.7.10 Download Links:
Minecraft Game version 1.7.10:
Recommended

Installer (Jar): Download from Server 1 – Download from Server 2

Installer Windows (Exe): Download from Server 1 – Download from Server 2

Universal: Download from Server 1  – Download from Server 2

Latest
Minecraft Game version 1.8.9:
Minecraft Game version 1.9.0:
Minecraft Game version 1.9.4:
Minecraft Game version 1.10.2:
Recommended
Installer (Jar): Download from Server 1 – Download from Server 2

Installer Windows (Exe): Download from Server 1 – Download from Server 2

Universal: Download from Server 1 – Download from Server 2
Latest
Installer (Jar): Download from Server

Installer Windows (Exe): Download from Server

Universal: Download from Server
Minecraft Game version 1.11:
Minecraft Game version 1.11.2:
Minecraft Game version 1.12:
Minecraft Game version 1.12.1:
Minecraft Game version 1.12.2
Recommended

Installer (Jar): Download from Server 1 – Download from Server 2

Installer Windows (Exe): Download from Server 1 – Download from Server 2

Universal: Download from Server 1 – Download from Server 2

Latest

Installer (Jar): Download from Server

Installer Windows (Exe): Download from Server

Universal: Download from Server
Minecraft Game version 1.13.2
Latest

Installer (Jar): Download from Server 1 – Download from Server 2

Universal: Download from Server 1 – Download from Server 2
Minecraft Game version 1.14.2
Minecraft Game version 1.14.3
Latest

Installer (Jar): Download from Server 1 – Download from Server 2

Universal: Download from Server 1 – Download from Server 2
Minecraft Game version 1.14.4
Recommended

Installer (Jar):Download from Server 1 – Download from Server 2 

Universal: Download from Server 1 – Download from Server 2

Latest

Installer (Jar): Download from Server  1 – Download from Server 2

Universal: Download from Server 1 – Download from Server 2
Minecraft Game version 1.15.2
Recommended

Installer (Jar): Download from Server 1 – Download from Server 2

Universal: Download from Server 1 – Download from Server 2

Latest

Installer (Jar): Download from Server 1 – Download from Server 2

Universal: Download from Server 1 – Download from Server 2
Minecraft Game version 1.16.1
Latest

Installer (Jar): Download from Server 1 – Download from Server 2

Universal: Download from Server 1 – Download from Server 2
Minecraft Game version 1.16.2
Latest

Installer (Jar): Download from Server 1 – Download from Server 2

Universal: Download from Server 1 – Download from Server 2
Minecraft Game version 1.16.3
Recommended

Installer (Jar): Download from Server 1 – Download from Server 2

Universal: Download from Server 1 – Download from Server 2

Latest

Installer (Jar): Download from Server 1 – Download from Server 2

Universal: Download from Server 1 – Download from Server 2
Minecraft Game version 1.16.4
Recommended

Installer (Jar): Download from Server 1 – Download from Server 2

Universal: Download from Server 1 – Download from Server 2

Latest

Installer (Jar): Download from Server 1 – Download from Server 2

Universal: Download from Server 1 – Download from Server 2
Minecraft Game version 1.16.5
Recommended

Installer (Jar): Download from Server 1 – Download from Server 2

Latest

Installer (Jar): Download from Server 1 – Download from Server 2