Useless Sword Mod adds a wide variety of swords from almost any item found in Minecraft. Add around 70 new swords and some new essential things to create the blades; these items can be found by killing mobs. This mod is compatible with JEI that allows you to see the crafts, and it is easier to create them.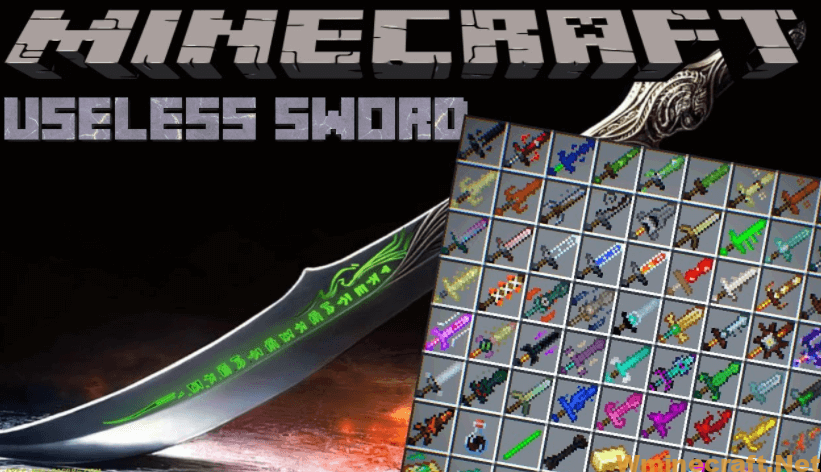 Relative Post:
Deconstruction Table Mod for Minecraft 1.12.2/1.10.2 [swords, armor, and more]
SlashBlade Mod 1.16.5/1.15.2/1.14.4 (Swords The Katana)
Mo'Swords Mod 1.12.2 for Minecraft PC – (14 new swords)
How to install Download Useless Sword Mod 1.18.2, 1.17.1 for Minecraft?
Follows 5 Steps below to install Download Useless Sword Mod  for Minecraft on Windows and Mac :
1. Download and install Minecraft Forge, you can read the instructions below the article.
2. Download the Download Useless Sword Mod for Minecraft.
3. Open the . minecraft folder and then enter the mods folder. Important: Some older versions of Forge may not have the 'Open Mods Folder' button. If this is the case, create the directory under the name mods.
Windows:
Press the Windows key +R at the same time
Type %appdata% and press enter
Find folder Minecraft and then look for the Mods folder within that
Mac:
Click on the desktop and then press Command+Shift+G all at the same time
Type ~/Library and press enter
Open the folder Application Support and then Minecraft.
4. From here, drag in the mods file downloaded (.jar or .zip) you wish to add.
5. Run Minecraft, and you should now see the new mod installed in the list!
Enjoy Download Useless Sword Mod for Minecraft, If there is an error, please comment on this article we will support
Hey dude, fantastic mod! Just a few suggestions:
1. Could you alter some of the swords(e.g., Bugged swords) to work correctly in the off-hand? In vanilla, it isn't an issue. Still, it would add compatibility to mods like the Off Hand Combat mod; as with the bugged swords, it still has the insta-kill feature, but it doesn't revert the sword back to the vanilla type, which is op and may affect other swords.
2. Could you maybe change the lapis sword to work only on an entity kill rather than hit? Or add a config/gamerule to do so, as when used with mods such as MmmMmmMmmMmm, it again becomes very op, as test dummies can be hit infinitely, and adding mending and unbreaking makes it into easy, endless XP.
3. Are you planning on adding swords for other mods? Or even making a separate 'extension' mod to do so? I think mods like Alex's Mobs and even Powah could be interesting(I believe MCreator has rf energy support now, so it should be doable?), like energy swords and whatnot.
Sorry if this is a bit long, I wanted to keep this all together rather than sending separate comments :).
Useless Sword Mod Screenshots: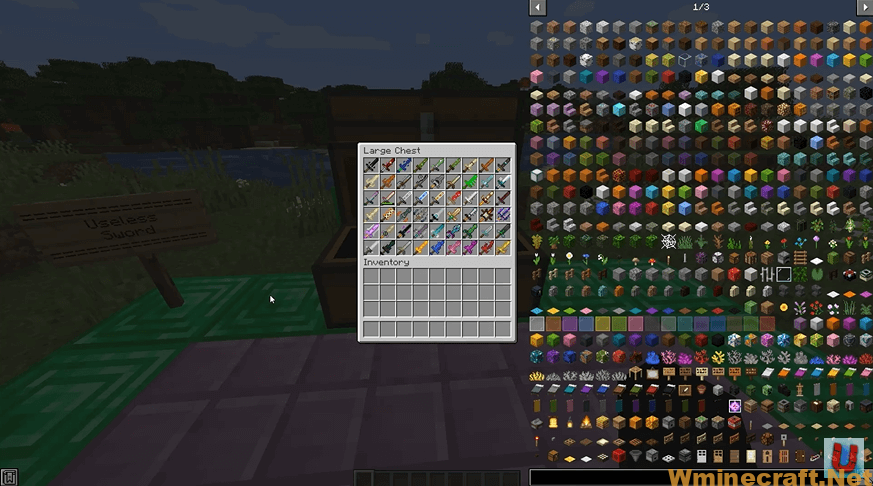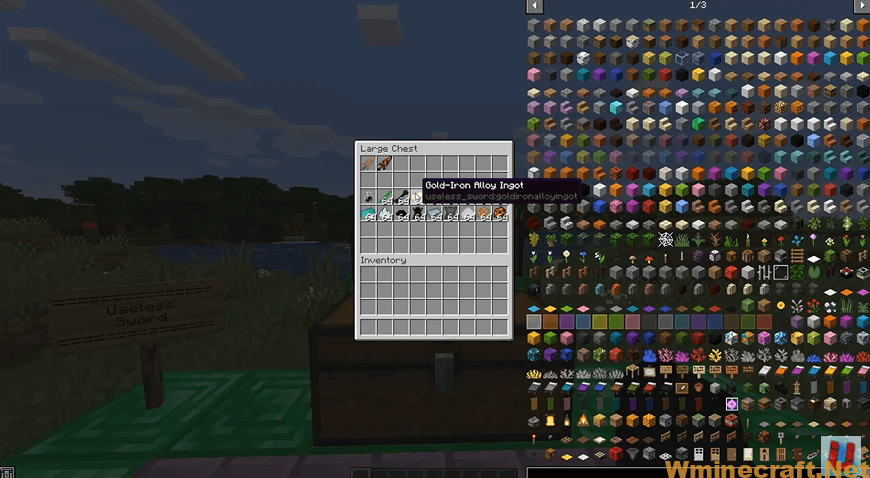 Useless Sword Mod Download Links:
Minecraft Game version 1.12.2:

Minecraft Game version 1.14.4:

Minecraft Game version 1.15.2:

Minecraft Game version 1.16.4:

Minecraft Game version 1.16.5:

Minecraft Game version 1.17.1:

Minecraft Game version 1.18.2:

FAQ
Q: Does this mod require any other mods?
A: Nope. It's standalone.
Q: What is the difference between this mod and the original Useless Sword Mod?
A: The Useless Sword Mod was created with a very specific purpose in mind. It was intended to be used as a fun, yet challenging way to make swords more unique and diverse. In contrast, this version of the mod has been completely reworked and expanded upon, giving players more options in how they can wield swords. Most importantly, it has been completely redesigned and expanded upon to provide a much greater variety of swords that are both useful and aesthetically pleasing.
Q: Why is there so many swords?
A: Because it's cool! And because they're awesome! And because you can use them! That's all I have to say on the matter…
Q: Will this mod affect performance?
A: Yes, but only marginally so. I have made every attempt to reduce the impact of the mod on performance, but I cannot guarantee that it won't cause any kind of lag or stutter. The sword models themselves are fairly small in size and due to their unique properties, they do not take up much memory.
Q: Will this mod make my game crash?
A: No. Unlike many other mods out there, this one has been extensively tested by myself and several other people (and their computers) to ensure that it is safe to use.
Q: Will this mod work on servers?
A: Yes! You can use this mod on servers without any issues whatsoever!
Minecraft Forge (Modding API) Installation Guide
5 steps to successfully install Forge Minecraft
1. Access and Download select Minecraft forge version, then download the installer.
2. Requires installing Java on a computer. Open the .jar file you just downloaded, make sure 'Install Client' is selected, and click the OK button.
3. Run Minecraft and select the Forge profile, then click Play.
4. Select the Minecraft Forge menu on the left and the Mods button below Multiplayer.
5. Successfully, you can enjoy the mod just installed.