Do you find that Minecraft is a little bit too easy? SlashBlade Mod 1.18.1, 1.17.1 adds to your inventory the most powerful blade "The Katana", which has special combo attacks to make it more difficult for enemies to defeat you! SlashBlade Mod adds an assortment of features and items including swords, guns, armor, vehicles and many more! SlashBlade Mod also includes tools like the Map Creator so that players can create their own world with custom terrain or download worlds created by other players. Slashblade Mod 1.18-1 comes with new weapons such as guns which are much more effective than bows in combat because they shoot projectiles at high speeds; however these guns require ammunition which
SlashBlade is a mod created by adding various types of katanas based on the ideas of DMC (Devil May Cry), Demon Blade and PSO2 (Phantasy Star Online 2). These katanas allow you to perform several different combos and with which you can kill enemies quickly.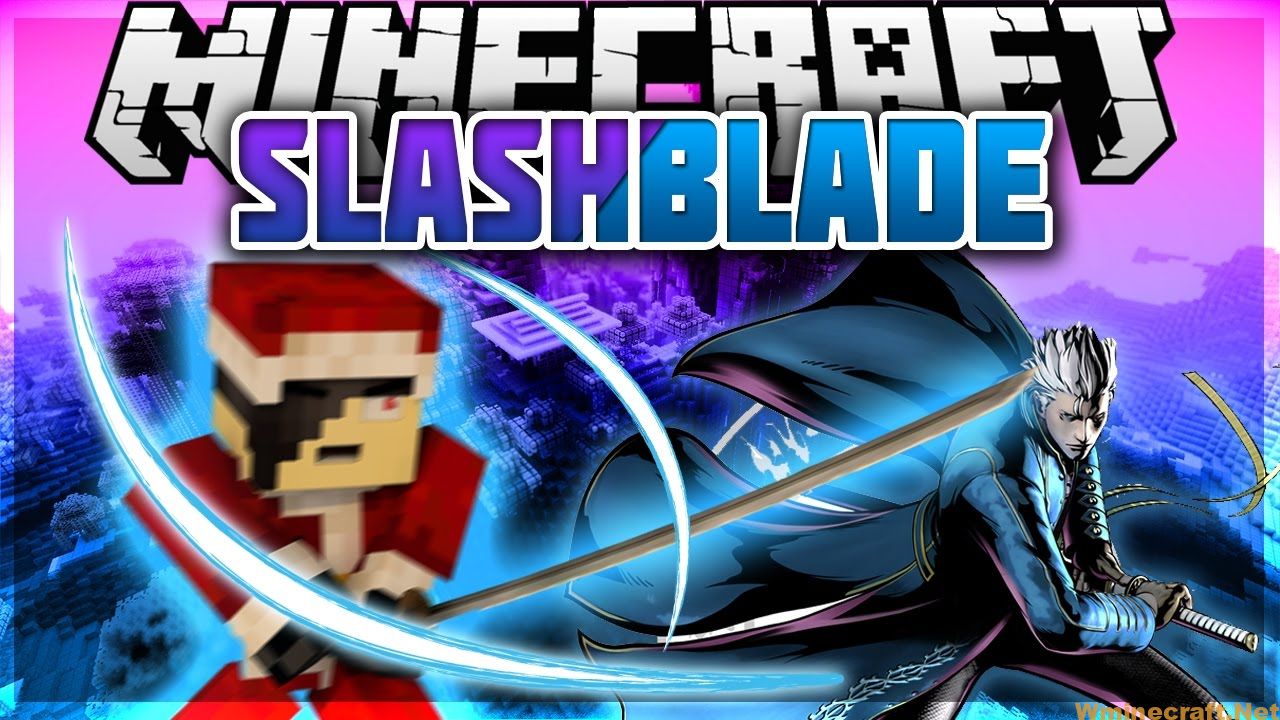 With this mod installed, you can manufacture several types of katanas, whose main difference can be their attack power and whether it allows the realization of combos. Not all katanas will allow combined attacks, although those that would enable it, beyond the visual effect, will offer us an effective way to attack our opponents.
Relative Post:
Download Falling Tree Mod 1.16.5/1.15.2
Timber Mod 1.16.4/1.15.2/1.14.4
BspkrsCore 1.16.3-1.12.2-1.7.10 – Bspkrs's Minecraft Mods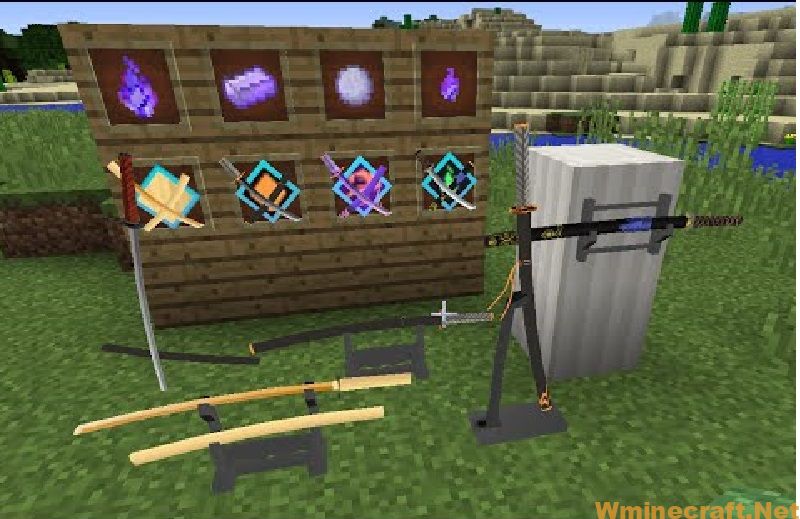 This mod is in the Alpha update phase, so it can still contain bugs or bugs. We will be publishing their respective updates in this same article.
Combo Commands
L: Left Click
R: Right Click
S: Summoned Sword
Special Attack
On Ground Combo
ComboA
ComboB rank over S
ComboC
Air Combo
Arts
Upper Slash
Rapid Slash

Lock-on + moveForward + R

R hold : auto jump > Rising Star

ProjectileBarrier

Sneak + R hold (Charged)

Required:Thorns Enchantment
Don't hit the LivingEntity

Helm Braker

Aerial + Lock-on + moveForward + R

Calibur

Aerial + Lock-on + (moveBack > moveForward) + R
Summoned Sword Arts
Spiral Swords
Blistering Swords

Lock-on & moveForward + S hold

Storm Swords

Lock-on & moveBack + S hold

Heavy Rain Swords

Lock-on & (moveBack > moveForward) + S hold
Escape Action
Step Escape
required
v key(default) and move Left or Right or Back
move 2block
UntouchableTime: 3ticks
Continuous up to 3 times
Jump
required
UntouchableTime: 3ticks
Skill
Show Content »»
Air Trick
teleport: last hit summond swords pos
required

held item: katana
summond swords hit
lockon(sneak or lockonkey) and v key(default) and Move Forward
Enemy Step
jump
UntouchableTime: 3tick
required

held item : bewitched-katana
Enemy near
Just Guard
Complete protection
UntouchableTime: 20tick
required

Waiting period: 7 seconds from the charge start
hit any damage

Can't be defense

dot damage
lava damage
cactus damage
Witch Time
damage in UntouchableTime
Counterattack
Special Enchantments
Show Content »»
Feather Falling
Fire Protection
Unlock: FireResistance

In charge completion

get potion effect:FireResistance
move speed boost
Fortune
force drop: enemy-held item

required hit

HitSheath-A or HitSheath-B
Power
Unlock: Summoned Swords

Default:MiddleClick
cost:katana-ProudSoul=1
Auto Aim
Stun 20ticks
damage = 1 + KatanaAttackDamage * (EnchantLevel / 5)
Stick 10 seconds

broken : damage = 1 + KatanaAttackDamage * (EnchantLevel / 5)
AirTrick : MoveForward & V key(default)
Punch
Respiration
Unlock:WaterBreathing

In charge completion

get potion effect:WaterBreathing
move speed boost
Thorns
Unlock:Auto Aim Reflection
Unlock:Projectile Barrier

In charge completion

deploy : Projectile destruct field
Unbreaking
Chance of Getting of rareEnchanted ProudSoul at the time of the blade of corruption
Max Level 5 (special enchanting)
SA
Show Content »»
Slash Dimension
cost:katana-proudsoul=20
multi attack
force knockback
damage:MeleeDamage
Enchante

Power

Append Magic Damage

damage = MeleeDamage * (EnchantmentLevel / 5)

Punch

JustRelease

Spawn Drive * 5

over Rank:S

Defense completely ignored
Super SA
Show Content »»
Judgment Cut
required

1000 killed katana
itemdamage:no damage
v key(default) : 1sec hold and Release

cost:katana-damage=50%
multi attack
Ultra-wide range attack
damage:MeleeDamage
stun & timestop : 40 ticks
Spawn Drive * 5 * Enemies

over Rank:S

Defense completely ignored
Showcase: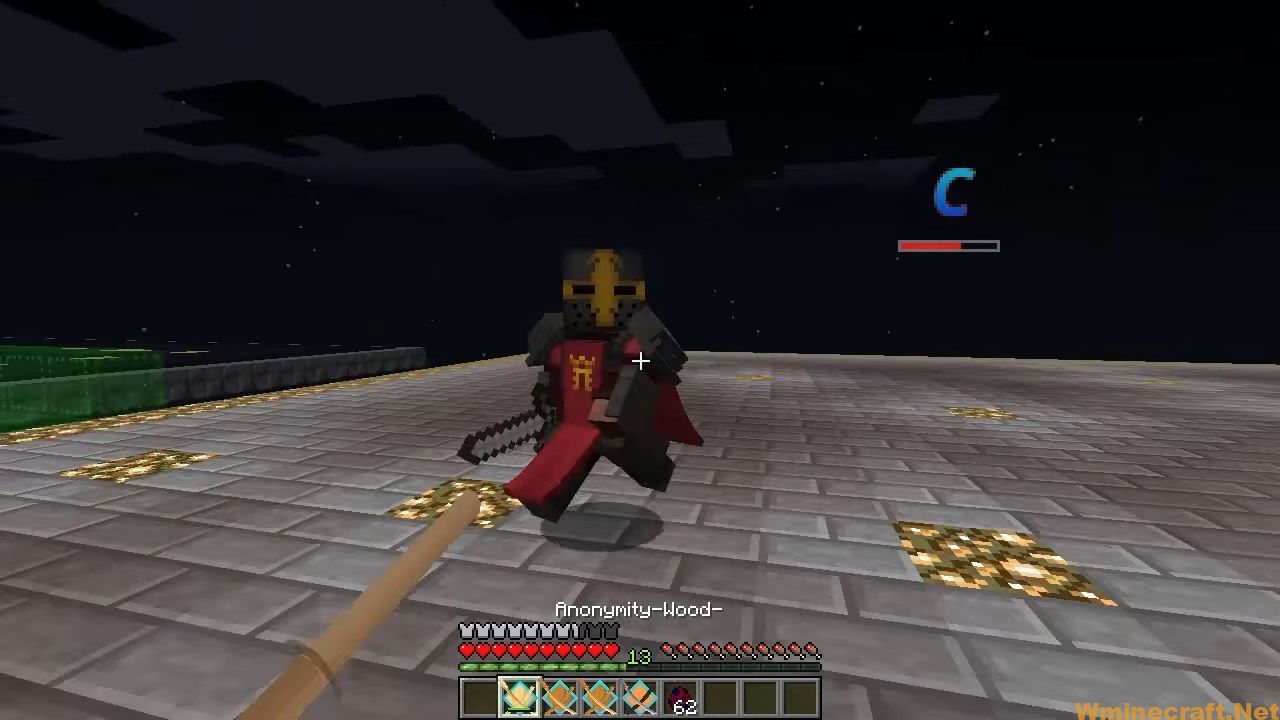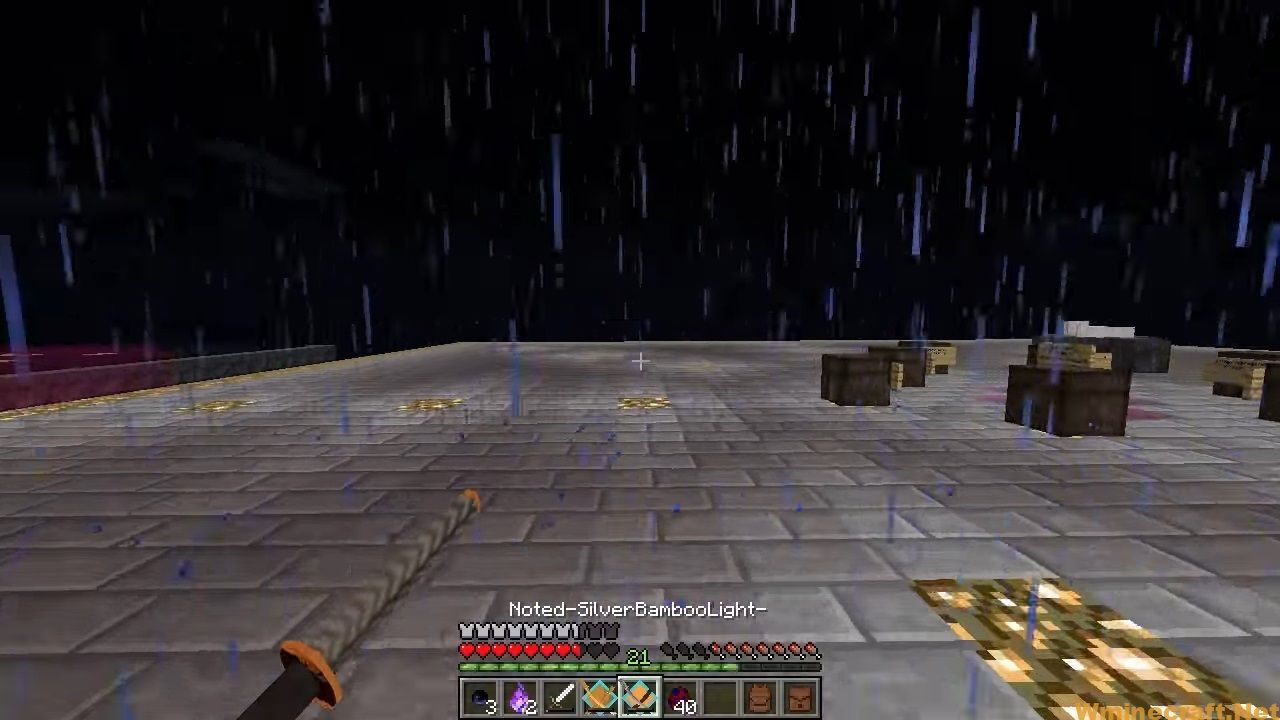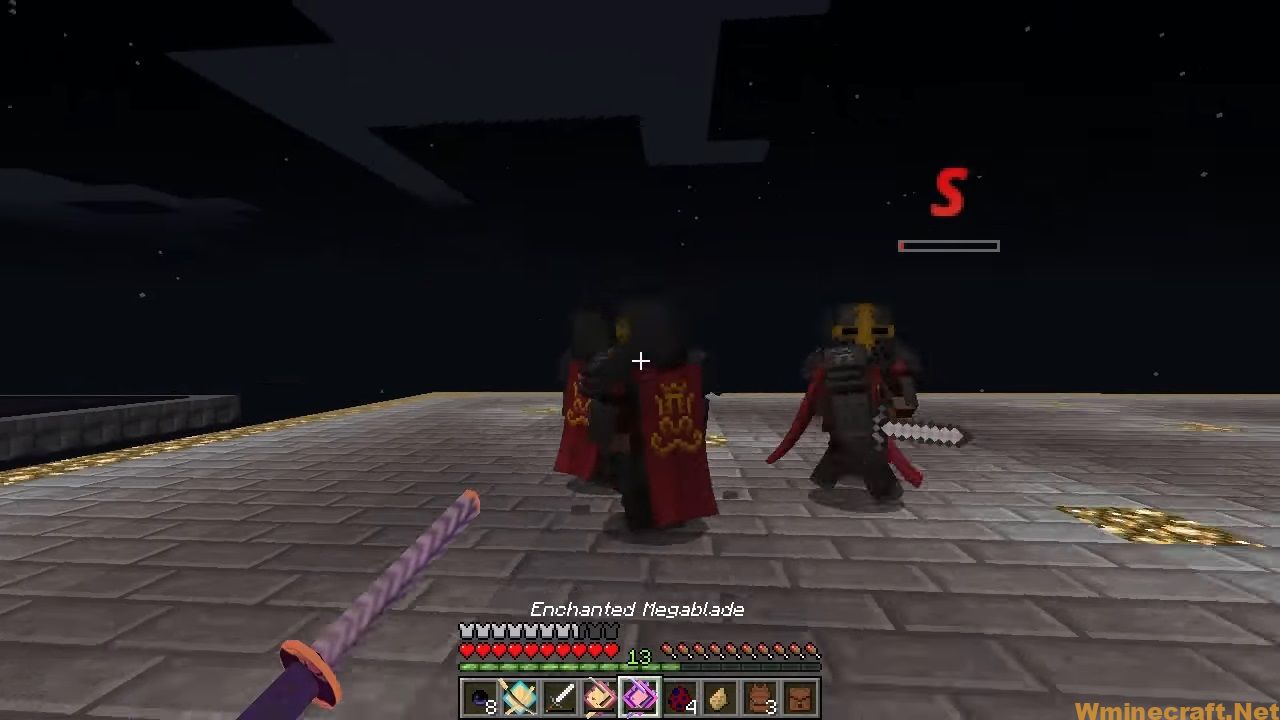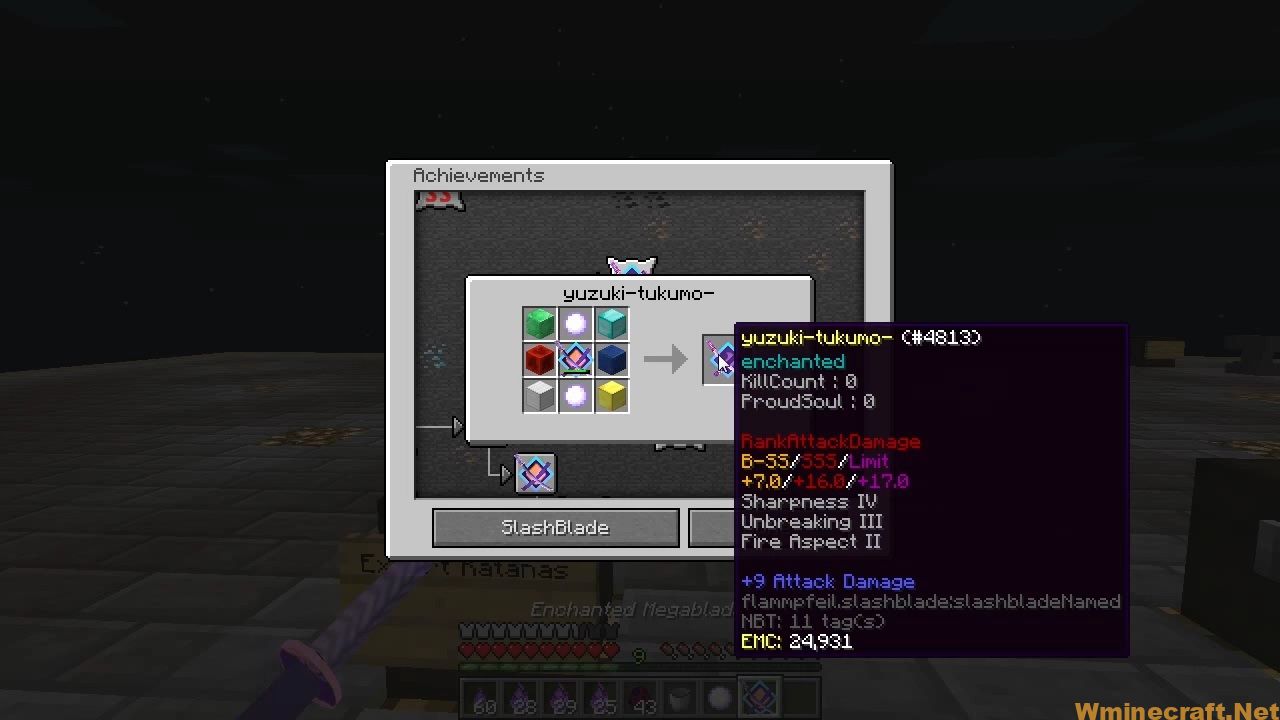 Crafting: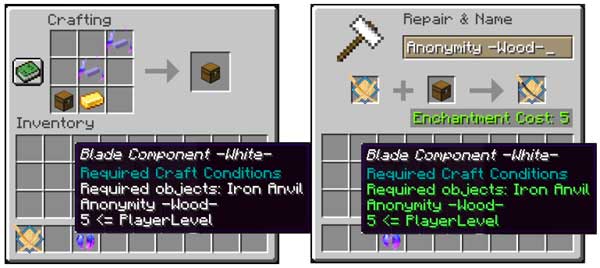 How to install SlashBlade Mod With Forge
Make sure you have installed Minecraft Forge
Download SlashBlade Mod for your version of the game.
Locate the Minecraft application folder.

On windows open Run from the Start menu, type %appdata% and click Run.
On macOS open finder, hold down ALT, and click Go then Library in the top menu bar. Open the folder Application Support and look for Minecraft.
Place the mod you have just downloaded (.jar file) into the Mods folder.

Put it in the 'mods' folder, which is located in the game folder.
Enjoy.
Minecraft Forge (Modding API) Installation Guide
5 steps to successfully install Forge Minecraft
1. Access and Download select Minecraft forge version, then download the installer.
2. Requires installing Java on a computer. Open the .jar file you just downloaded, make sure 'Install Client' is selected, and click the OK button.
3. Run Minecraft and select the Forge profile, then click Play.
4. Select the Minecraft Forge menu on the left and the Mods button below Multiplayer.
5. Successfully, you can enjoy the mod just installed.
Download SlashBlade Mod 1.18.1 – 1.17.1 for Minecraft

SlashBlade Mod For Minecraft 1.7.10:

SlashBlade Mod For Minecraft 1.8.9: 
SlashBlade Mod For Minecraft 1.9.0:

SlashBlade Mod For Minecraft 1.9.4:

SlashBlade Mod For Minecraft 1.10.2:

SlashBlade Mod For Minecraft 1.11.2-1.11:

SlashBlade Mod For Minecraft 1.12.1-1.12:

SlashBlade Mod For Minecraft 1.12.2:

SlashBlade Mod For Minecraft 1.14.4:
SlashBlade Mod For Minecraft 1.15.2:

SlashBlade Mod For Minecraft 1.16.5:

SlashBlade Mod For Minecraft 1.18.1:
Author: scharfer ❘ Rating: 4.64 − 294 votes ❘ 594,464 views