Tinkers' Construct Mod, or Tinker Construct Mod 1.16.5-1.12.2, is a fairly popular mod for Minecraft players. This Minecraft Mod supports building, repairing, and customizing tools and weapons in the game.
What can you do with Tinkers 'Construct Mod?
Tinkers 'Construct Mod is a great mod to build, repair, and even modify tools and weapons in Minecraft. You can also forge metals to create more powerful weapons and tools to add to your arsenal. Specifically, Tinkers 'Construct Mod allows the metal to create powerful weapons or tools to add to your inventory.  You will start with a notebook – this will be your No.1 tool in figuring out everything you can do with this mod. It is full of formulas and instructions to make this mod easier to understand. There are also 4 other craft books to help with more advanced features.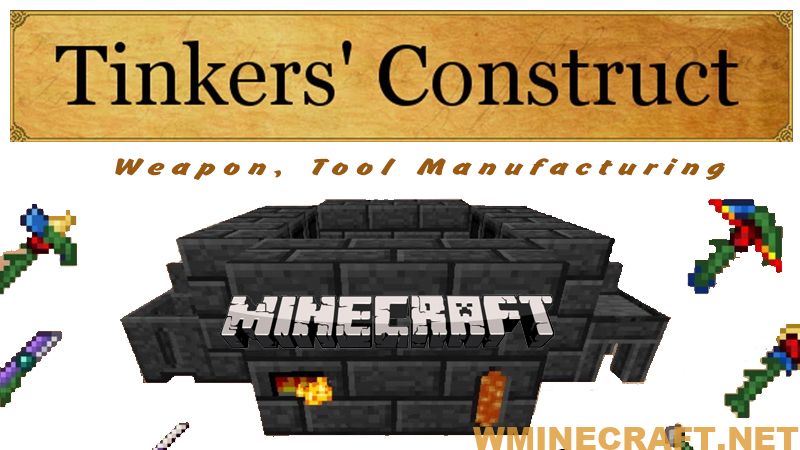 Some features of this mod
– This mod derived from templates you eventually create different sections for your desired tools and weapons. The panels you will need are the crafter, part builder, stencil table, tool station, and tool forge to get the basics.
– The Stencil Table allows you to turn blank templates into partial blueprints. You then use them to create the basic pieces that will craft your tools or weapons. That is very simple but can be overwhelming with how many combinations you can make. That's where your books will come in handy so check out them regularly.
See more:
Screenshots: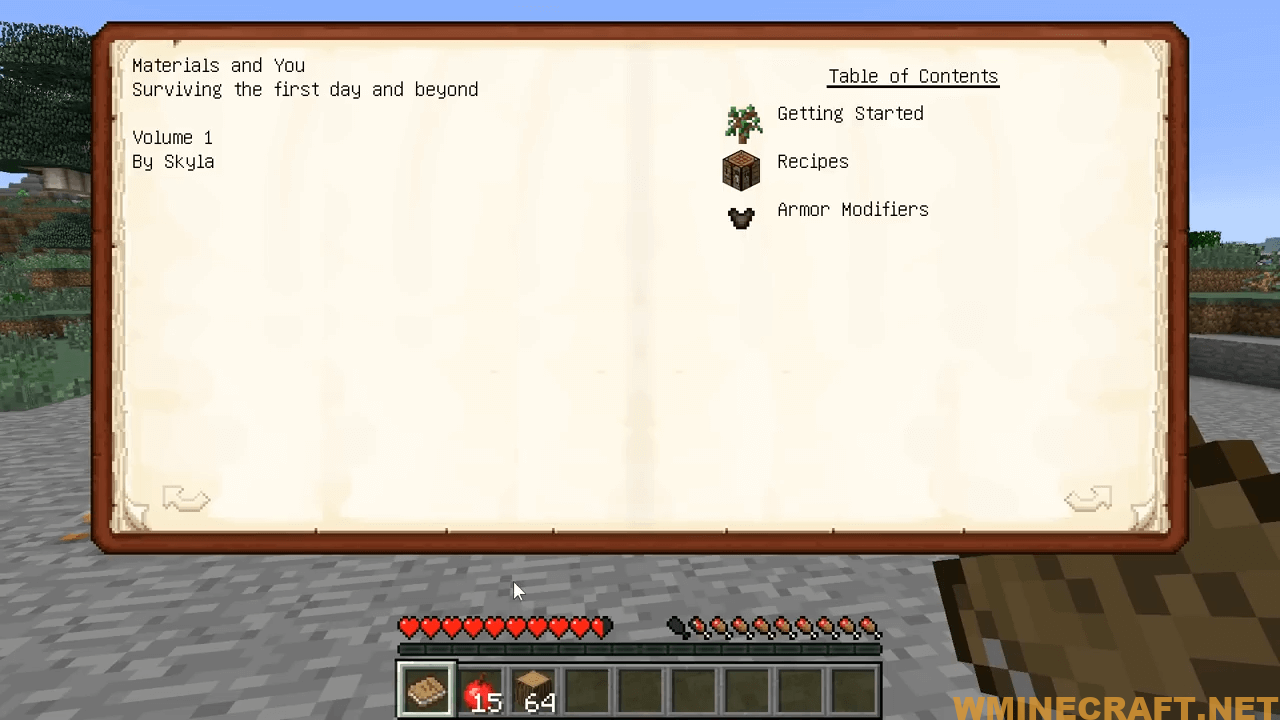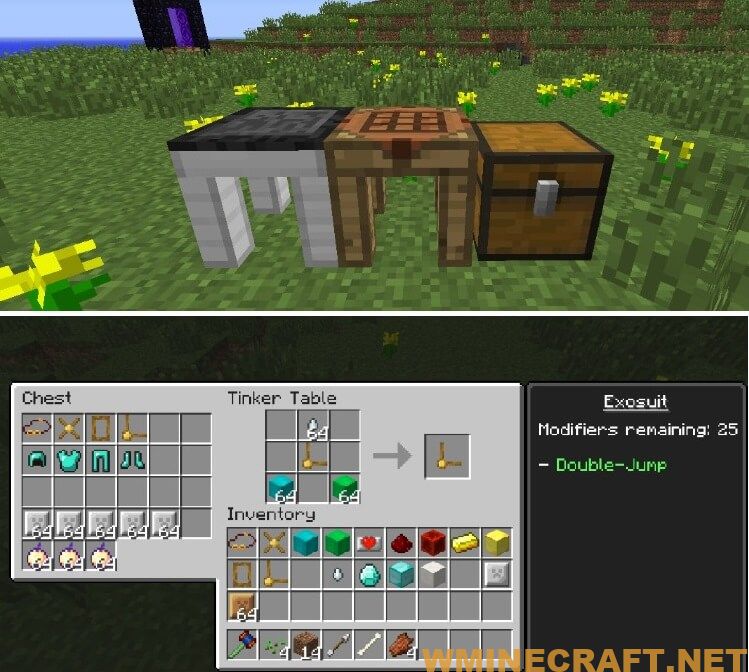 – Advanced tools appear when you build a smelter. This allows you to smelt the metal into stronger parts for your tools. The mod also adds a few new ores to the game that only further enhances your tools beyond the diamond's capabilities.
– So once you have a smelter and some metal is melted down, you can create billets from wooden tool parts. Then use workpieces with stronger metals to create stronger parts. It's like turning Minecraft into an RPG with tools to level up and upgrade their abilities and add new parts to them.
– And once you really understand this mod, you'll be able to give your tools special modifications like auto-repair. So when your tool starts to degrade, it will actually fix itself over time. Basically, you can dazzle your tools without any prior experience. It works completely apart from the items you have in your inventory. So instead of delving into magic and XP to boost your tools, you can choose to work hard and determined with this mod.
– This mod will depend a lot on the reference of in-game instructions. They will help you a lot in your new trade skills. Up to the point where you can craft yourself a really powerful hammer and shoot through your mines in 3 × 3 blocks. It is really efficient at fast mining with great productivity and great results . 
There is a lot to do with this mod, so discover new tools!
Crafting Recipes:
Tinkers construct guide
How to install the Tinkers Construct Mod with Minecraft Forge
Requires: 
Tinkers' Mechworks Mod (Minecraft 1.7.10 Only)
1. Download Minecraft Forge Installer and Mantle Mod, the file Tinkers-Construct-Mod.jar.
2. Right-click Forge Installer, Run as Administrator and click OK to install Forge.
(You can skip this step if you have Minecraft Forge installed)
3. Open Start on desktop> Open Run (Or you can use the Windows + R
keyboard shortcut)
4. Type% appdata% into Run and press Enter.
5. Go to /.minecraft/mods folder
6. Place the jar file of the mod you downloaded in the mod folder and then run
Minecraft.
FAQ:
What is Tinkers' Construct in Minecraft?
Tinkers' Construct adds various patterns which allows the player to make tool parts out of various materials such as Cactus, Paper and Obsidian. Current developers: boni, KnightMiner Latest Minecraft version: 1.12.2 Latest version: 2.8.0.45 Past developers: mDiyo, progml6
Can I use Tinkers mod in any modpack?
You are allowed to use the mod in your modpack. Any modpack which uses Tinkers' Construct takes full responsibility for user support queries. For anyone else, we only support official builds from the main CI server, not custom built jars. We also do not take bug reports for outdated builds of Minecraft.
Can you add ore to Tinkers Minecraft?
Advanced tools appear when you build a smelter. This allows you to smelt the metal into stronger parts for your tools. The mod also adds a few new ores to the game that only further enhances your tools beyond the diamond's capabilities. Tinkers' does not add any ore generation besides Cobalt and Ardite anymore. It does however support any mods that add them automatically.
Minecraft Forge(Modding API) Installation Guide
5 steps to successfully install Forge Minecraft
1. Access and Download select Minecraft forge version, then download the installer.
2. Requires installing Java on a computer. Open the .jar file you just downloaded, make sure 'Install Client' is selected, and click the OK button.
3. Run Minecraft and select the Forge profile, then click Play.
4. Select the Minecraft Forge menu on the left and the Mods button below Multiplayer.
5. Successfully, you can enjoy the mod just installed.
Tinkers' Construct Mod 1.16.5-1.12.2-1.11.2 Download Links:
Old version:
Show Content »»
Minecraft Game version 1.5.2
Minecraft Game version 1.6.2
Minecraft Game version 1.6.4
Minecraft Game version 1.7.2
Minecraft Game version 1.7.10:
Minecraft Game version 1.8.9:
Minecraft Game version 1.9.0:
Minecraft Game version 1.9.4:
Minecraft Game version 1.10.2:
Minecraft Game version 1.11.2:
Minecraft Game version 1.12.1/1.12:
Minecraft Game version 1.12.2:
Minecraft Game version 1.16.5:
Author: mDiyo – Source: Curseforge