Minecraft has been out for a while now. If you are looking to spice up your game with Visual Enchantments Texture Pack, then the Visual Enchantments texture pack is what you need! It will make enchanting items more immersive and fun by giving them unique appearances. It also helps players find the items they need in their inventory faster. Check out this Visual Enchants Texture Pack today!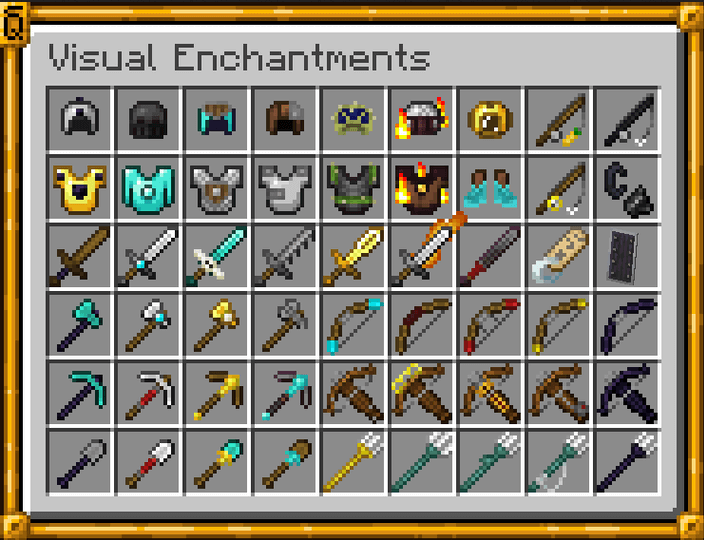 One of the most well-liked resource sets for Minecraft is Visual Enchantments. You probably already know that one of Minecraft's biggest features is the ability to enchant the majority of things, such as swords, arrows, and armor. The issue with enchantments in this game is that you can't tell from the outside what kind of enchantment is being put on a certain object. Reading the item's information is the only way to find out. It's not always convenient to do this. The majority of us desire a better answer to this.
Following the release of the Visual Enchantments resource pack, this is both doable and no longer a problem. You will note that after downloading and installing this pack, all of your charmed things now show enchantments not only in the description as text but also as aesthetically distinct items. For instance, enchantments with increased protection will resemble additional iron sheets on armor, and enchantments with breath will resemble a swimsuit helmet. In general, this is one of the best Minecraft mods ever, and we heartily suggest it to all players.
How to install:
Download a resource pack, you should get a .zip file.v
Open the folder to which you downloaded the file.
Copy the .zip file.
Open Minecraft.
Click on "Options", then "Resource Packs".
Choose "Open resource pack folder".
Paste the file into the resource folder in Minecraft.
Go back to Minecraft, the resource pack should now be listed and you can activate it by choosing it and hitting "Done".
All enchantments have themed item changes:
General enchantments:
– Unbreaking: Wood parts to obsidian
– Vanishing curse: Crooked item
– Mending: Green xp orb/motiv
Swords: 
– Knockback: Baseball bat / no guard
– Looting: Wider blade tip
– Sweeping: Longer blade
– Fire aspect: Flaming blade
Swords & Axes:
– Sharpness: Diamond orb on guard
– Smite: Skull on guard
– Bane of arthropods: Dented blade
Axes, Pickaxes, Hoes and Shovels:
– Efficiency: Redstone grip
– Fortune: Golden tool head
– Silk touch: Diamond tool head
Bows:
– Power: Golden themed
– Punch: Red glove arrow
– Flame: Fiery arrow
– Infinity: Diamond themed / soul arrow
Tridents:
– Impaling: Wider trident
– Loyalty: String
– Riptide: Dolphin fin
– Channeling: Golden trident
General Armor:
– Binding curse: Honey-soaked armor
– Protection: Reinforced visible body parts
– Blast protection: Iron reinforcement sheets
– Projectile protection: Shielded armor
– Fire protection: Nether armor
– Thorns: Cactus stripes
Helmet:
– Respiration: Diving helmet
– Aqua affinity: Scuba glasses
Boots:
– Depth strider: Heel propellers
– Frost walker: Frosted boots
– Feather falling: Feathered boots
– Soul speed: Crying obsidian themed
Screenshots: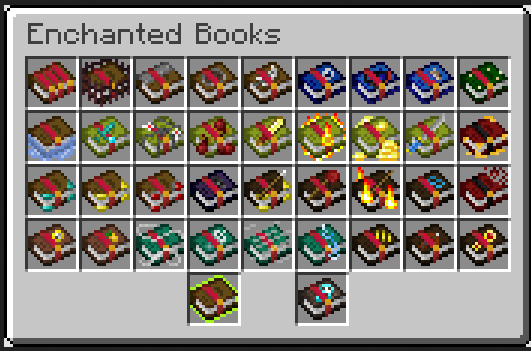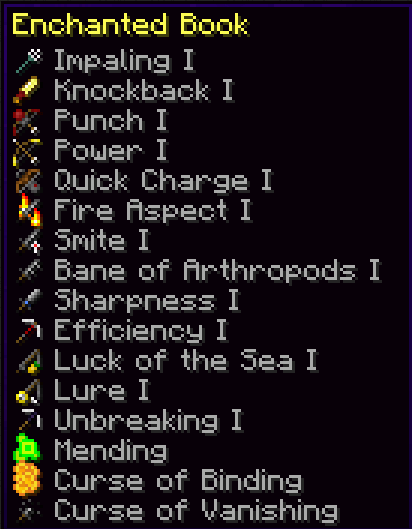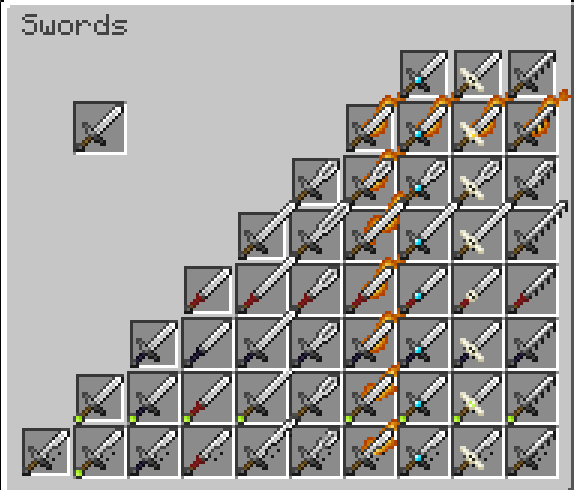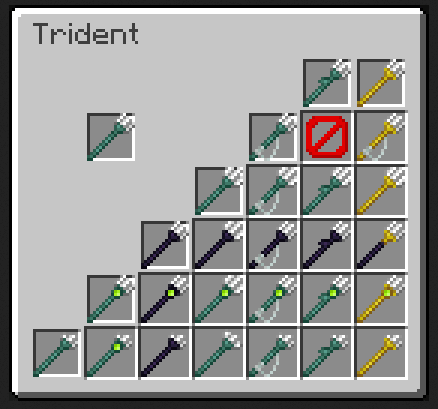 Visual Enchants Texture Pack 1.19.2, 1.18.2 Download Links:
Minecraft Game version 1.19.1:

Minecraft Game version 1.18.2:

Minecraft Game version 1.15.2:

Minecraft Game version 1.16.1:

Minecraft Game version 1.16.2:

Minecraft Game version 1.16.3:

Minecraft Game version 1.16.4:

Minecraft Game version 1.16.5:

Minecraft Game version 1.17.1: