The best Minecraft Texture Packs of 2023. Starting as a small, low-budget video game, Minecraft took the world by storm with its simplistic mechanics, undemanding graphics, and a vast world to explore and roam freely. Minecraft is today considered a franchise, as many spinoff games realized the original idea, including Minecraft Dungeons and the upcoming Minecraft Legends.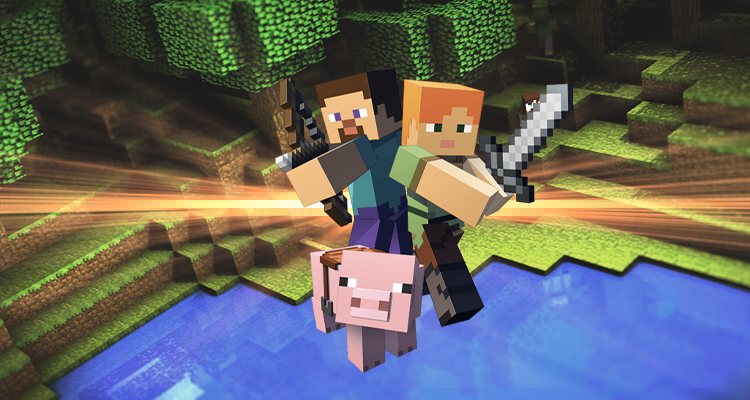 The graphics are equal to a 2000s game; however, players worldwide appreciate the game for just that. Minecraft received notable updates in the past few years, including fresh items and game mechanics. Such changes and the 'outdated' look inspired people to create texture/resource packs throughout the years. These packs alter the original graphic of the game to make it more realistic, modern, old-school, or anything in between.
There are so many places that feature the finest in-game services, including access to more than just regular Minecraft. So why not unburden yourself and check what they have to offer today?
Minecraft Texture Packs
Texture packs or Minecraft resource packs are reskins of all or some game elements such as trees, NPCs, weapons, armor, ores, water, lava, sky, and more. Resource packs are not included with the standard game but must be downloaded and installed.
There are official and fan-made texture packs widely available for free or for a fee, with instructions on installing them. In addition, we recommend installing Optifine, a software that helps optimize mods to reduce unwanted bugs.
Top 5 Minecraft Texture Packs of 2023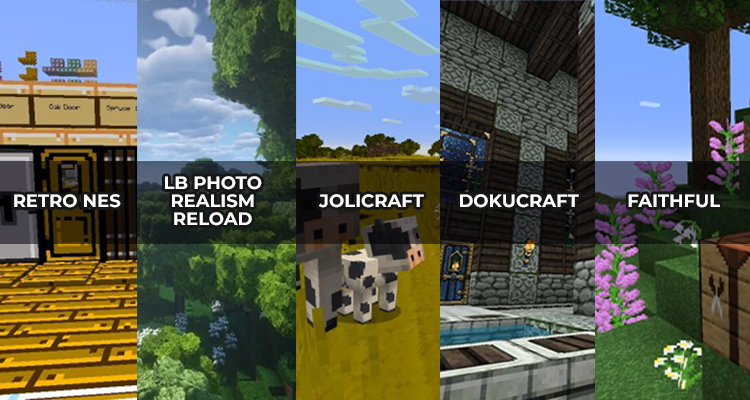 Retro NES
This texture pack features elements from the one and only Nintendo Entertainment System, an 8-bit console from the 1980s. Retro NES features an old-school 16×16 resolution with popular NES characters displayed on various blocks.
Older generations will appreciate this pack and its OG Super Mario elements. It is a nostalgic experience, so try to keep an open mind about it if you are unfamiliar with NES games when you look to pick it up.
LB Photo Realism Reload
The LBPR is precisely what it implies, a realistic resource pack making everything from grass to NPCs as high-res as possible. In addition, the texture is very detailed, as all game elements were built using real-world examples.
Being an HD pack adds the 'prestige' feel to the game since Minecraft is demanding on CPUs and GPUs while sporting mediocre quality, which may put some players off. However, this texture pack builds on its version from Minecraft's inception, meaning it stood the test of time.
JoliCraft
JoliCraft is a texture pack offering a yellow, medieval feel to vanilla. With 16×16 resolution, the maker intended the pack to be as close to the original Minecraft as possible but with a twist. As with other packs mentioned, JoliCraft completely overhauls Minecraft as we know it.
JoliCraft is a perfect pack for someone who wants to stay within the classic Minecraft experience. Finally, if you are okay with deciphering the engaging text JoliCraft provides, we recommend picking it up!
Dokucraft
This resource pack is another medieval version offering six alternatives inspired by classic RPG titles like The Legend of Zelda. Released in 2011, Dokucraft features over 20 thousand textures spread across Dokucraft Light, Dark, High, Dwarven, DokuPBR, and MiniDoku.
Dokucraft Light introduces a more vibrant, colorful feel, whereas mystical ideas inspire Dokucraft Dark. Dokucraft High is for those looking for a peaceful, calm Minecraft experience, and Dwarven celebrates structure building. To top it all off, once you load up the pack, you can launch the fireworks to see its beauty.
Faithful
Faithful is another texture pack dating back well over ten years. It is considered the first pack that did not introduce any significant changes but improved the overall resolution of the game.
Players can download Faithful or Classic Faithful, refining existing textures while keeping the classic look. Interestingly, although the pack aims to keep the game as vanilla as possible, it is available in 32×32 and 64×64 versions. This is an excellent choice for those looking to spice things up!
What do you think?
These packs were chosen according to player votes, and it is no surprise they have been popular for so long. This shows that players appreciate Minecraft for what it is; a timeless video game that allows the community to mod it and bring it closer to their demands.
This power move boosts Minecraft's replayability and longevity and is something all future titles should look up to. So, did we get the list right? Which texture packs are your favorite and why?