Minecraft Vanilla Hammers Mod 1.16.5-1.16.3-1.15.2… brings 13 new Hammer items that mine an area of 3×3 in front of the player. The whole specific mod is very beneficial for excavations and mining on a wide scale. The essential requirement for Vanilla Hammers Mod to function is that there must be Fabric API and Fabric Loader present.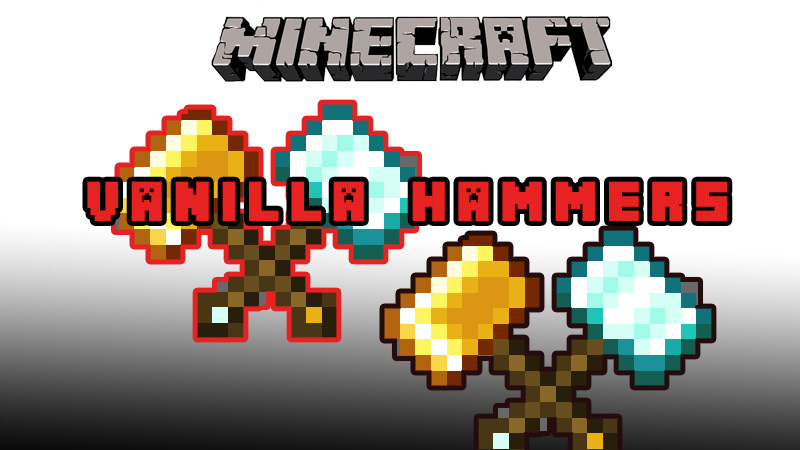 Each Vanilla Hammer item is dependent on a vanilla material. As the material becomes rarer, the hammer's statistics increase. Every hammer has the same amount of mining as the vanilla tool's equivalent, but it has more reliability and is less time-consuming. It leaves you wondering you can go for a great hammer, so why to bother using a Diamond Pickaxe.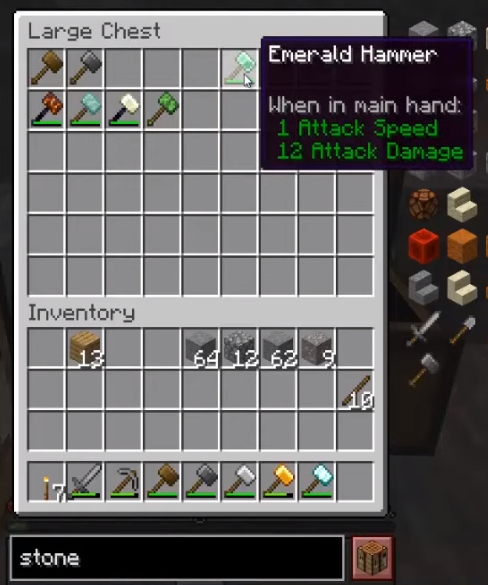 If you are deeply invested in collecting resources, then you will definitely love the potential of using Minecraft's Vanilla Hammers mod. Its unique aspect is that you only need to collect recipes for different hammers that will not only have a distinctive design but also impress you with additional features during the mining of resources. One of the main characteristics of mining is its scale and speed.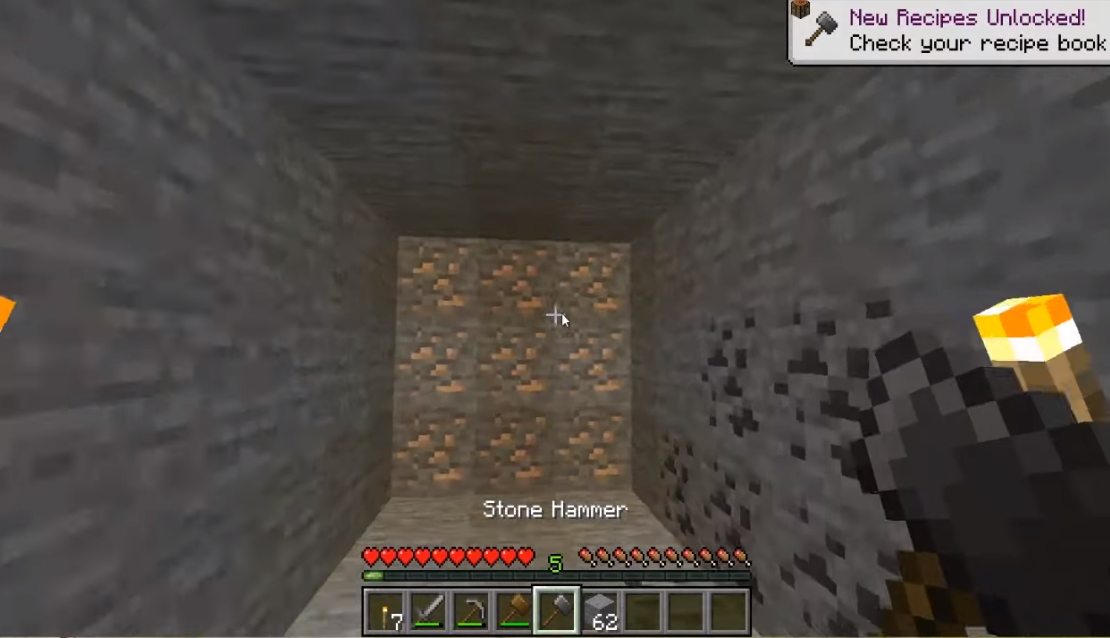 You can also check out all the exciting developments accessible alongside the hidden ones to discover and complete. To open the tab, you will need to forge a Wooden Pickaxe.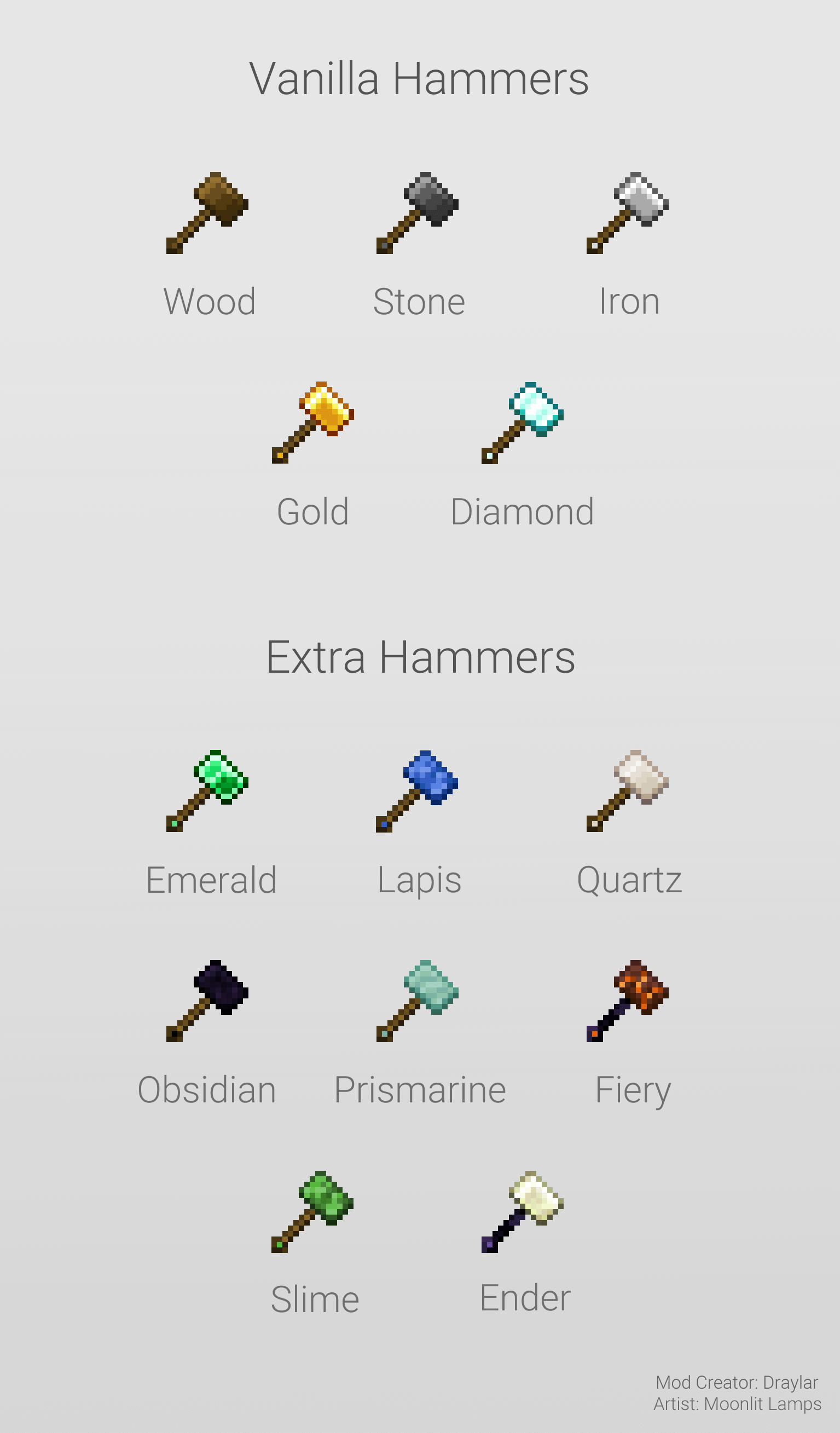 If you end up damaging your hammer and need an immediate fix, it has to be put in an anvil with its corresponding form of material. For those who crave a genuine vanilla interaction, there are configuration choices to disable those materials. You can customize how the hitbox 3×3 looks, as well.
Relative Post:
Download Gobber Mod 1.16.5/1.15.2 and 1.12.2 (Tools, weapons, armor)
Balkon's Weapon Mod 1.7.10 for Minecraft (More weapons )
More Vanilla Tools 1.16.4/1.15.2 (New weapons sets and tools)
Screenshots: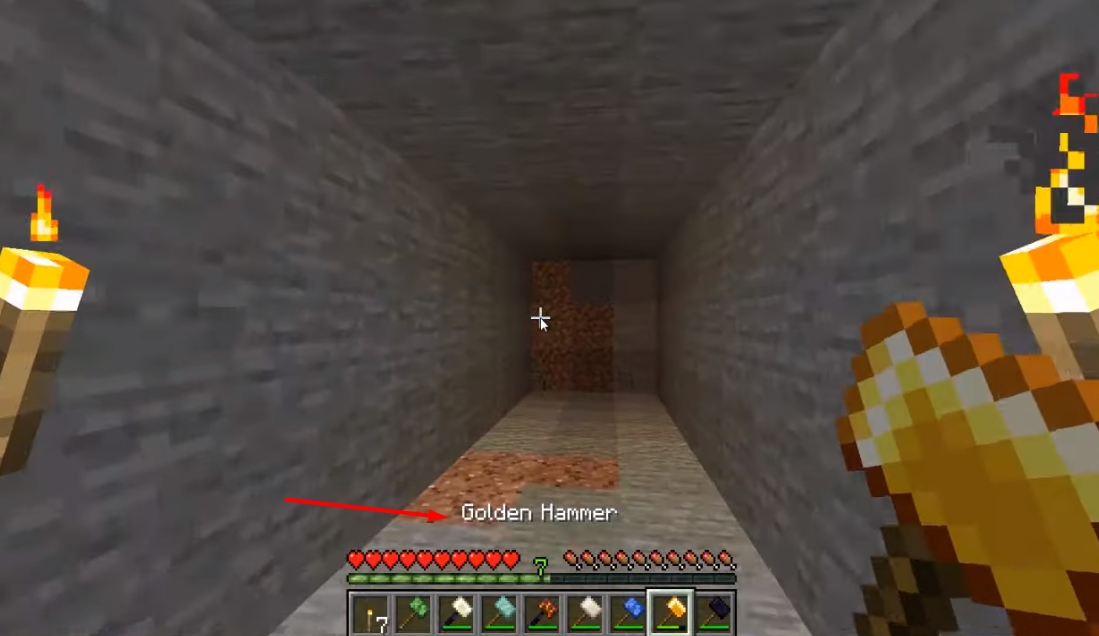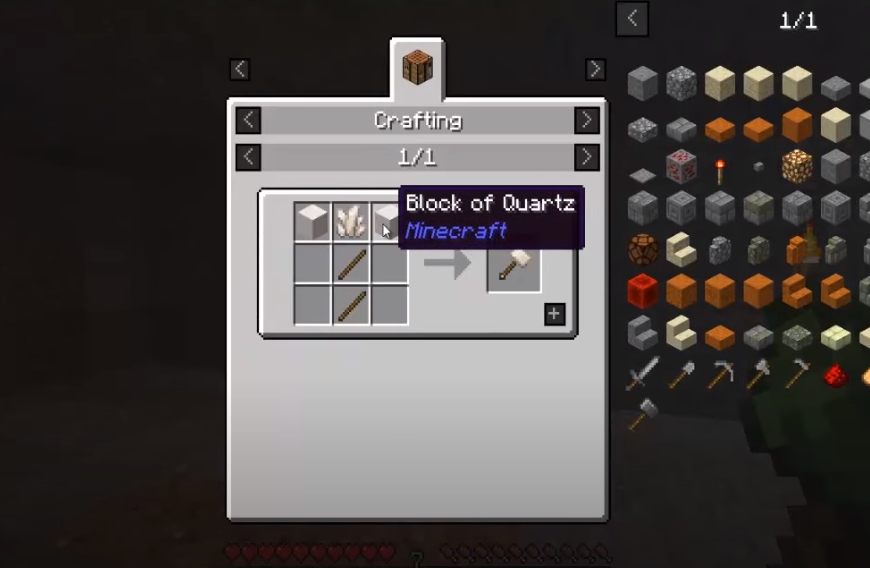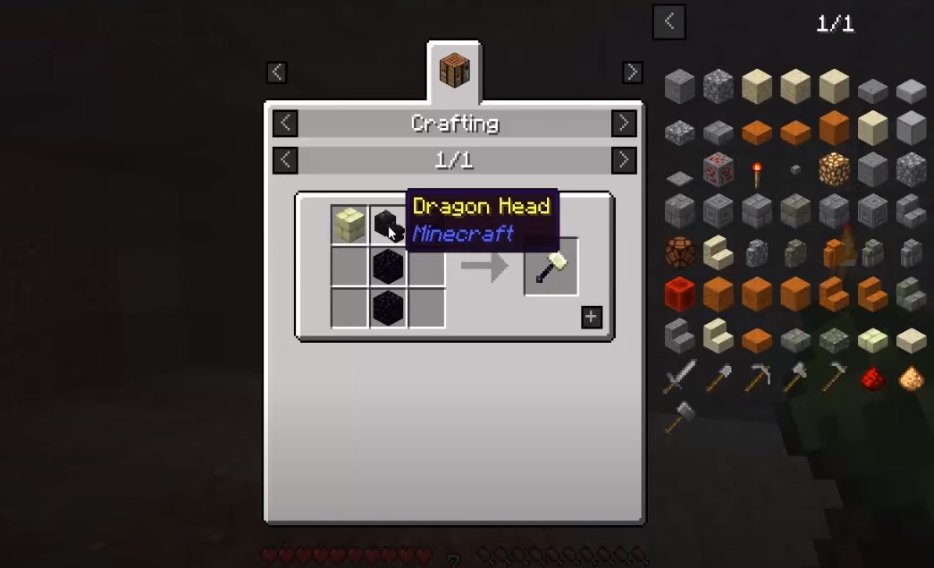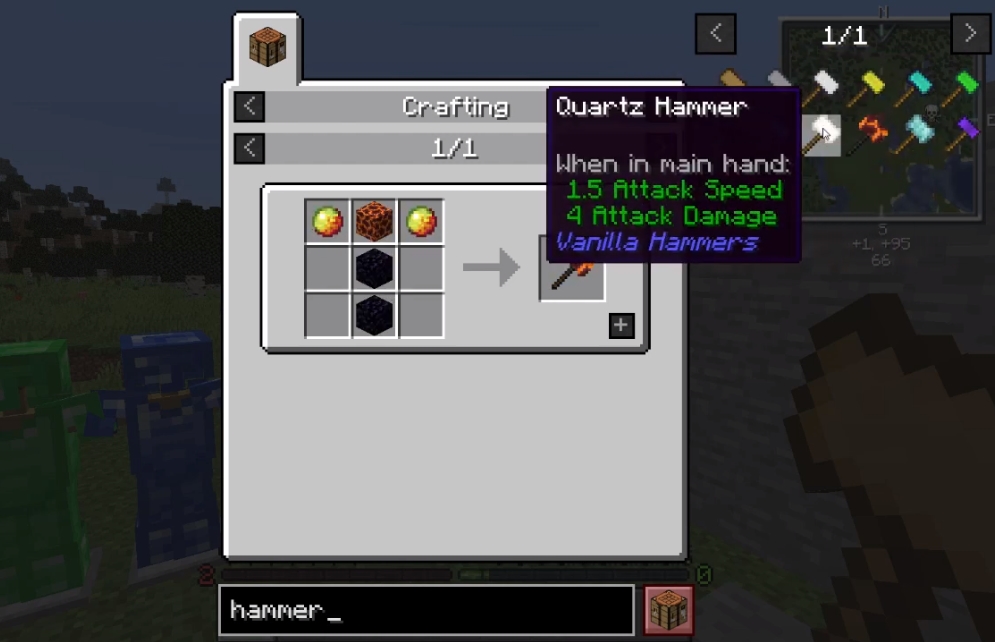 Features of Minecraft Vanilla Hammer Mod:
Minecraft mod hammer 3×3 mining
Vanilla Hammers
Wood

Iron

Gold

Stone

Diamond
Additional Hammers
Emerald

Slime

Lapis

Prismarine

Fiery

Quartz

Obsidian

Ender
Crafting Recipes: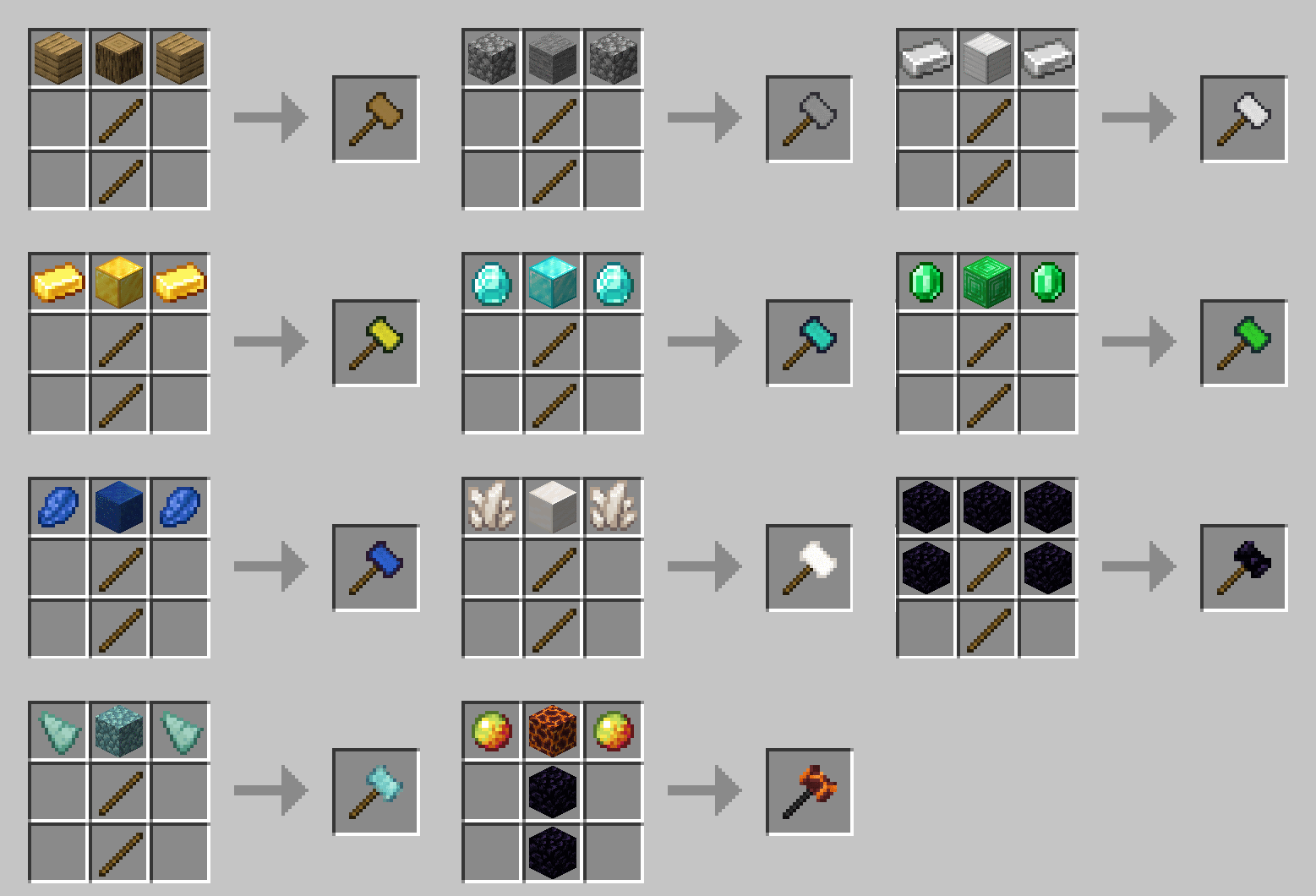 How to install:
Download and Install Minecraft Launcher Vanilla
Download and Install Fabric Installer for Vanilla Launcher
Run recently downloaded .jar file, choose the version you want and press "Install."
Run Minecraft, select the profile with Fabric installed and press Play
Press Start on Desktop
Choose Run
Type %appdata% onto Run and press Enter.
Goes into Roaming/.minecraft/mods
Put the jar. Files onto the mod folder and run Minecraft.
Video tutorial on Youtube:
Minecraft Forge (Modding API) Installation Guide
5 steps to successfully install Forge Minecraft
1. Access and Download select Minecraft forge version, then download the installer.
2. Requires installing Java on a computer. Open the .jar file you just downloaded, make sure 'Install Client' is selected, and click the OK button.
3. Run Minecraft and select the Forge profile, then click Play.
4. Select the Minecraft Forge menu on the left and the Mods button below Multiplayer.
5. Successfully, you can enjoy the mod just installed.
Vanilla Hammers Mod 1.16.5-1.16.3-1.15.2 Download Links:
Minecraft Game version 1.14.2
Fabric version:  Download From Server
Minecraft Game version 1.14.3
Fabric version: Download From Server
Minecraft Game version 1.14.4
Fabric version: Download From Server

Forge version: Download From Server
Minecraft Game version 1.15.2
Fabric version: Download From Server

Forge version: Download From Server
Minecraft Game version 1.16.1
Fabric version: Download From Server

Forge version: Download From Server
Minecraft Game version 1.16.2
Fabric version: Download From Server

Forge version: Download From Server
Minecraft Game version 1.16.3
Forge version:Download From Server
Minecraft Game version 1.16.4
Forge version: Download from Server 1 – Download from Server 2
Minecraft Game version 1.16.5
Fabric version: Download From Server

Forge version: Download From Server
Author: Draylar1 ❘ Rating: 4.25 − 117 votes ❘ 142,653 views – Source: curse