Use More Pickaxes Mod in Minecraft game.
This mod in the game Minecraft will add many new items such as mods and ore blocks. By exploring different new ores and blocks, you will create new tools that were never seen in Minecraft. Examples are Emerald and Quartz, Carbon Ore, Ignis Ore, Frozen Ore, Titanium Ore, Fire Armor, Ice and Titanium.
Tools: Fire, Frozen, Titanium, and Tricked items. So there are a lot of items that you have to explore.
More Pickaxes Mod is a pickaxe mod for Minecraft collection! So it has some mods as follows:
Relative Post:
Mo' Bends Mod 1.12.2 – where you can freely create cool animations for your character
Mo'Swords Mod 1.12.2 for Minecraft PC – (14 new swords)
Mo'Creatures Mod 1.16.3-1.12.2-1.10.2 – Review and Showcase
Crafting Recipes:
Almost every Pickaxe will be crafted like this:
Features:
Common Pickaxes
Sand Pickaxe
Sandstone Pickaxe
Gravel Pickaxe
Mossy Stone Pickaxe
Dirt Pickaxe
Grass Pickaxe
Clay Pickaxe
Bone Pickaxe
Flint Pickaxe
Leather Pickaxe
Coal Pickaxe
Wool Pickaxe
Cactus Pickaxe
Red Mushroom Pickaxe
Brown Mushroom Pickaxe
Andesite Pickaxe
Diorite Pickaxe
Granite Pickaxe
Uncommon Pickaxes
Apple Pickaxe
Melon Pickaxe
Cake Pickaxe
Cocoabean Pickaxe
Bread Pickaxe
Mycelium Pickaxe
Nether Brick Pickaxe
Brick Pickaxe
Glass Pickaxe
Pumpkin Pickaxe
Redstone Pickaxe
Glow Stone Pickaxe
Soul Sand Pickaxe
End Stone Pickaxe
Netherrack Pickaxe
Sponge Pickaxe
Quartz Pickaxe
Ice Pickaxe
Prismarine Pickaxe
Rare Pickaxes
Golden Apple Pickaxe
Obsidian Pickaxe
Emerald Pickaxe
Mega Pickaxe
Epic Pickaxes
Notch Apple Pickaxe
Bedrock Pickaxe
Nether Star Pickaxe
Extreme Pickaxe
Anvil Pickaxe
Mythic Pickaxes
Lapis Lazuli Pickaxe
Magma Pickaxe
TNT Pickaxe
Ender Pickaxe
Snowball Pickaxe
Blaze Pickaxe
Slime Pickaxe
Spider Eye Pickaxe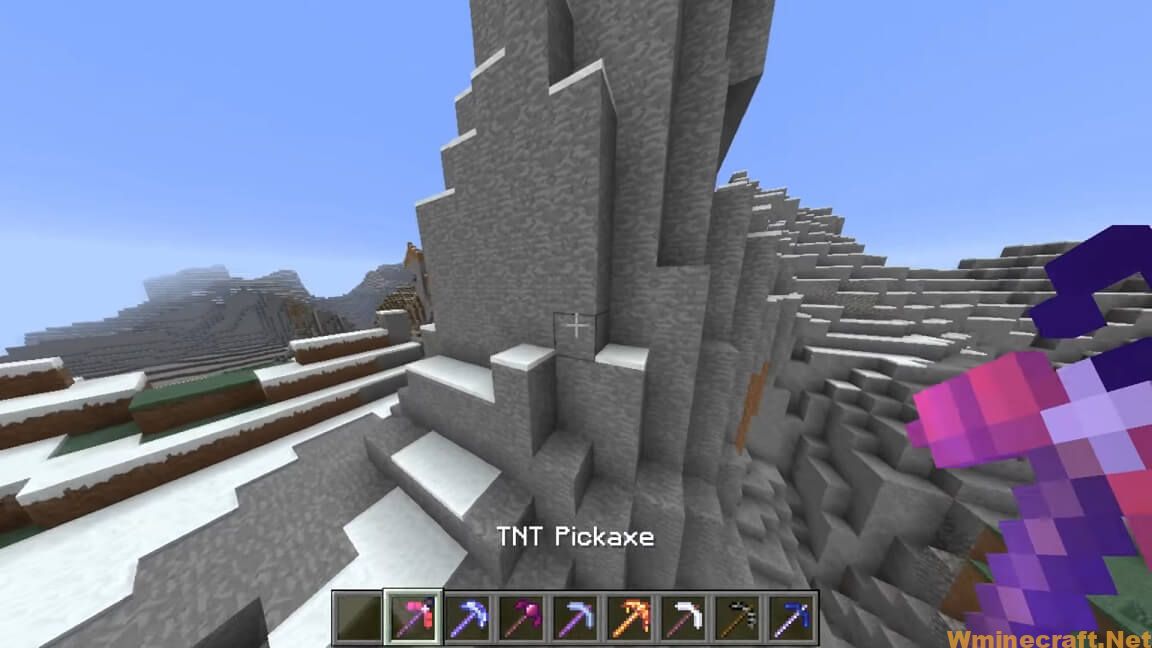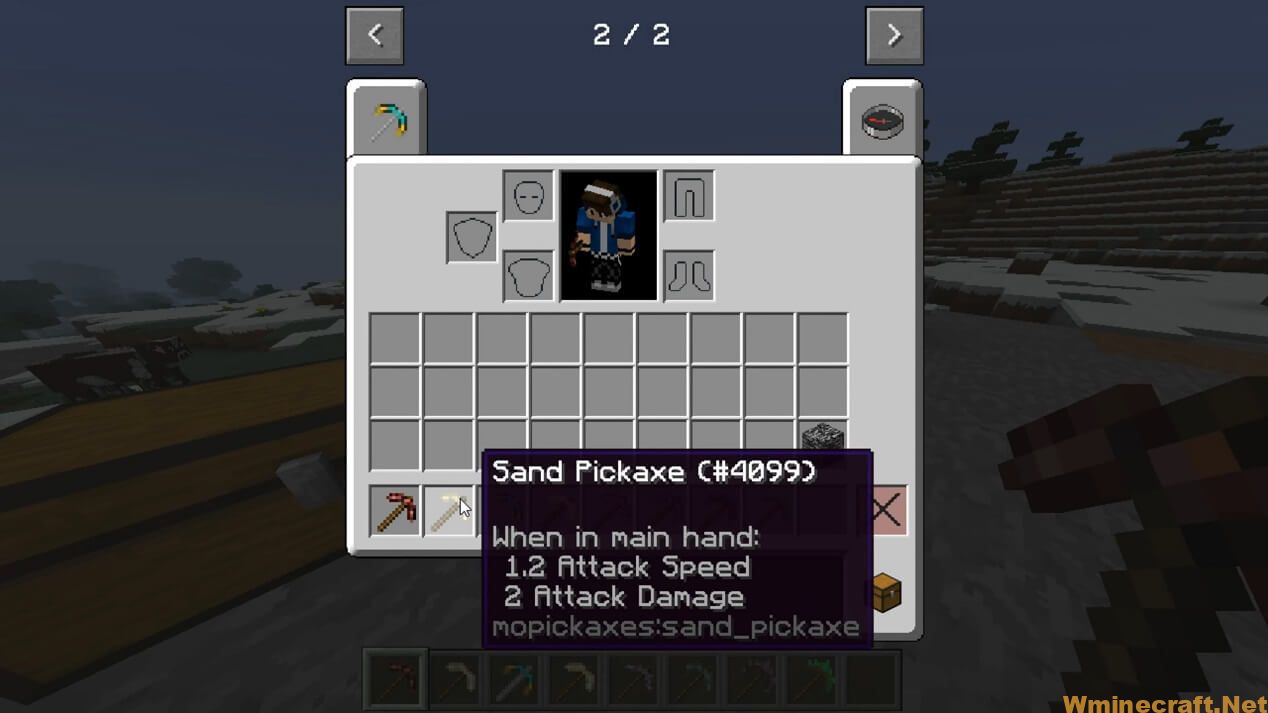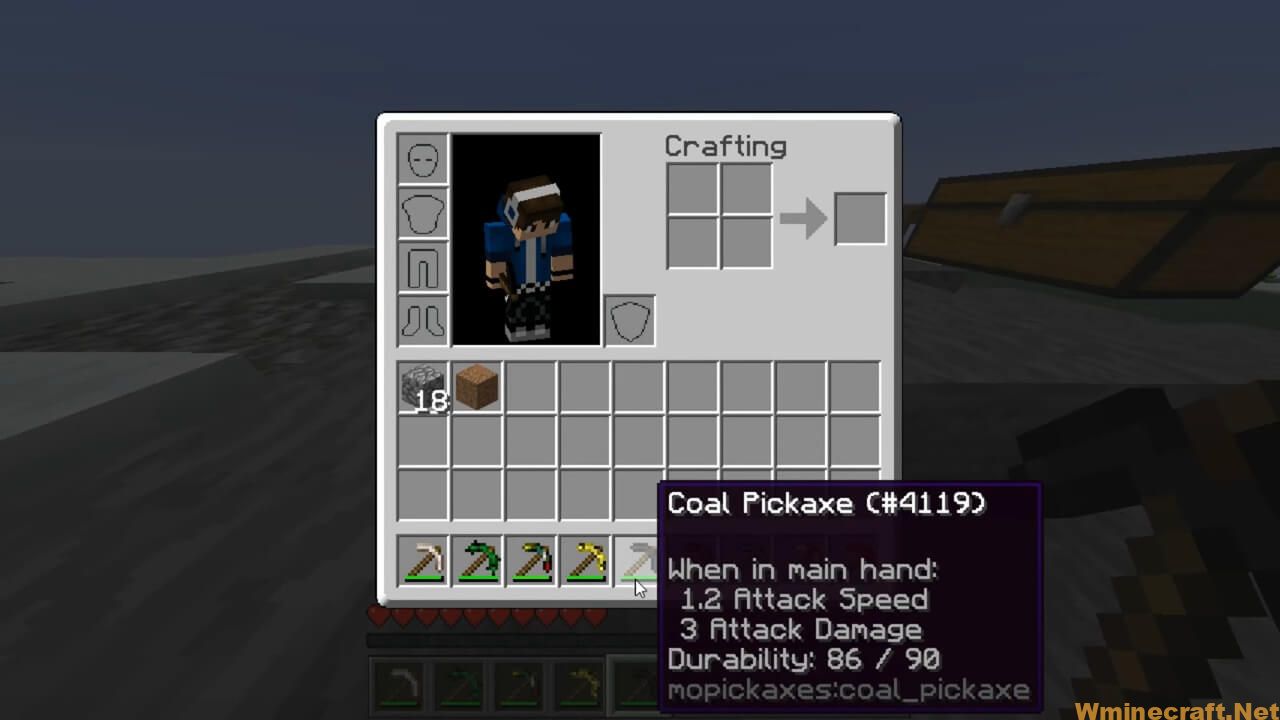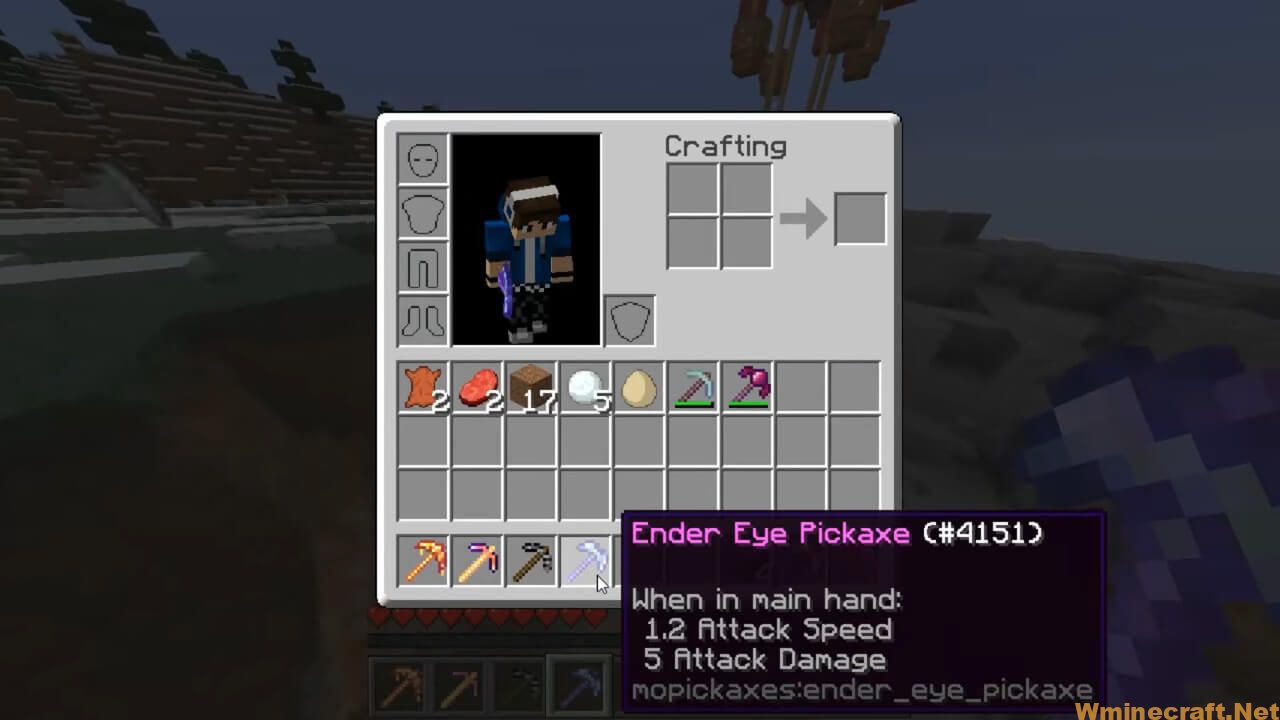 Some mods from the national collection for Minecraft:
Redstone Tools Mod for MCPE is a cool and innovative mod about tools in Minecraft PE, produced by xCowboysButtsx. With this mod, you will have a variety of new tools made from Redstone, such as armor set, sword weapon, a Redstone pickaxe, ax, and shovel. A sword is even more than diamonds!!! And a Pickaxe for adding a block of water and you can find handcrafted recipes on vanilla blocks.

SpellCraft Mod is a special and interesting mod created by wilco375, talking about crafting in Minecraft PE. This mod adds a new crafting board block for you. Its features can create 13 different spells, each with different abilities such as firing, one bullet explodes, ignites everything and can instantly plant different crops. Start using it by touching the sides of the block (marked in red) to open the chest. Here you place the items needed to create a specific spell (recipes can be found below). Touch the top of the block (marked green) to open the Crafter the spell. Here you choose the spell you want to produce. Touch the magic circle to build it.
Classification of country types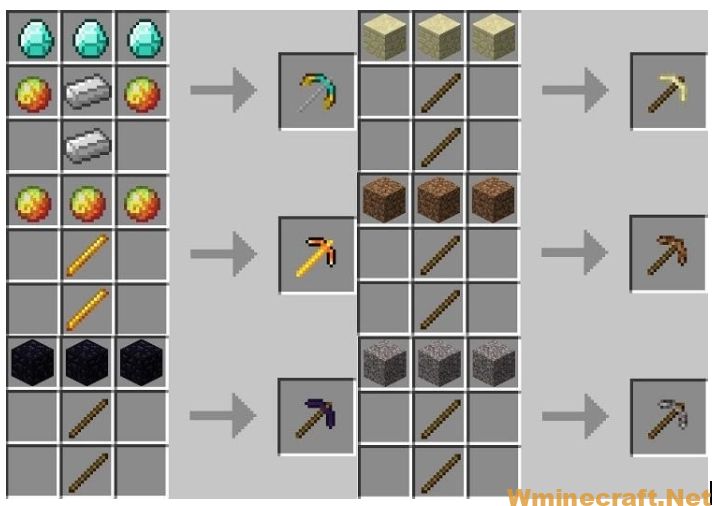 In addition to the mods are classified as above. More Pickaxes Mod also adds more than 38 new types of pickaxes that can enchant the world of Minecraft. It's very funny.
Ordinary hoes: These hoes are common hoes, so they can mine blocks and can be crafted with sticks and their materials!
Pickaxe: This hoe is only edible, but it can be eaten 3 times, giving food 3 times!
Low durability hoes: These pickaxes do a lot of damage and they are very effective, but they will fail very quickly!
Special pickaxe: This hoe has a special ability.
Special right-click hoes: This hoe has a special ability when you right-click. (By the way, the lapis lazuli pick is the same as the lapis lazuli pickaxe)
Cheating pickaxe: This pickaxe is too overwhelming since you can't get ingredients in Minecraft, so you have to cheat to get this one!
Mod Trailer:
Minecraft Forge (Modding API) Installation Guide
5 steps to successfully install Forge Minecraft
1. Access and Download select Minecraft forge version, then download the installer.
2. Requires installing Java on a computer. Open the .jar file you just downloaded, make sure 'Install Client' is selected, and click the OK button.
3. Run Minecraft and select the Forge profile, then click Play.
4. Select the Minecraft Forge menu on the left and the Mods button below Multiplayer.
5. Successfully, you can enjoy the mod just installed.
Download Links:
Mo' Pickaxes Mod For Minecraft 1.7.2:
Mo' Pickaxes Mod For Minecraft 1.7.10:

Mo' Pickaxes Mod For Minecraft 1.8.0:

Mo' Pickaxes Mod For Minecraft 1.8.9:

Mo' Pickaxes Mod For Minecraft 1.10.2:

Mo' Pickaxes Mod For Minecraft 1.11:

Mo' Pickaxes Mod For Minecraft 1.11.2:

Mo' Pickaxes Mod For Minecraft 1.12.2:
Author: Soletare ❘ Rating: 4.61 − 369 votes ❘ 410,648 views
How to install More Pickaxes Mod?
First, your computer must have 
Minecraft forge 1.12.2
 installed to download the Mo' Pickaxes Mod
Then, navigate to the folder containing Minecraft.
For Windows computers, from the Start menu, open Run, enter the command 
%appdata%
 and click the Run button.
On a Mac, from Open Finder, hold Alt then Go -> Library in the top menu bar. Open the Application Support folder to find Minecraft.
Put the newly downloaded mod (.Jar file) into the Mods folder. When opening a Minecraft game, press the Mods button to try the mod just installed.