During the mining process in the cave, you may experience a bit of difficulty as the cave or the ravine areas will be quite dark. In order to easily exploit minerals in this environment, you need Miner's Helmet Mod 1.16.5-1.15.2. Discover the details about it through the information shared below right now.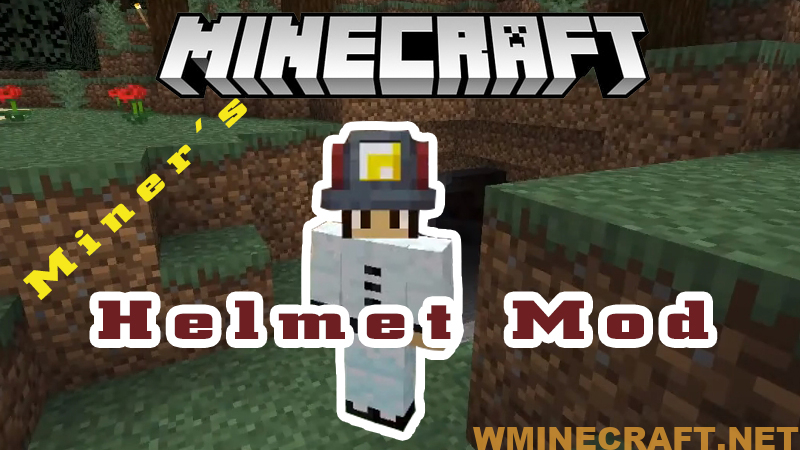 Why should you install Miner's Helmet Mod?
The Minecraft game world is extremely large and interesting. When playing the Minecraft game, you will have to overcome many difficulties and challenges to get the rewards. 
Of course, in Minecraft, there will be dark caves or dangerous ravines hidden deep in them with rare minerals waiting for you to explore. Besides the necessary tools for you to mine, you also need lighting items to help you see the space you are exploring.
Relative Post:
OreSpawn Mod 1.12.2-1.7.10 – Powerful new mobs for Minecraft
Minecraft Xray Mod 1.16.5-1.15.2-1.14.4 (Xray ultimate Survival fly)
Too Much TNT Mod 1.12.2-1.8-1.7.10 (TNT Mods)
When you explore dark caves, forests, or even dive underwater, you will not be able to see anything without the help of flashlights or torches. 
Many players choose to install Realistic Torches Mod or Dynamic Lights Mod to create a torch and hold it in your hand when mine, but really this is not the most useful option. And that's why you should install and use Miner's Helmet Mod.
The outstanding features of Miner's Helmet Mod you should know
Miner's Helmet Mod is a super simple Minecraft Mod but extremely useful for Minecraft players. Basically, this game mod will give you a helmet with lights to aid in digging in dark areas more effectively and easily.
This helmet is fitted with lights, just like a real-life furnace's helmet. It functions both as a helmet to protect the player and to aid in lighting in places like caves, underwater, or ravines.
And we will list the main features of Miner's Helmet Mod:
As soon as you own a lantern, you can unlock the recipe for this useful mining hat.

This type of hat works very well in caves.

Use a hat with a light to illuminate your path in dark areas or caves without holding a torch or flashlight.

The hat can be used when diving underwater, helping to illuminate dark trench areas.

The mobs can also wear a hat and spawn the same type of hat. That is, they will spawn with Pickaxe in hand. When defeating the mob, the player has a chance to pick up the hat they dropped.

Easy to use and install (requires Minecraft Forge download)
Besides the great features we've listed above, Miner's Helmet Mod also has a pretty big downside that affects a player's choice with this game mod. That is when you use this helmet with a light, the FPS (Frame Per Second) can drop quite a lot. For example, from 60 FPS down to only 10-20 FPS.
We also hope that Miner's Helmet Mod will be updated and overcome this drawback so that Minecraft players will have a better game. Either way, the Miner's Helmet Mod is still worth a try while playing Minecraft.
Features:
Crafting Recipe: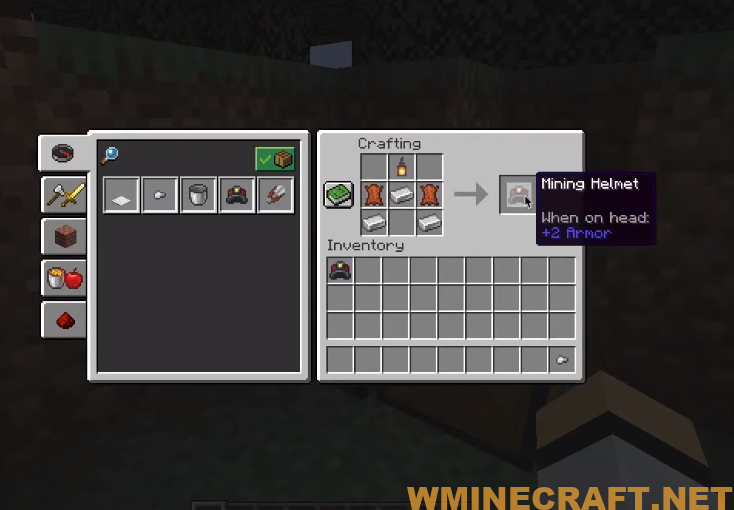 Mobs can wear (and spawn with) it too!
How to install:
How to Use Forge to Install Minecraft Mods (Client Side)
How To Install The Fabric Mod Loader After Downloading It
The newest Minecraft Mods are available right now.
Miner's Helmet Mod for Minecraft 1.16.5/1.15.2/1.14.4 Download Links:
Minecraft Game version 1.14.4
Minecraft Game version 1.15.2
Minecraft Game version 1.16.1
Minecraft Game version 1.16.2
Minecraft Game version 1.16.3
Minecraft Game version 1.16.4
Minecraft Game version 1.16.5
Author: ModdingLegacy, KingPhygieBoo – Source: Curseforge