The interesting features and experiences of Extra Golems Mod 1.17.1/1.16.5/1.15.2 (Too Many Golems)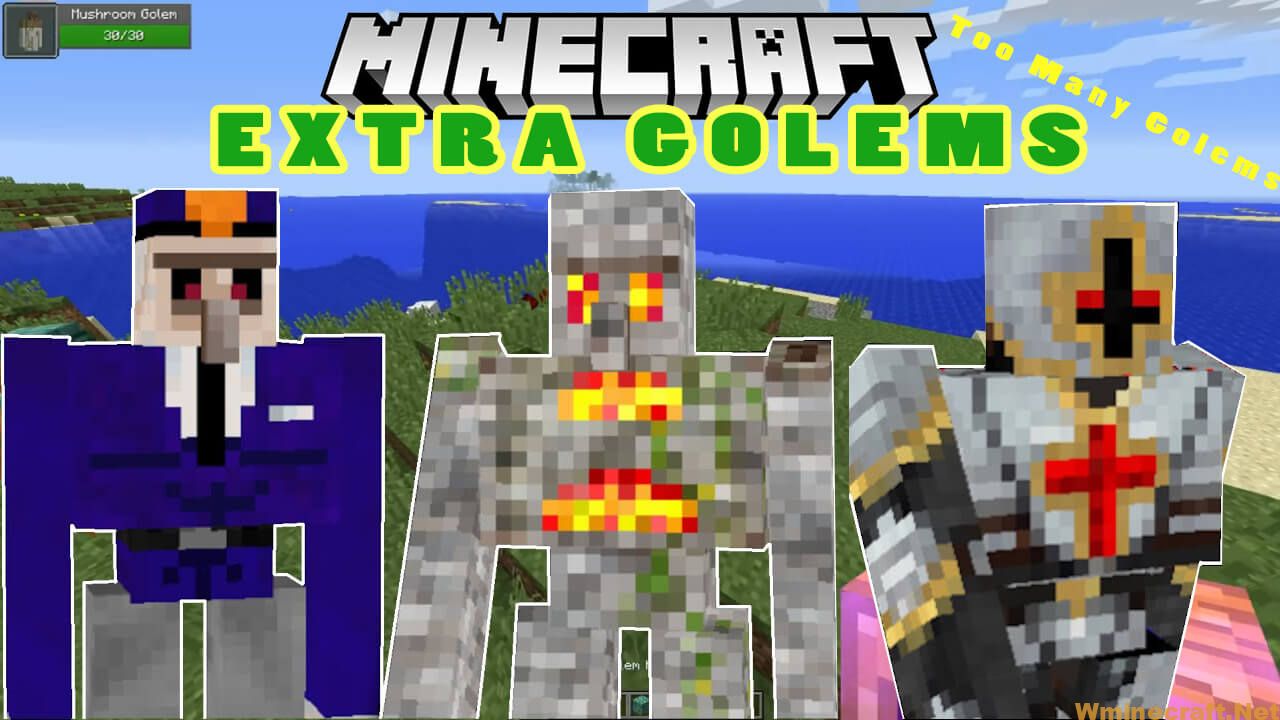 Have you ever wanted more special pets and more powerful golems?
Extra Golems Mod was developed to add new golems with unique abilities to the Minecraft world because many players were no longer interested in the mob available in vanilla Minecraft.
After installing this Minecraft Mod, you will find some extremely powerful golems, even stronger than the famous Iron golem and Snow golem. In this article, we will introduce you to the unique features and experiences of Extra Golems Mod.
Relative Post:
Battle Towers Mod [1.15.2-1.12.2-1.7.10] (Tower Minecraft,attractive features)
Utility Mobs Mod 1.12.2 and 1.7.10
Wintercraft Mod 1.8.9 (Christmas Mod Minecraft)
The main features of Extra Golems Mod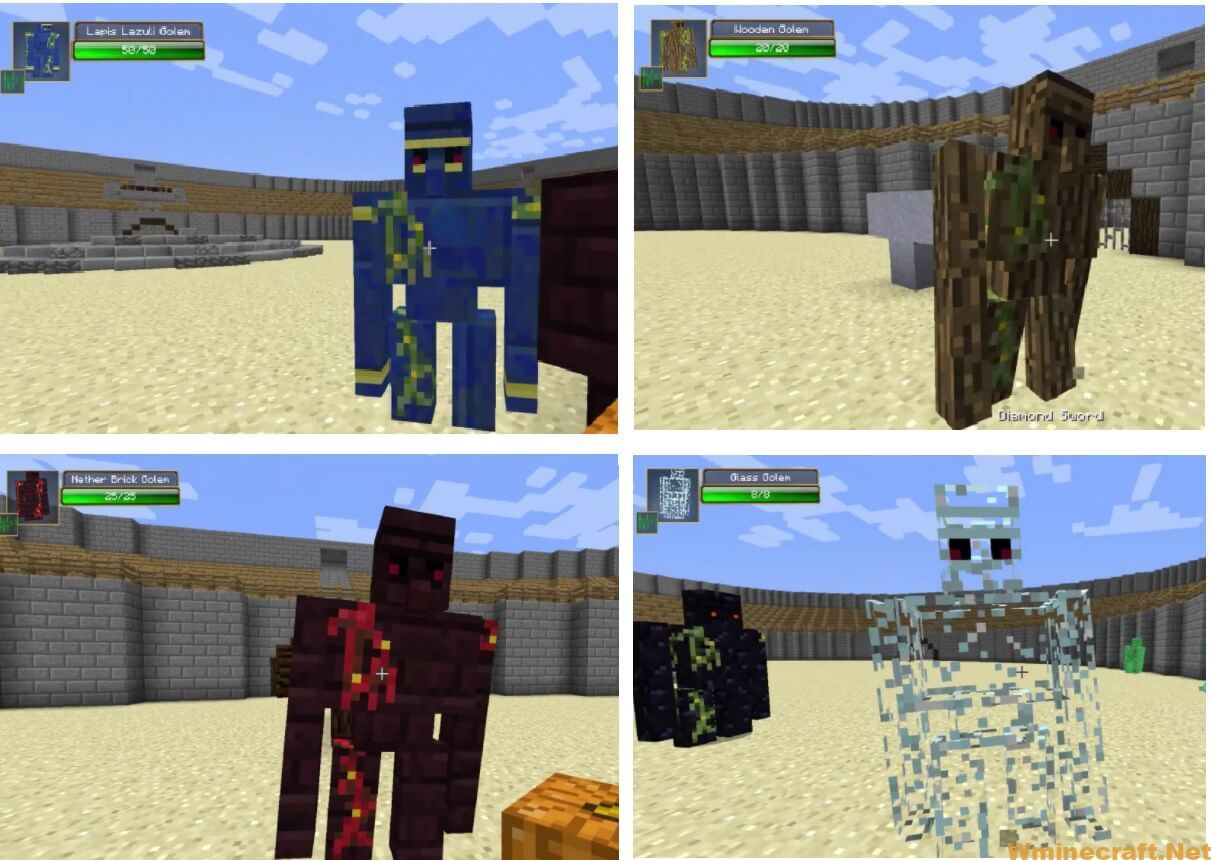 Magnetic Golem
Has 5 HP and does not fight.

Can be tamed with Redstone.

When tamed, it will suck the item towards its position.

Will die when exposed to water.

Not reproducing anywhere.
Straw Golem
Has 20 HP and deals 5 damage per attack.

Works basically the same as Iron golem.

Receive more damage from fire.

Not reproduced or engineered.
Stone Golem
Has 100 HP and deals 21 damage per attack.

Works basically like Iron golem.

Absorbs 2 times of damage.

Immune to most physical damage.

Cannot attack it with bow and arrow.

Not reproduced or engineered.
Metallic Golem
Has 140 HP and deals 21 damage per attack.

Shoot lasers at long-range enemies.
Absorbs 10 times the damage.

Attack any mob and cannot be controlled.
Its laser eyes deal 10 damage per tick and burn enemies.

Not reproduced or engineered.
Screenshots: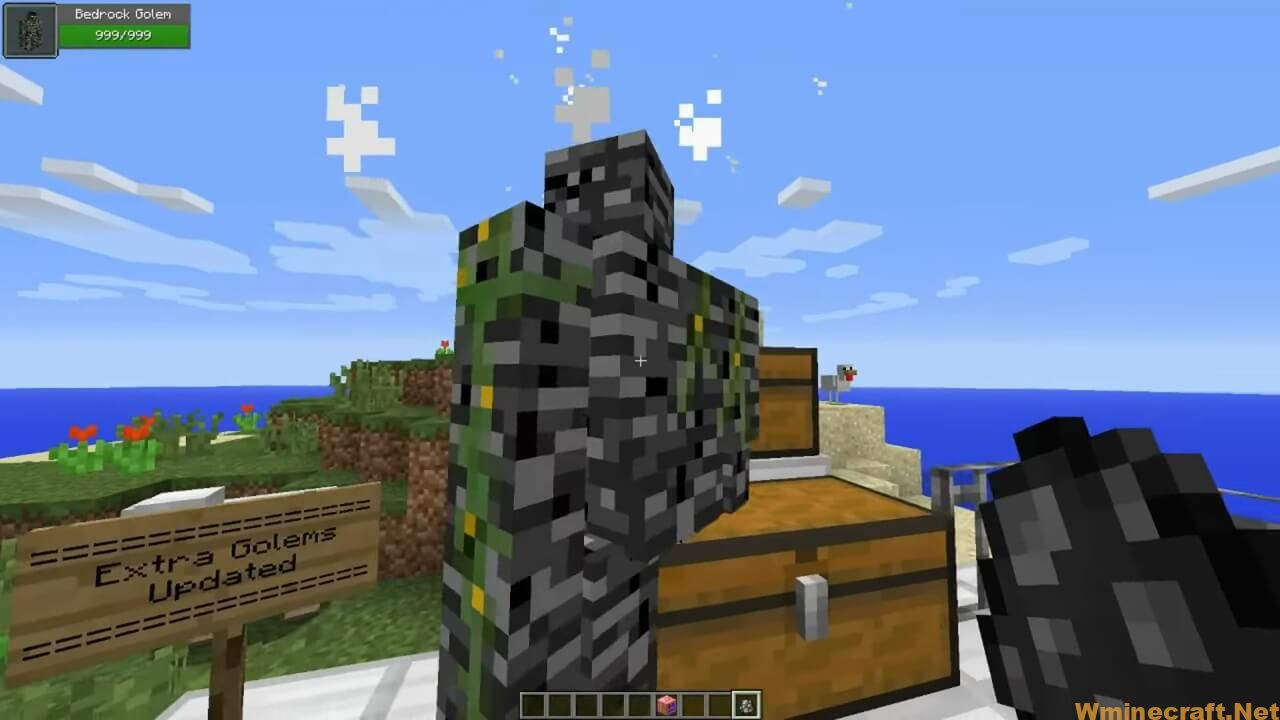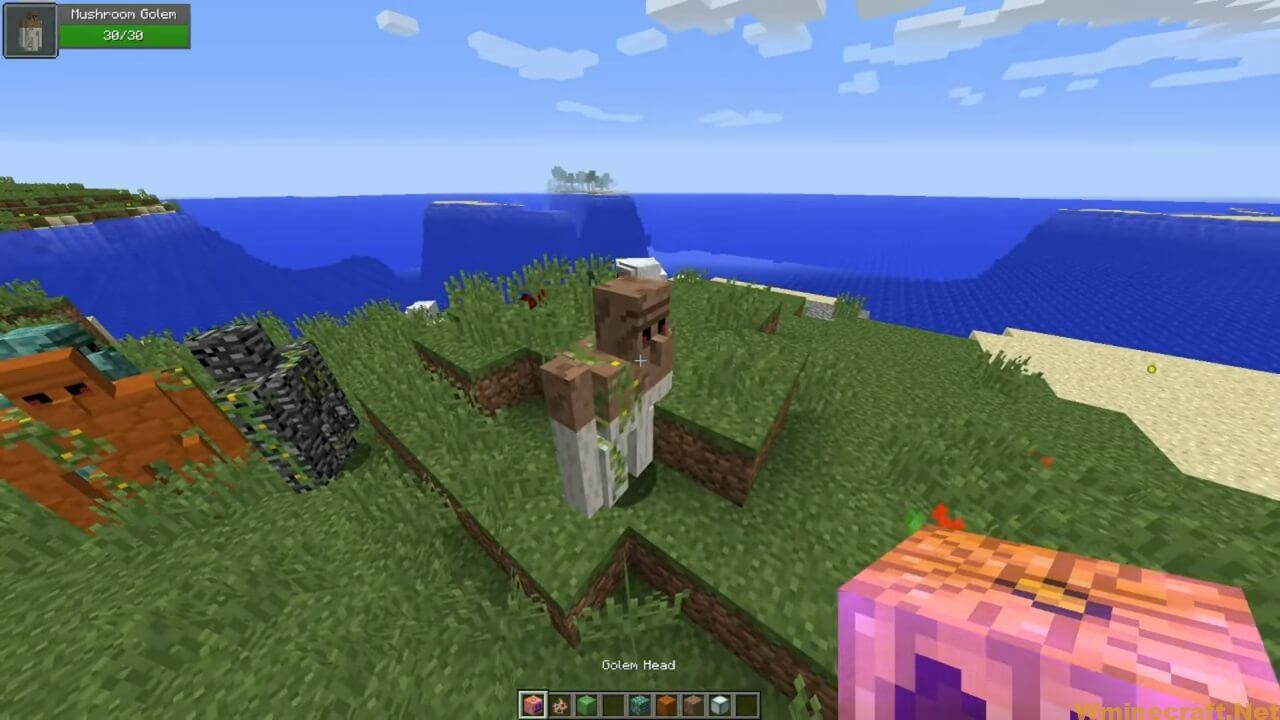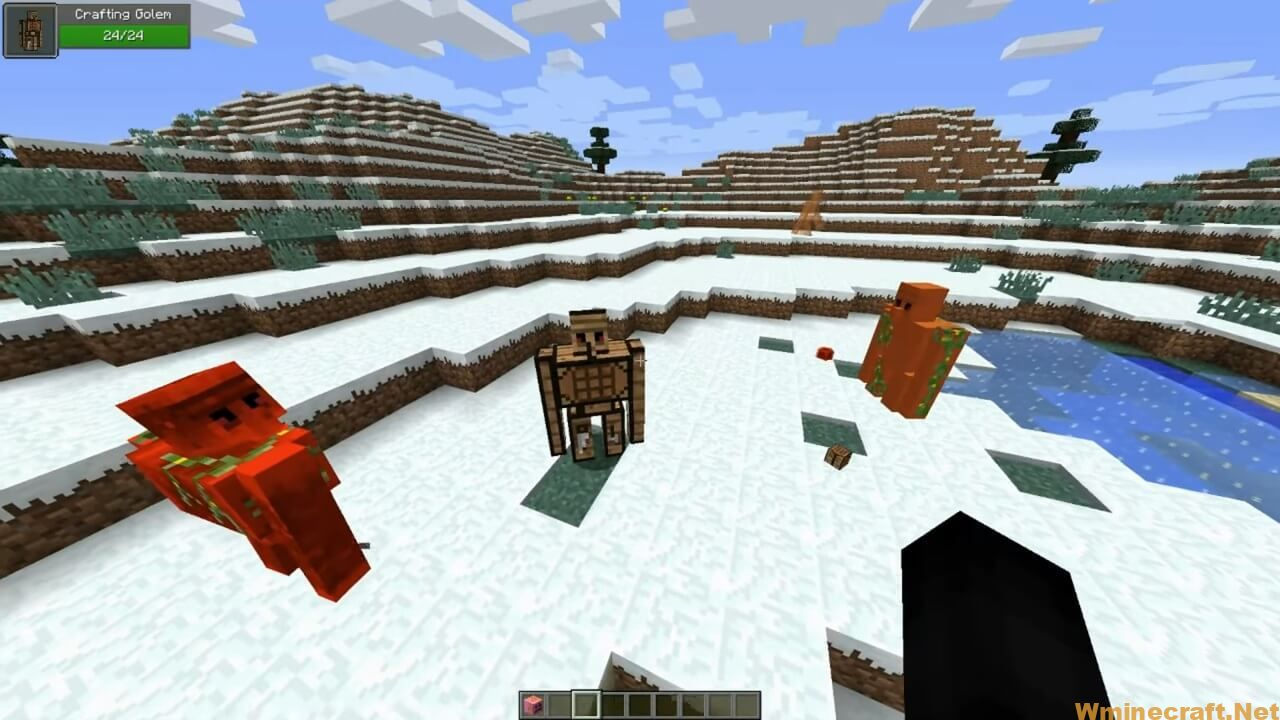 The interesting experiences of Extra Golems Mod
With 40 golems, the Extra Golems Mod will give you new experiences without feeling boring with the old Iron Golems. They are all made of vanilla blocks, from wood and glass to diamonds and nether bricks, but each golem has its unique properties.
How to use:
This mod also allows you to create new golems according to your ideas. The first step in creating a new golem, you must place the blocks in a 'T' shape, similar to the Iron Golem layout. Next, you put the Golem Head on top to create a complete golem that acts like the vanilla Iron Golem, kill monsters left and right and protect your fortress, base, prison.
To create Golem Spell, you must combine 1 Feather, 1 Redstone, 1 Ink Sack, and 1 Paper in a handmade grid. If you want to make a Golem Head, combine a Golem Spell and a pumpkin, and don't forget to put a magic paper inside.
Crafting Recipes: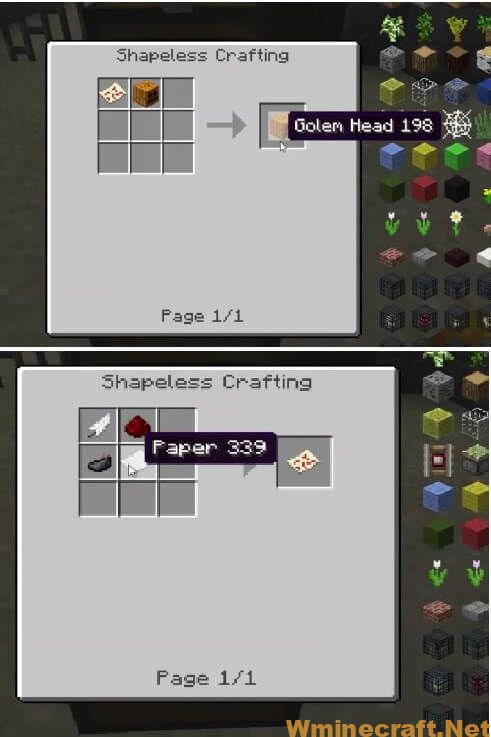 Each golem will have its unique property. There are many types of Mobbies for you to choose from, such as Restone Golem, Diamond Golem, Leaf Golem, Thigh Golem, Library Golem, and many others. Each type of hobbies will have its exciting features for the release to explore. Above is the information about the features and experience of Extra Golems Mod. I hope it will help you have a great experience with this mod while playing Minecraft.
Showcase:
How to install:
How to Use Forge to Install Minecraft Mods (Client Side)
How To Install The Fabric Mod Loader After Downloading It
The newest Minecraft Mods are available right now.
Extra Golems Mod Download Links:
Extra Golems Mod Minecraft version 1.7.10  :

Extra Golems Mod Minecraft version 1.8.0  :

Extra Golems Mod Minecraft version 1.8.9  :

Extra Golems Mod Minecraft version 1.9.0  :
Extra Golems Mod Minecraft version 1.9.4  :

Extra Golems Mod Minecraft version 1.10.2  :

Extra Golems Mod Minecraft version 1.12.2, 1.12.1, 1.12  :

Extra Golems Mod Minecraft version 1.13.2  :

Extra Golems Mod Minecraft version 1.14.4  :

Extra Golems Mod Minecraft version 1.15.2  :

Extra Golems Mod Minecraft version 1.16.1  :

Extra Golems Mod Minecraft version 1.16.2  :

Extra Golems Mod Minecraft version 1.16.3  :

Extra Golems Mod Minecraft version 1.16.4  :
Extra Golems Mod Minecraft version 1.16.5  :
Extra Golems Mod Minecraft version 1.17.1  :
Author: sky_01, jriwanek, MinecraftModDevelopment ❘ Rating: 4.53 − 630 votes ❘ 527,106 views