OpenBlocks 1.17.1/1.16.5 is a brand new way to play Minecraft. There are no rules and everything you want to use? It's all in the game! You can also make your own adventures with Openblocks by using their modding API (open mods lib).
With the fanciful open world, many adventures with interesting support mods, Minecraft has become increasingly hot. Especially when it comes to displacement mods, gamers will immediately think of Ender Storage Mod, Floocraft Mod, or Simple Portals Mod; and OpenBlocks Elevator Mod is also a great choice to help you quickly get where you want.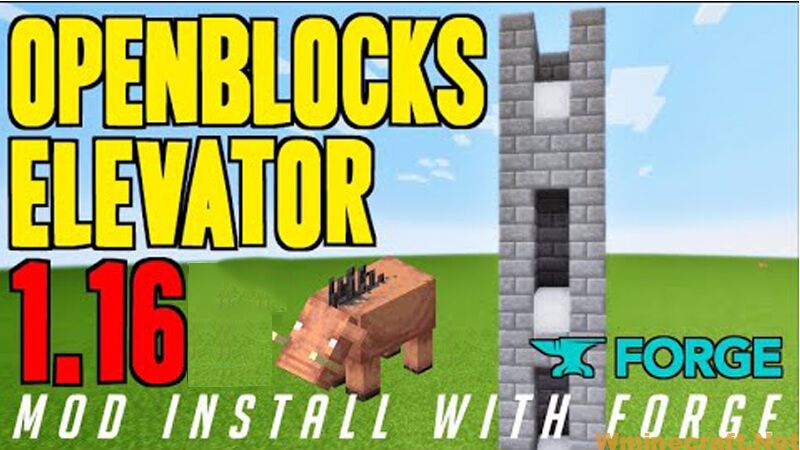 OpenBlocks Elevator Mod is a great Minecraft Mod for your teleportation in the huge open world of Minecraft. By providing the Elevator block (elevator block), the mod helps you move much faster and more efficiently. Let me learn more about this mod!
Relative Post:
Better Portals Mod for Minecraft 1.12.2
Vanilla Plus Tools Mod – 3×3 blocks – Minecraft 1.16.5,1.15.2 and 1.12.2
Carry On Mod 1.16.5-1.15.2 – Pick up blocks and carry them easily
What is OpenBlocks Elevator Mod?
OpenBlocks Elevator Mod is a simple port that uses an elevator to teleport players. You will probably find this name very familiar because it is based on the classic OpenBlocks Mod. While the original mod has not been updated for a long time, OpenBlocks Elevator Mod satisfies players with new Minecraft versions. It is in the Elevator Mod Tab in Creative mod mode, and there may be blocks between them.
OpenBlocks Elevators mod for Minecraft is a tiny mod that brings into the game only one block from another mod called Open Blocks, which is Elevator Block. This block is the most appreciated block of all the random blocks included in the Open Blocks mod of Mod Developer OpenMods. Because of the convenience and ease of making Elevator Block, Open Blocks is often included in large mod packs like Crash Landing or Feed The Beast.
Features of OpenBlocks Elevator Mod in Minecraft
In OpenBlocks Elevator Mod has Elevator Block, it in OpenBlocks Elevator Mod is used to transport players vertically through the teleport gate. The 2 lifts must be placed in the same x and z axes for correct operation. In most cases, there will be a maximum of 4 blocks between the lifts, a total of 20 blocks that can be placed between them for the elevator to function properly. This value can be changed in each modpack and handled in the OpenBlocks config file.
When the player sneaks on an Elevator block, they will be teleported to the elevator below and jump onto the Elevator block to teleport to the elevator above. To avoid boredom for this Minecraft mod, you can completely color it to make the elevator look more eye-catching. However, stained lifts only operate when the below / upper ladder must be of the same color.
Crafting & Screenshots: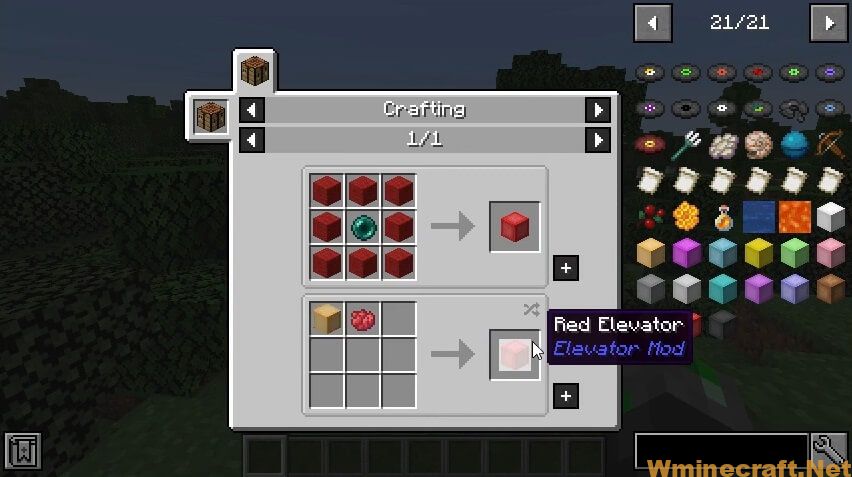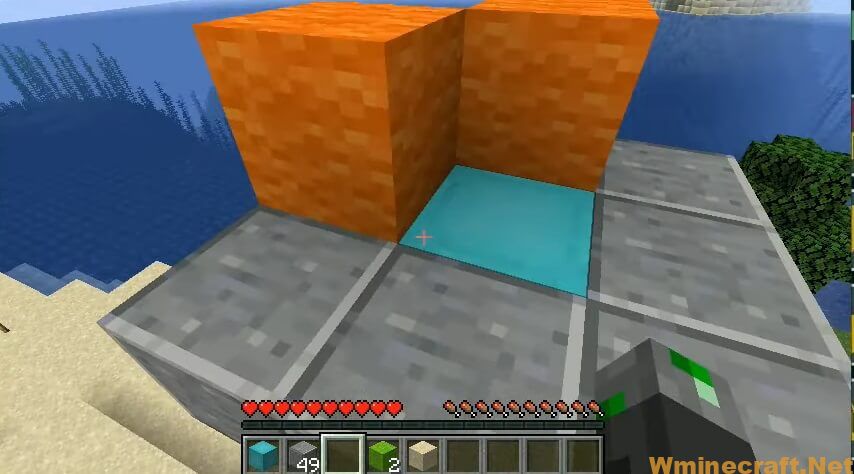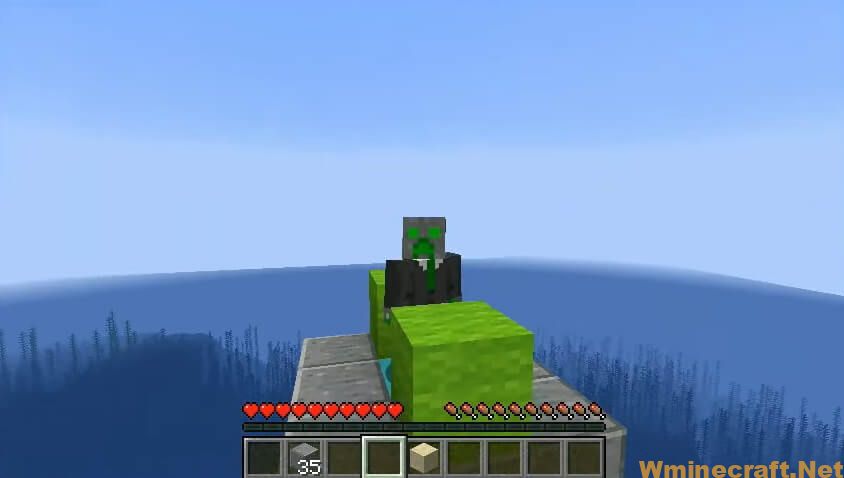 Showcase:
How to install OpenBlocks Elevator Mod
First, your computer must have Minecraft Forge installed to download the mod.

Then, navigate to the folder containing Minecraft.

For Windows computers, from the Start menu, open Run, enter the command

%appdata%

, and click the Run button.

On a Mac, from Open Finder, hold Alt then Go -> Library in the top menu bar. Open the Application Support folder to find Minecraft.

Put the newly downloaded mod (.Jar) into the Mods folder. When opening a Minecraft game, press the Mods button to try the mod just installed.
In order for the transfer to be faster and more convenient in Minecraft, OpenBlocks Elevator Mod is certainly one of the best choices for you. Hopefully, the above-shared box will help you.
Minecraft Forge (Modding API) Installation Guide
5 steps to successfully install Forge Minecraft
1. Access and Download select Minecraft forge version, then download the installer.
2. Requires installing Java on a computer. Open the .jar file you just downloaded, make sure 'Install Client' is selected, and click the OK button.
3. Run Minecraft and select the Forge profile, then click Play.
4. Select the Minecraft Forge menu on the left and the Mods button below Multiplayer.
5. Successfully, you can enjoy the mod just installed.
Download Links:
OpenBlocks Elevator Mod for Minecraft 1.8.9:

OpenBlocks Elevator Mod for Minecraft 1.10.2:

OpenBlocks Elevator Mod for Minecraft 1.11:
OpenBlocks Elevator Mod for Minecraft 1.11.2:

OpenBlocks Elevator Mod for Minecraft 1.12:

OpenBlocks Elevator Mod for Minecraft 1.12.2:

OpenBlocks Elevator Mod for Minecraft 1.13.2:

OpenBlocks Elevator Mod for Minecraft 1.14.4:

OpenBlocks Elevator Mod for Minecraft 1.15.1:

OpenBlocks Elevator Mod for Minecraft 1.15.2:

OpenBlocks Elevator Mod for Minecraft 1.16.1:

OpenBlocks Elevator Mod for Minecraft 1.16.2:

OpenBlocks Elevator Mod for Minecraft 1.16.3:

OpenBlocks Elevator Mod for Minecraft 1.16.4:

OpenBlocks Elevator Mod for Minecraft 1.16.5:
OpenBlocks Elevator Mod for Minecraft 1.17.1:
Author: VsnGamer ❘ Rating: 4.48 − 83 votes ❘ 244,477 views