Minecraft world is a very lively and attractive world that attracts a lot of players around the world. However, have you ever wondered why the interface of other players is more modern and lively than yours? To own more beautiful and modern Minecraft graphics, you can immediately learn about Modern HD Resource Pack through our article below.
You need go no further than the Modern HD resource pack if you enjoy packs that completely revamp a game. As the name implies, this texture pack uses realistic and contemporary motifs throughout to give Minecraft a completely new feel. Modern HD is still in demand even though it has been around for more than ten years. The medieval-themed packs that appear to be taking over the Minecraft scene make it difficult to build modern architecture. Huge improvements have been made to all of the textures. Because of the clean, homogeneous appearance of the building blocks, they perfectly complement one another. Cobblestone, stone, wood, and other natural building blocks got a realistic makeover. There are no flaws, and even the natural components like the sky and water were constructed precisely to complement this overall aesthetic. Due to the fact that you can still distinguish between blocks and know exactly which one is which, modern HD texture packs are able to execute these alterations pretty well and without going overboard. You'll undoubtedly note that the artwork have changed despite the block adjustments. The artist drew influence from contemporary art movements to produce a variety of paintings that would seem well at home in the home of an average person. There are a few significant adjustments that may shock you. For instance, the noteblock/jukebox is transformed to look like a massive speaker, while chests are changed to look like contemporary drawers. With the vanilla texturing, you could only have imagined creating a modern building with modern rooms, but all of these alterations are more than enough to make it possible. You might be astonished to learn that the glass has been rendered completely transparent, allowing for the creation of some quite imaginative and beautiful displays. For instance, you may use this feature in conjunction with the Aquatic update to build an aquarium that can be used as house décor. It also allowed you to make skylights and contemporary windows without the grating lines from the original game.
The variety of uses for this pack is practically unlimited, as evidenced by all the additions, and it is entirely up to you how many of these uses you choose to make. The GUI is yet another significant alteration. You'll notice that your inventory also adheres to the contemporary, sleek design as soon as you access it. The overlay has a metallic gray/white foundation with black text, and some GUI components, like your armor, can change colors. The buttons and even the text appear to be different, which is unusual for packs. All the components that include it, such as furnaces, chests, anvils, etc., are subject to these GUI changes. Since this resource pack is primarily intended for construction, mobs' original textures are nearly exact replicas of these. This shouldn't be shocking considering how challenging it is to create modern or realistic-looking mobs. You'll be able to hunt them, though, on far lovelier nights. A full moon that is extremely brilliant and numerous stars are added in modern HD, drastically changing the ambience that evening offers. Even some brand-new original noises were produced to enhance the player's experience even further. Resource packs that concentrate on offering textures with a contemporary appearance typically only available in large resolutions of 128128 and over; however, this is not the case with the Modern HD pack. No matter how inadequate your gear is, there is a good probability that you will still experience satisfactory performance. The resolution of the pack is 6464, which is not a significant improvement over the original 1616. Additionally, Optifine is optional for Modern HD's correct operation, but you may still add it to the game to squeeze out a few additional frames per second. You can layer in your own custom shaders on top of the pack to give your constructions additional style. Although there is no official support for them, it appears to be compatible with several of the most well-known releases, including SEUS and Nostalgia. It goes without saying that you ought to test out the Modern HD resource pack if you want to take a break from some of the more taxing packs that are available.
What is a Resource Pack?
Resource Pack is a very nice type of feature in Minecraft. It helps change the shape of blocks, animals or even raindrops effects to become more vivid and beautiful.
Exactly, Resource Pack is an upgraded system from the old Texture Pack system of Minecraft. 
This is an extremely intelligent system that allows players to create, edit and install Packs of textures, models, sounds, images and languages ​​without complicated editing of source code in the game. Minecraft.
At the same time, you can also manually customize Resource Packs, just open the software and create according to your preferences. And Modern HD Resource Pack is an outstanding Resource Pack that brings modern experiences to players' Minecraft world.
About Modern HD Resource Pack
Modern HD Resource Pack is an extremely beautiful resource pack that brings a lot of interesting experiences for players. Those who want to own sharp, realistic and modern graphics certainly cannot miss this resource pack for Minecraft game.
Modern HD Resource Pack was designed by Mr Mikeyto1o, a talented member who actively works on the forum for Minecraft game fans, PlanetMinecraft. Mikeyto1o regularly posts to share resource packs, mods and useful tips when playing Minecraft games for all players.
Modern HD Resource Pack is the latest Resource Pack with version 1.10 that Mikeyto1o designed for Minecraft. This version is favoured by extremely sophisticated graphic details with bold modern images.
The main outstanding features of Modern HD Resource Pack
Clear descriptions of images and graphics.

Provides a wide variety of decorative art items such as paintings, lamps, and so many furniture.

Realistic shader support

The interface is eye-catching, convenient and friendly to players

Automatic installer for Minecraft version 0.15.0 ++ (0.15.x, 0.16.x, 1.0.x). With official support, you don't need to install any Minecraft launcher, just enjoy the smooth and stable original MCPE version.

Many architectural works such as high-rise buildings, luxury and modern apartments.

The landscape is stunning and clear to every detail.

Easily customize colours, lighting and fonts.

Modern HD Resource Pack mainly supports modern structures, so images of animals in this resource pack are not really as beautiful and delicate as architectural works.
Because Modern HD Resource Pack is a Resource Pack with vivid, beautiful and extremely delicate graphics, the resolution of Modern HD Resource Pack is also quite high at 64 x 64.
And to be able to play Minecraft games smoothly with the best configuration and features of this resource pack, it is best to install more mods that support interfaces such as MCPatcher HD or OptiFine HD – the extremely useful  Minecraft mods today.
We hope that players can enjoy great Minecraft gameplay with the Modern HD Resource Pack. This is a resource pack that is highly appreciated by Minecraft players around the world.
Screenshots: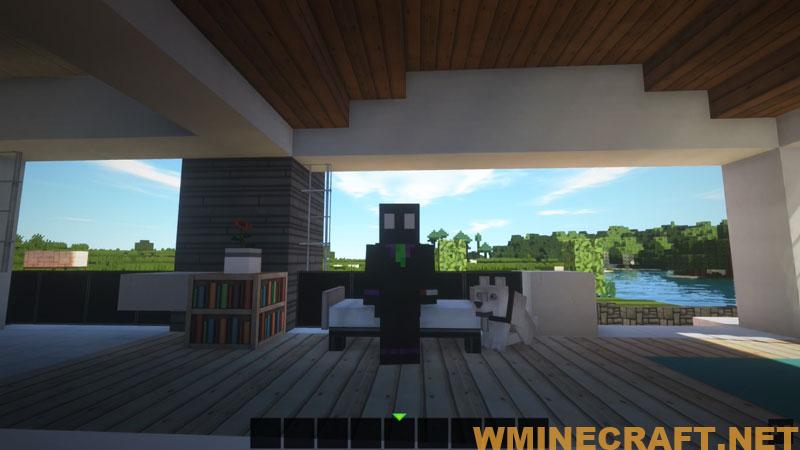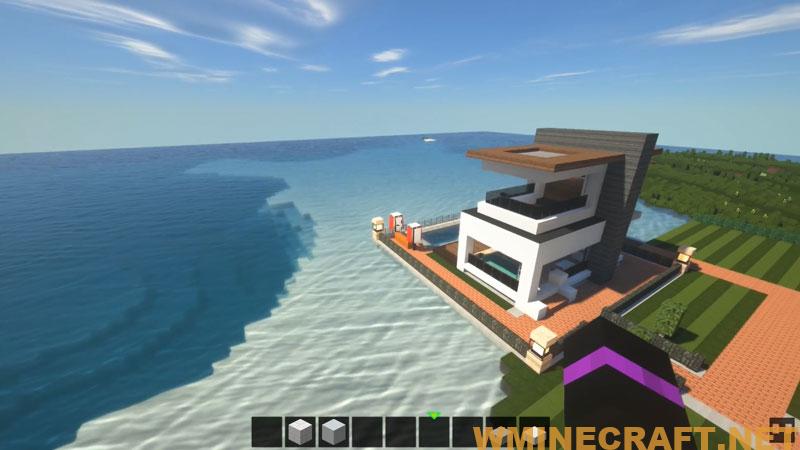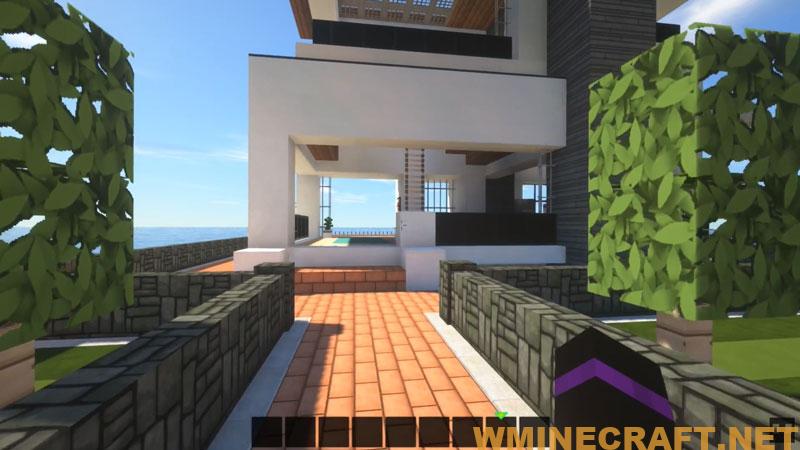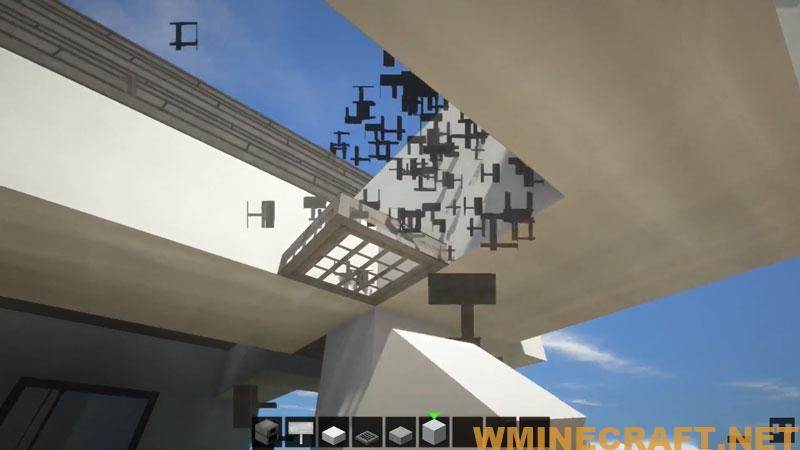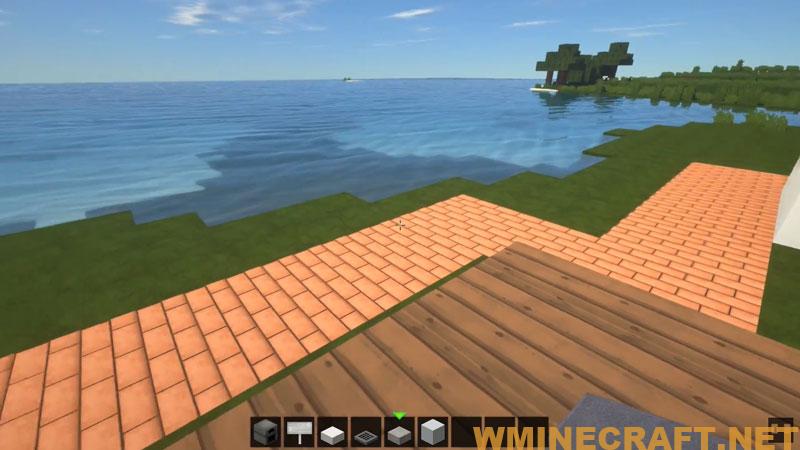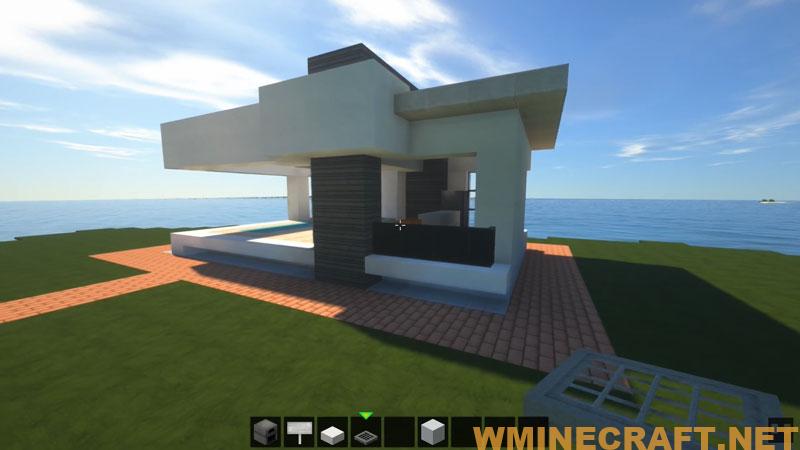 How to install:
Download a resource pack, you should get a .zip file.v
Open the folder to which you downloaded the file.
Copy the .zip file.
Open Minecraft.
Click on "Options", then "Resource Packs".
Choose "Open resource pack folder".
Paste the file into the resource folder in Minecraft.
Go back to Minecraft, the resource pack should now be listed and you can activate it by choosing it and hitting "Done".
Video on Youtube:
Download Links:
Minecraft Game version  1.7.10
Minecraft Game version  1.8.9
Minecraft Game version  1.10.2/1.9.4
Minecraft Game version  1.11.2/1.10.2
Minecraft Game version  1.12.2
Minecraft Game version  1.13.2
Minecraft Game version  1.14.4
Download from Server : Updating…loanding 96%
Minecraft Game version  1.15.2 to 1.16.3
Download from Server : Updating…loading 90%