We used to think that video and computer games are always destructive. Parents and teachers are always eager to comment on teenagers playing games instead of doing homework, reading books, or playing outside.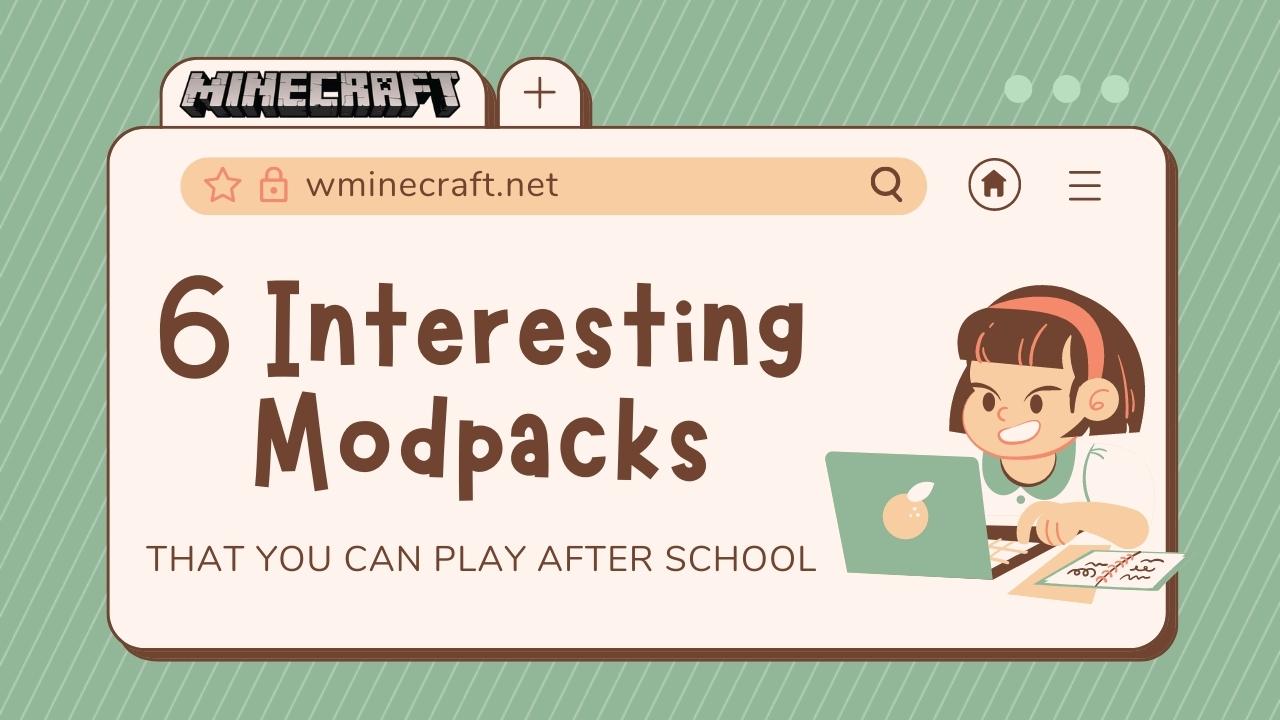 However, we need to also consider that such games could actually be beneficial for a student. Of course, it is all about balance. Games in fact could help a lot with creativity and expanding the imagination. Moreover, it actually helps with networking. Games like Minecraft with its various modes encourage you to play in teams and communicate with people. Sometimes they are your mates, but most often, these are total strangers. So, to discover how the games could bring value and their variety we will explore further. 
6 Interesting Modpacks for Minecraft that you can play after school 
#1. Infinity Evolved (FTB) Modpack.
This Modpack is related to the Feed the Beast series containing in total over 150 mods. This mode has both Normal and Expert levels to get it spicier. Infinity Evolved is considered a pretty flexible one with various kinds of levels, however, is not recommended for large groups of players. Moreover, the modpack is helping with expanding one's imagination and might even consider assignment help UAE along with other homework for other teenagers, as the mind becomes more flexible and creative. In addition, it became as popular as the variety of modes arose and players had a very rich selection.
#2. Valhelisia 3 Modpack. 
This Modpack is the third generation of the Valhelisia series. Its key to success was to keep what it created earlier for "old" players and add new mods for the fresh players to enrich the game. In addition, this Modpack has something for each type of player: builders to create, engineers and technical players with its brand-new automation and machinery, and adventurers to explore different kinds of worlds with caves, dungeons, etc. 
#3. Project Ozone 3 Modpack.
This Modpack is as well the more advanced and improved of its generation. The reason why it is holding third place in the list is how exciting it is for the adventure players. This series is specifically created for those who are always looking for exciting new turns, paths, and worlds. Project Ozone is created for a medium-advanced level player, but would as well be suitable for newcomers who are progressing fast. 
#4. Regrowth (FTB) Modpack.
This modpack is extremely unique and has a very specific theme. It would be great for players who like to build in various modes of this kind. The idea is that you get an absolutely new world where you have to re-create everything all over again. The Modpack would be great for people who are looking to expand on their creativity and enrich the empty world with their ideas and imagination. 
#5. Farming Valley Modpack.
Another specifically-themed Modpack. Farming Valley was created and inspired by other previous Modpacks like Harvest Moon and Stardew Valley. This mod would also be interesting for builders as you advance in the game as you grow, gather and sell produce. It is considered a pretty basic one and would for sure find its fans. 
#6. Sky Adventures (FTB) Modpack.
It is similar, but do not mix up this Modpack with SkyFactory. This mod is for players who like to mix tech and magic modes. In addition, it has a brand-new question system that brings the game to a new level. 
Conclusion
In conclusion, we would like to pay attention to the variety of games we talked about. The person of each kind of mind will find something they are looking for. It is true that sometimes people might as well hide in those games to escape the real world. However, it is all about balance. It is unhealthy to play them 24/7 and avoid what is actually happening around you. But sometimes it is great destruction from your daily routine. Moreover, the variety of different modes helps you with creativity. Building something new like in Regrowth Modpack, for example, gives you room for your own ideas. Another Pleasant thing is that you do not have limits to your imagination. Unlike in the real world, you are very limited at each stage of your life by different factors, such games are exactly what would help you step out of the box and show what is in your mind. Overall, everything could be either poison or cure, so you just need to learn how to use each technique wisely and for your own benefit. 
Author's Bio
Connie Elser is an extremely talented journalist and author. She created several articles on the young generation, their passions, and their studies. Connie pays special attention to exploring how teenagers and young students are growing and developing. Her studies not only tell about education, homework, and assignments but also about their activities after school.