Hypixel Minecraft server is unique for its overwhelming number of active players and immense gaming potential. Moreover, this server allows both paid and cracked accounts to join and play diverse game modes that exist on Minecraft's number one server today. However, if you feel the need to change your current environment and explore other servers, it's good to know what to expect.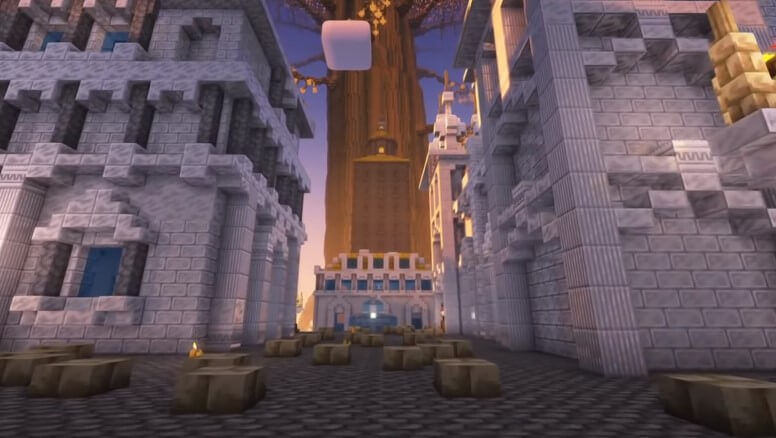 The good news is that there are numerous servers similar to Hypixel. This means you can play using a free or paid Minecraft account and choose from a variety of different game modes. Among dozens of servers that allow a free Minecraft gaming experience, we have chosen a few to share with you. Here's what each of them brings to the table.
Purple Prison
Prison servers are extremely popular among Minecraft players all over the world. Purple prison is one of the most realistic because it features more than just mining and completing quests to level up. The environment is prison-like, there are guards, cells, and areas where players can get into PVP prison fights. If you ever needed to visit fixgerald.com to make sure your essay is unique, you won't need assurance that there isn't another server similar to Purple Prison. There are even chill-out areas where you can sit down with your prison friends and relax.
Making money to level up is another thing of beauty with the Purple Prison server. You can do anything from straightforward mining to starting a black-market operation and selling restricted items to other prisoners. With more than 1200 active players on average, this server holds everything you need to enjoy Minecraft.
Mineplex server
Supporting Java and Bedrock versions of Minecraft, this server allows a wide array of players to join in and have fun. Mineplex is one of the oldest servers, so it hosts both seasoned miners as well as those who are just starting to shape their Minecraft experience. Game modes such as Skywars, Draw Thing, and Block Hunt were first introduced on this server.
Although Hypixel took over the Minecraft world and keeps a strong grip, Mineplex is still a popular alternative. With more than 10 thousand Bedrock and Java edition players active on average, you'll never have a problem finding a suitable gaming environment. The server is regularly updating features and game modes to stay competitive and draw new players. Although their development team is not as nearly as big as Hypixel's, Mineplex provides high performance and a great choice of versatile games.
BlocksMC
Just like its popular alternative, BlocksMC provides support for both cracked and paid Minecraft accounts. Furthermore, game modes that players enjoy on Hypixel are also available on BlocksMC. This means that you can play popular games like SkyWars, The Bridge, Egg Wars, Bedwars, and many other popular options. 
In simple terms, BlocksMC is like an alternative server for people who are banned or otherwise unable to join Hypixel. This doesn't mean that you'll be surrounded by troublemakers, you'll simply enjoy a similar gaming experience. The server hosts somewhere around a thousand players on average, so there won't be a large crowd, but you'll also always have someone to interact with if you wish.
CubeCraft
When it comes to popular Hypixel alternatives, CubeCraft is among the top fan favorites. The reason why this free Minecraft server is so highly valued by players is its diversity. Mainly, the server supports both Bedrock and Java editions of the game, so pretty much everyone is welcome. This is the first point that makes CubeCraft similar to Hypixel. Another important similarity between the two is the availability of a large number of game modes.
Egg Wars, Block Wars, and numerous other games will make you forget you're not on Hypixel. However, thanks to the abundance of minigames that are not available on Hypixel, you'll have the chance to explore something new. There are more than 2000 active players on average. You'll always have someone to keep you company while you discover new games and enjoy the familiar titles. 
Conclusion
Minecraft took over the world in one quick blow, and in just a few years managed to gather millions of regular players. Cross-platform and infinitely creative, this game offers fun and excitement for everyone. Servers like Hypixel and those we presented in the article allow players with cracked versions of the game to enjoy a safe gaming environment. In case you're looking for an alternative or change of scenery, we hope these few suggestions will keep you satisfied.
Author Bio:
Connie Elser is a freelance content writer with experience in entertainment, academic, and lifestyle niche. As a writer, Connie creates informative content that brings practical value to the audience. Her goal is to engage and intrigue every reader with credible and actual pieces of information.