Building, digging, and attacking are the three main tasks every Minecraft player goes through whenever they play the game. These tasks require constant clicking, which can be tiring for most players.   
If you're also a victim of this problem and tired of clicking and staring at the screen for long hours with very little progress, then you are at the right place, as we will be enlisting some of the best auto clickers for Minecraft. 
Fast Auto Clicker
The Fast Auto Clicker is an outstanding and efficient clicking tool that can generate 9999 clicks per second. It also allows you to control the number of clicks you want to generate.
With this software, you can automate the mouse's left, right, and middle buttons and these buttons can also be linked to any button on your keyboard at your convenience.
The best thing about this Auto clicker is that it's undetectable, so you don't have to worry about getting banned from any server of Minecraft. Besides this, the software is also licensed by a renowned company; thus, you won't face any viruses that are common with auto-clicking software.
Features
Generates Upto 9999 CPS

You can control the number of clicks

Easy to set up

Can be used to automate the left, right, and middle keys of the mouse

Compatible with Mac and Windows
Op Auto Clicker
If you're looking for an auto clicker that can be fully customized, OP Auto Clicker should be your number one choice. 
With this software, you can put a timer between each click and control the duration and number of clicks, which means that once the auto clicker is set up, the only thing left for you to do is sit back and relax.
This auto clicker has two modes. The first mode allows you to set up a dynamic location for the cursor to click, while in the second mode, you can select a specific location.
Features 
Fully customizable ( You can add a timer between each click and also control the number of clicks and duration)

Has a simple interface

Comes with two modes for selecting a dynamic or specific location for clicking

Compatible with window 7, window 8, window 10, and 64 bit systems
Murgaa Auto Clicker
The Murgaa Auto Clicker is one of the fastest auto clickers online, with many advanced options that make it stand out from other auto clickers in the market. 
It can generate multiple clicks per second and gives you many clicking options, such as the left, right, and middle mouse buttons, along with upward and downward movement. You can also use this software to generate repetitive clicks of the keyboard keys, which can come in handy while performing other tasks.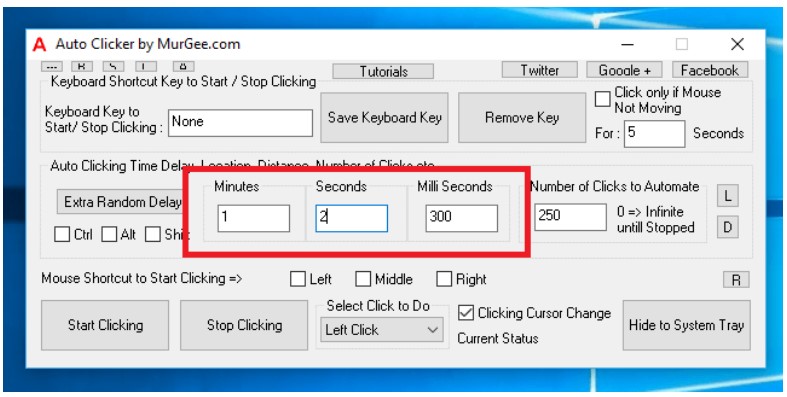 If you're not satisfied with the clicking speed, you can always adjust it to your liking and add time intervals between clicks if you want.
Feature 
Clicking speed and interval between each click can be adjusted

Multiple Clicking options

Can also be used for keyboard keys

Compatible with Mac and Windows
Forge Auto Clicker
The Forge auto clicker is a simple yet functional auto clicking software that allows you to adjust the time intervals between clicks and also their frequency and duration.
You can use this software to stimulate your mouse's left and right clicks. Moreover, the software provides you with the following click types to select from:
Single Click 

Double Click

Triple Click
The forge auto clicker has a very low CPU and Memory usage, so it doesn't hinder your gaming experience. To activate the Forge auto-clicking software, you can select any key of your keyboard as your hotkey, which would automatically turn on the software when pressed. The only downside of this software is that it's not compatible with Mac.
Feature
Customizable 

Easy to use 

Compatible with Windows

Low Memory and CPU usage

Offers click types ( single, double, and triple clicks)
E Auto Clicker
The E Auto Clicker is compatible with Windows and Android, making it the perfect auto clicker for all the Minecraft players that play on an android device.  
It allows you to choose between the right and left clicks of the mouse, and you can also add intervals between clicks if you want. Furthermore, you can select any keys on the keyboard to start and stop the operation of the auto clicker. 
This software also offers an In-built program to test out the auto clicker so you can be fully satisfied with the settings of the auto clicker before you even jump into the game. 
Feature 
Clicking options for the left and right mouse button

 The delay between clicks can be adjusted

Compatible with Windows and Android

Hotkey to start and stop
Speed Auto Clicker
If you're looking for an auto clicker that can help you cross the limits, then the Speed Auto Clicker would be perfect. It not only offers you speed by producing 50,000 CPS but is also the best in the game when it comes to other features.
It can not be identified by third-party software, which makes it undetectable. The click rate and click limit can be customized, and you can also select between the right, left, and middle buttons of the mouse.
The hotkey allows you to start and stop the auto clicker with just one press of a button. You can limit this auto clicker to certain apps by selecting the apps (software programs) in which you want to use the auto clicker so you don't accidentally activate it when you don't need it. 
Feature
Anti-detection

App selection

Click limitation and click rate can be customized

Compatible with Mac and Windows
Frequently Asked Questions
Are auto clickers allowed in Minecraft?
Auto clickers are not banned in Minecraft. Some servers of Minecraft allow the use of auto clickers while others don't. So if you're on a server where auto clickers aren't allowed, using an auto clicker will only get you banned from that server and not the game.
Can games detect auto clickers?
Most games have an anti-cheat system that enables them to detect auto clickers and other software. 
What's the fastest auto clicker?
Speed Auto Clicker is the fastest auto clicker as it can produce an astonishing 50,000 clicks per second.
Conclusion 
There are plenty of auto clickers on the internet, but the above-mentioned are the best auto clickers for Minecraft that you can download for free. So if you're tired of clicking for hours and want to step up your game in Minecraft, then download an auto clicker and let it do the clicking for you.