If you've always wanted to create a sloped roof in Minecraft without resorting to ladders, the Macaw's Roofs mod 1.19.4, 1.18.2 and 1.12.2 is perfect for you. This mod enables you to build various types of sloped roofs with different inclinations using the game's default materials. In total, you can create around 500 roof variants using materials like wood, concrete, terracotta, stone, and more.
Minecraft doesn't have roofs by default, so players typically use ladders to simulate a roof's slope. With this mod, you can create realistic-looking sloped roofs in various styles and inclinations for your buildings. Additionally, the mod allows you to create rain gutters that fill with water when it rains and striped canopies that can be dyed in any color using Minecraft's default dyes. Elevate your building experience with Macaw's Roofs and enjoy a wide range of new roofing options.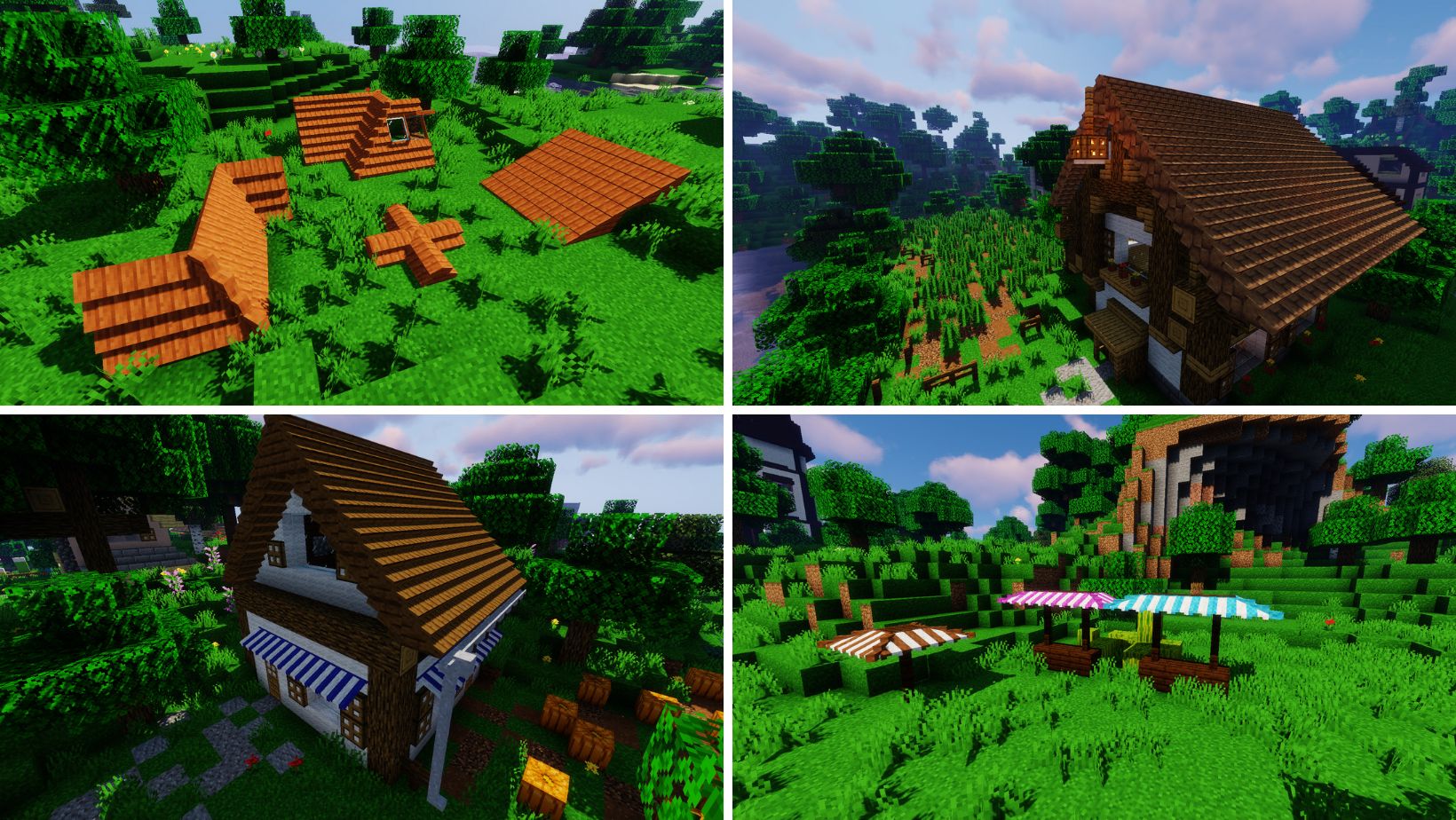 Introducing the 2.0.0 update for Macaw's Roofs, which brings several improvements and new features:
Enhanced models for each roof type
Automatic cornering for Roofs, Top Roofs, Steep Roofs, and Awnings
Added cornering for Rain Gutters
Attic Roofs can now be opened in every variation
New three-way roof feature
Resourcepack Support and waterlogging added
Colored Rain Gutters and Terracotta Roofs introduced
Concrete Roofs added and tooltips for crafting ingredients provided
Rain Gutters now change to a watered version during rain
Terracotta, Concrete, Stone, and Brick Roofs can now be crafted in the stonecutter
Wood Roof recipe adjustments
Bug fixes including fly kick, rain leaks, crafting issues, and texture issues
Changes made to language improvements and compatibility for version 1.16.1
ID changes due to the implementation of new mechanisms such as cornering and rain gutter watering, making this 2.0.0 version incompatible with older versions
Certain features removed as they are no longer needed, thanks to the new cornering system
Please note that the 2.0.0 update is a major overhaul and should be considered a completely new mod. Unfortunately, it is no longer supported for version 1.12.2.
📥 How to install:
How to Use Forge to Install Minecraft Mods (Client Side)
How To Install The Fabric Mod Loader After Downloading It
The newest Minecraft Mods are available right now.
Macaw's Roofs Mod – Download 
1.12.2
1.15.2
1.16.5
1.17.1
1.18.1
1.18.2
1.19
1.19.1
1.19.2
1.19.3
1.19.4