Harvestcraft Mod is considered a version with more food, crops and crops added to Minecraft players to develop farms and have a more prosperous life. In addition, the mod is also adding many new features that every player should learn and explore. Did you own this mod yet, if not, let's learn it through the information shared below.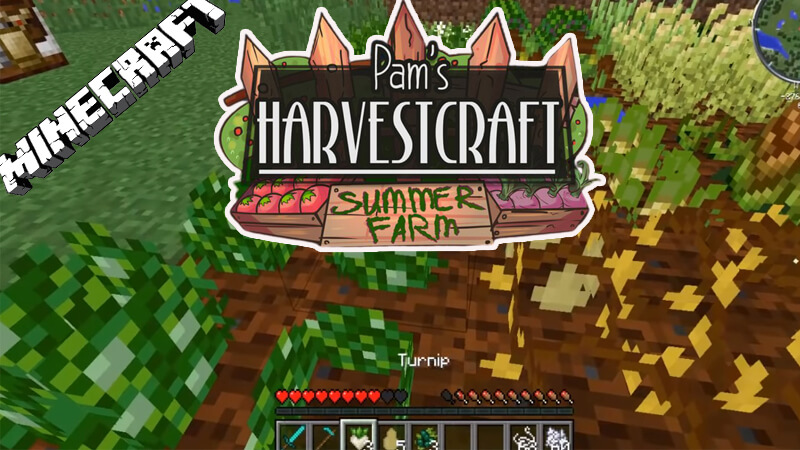 With almost 300 additional dishes included by this mod, you have a wide range of options. With the new food varieties offered by this mod, you may start a restaurant. Some are cultivated, while others are only "cooked" through baking and handicraft.
But many of the things will require cooking gear and appliances with the new meal. Here, the mod provides you some culinary freedom to prepare your cuisine however you desire. If you have the correct tools, you can produce everything from sushi to brownies.
Even fruit can be juiced with the Presser to create delightful drinks!
In addition, there are now four different types of sinks available as limitless water sources. Compared to the standard cauldrons, these give the game a little more style, and you can use them to fill both buckets and bottles without ever running out.
Hardened leather, a new sort of leather armor, offers a little bit more protection than regular leather.
Introducing some information about Harvestcraft Mod
When using this Mod you will also have many new experiences compared to the original. For example, the cultivation and harvesting in Harvest craft Mod will also have some slightly different characteristics than the original Minecraft. There are 2 main types of normal planting or replanting for players to choose from. To find seeds, you can explore on the grass or bushes. Every operation to find the seed is not too difficult for everyone.
Variety of planting options also has different characteristics for you to choose from. Conventional growing style will go through 3 stages of growth and development, longer than the old planting method. The replanting pattern also goes through 3 stages and resets automatically without any manual action.
Relative Post:
Cooking for Blockheads Mod 1.16.3 helps you cook the best in Minecraft
Pam's DessertCraft Mod [1.14.4-1.12.2-1.10.2] – Desert food Minecraft
Plant Mega Pack Mod 1.12.2 for Minecraft – Theme of plants
Interesting features and experiences of Harvestcraft Mod
Any new mod will bring players new and more complete experiences and bring more interesting things than the original. Harvestcraft Mod is also a new version with many such features.
The first feature newly added here is that there are 60 new crops including cotton. With this feature, players will have a lot of experience with the choice of planting and harvesting. You will be given 6 small gardens to find and harvest crops, choose a bush or let it spread like a mushroom. Variety selection will also have more options when there are 36 fruits or plants. In addition players can also fish with a rod with 17 new fish. The Water Garden will freely release mussels, snails, and shrimp for everyone to choose from.
The mod also has the appearance of more than 1300 new items and dishes as well as being able to keep bees. Cooking tools have also been improved to include 2 independent squares that are combined to craft utensils. Square blocks of pots to provide water for daily activities. You can also use an oven that cooks food 2 times faster and uses oil as fuel.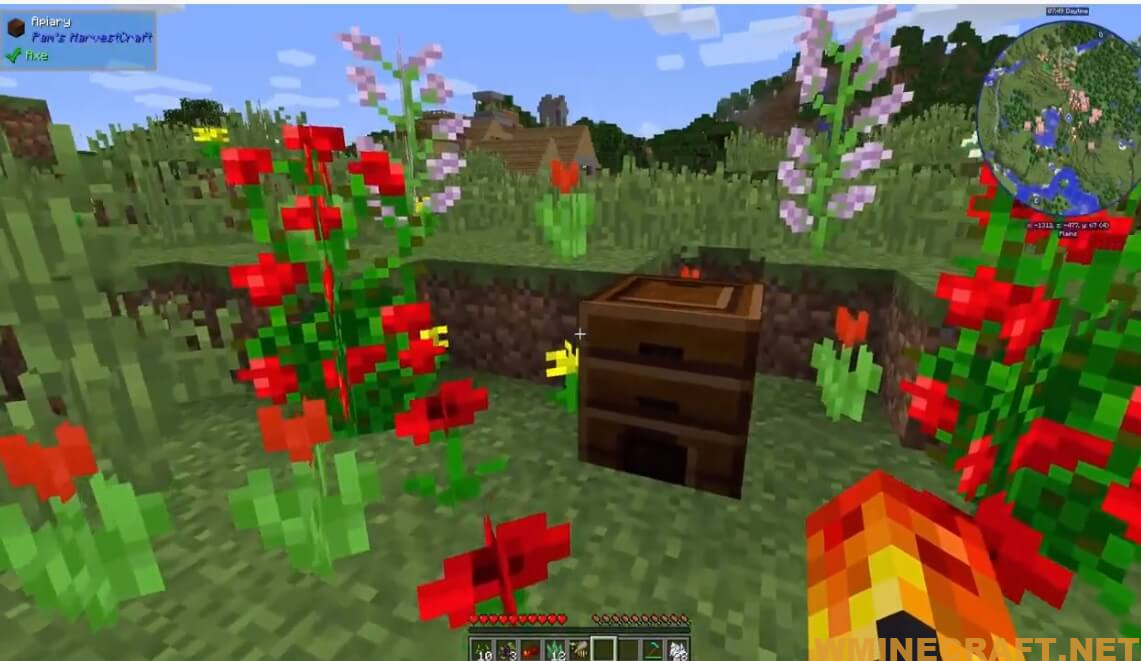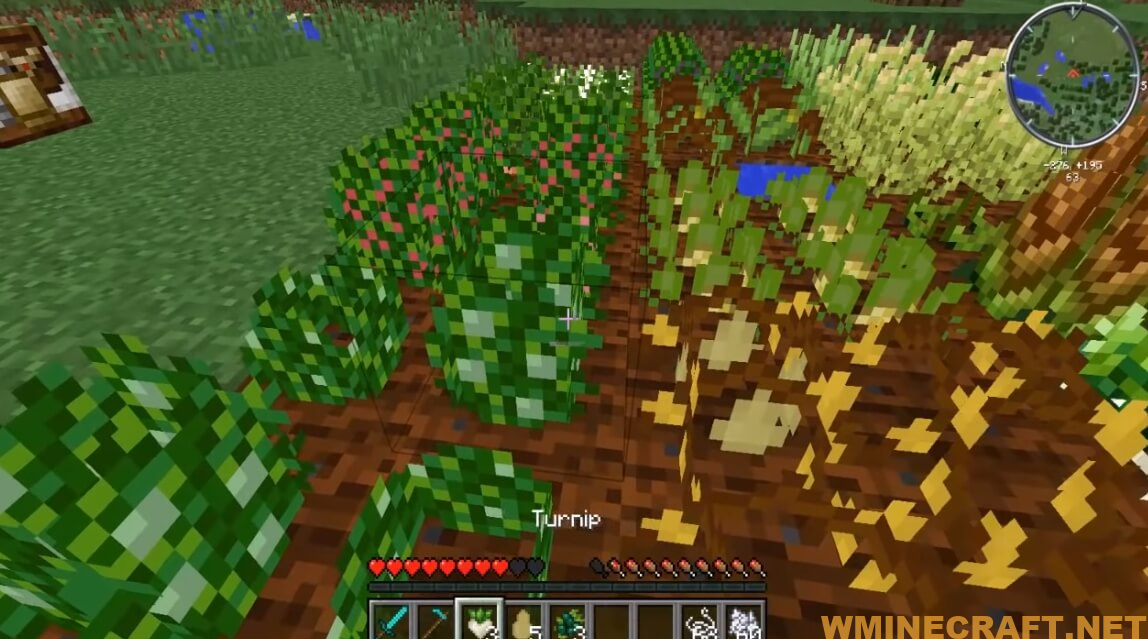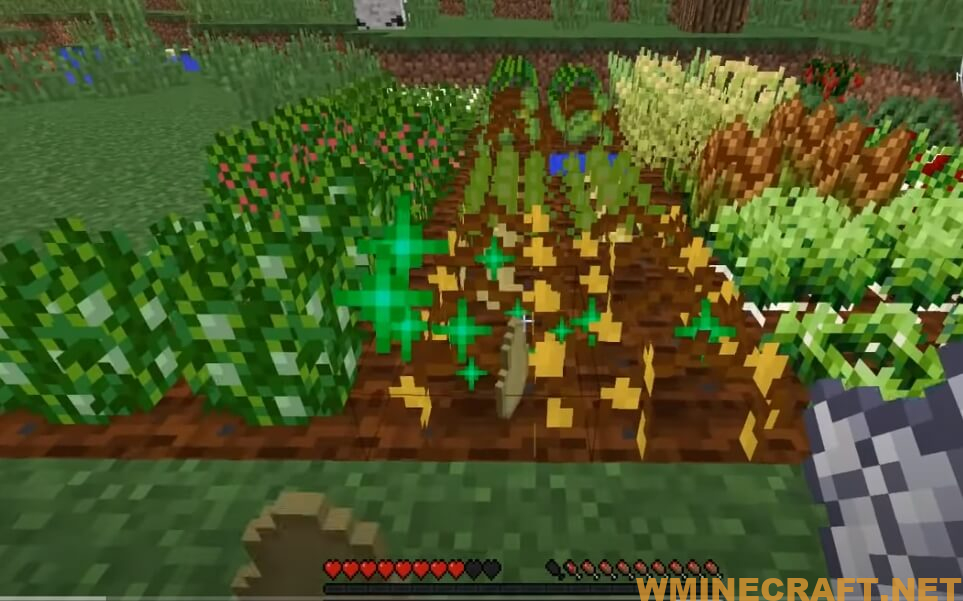 If you want to go to the market, there are also seeds and eggs incubated and you can use the seeds to grow crops like potatoes or carrots.
Turn barrels of water and milk into new ingredients for cooking and use tofu for vegetarian cooking.
Harvestcraft Mod is really a new mod that gives players many new features to have more interesting experiences. Thereby also a lot of interesting things that need you to explore to have more experiences. If you do not know this Mod, please learn and install for your device. Hopefully with the information shared above you will have more useful information and more understanding for your choices.
HarvestCraft in 1.14.4 or 1.15.2, use these mods:
Pam's HarvestCraft 2 Food Core Mod
Pam's HarvestCraft 2 – Trees Mod
Pam's HarvestCraft 2 – Crops Mod
How to install?
Choose the Minecraft version you want, You have already installed Minecraft Forge
Locate the minecraft application folder.

On windows open Run from the start menu, type %appdata% and click Run.
On mac open finder, hold down ALT and click Go then Library in the top menu bar. Open the folder Application Support and look for Minecraft.

Download the Mod
Move the downloaded Jar (zip) file into the "mods" folder
Launch Minecraft and Enjoy the mod.
Video on Youtube:
Minecraft Forge (Modding API) Installation Guide
5 steps to successfully install Forge Minecraft
1. Access and Download select Minecraft forge version, then download the installer.
2. Requires installing Java on a computer. Open the .jar file you just downloaded, make sure 'Install Client' is selected, and click the OK button.
3. Run Minecraft and select the Forge profile, then click Play.
4. Select the Minecraft Forge menu on the left and the Mods button below Multiplayer.
5. Successfully, you can enjoy the mod just installed.
HarvestCraft Mod 1.15.2/1.14.4 Download Links:
Minecraft Game version 1.5.2 – 1.5.1:

Minecraft Game version 1.6.2:
Minecraft Game version 1.6.4:

Minecraft Game version 1.7.2:

Minecraft Game version 1.7.10:

Minecraft Game version 1.8.9:

Minecraft Game version 1.9.0:

Minecraft Game version 1.10.2 – 1.9.4:
Minecraft Game version 1.11.2:

Minecraft Game version 1.12.1 – 1.12:

Minecraft Game version 1.12.2:

Minecraft Game version 1.14.4:
HarvestCraft Trees: Download from Server

HarvestCraft Food Core: Download from Server 

HarvestCraft Crops: Download from Server
Minecraft Game version 1.15.2:
HarvestCraft Trees: Download from Server

HarvestCraft Food Core: Download from Server 

HarvestCraft Crops: Download from Server
Minecraft Game version 1.16.2:
please wait a moment. Updating 78%
Author: MatrexsVigil – Source: Curseforge