What is Fairy Lights Mod?
Fairy Lights Mod 1.16.5 and 1.14.4 will allow us to create a good variety of unique decorative elements for parties, anniversary celebrations, and even for the current Christmas dates, to name a few examples. The mod mainly adds colored lights, banners, fairy lights, and other ornamental elements for parties.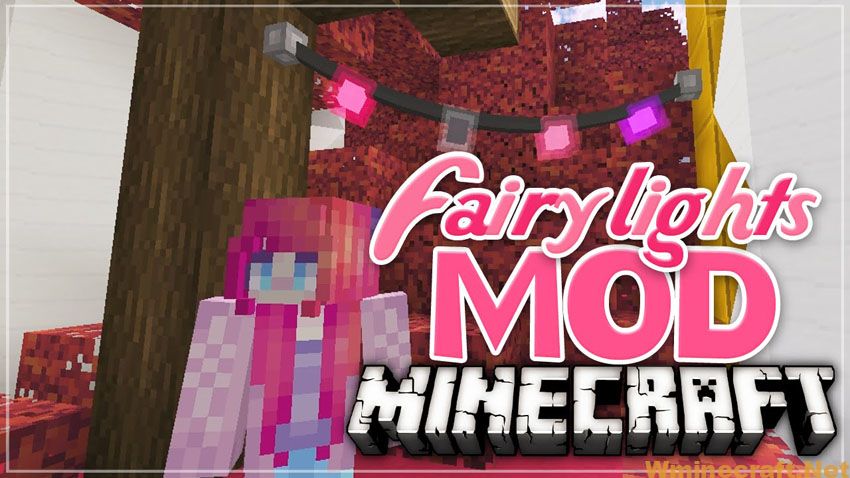 With the Fairy Lights mod, you can create a variety of lanterns and lightbulbs to decorate your home. It's ideal for party settings or just changing up your environment's lighting. They don't provide a lot of light, but most string lights aren't very useful in the real world either. This is a wonderful complement to any festive scene, regardless of what.
The bulbs are available in a variety of designs, such as classic bulbs, floral, snowflake, and Halloween-themed bulbs.
A strand of bulbs that can be hanged for a distance of 25 blocks can be created by mixing any number of bulbs with two ingots and a length of string.
You will obtain alternate lights on the line if you start combining colors and shapes. Mix & combine to express your personal style, or colorize to fit the surroundings you've created. Any bulb you build will start to twinkle if you add glowstone to it.
In addition to all of these amazing light strings, you may also hang lines of garland in any color or with a Christmas motif!
Relative Post:
Glowing 3D Lightsabers Resource Pack 1.13.2/1.12.2 for Minecraft
Additional Lights Mod 1.16.3-1.16.2-1.16.1-1.15.2 – Review and Install Updates
Dynamic Lights Mod 1.16.3-1.14.4-1.12.2-1.7.10 – Mod making lights in Minecraft
It adds customizable string lights, which can be fairy or Christmas lights. You can customize them in many different ways, including the colors, curves, and how you want to hand them. It's a must-have for Christmas Trees!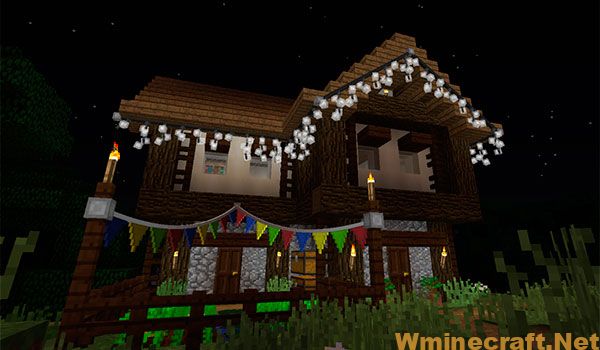 Using these lights and banners is simple since we only have to create the object and then right-click on a block to tie one end and right-click on another, to tie the other end. That's how easy and fun it is to decorate your house in Minecraft for this Christmas or a party.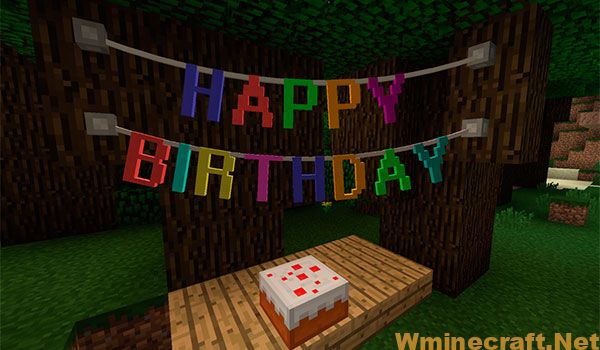 How to install Fairy Lights Mod for Minecraft 1.16.5 and 1.14.4?
Download Minecraft Forge 1.16.5 and 1.14.4
Download Fairy Lights Mod 1.16.5 and 1.14.4
Double click on the downloaded Forge file to run the installer.
Paste the downloaded mod file inside .minecraft / mods
Let the party begin in Minecraft!
Previews: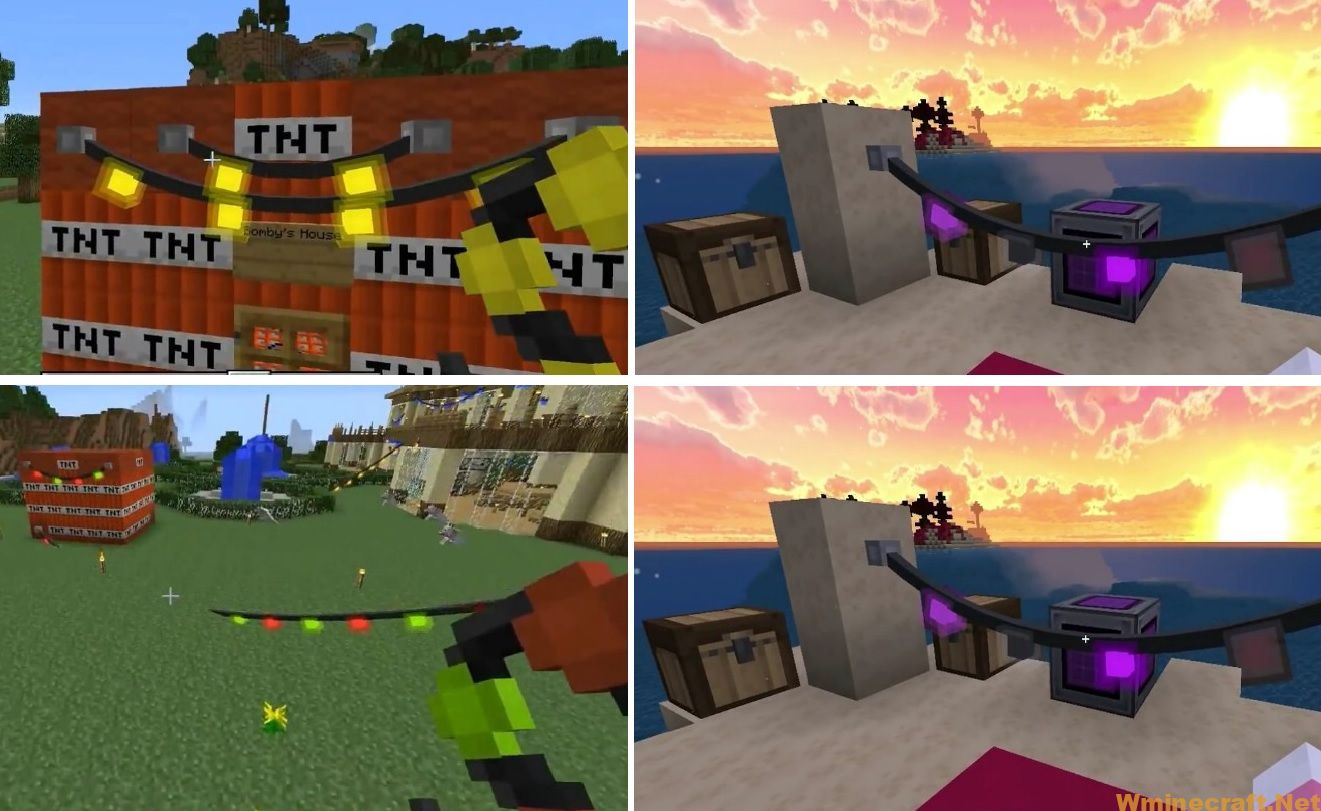 Crafting Recipes:
In order to craft Fairy Lights you first must craft the lights. Lights come in six standard variants, fairy light, paper lantern, orb lantern, flower light, ornate lantern, and oil lantern. There are also 4 spooky lights, spider light, ghost light, jack o'lantern, skull light, witch light, snowflake light, icicle light, and meteor light. The weedwood lantern is a bonus light from The Betweenlands.
Fairy lights are crafted by a horizontal combination of iron ingot, string or stick, iron ingot, along with any combination of lights to specify a pattern (top-down, left-right). If glowstone is included the fairy lights will twinkle. If string is used there will be slack in the connection and if a stick is used the connection will be straight. The fairy lights item will only show the first four light colors, but the most lights that can be crafted is eight by placing a fairy lights in a crafting table with eight lights.
Here are the light recipes and some example fairy lights recipes. The red dye in the light recipes can be any dye.
Spooky & Bonus Lights:
Vine & Tinsel Garland:
Vine and tinsel garland are placed just like the string lights. The tinsel can be dyed any color.
Usage:
Right-click on the side of a block, or an existing fastener, to place a fastener, now there will be a connection from the fastener to you. From then you right-click on another side of a block, or an existing fastener, to complete the connection.
Minecraft Forge (Modding API) Installation Guide
5 steps to successfully install Forge Minecraft
1. Access and Download select Minecraft forge version, then download the installer.
2. Requires installing Java on a computer. Open the .jar file you just downloaded, make sure 'Install Client' is selected, and click the OK button.
3. Run Minecraft and select the Forge profile, then click Play.
4. Select the Minecraft Forge menu on the left and the Mods button below Multiplayer.
5. Successfully, you can enjoy the mod just installed.
Fairy Lights Mod for Minecraft Download Links:
Fairy Lights Mod For Minecraft 1.6.4:
Fairy Lights Mod For Minecraft 1.7.2:

Fairy Lights Mod For Minecraft 1.7.10:

Fairy Lights Mod For Minecraft 1.8.0:

Fairy Lights Mod For Minecraft 1.10.2:

Fairy Lights Mod For Minecraft 1.11:

Fairy Lights Mod For Minecraft 1.11.2:

Fairy Lights Mod For Minecraft 1.12.1/1.12:

Fairy Lights Mod For Minecraft 1.12.2:

Fairy Lights Mod For Minecraft 1.14.4:

Fairy Lights Mod For Minecraft 1.16.3:

Fairy Lights Mod For Minecraft 1.16.4:

Fairy Lights Mod For Minecraft 1.16.5: