Chisels & Bits Mod 1.18.1, 1.17.1 … provides a selection of chisels, a wrench, and methods for copying the designs and storing the bits. All these resources help you create unique custom decorative blocks and patterns to personalize your bases and make your building style more flexible.
This mod adds various chisels, a wrench and shapes to the layouts and store copy bits. These tools allow you to create custom accent blocks and decorate your entire home with greater flexibility.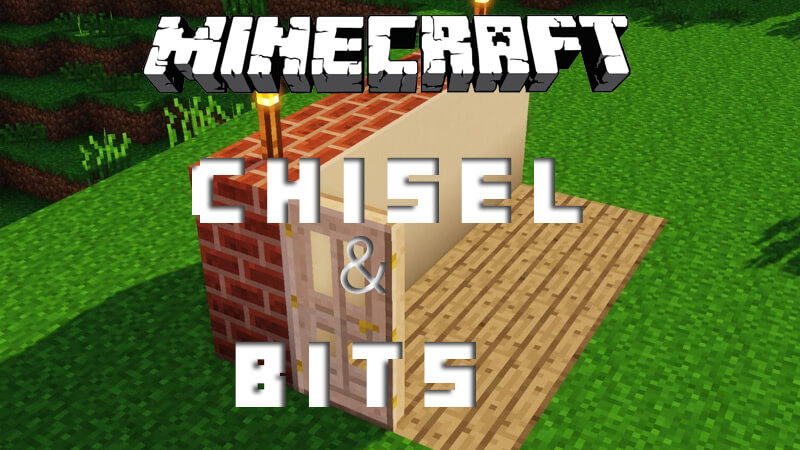 Chisels & Bits is basically a Minecraft mod for making endless custom decorations that are used in-game materials. Although it looks relatively straightforward, at the very most, it is really reliable. Chisels and Bits take existing blocks into your game world and allow you to modify them to generate better-customized compositions together.
When you chisel away pieces, they fall like regular blocks and are similarly added to your inventory. The amazing thing about this function is that you can easily replace parts with any other chiseled bits from any other block to fill up any gaps you remove. So, you can combine any two materials you can think of, such as gold and stone, wool and wood, or wool and wool. This enables you to create some very intricate designs to upgrade your homes with inlays.
You may become a genuine sculptor in the game and create much more intricate blocks and sculptures that occupy much less space than you would if you used full-sized bricks because blocks can be completely broken down, bit by bit.
You can use pixel art to express your creativity and improve the shop signs. Now that bits can be placed inside of any other block, you can use them like empty canvases and stop using conventional signs or frames.
Or perhaps add some luxury to your house with ceiling crown molding. Because regular blocks are too big to fit these delicate details, using this mod allows you to add a ton more depth and dimension to locations you might not have considered previously.
And much better is the Chisel Designs Template's copy and paste functionality for your projects. Simply right-click while holding the design. This will replicate the design in its entirety. When you right-click any other block, it will automatically paste it there. You won't need to painstakingly chip away the same pattern repeatedly with the help of this feature.
But to create these new template blocks, you'll need a consistent supply of chiseled blocks. This is rather simple to accomplish by simply chipping away at the necessary blocks, but you'll quickly run out of storage space. The Chiseled Bit Bag can be useful in this situation. It serves as an additional inventory reserved just for chiseled parts. You can paste blocks in bulk and it's a terrific technique to keep your main inventory clear of so many bits. There is also no need to worry about transferring components back and forth from the back to your usual inventory because the template draws directly from the bag.
With this mod and enough imagination, your environment can become much more detailed. Since each full-size block may be reduced to 1/64 of its original size, you can practically build any model in full scale and play the game at a microscopic scale. This innovative "small world" approach can be applied to a wide range of situations, such as planning your buildings at 1/64 scale to determine whether they meet your standards. Alternately, you may demolish and replace full-sized blocks to create comprehensive redstone layouts without time-consuming trial and error.
Relative Post:
OreSpawn Mod 1.12.2-1.7.10 – Powerful new mobs for Minecraft
Minecraft Xray Mod 1.16.5-1.15.2-1.14.4 (Xray ultimate Survival fly)
Too Much TNT Mod 1.12.2-1.8-1.7.10 (TNT Mods)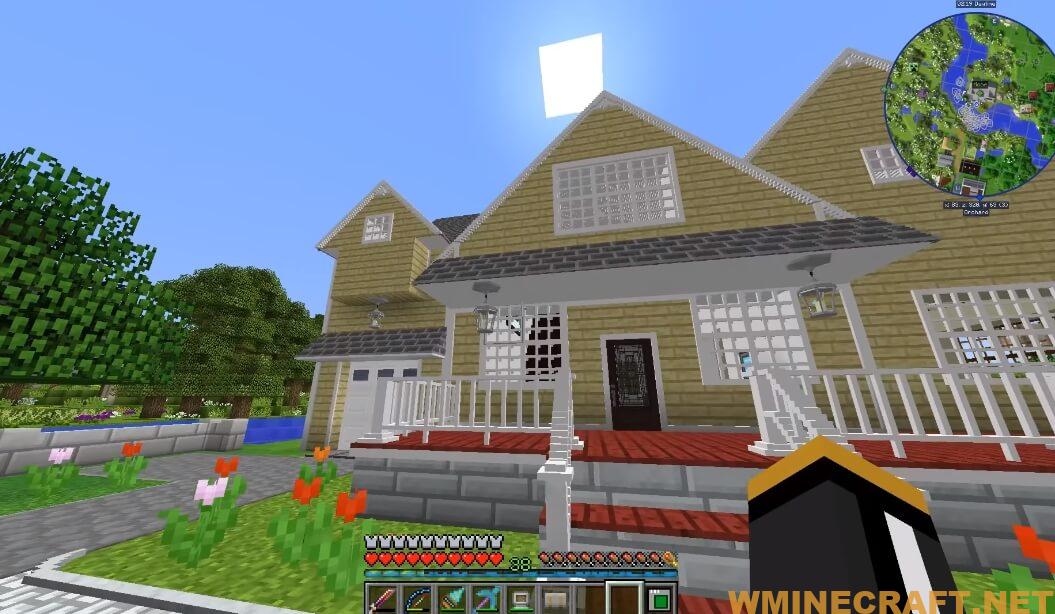 The mod Chisels and Bits offers an inventive way to design and chip away at the specific cubes that constitute several of the game's blocks. Merely craft a stone, gold, iron, or diamond chisel, and you will be capable of taking down pieces of complete blocks to build designs, accessories, or just about everything you can envision.
Screenshots: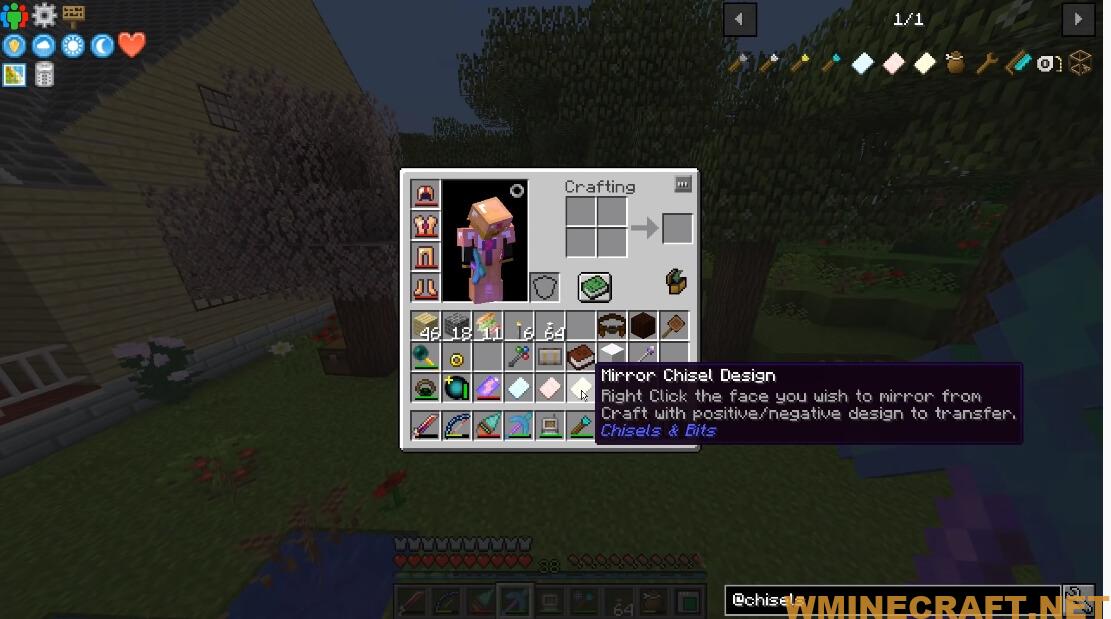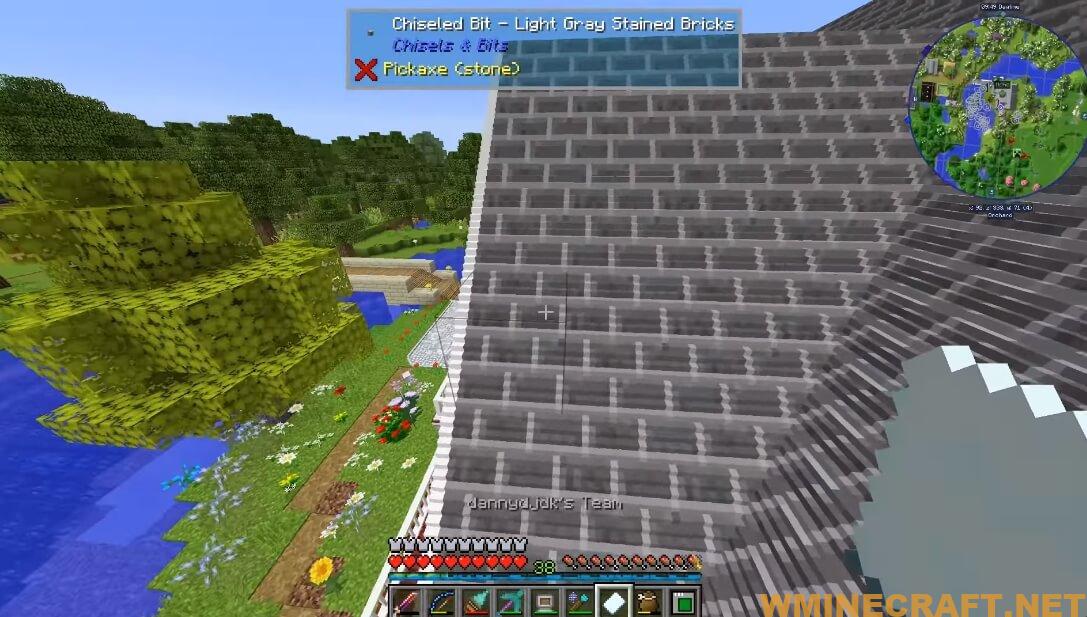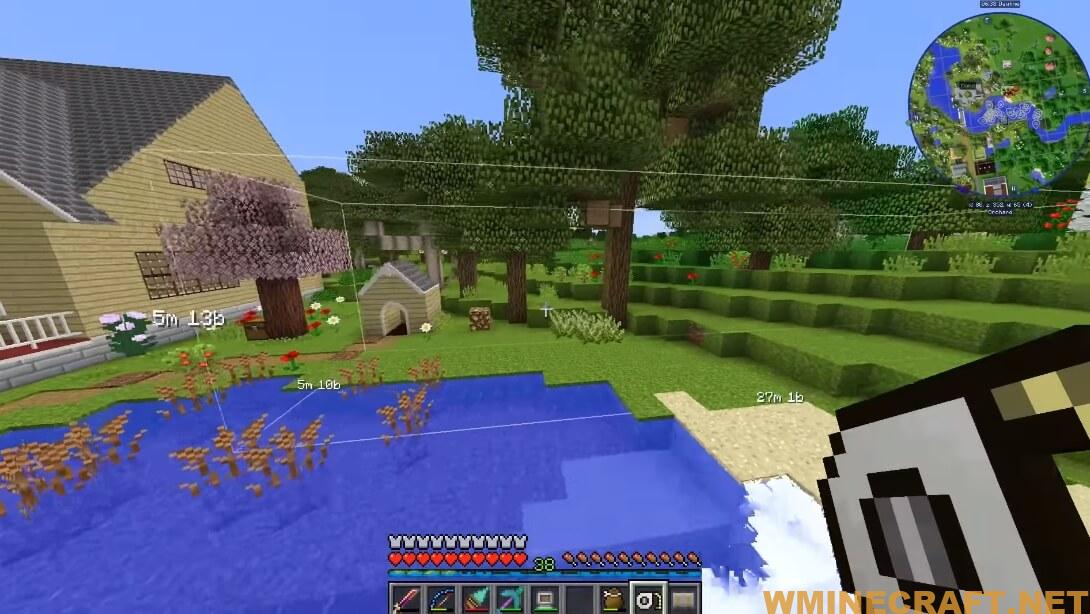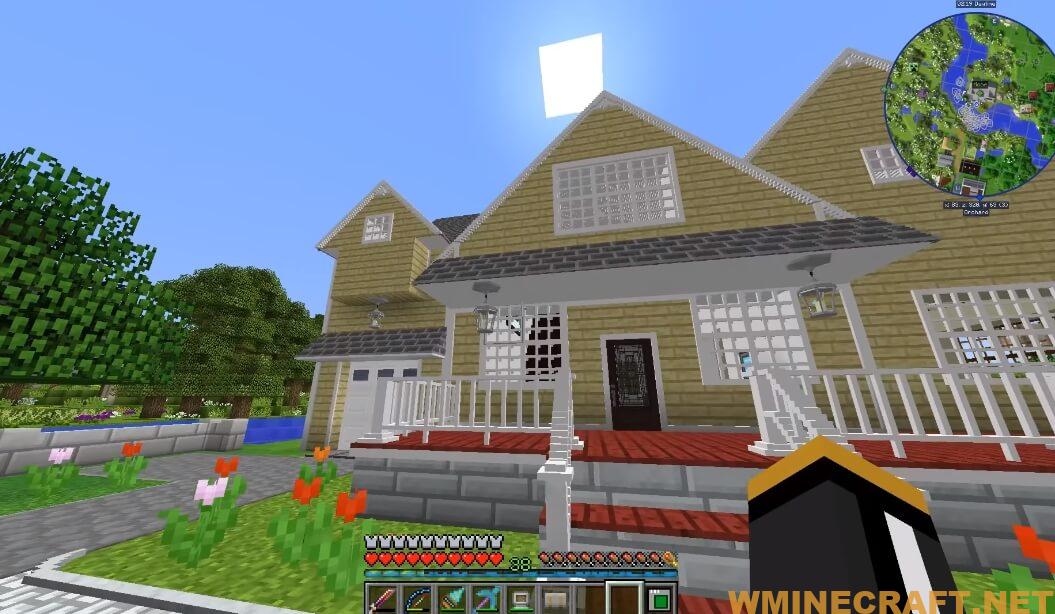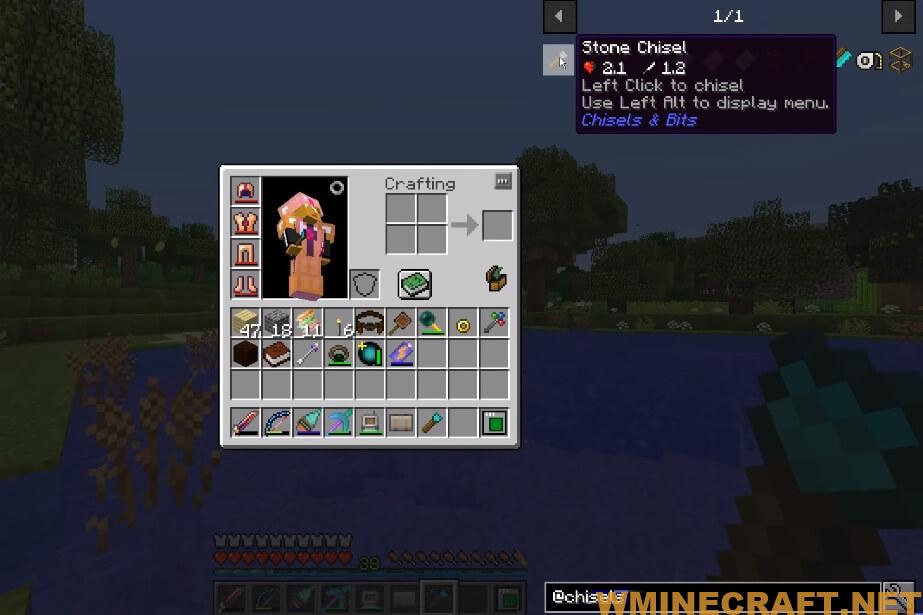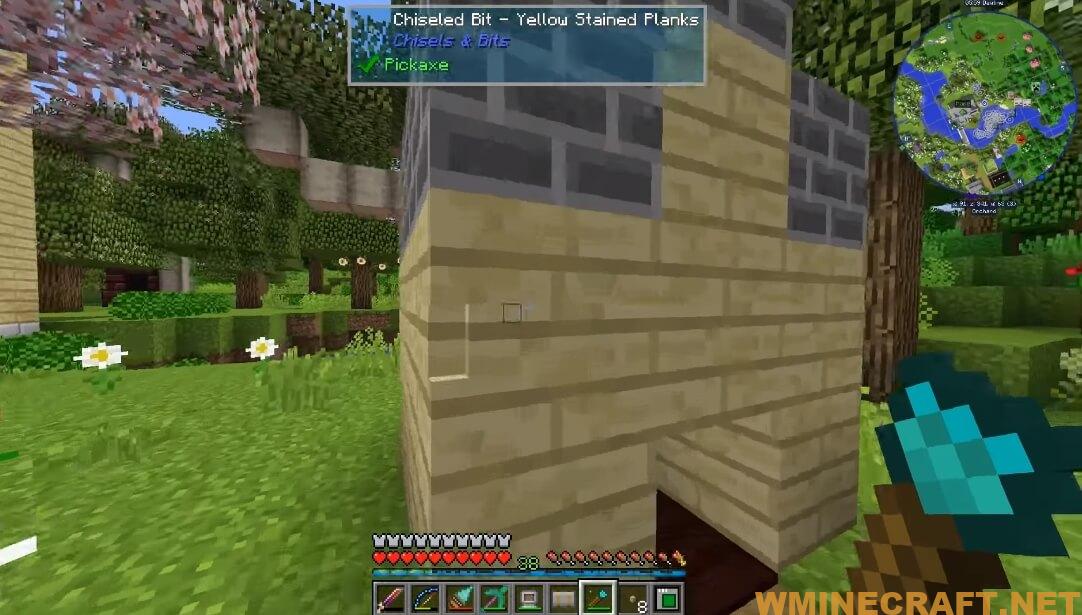 With any other chiseled bits, you can fill in the holes you take away. It helps you to get pretty creative on design elements to take your homes with inlays one step above the others. It is also possible to craft statues of any form or design as well.
Chisel & Bits Mod Features:
Custom designed Fence

Custom roof and pathway of a stone bit

A Custom Welcome sign makes foam oak trees over a path.

Quartz Pillars and Accents

Customized Tall Torches

Stairs

Clay Fountain

Water Well

Custom Bridge and Light Sources

Custom Windows and More

Creating Designs Using Compatible Mod Blocks

Custom Flooring

A Customized Catwalk

Bricks made from Flat Colored Blocks

Glowing Blocks

Stained Glass Style designs

Top Windows

Gazebo

Workshop
Rebuild
Chisels and Bits underwent as massive rebuild in the beginning of 2021. The first releases of this rebuild where published on the 9. of August of that same year. As such some features might be different from older builds, missing entirely, or just have been removed completely. We tried our best to stay backwards compatible as good as we were able to, but we make not promise that the conversion runs smoothly.
Items
Bit Bag
Many carpenters keep a bag in their toolkit to help with inventory management. For example, if you need some chisels but have no idea where they are hidden then simply place them inside your pail's sturdy compartments and go about building or crafting without worrying about losing anything!
Features
Automatically re-stocks and stores bits that you pick up and use.
Holds 63 stacks of bits inside of it.
Stores 512 ( by default ) bits per stack, instead of 64.
Has a button which allows you to clear the contents of the bag easily.
Combine and sort its contents with a button.
Drag a stack of bits over the delete button to delete only those bits.
Craft with any dye to color the bag, craft a dyed bag with a water bucket to remove dye.
Controls
Right Click: Open bag to manipulate contents.
Diamond Chisel
The top tier chisel, boasting more chiseling per stick then all competitors.
Features
Can chisel up to 1561 blocks by default
Allows removing bits from blocks in the world.
Has various modes, single bit, line, plane, and more.
Can harvest any material that requires a diamond pick.
Controls
Left Click: Chisel using current mode.
R: Open Chisel Radial Menu
Recipe Crafting
Utility Recipes
By clearing these, you can recycle your prints or keep them around to preserve your previous designs.
Chiseled Block Crafting
With the Chisel Designs Template, it provides the opportunity to copy and paste your crafts. Only right-click the template to copy it, and then you need to right-click some other block and paste the template.
Showcase:
Crafting Recipes:
Item Recipes
Utility Recipes
Re-use your prints by clearing them or keep them around to store your previous designs.

Chiseled Block Crafting
Including the Required Bits + Bag ( with bits ) with a Positive Pattern will allow you to craft the block written on the Positive Print this lets you duplicate more intricate works effectively.
Requires:
MCMultiPart Mod (Optional)
How to install?
Choose the Minecraft version you want, You have already installed Minecraft Forge
Locate the Minecraft application folder.

On windows open Run from the Start menu, type %appdata% and click Run.
On mac open finder, hold down ALT and click Go then Library in the top menu bar. Open the folder Application Support and look for Minecraft.

Download the Mod
Move the downloaded Jar (zip) file into the "mods" folder
Launch Minecraft and Enjoy the mod.
Video Chisels & Bits Mod for Minecraft 1.17.1/1.16.5-1.12.2-1.11.2 on Youtube:
Minecraft Forge (Modding API) Installation Guide
5 steps to successfully install Forge Minecraft
1. Access and Download select Minecraft forge version, then download the installer.
2. Requires installing Java on a computer. Open the .jar file you just downloaded, make sure 'Install Client' is selected, and click the OK button.
3. Run Minecraft and select the Forge profile, then click Play.
4. Select the Minecraft Forge menu on the left and the Mods button below Multiplayer.
5. Successfully, you can enjoy the mod just installed.
Download Chisels & Bits Mod for Minecraft 1.18.1, 1.17.1…
Minecraft Game version 1.8.9:
Minecraft Game version 1.9.0:
Minecraft Game version 1.9.4:
Minecraft Game version 1.10.2:
Minecraft Game version 1.11:
Minecraft Game version 1.11.2:
Minecraft Game version 1.12.2, 1.12.1, 1.12:
Minecraft Game version  1.16.4:
Minecraft Game version  1.16.5:

Minecraft Game version  1.17.1:(Forge version: )
Minecraft Game version  1.18.1:
Forge version: Download from Server 

Fabric version: Download from Server 
Author: AlgorithmX2 – Source: curseforge