Better PVP Mod is a Mod that supports players about PVP. It helps you to know all the information about your opponent's stats, to get better combat battles.
Better PvP Mod for Minecraft adds a series of useful features to Minecraft to use in both PvP battles as well as Survival / Hardcore mode.
Overview of Better PvP Mod 
If you are a player like PVP, or go everywhere in the world of Minecraft or servers to fight and destroy the enemy. This Mod will partly help you to know information about yourself as well as your competitors. It displays all the stats like: item durability, enchant, healing, health, etc.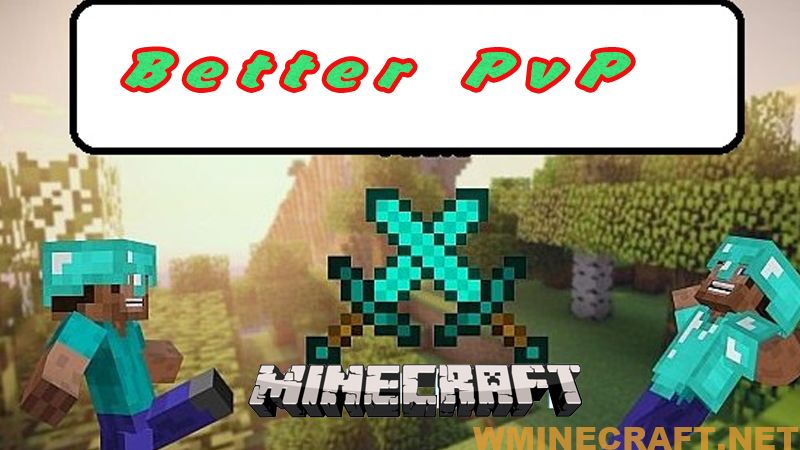 Better PvP Mod 1.12.1 – 1.11.2 adds a fully customizable GUI interface system, including a variety of skins and allows comfortable customization, such as minimap, armor status, hit status There are also many useful keybinds for more comfortable gameplay, one of which is an action bar system similar to RPGs.
This mod will default to us a Mini Map, showing everything around you. Especially in PVP the ability to eat faster is a huge stance while fighting. You can also install shortcuts that make changing weapons faster than ever.
Because the Better PvP Mod supports PVP very conveniently, this Mod can be considered cheating in PVP Servers. And if you are caught using this Mod on servers, you will most likely be punished. So think carefully before using it on large pvp servers.
Relative Post:
Download Indicatia Mod for MC 1.16.5-1.15.2 and 1.12.2
Damage Indicators Mod 1.16.5-1.15.2-1.12.2-1.10.2-1.7.10 – Status of mob
Gammabright Mod – The useful information about the Gammabright Mod you should know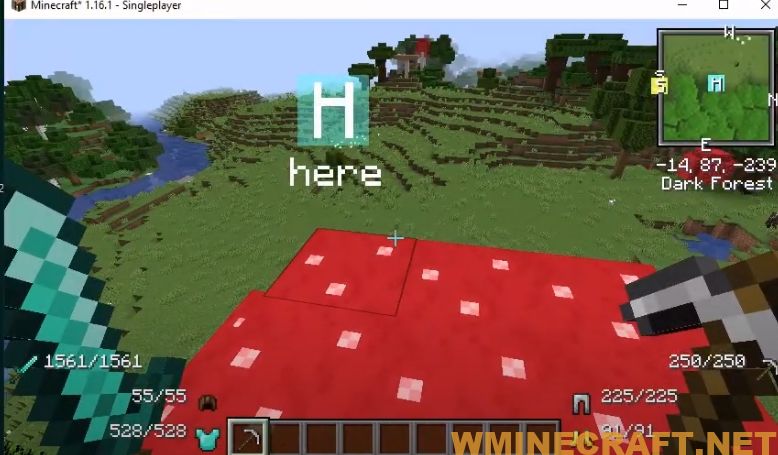 The main feature of Better PvP Mod
– Minimap interface: above or below ground.
– The interface shows the toxic effects in use.
– The interface displays information about the armor, items that are equipping the character at the moment.
– The interface displays the number of arrows remaining and the angle of view vertically.
– Quick use is a system similar to the action bar, you can automatically use a set of items on the hotbar without having to switch back and forth between the items in use. Holding keybind helps you to keep using the item while right-clicking. For example: holding a flashlight, TNT, throwing poison, eating, drinking, etc.
– Quick eat is added to the existing feature, allowing automatic eating when you hold down the keybind.
– Sprint is better when holding a keybind. You can set the W key instead.
– Toggle stealth mode on or off without pressing a button.
– The notification system on the screen allows low energy level, low HP, risk of fire, explosion, being shot by arrows, etc
– The amount of XP received or lost on the screen.
– Editing mode: the interface can be moved anywhere by pressing the C / F key to suit your PvP needs.
– Entity Info – an interface displaying information about the living entity that you are pointing at including players.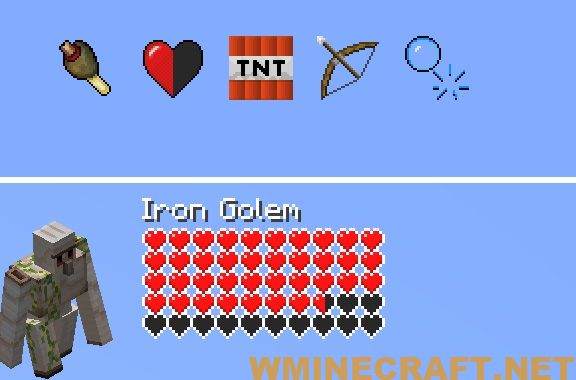 Screenshots: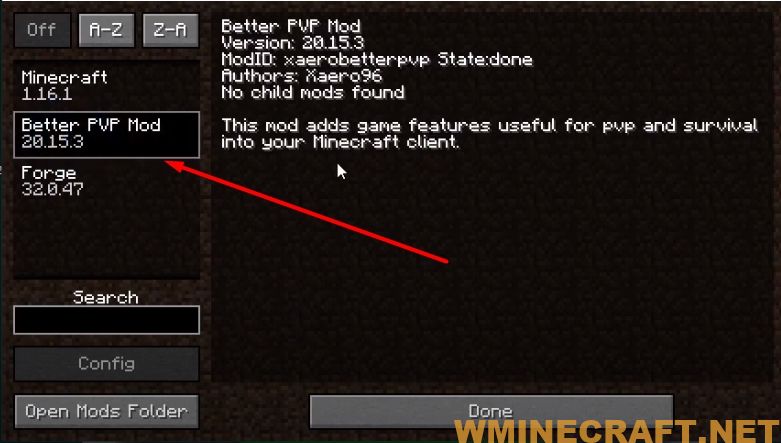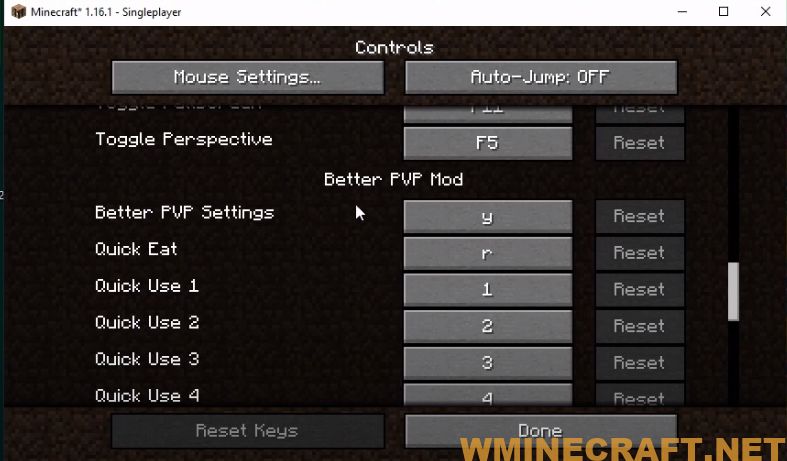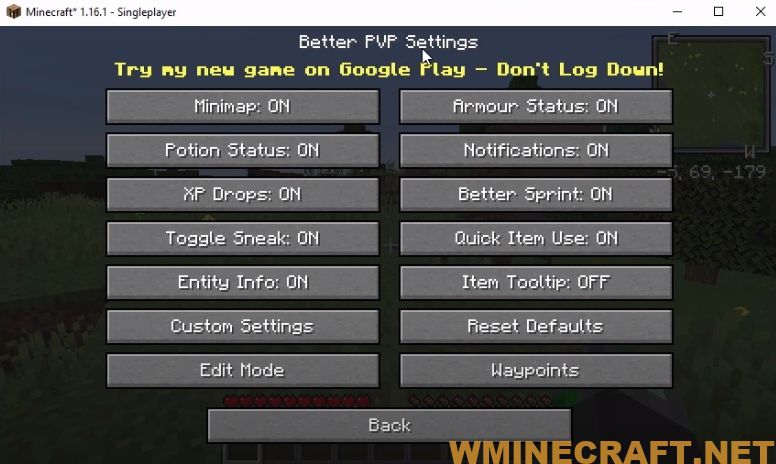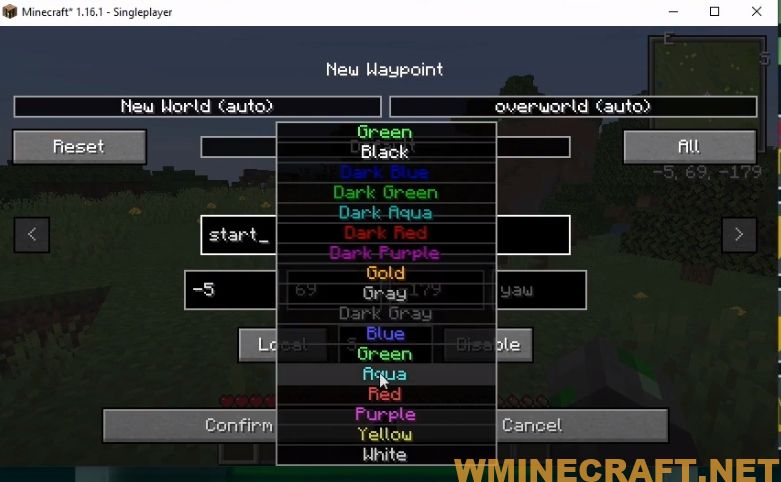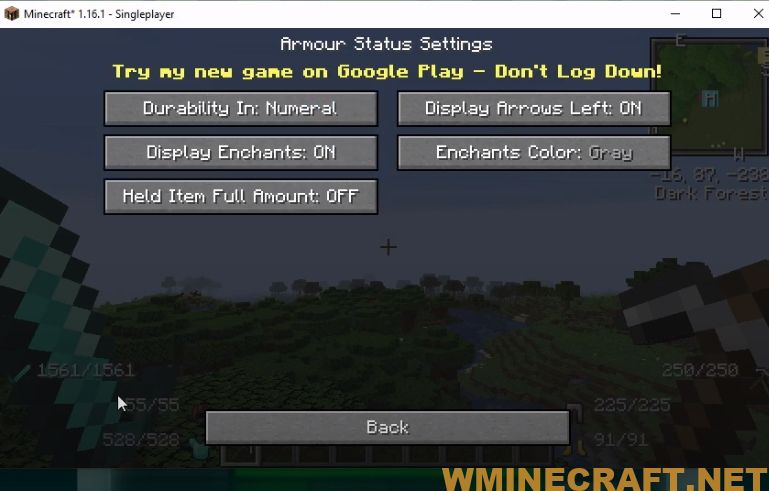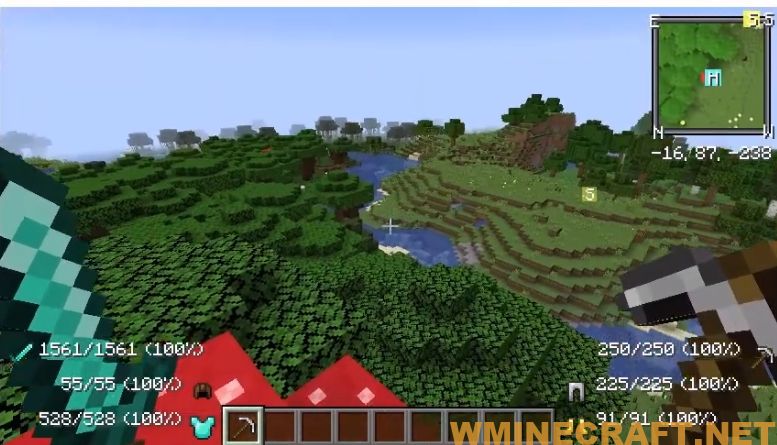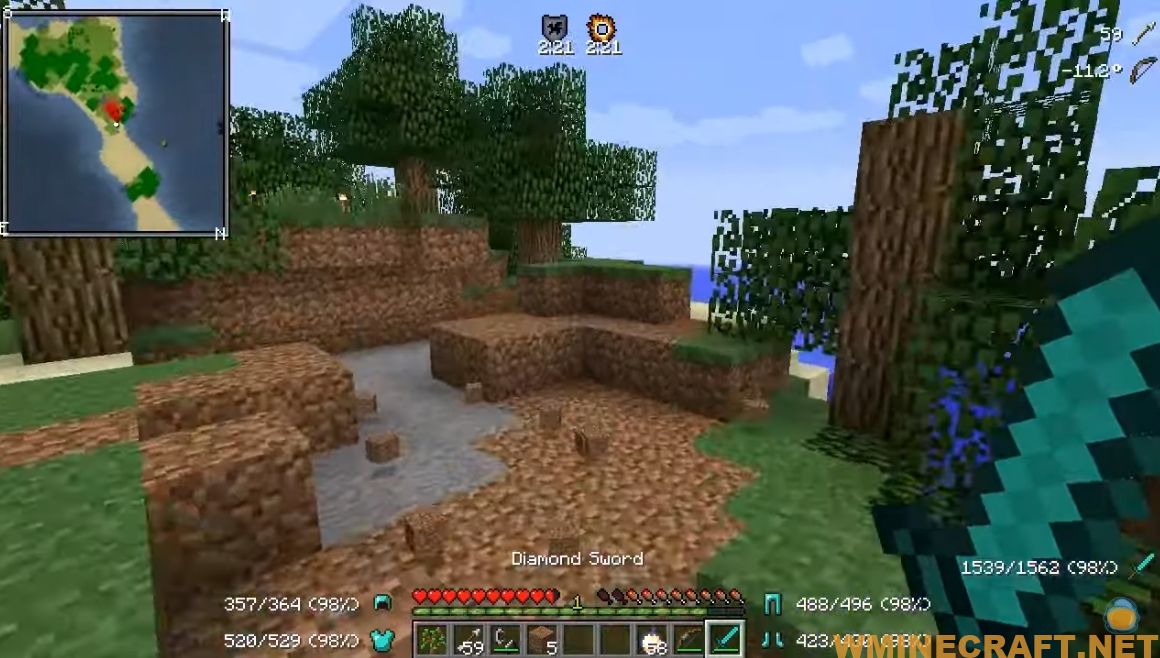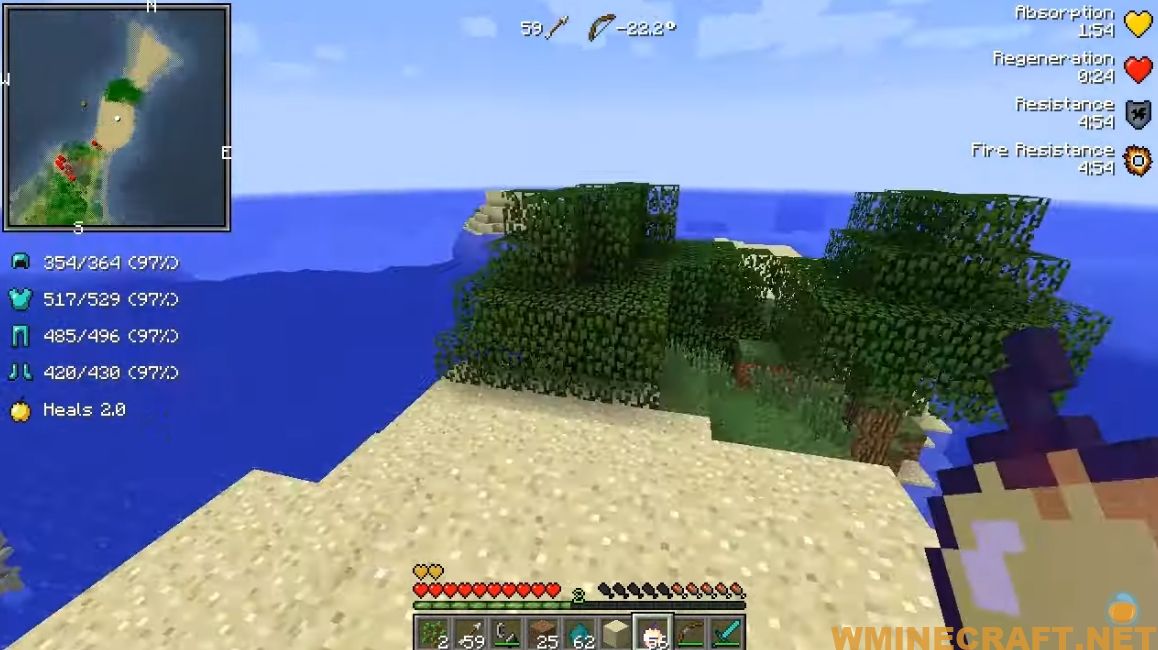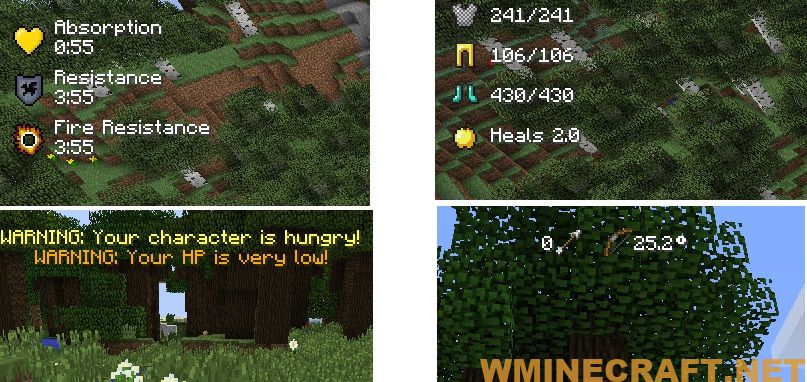 Readmore:
An interface displaying the amount of arrows you have left and your current vertical aiming angle.
Quick use – action bar-like system of key binds that can automatically use a set item in your hot bar without having to switch away from your currently held item. Holding the key bind lets you keep using the item like if you were holding the right mouse button. For example: placing torched, TNT, throwing potions, eating food, drinking.
Show Content »»
Quick eat – addition to the previous feature with a difference of automatically eating food when holding a set key bind.
Better sprint – sprint by holding one single key bind. Can be also set to W.
Toggle sneak – allows you to toggle your sneak ON/OFF and stay sneaking without having to hold anything.
Notification system – on-screen notifications for various things such as low hunger, low HP, danger of explosion, being shot by arrow(s).
XP drops – gained or lost experience flies across your screen. gainz
Edit Mode – interfaces can be moved around and also be centered and flipped around by pressing C/F keys to fit all your PVP needs.
Settings – anything can be disabled or enabled at any time!
Customization – some of the interfaces provide more customization settings available in the mod settings GUI.
How to install the Better PvP Mod with Minecraft Forge
1.16.3 Requires: Fabric
How to install the Fabric version:

Download and install the Fabric Loader.
Download Fabric API and put it in the "mods" folder in the Minecraft game directory.
Download the Fabric version of the Better PVP mod for your Minecraft version and put it in the mods folder.
Start the Fabric game "installation" using the Minecraft launcher.
1. Download Minecraft Forge Installer, the file Better-PvP-Mod.jar.
2. Right-click Forge Installer, Run as Administrator and click OK to install Forge.
(You can skip this step if you have Minecraft Forge installed)
3. Open Start on desktop> Open Run (Or you can use the Windows + R
keyboard shortcut)
4. Type% appdata% into Run and press Enter.
5. Go to /.minecraft/mods folder
6. Place the jar file of the mod you downloaded in the mod folder and then run
Minecraft.
Minecraft Forge (Modding API) Installation Guide
5 steps to successfully install Forge Minecraft
1. Access and Download select Minecraft forge version, then download the installer.
2. Requires installing Java on a computer. Open the .jar file you just downloaded, make sure 'Install Client' is selected, and click the OK button.
3. Run Minecraft and select the Forge profile, then click Play.
4. Select the Minecraft Forge menu on the left and the Mods button below Multiplayer.
5. Successfully, you can enjoy the mod just installed.
Better PvP Mod for Minecraft 1.16.5-1.14.4 Download Links:
Old Version:
Minecraft Game version 1.7.10:
Minecraft Game version 1.8.0:
Minecraft Game version 1.8.9:
Minecraft Game version 1.9.0:
Minecraft Game version 1.9.4:
Minecraft Game version 1.10.2:
Minecraft Game version 1.11.2/1.11:
Minecraft Game version 1.12.2, 1.12.1, 1.12:
Minecraft Game version 1.13.2:
Minecraft Game version 1.14.3:
Minecraft Game version 1.14.4:
Minecraft Game version 1.15.2:
Minecraft Game version 1.16.1:
Minecraft Game version 1.16.3:
Minecraft Game version 1.16.3:
Author: xaero96 – Source: Curseforge