Welcome Techgunner! Techguns Mod is a survival based tech mod. Techguns Mod adds Guns, Worldgen, NPCs, Machines and many more things. Techguns Mod 1.12.2, 1.7.10 is designed to be played in Survival mode for the ultimate challenge with no creative or fast travel modes available until you beat the game on its own terms!
What is Techguns Mod
Techguns Mod provides players with a large amount of weapons for you to have new experiences in your Minecraft world. You will also fight futuristic weapons with special effects.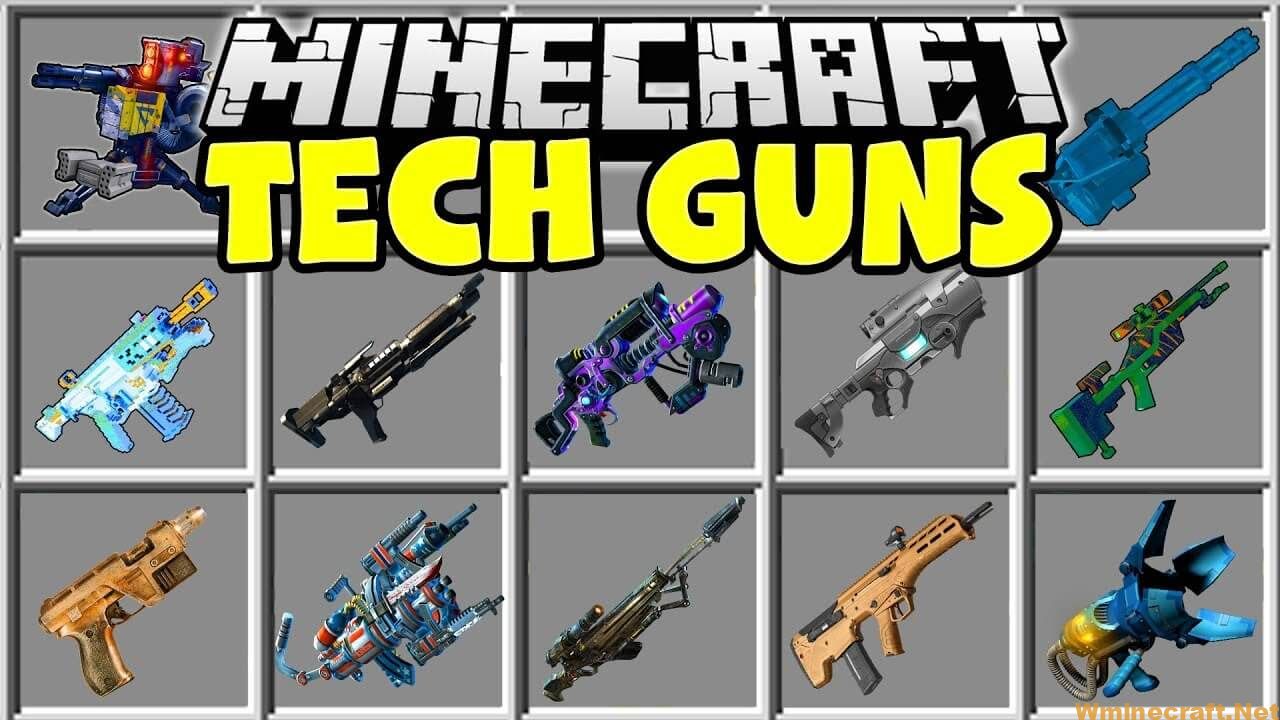 Techguns Mod Create some amazing structures including a military base with powerful weapons and powerful NPC. However, be very careful because the firepower of these bases is very large and easily destroys you.
The fact of the matter is that Techguns Mod currently uses a dangerous system. That means more dangerous NPCs can generate more randomness in the world spawn, and that is really annoying. Therefore, if you do not like some NPCs, you can change Spawn in the configuration file.
On the other hand, Techguns Mod does not just add weapons, structures, and NPCs. This great mod also adds very useful armor and construction tools. You can use them to create awesome weapons, very hard armor. Test each one and see which one you prefer.
Techguns tutorial
World Spawning:
This mod creates some structures in the world, if you don't want them you can disable them in config file
(config / Techguns.cfg)
:
'B: SpawnStructures = true'
Note:
you should not attack military bases without proper armor. You must destroy the flag to stop the NPCs spawning in military bases.
NPC Spawning:
As mentioned above, Techguns currently uses a malicious system. That means more dangerous npcs could spawn further out in the world. Remember, do not start out in the desert.
With this mod, you can create a large amount of armor and guns. You can use them to attack and defend against new hostile creatures. You can also be equipped with armor and firearms. In addition, you can manufacture various types of machines, blocks, various objects and more.
How to install techguns mod

To install, Techguns mod will require some extra storage like greater than 15 Mbps. Interestingly it is a new revision that requires you to have some bugs and bugs in current updates. The most notable point is that you can use this tool without changing any other modifications.
– Make sure you have already installed Minecraft Forge and required mods.
– Locate the minecraft application folder.
– On windows open Run from the start menu, type %appdata% and click Run.
– On mac open finder, hold down ALT and click Go then Library in the top menu bar. Open the folder Application Support and look for Minecraft.
– Place the mod you have just downloaded (.jar file) into the Mods folder.
– When you launch Minecraft and click the mods button you should now see the mod is installed.
Features:
Guns:
3D Models.
Recoil/reload animations.
Muzzle flashes.
First and 3rd person.
Armors:
Skins and 3D Models.
Armor bonus systems, giving boni like +% mining speed ore movement speed.
New Inventory Tab: (compatible with Tinker's Construct. If TC is installed it will integrate into it's tab registry)
New item slots and items for them.Face slot: wear things like a Gas Mask.
Back slot: Glider and jetpack.
New slots to put ammo.
Auto food slots: automatically eat food put in here.
Damage System:
Different damage types and armor values against each type.
NPCs:
New hostile NPCs that use guns too.
Turrets that can use guns.
Death Effects:
Brutal animations like gore or dissolving.
Disabled in config by default.
Must be enabled in config, not going to explain how you do that. No gore for kiddies, sry.
Machines:
New machines that are required for crafting all the new stuff:
Ammo press.
Metal press.
Chem lab.
Camo bench:
Can switch skins of some Techguns armors and Weapons. Only a few have multiple skins currently.
Repair bench:
Repair Techguns armors here. Costs less than anvil and no XP. Armors can't be destroyed but become useless when at 0 durability.
Ore Drills:
Multiblock machines that generate ores out of clusters (Ore clusters spawn in the world, see section about configuration for making them spawn). Ore clusters last forever but drills are not free and require power. The amount of ores/time that can be get out of a cluster is limited.
Effectiveness is configurable.
Configuration:
Configure spawn rates.
Configure if common ores should be added (lead, copper, steel, etc) (disabled by default).
Configure ore drill power and ore rates. Default rates (1.0) are for dedicated servers with chunkloaders, for singleplayer you should set the ore rate a lot higher and power lower.
Enable death effects.
Screenshots: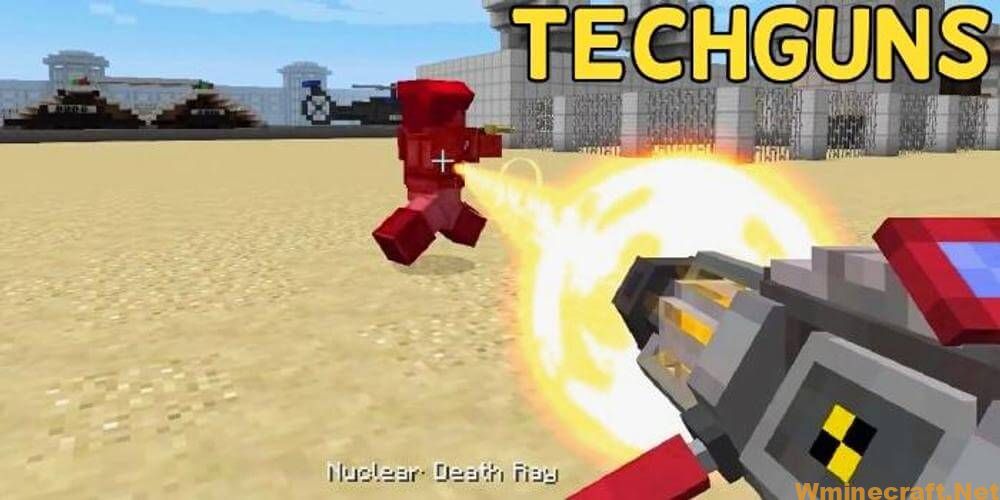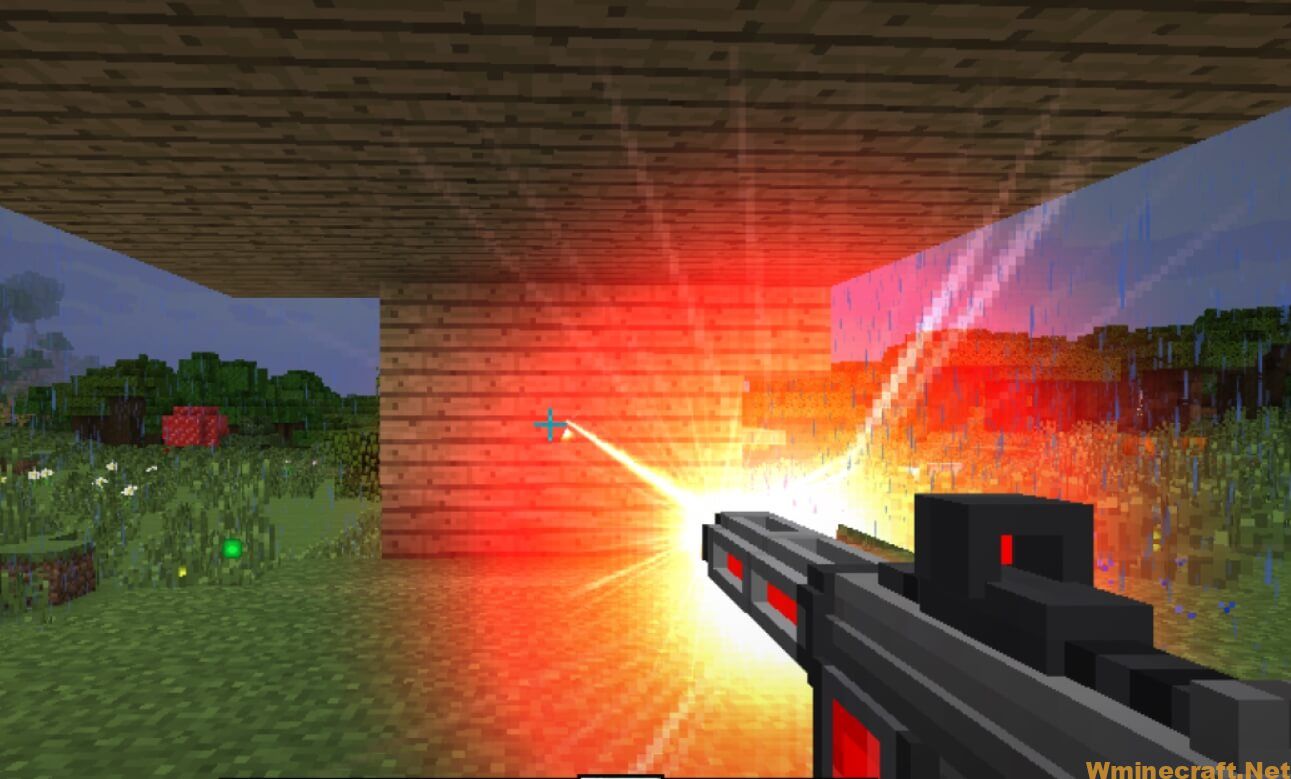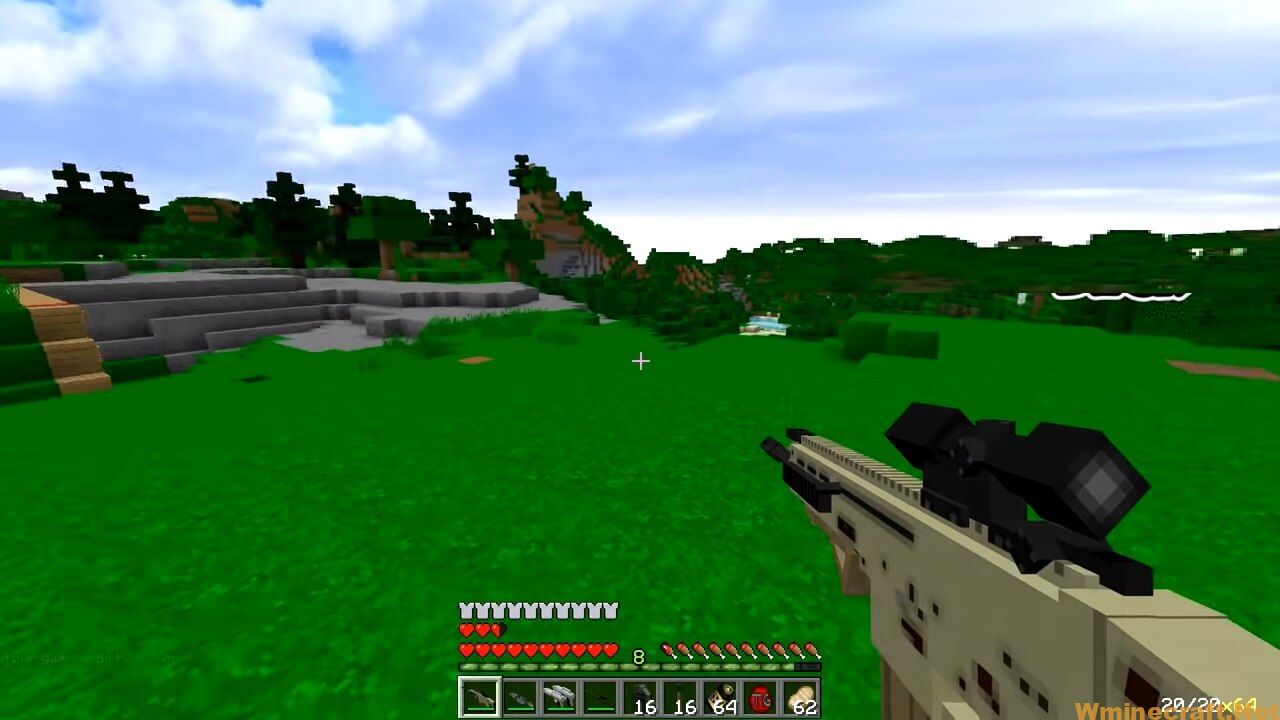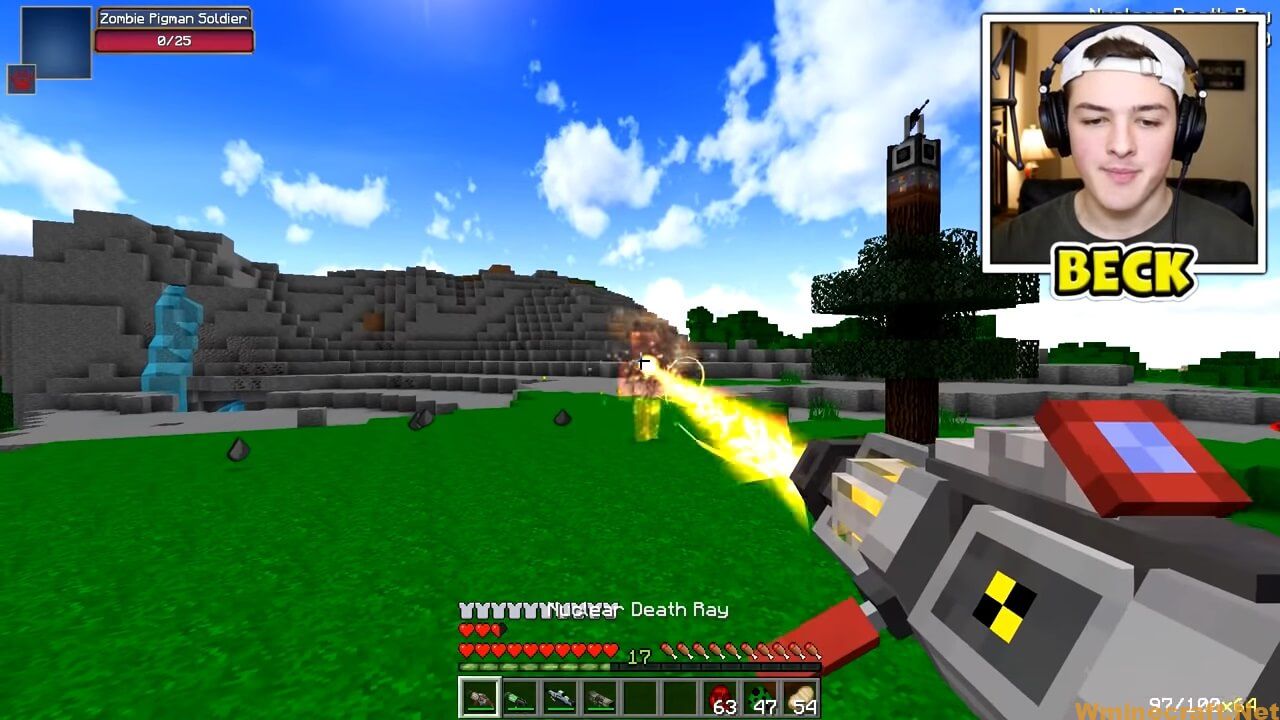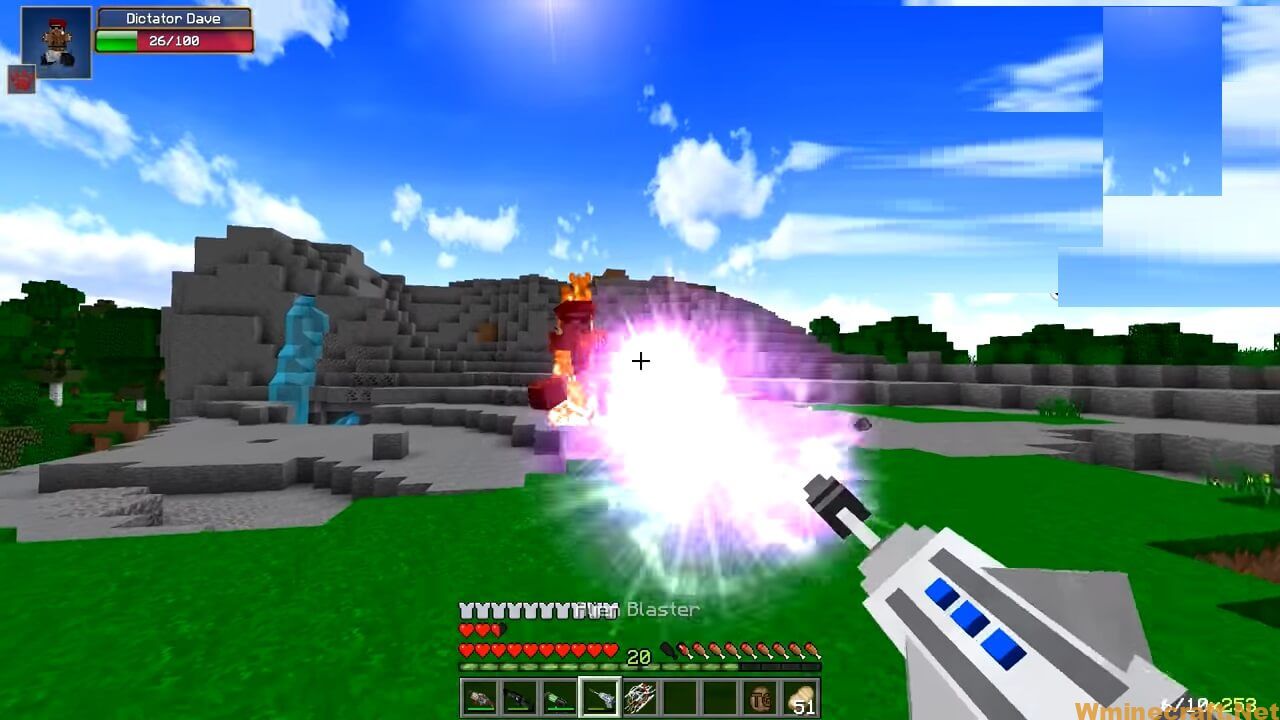 All in all, thanks to using this mod, everything in battle will be great, even death is very realistic. What Techguns Mod does is amazing. Hence, download it now and have an incredible battle with your enemies. There is nó denying that you will be very pleased with the utility that Techguns Mod brings to Minecraft. Plus, the Techguns Mod adds your guns and armor in superb quality. Furthermore, you will get the option to customize armor and suits to make things more interesting.
How to craft guns in techguns mod?
Weapons are the primary feature of the Techguns mod. A comprehensive wiki on weapons, machines and other resources available in the Techguns mod for Minecraft. Link read more: https://techguns-mod.fandom.com/wiki/
Highly recommended techguns mods?
–
Chisel
& CTM : CTM add connected textures to the game and support Techguns. Chisel adds building blocks that some Techguns structures are made of. Note that not having Chisel will replace the modded blocks by vanilla or Techguns blocks.
-Forge energy mod : Techguns add machines that requires RF to work. Using Thermal Foundation should work
This can be disabled in the configuration.
–
Just Enough Items (JEI)
: This is needed to view all recipes including machines ingame
-Patchouli : when Patchouli is installed
Download Links:
Techguns Mod For Minecraft 1.7.10
Techguns Mod For Minecraft 1.12.2