The SkyBlock Map is one of the most popular Minecraft Maps ever created. The concept behind SkyBlock map is very simple: You spawn on a floating island and must survive and complete challenges with the resources available to you. "Skyblock" is a registered trademark of Mineverse, LLC. It was originally released in January 2011 by Vadim "Goose" Shvetsov, who has since retired from map making. SkyBlock 1.18.2, 1.17.1 is an updated version that includes new blocks, items, food sources and more!
The SkyBlock map is the perfect blend of strategy and simplicity. You are stranded on a small island with only one chest, surrounded by lush trees; it's up to you whether or not they grow into your salvation! The game offers many opportunities for fun which we all love every time around but there can be some challenges too – like when you find yourself running out food in-game before nightfall (time passes MUCH slower).
About SkyBlock Map
In Skyblock Map, players will start on a small island as they float in an endless sea. There will be no blocks and no resources on that small island. Players will have to learn how to survive as well as expand the island by using their skills and knowledge.
In addition to the island that you are going to start with, there are other islands surrounding that have a different biome, including ice spikes, flower forest, desert, mushroom island, jungle, forest, extreme hills, and swampland. The one you start with is the plains biome.
In the Skyblock Map, it is not easy to obtain resources and almost impossible to reach the end or the nether. There is also no cure for zombie villagers. Besides, it is extremely difficult to get clay, diamonds, flowers, and many more items. To be able to survive in all the islands, players have to use custom loot tables to make blocks and items.
SkyBlock Map world features:
The Overworld is empty with blocks having biomes. The rest is an empty space.

Players can obtain blocks and items with custom villagers, custom recipes and custom loot tables. These are friendly ways of survival.

Players will unlock all recipes when they enter the world. That's how they can view all the custom recipes in the recipe book.

The Nether and End generate the same way as any survival game. They have regular Snapshot terrain generation.
What are the challenges?
This SkyBlock Map 1.16 is a creative map for Minecraft that allows players to test their survival ability in small and empty islands. How big your world becomes depends on your ability to survive and expand it. There are some basic challenges that all players have to face in SkyBlock Map 1.16. Firstly you need to build a CobbleStone generator and a house for your character. Then your mission is to expand the island by making a melon farm, a pumpkin farm, a reed/sugarcane farm, a wheat farm, or a giant red mushroom. 
In addition, in the house you need to craft a bed. Then make stone brick and torches. Besides, an infinite water source is also necessary as well as a small lake. Other items like bookcases, wool, gold ingots, glass panes, stone buttons, stone slabs, 10 signs, ladders, fences, fence gates and many more need to be crafted.
Some tips for you when playing SkyBlock Map:
When starting with SkyBlock Map, remember not to jump off the island to regrow your health. You should not make a bridge to the mainland and more importantly, don't cheat. You can also increase your island's level by placing around your island natural blocks, Iron, Gold, Diamond, Emerald and Lapis blocks. Try to get more animals and don't buy blocks from shops because it will only decrease your level. The SkyBlock Map is fun and exciting. Enjoy it!
Screenshots: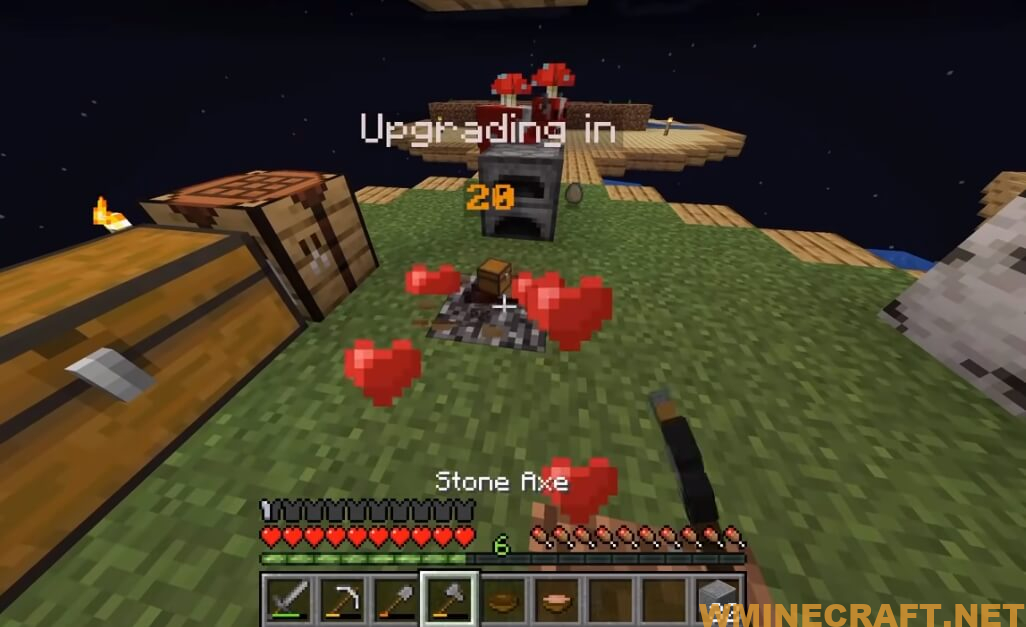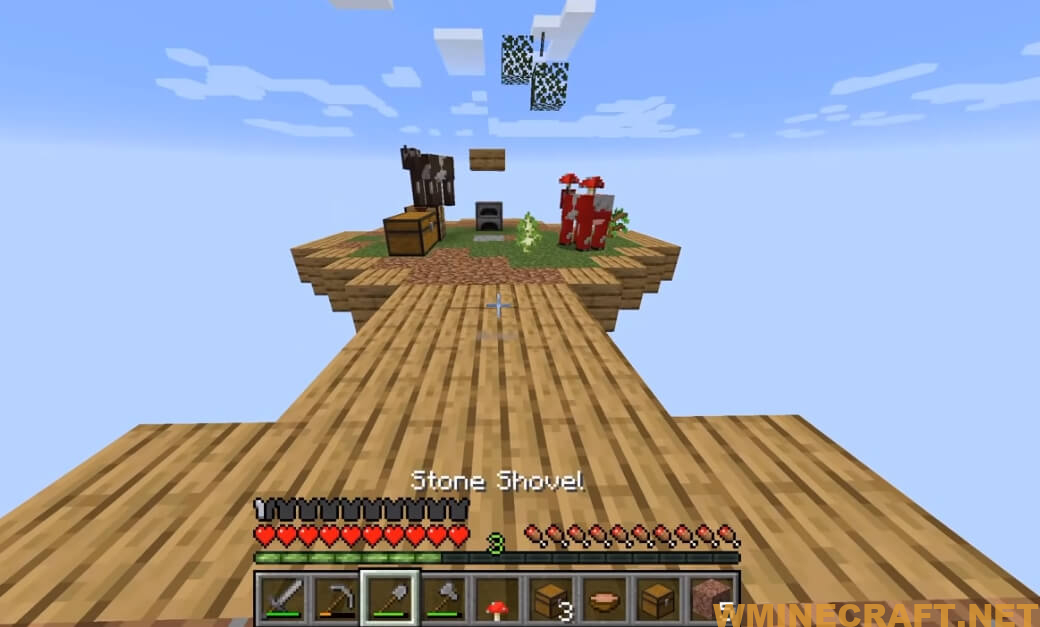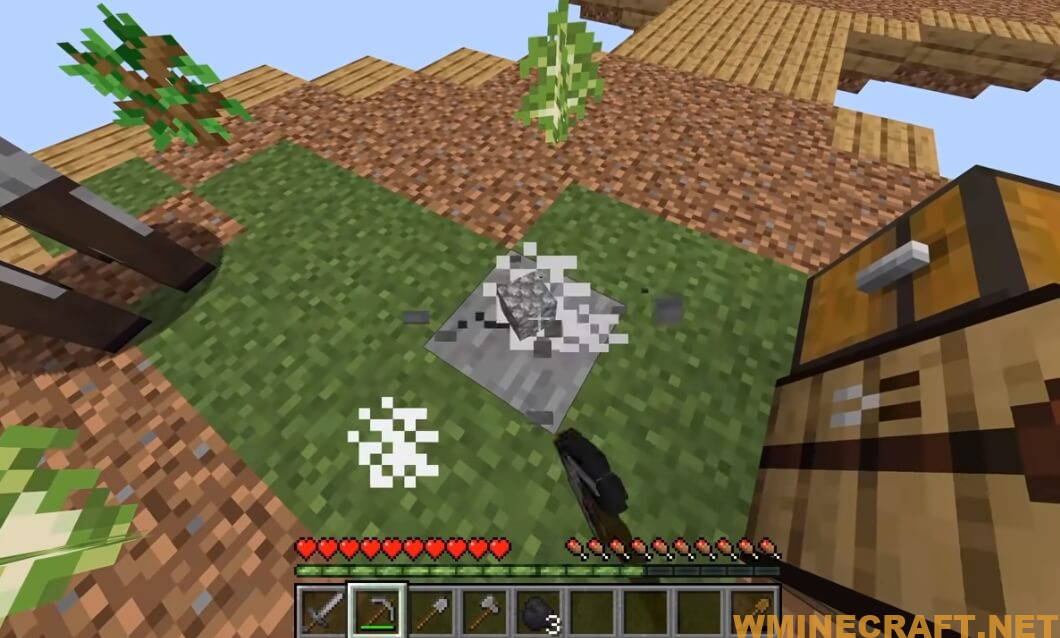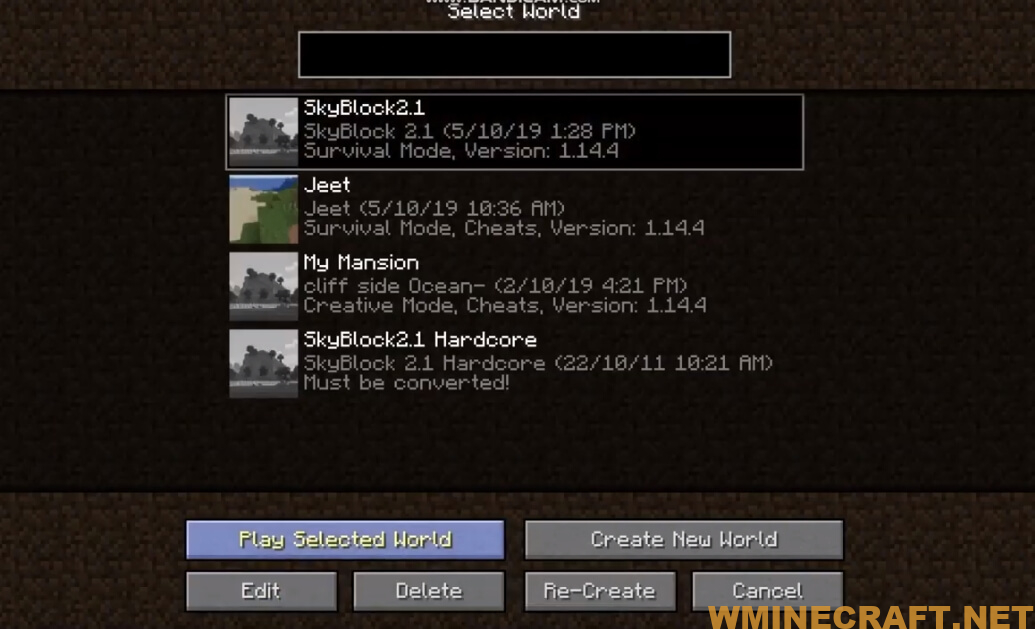 Challenges:
1) Build a Cobble Stone generator.
2) Build a house.
3) Expand the island.
4) Make a melon farm.
5) Make a pumpkin farm.
6) Make a reed/sugarcane farm.
7) Make a wheat farm.
8) Make a giant red mushroom.
9) Craft a bed.
10) Make 64 stone brick's.
11) Make 20 torches.
12) Make an infinite water source.
13) Craft a furnace.
14) Make a small lake.
15) Build a platform 24 blocks away from the island, for mobs to spawn.
16) Make 10 cactus green dye.
17) Make 10 mushroom stew.
18) Craft 10 Jack 'o' lanterns.
19) Craft 10 bookcases.
20) Make 10 bread.
21) Collect 10 Ender-pearls.
22) Cook 10 fish.
23) Craft 10 Black Wool.
24) Craft 10 Gray Wool.
25) Craft 10 Light Gray Wool.
26) Craft 10 Lime Green Wool.
27) Craft 10 Red Wool.
28) Craft 10 Yellow Wool.
29) Craft 10 Pink Wool.
30) Craft 10 Green Wool.
31) Craft 10 Orange Wool.
32) Craft 10 Snow Golems.
33) Craft 20 Paintings.
34) Build and light a nether portal.
35) Craft 5 Gold Ingots.
36) Craft 16 Glass Panes.
37) Collect 50 birch logs.
38) Collect 64 arrows and craft a bow.
39) Craft 10 stone buttons.
40) Craft 30 stone slabs.
41) Craft 10 signs.
42) Craft 20 ladders.
43) Craft 20 fences.
44) Craft 20 fence gates.
45) Craft 10 levers.
46) Craft 10 trapdoors.
47) Craft 10 stone pressure plates.
48) Craft 10 wooden pressure plates.
49) Collect 64 bonemeal.
50) Craft 20 cobblestone stairs.
Rules:
Do not purposely jump off the island to regenerate your health.
Do not make a bridge to the mainland.
Play on at least easy difficulty.
Do not cheat.
How to install Minecraft SkyBlock Map:
Download the map from the link below.
Extract the file you have just downloaded.
Hold down Windows key, then press R key on the keyboard (or you can click Start, then type Run into search, after that click Run)
Type %appdata% into the Run program, then press Enter.
Open .minecraft folder, then open saves folder.
Drag extracted map folder which you have done in step 2 into saves folder.
Start Minecraft, the map is in Singleplay mode.
Enjoy and play!
Map types:
Survival
SkyBlock Map for MC 1.18.2, 1.17.1 Download links:
Minecraft SkyBlock Map All Versions:
Latest Normal Version:

Latest Hardcore Version:
"If you would like to play Skyblock Multiplayer, feel free to check out the Official Skyblock server, skyblock.net."