Scorch is a mod for Fabric that adjusts several aspects of the Nether and introduces some new functional blocks. Initially conceived as gunpowder rebalance, it branched off into something more significant.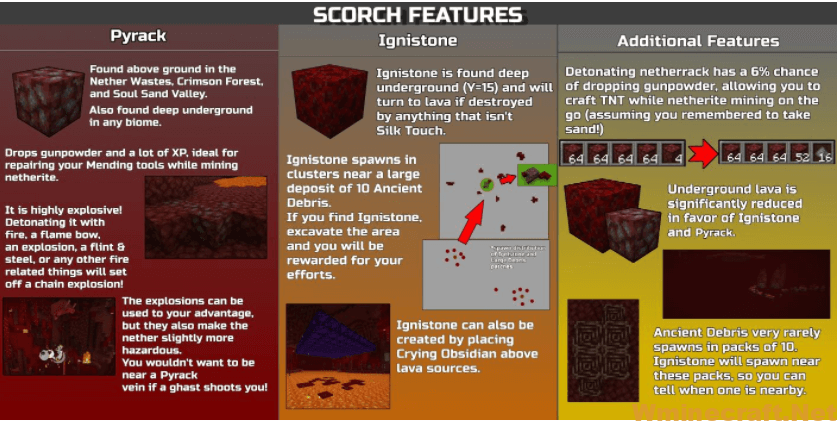 How to install Download Scorch Mod 1.17 for Minecraft?
Follows 5 Steps below to install Download Scorch Mod 1.17 for Minecraft on Windows and Mac :
1. Download and install Minecraft Forge, you can read the instructions below the article.
2. Download the Download Scorch Mod 1.17 for Minecraft.
3. Open the . minecraft folder and then enter the mods folder. Important: Some older versions of Forge may not have the 'Open Mods Folder' button. If this is the case, create the directory under the name mods.
Windows:
Press the Windows key +R at the same time
Type %appdata% and press enter
Find folder Minecraft and then look for the Mods folder within that
Mac:
Click on the desktop and then press Command+Shift+G all at the same time
Type ~/Library and press enter
Open the folder Application Support and then Minecraft.
4. From here, drag in the mods file downloaded (.jar or .zip) you wish to add.
5. Run Minecraft, and you should now see the new mod installed in the list!
Enjoy Download Scorch Mod 1.17 for Minecraft, If there is an error, please comment on this article we will support.
Feature:
Pyrack is found above ground in the Crimson Forest, Nether Wastes, and Soul Sand Valley. It's found below ground (around netherite layer) in every biome.
Pyrack drops gunpowder when mined without silk touch.
If Pyrack interacts with a flame bow, flint and steel, fire charges, fire, fireballs, or explosions, it will detonate.
Most things detonate it instantly, but fire blocks will burn it slowly before it suddenly detonates.
Pyrack is useful when netherite mining, as you will find ores that you can detonate to help clear space.
Pyrack also drops a lot of experience, so it's optimal for repairing mending tools by mining it.
Pyrack makes the nether a bit more dangerous, as you wouldn't want to be near it if a ghast is shooting you. You'd also want to keep away from veins of Pyric Netherrack if there is lava or fire nearby, as it could detonate at any moment.
It's also fun to shoot clusters of Pyrack with a flame bow.
Ignistone
Ignistone is meant to act as a replacement for the single pockets of lava that spawn underground.
Ignistone spawns deep underground (around the netherite layer).
If broken, it will turn into lava. You can avoid this by mining it with Silk Touch.
Ignistone indicates the presence of a 10-sized ancient debris patch nearby. If you're finding Ignistone, excavate the area and you'll find this large debris patch. The closer you are, the more Ignistone you'll find.
Ignistone can be made manually by placing Crying Obsidian above a lava source block.
Ignistone can be useful as it allows you to transport large amounts of lava somewhere without the use of buckets.
Additional Features
Detonating netherrack with TNT gives it a 6% chance of dropping gunpowder. This means you can renew gunpowder easily, especially if you're Netherite Mining with TNT. Just don't forget to bring plenty of sand!
Underground Nether Lava is significantly reduced, intended to be replaced by the presence of Pyrack and Ignistone.
Very rarely you'll find a vein of 10 ancient debris. You'll know a large ancient debris vein is nearby if you are finding Ignistone in the area.
Crying Obsidian can be placed up to 10 blocks above lava sources to create Ignistone, or above flowing lava to create netherrack.
 Scorch Mod 1.17 Download Links:
Minecraft Game version 1.17: Fabric:

How To Download and Install Minecraft Forge (Modding API)?
Minecraft Forge is a free, open-source server that allows players to install and run Minecraft mods. 4 steps to install forge for windows, mac, Linux
1. Download Minecraft Forge at the website, select the version of Minecraft you want to run, then download the installer using your browser.
2. Open the .jar file you just downloaded (Run installer as Administrator), make sure Java is installed on your operating system
3. Select Install Client or Install Server if you want to install for your server, and click OK. Wait about 2 minutes, and you will see a success message.
4. Launch Minecraft and select the Forge profile, then click Play.
5. You will see Minecraft Forge in the lower-left corner and the Mods button under Multiplayer.
Congratulations on successfully installing Minecraft Forge and experimenting with Scorch Mod 1.17 for Minecraft downloaded.
If there are errors, please comment on this article.