In the world of Minecraft, there are several challenges that players face when exploring the unknown depths of caves and mines. The darkness can be overwhelming, and torches don't always cut it. This is where the Mage Flame Mod 1.19.4, 1.18.2 comes in – a small mod that allows players to create dynamic light sources that follow them wherever they go. With a few scrolls crafted from vanilla ingredients, players can now illuminate their paths without any need for mana, spell points, mage classes, or levels. In this post, we'll take a closer look at how the Mage Flame Mod works, its features, and how it can enhance your Minecraft experience.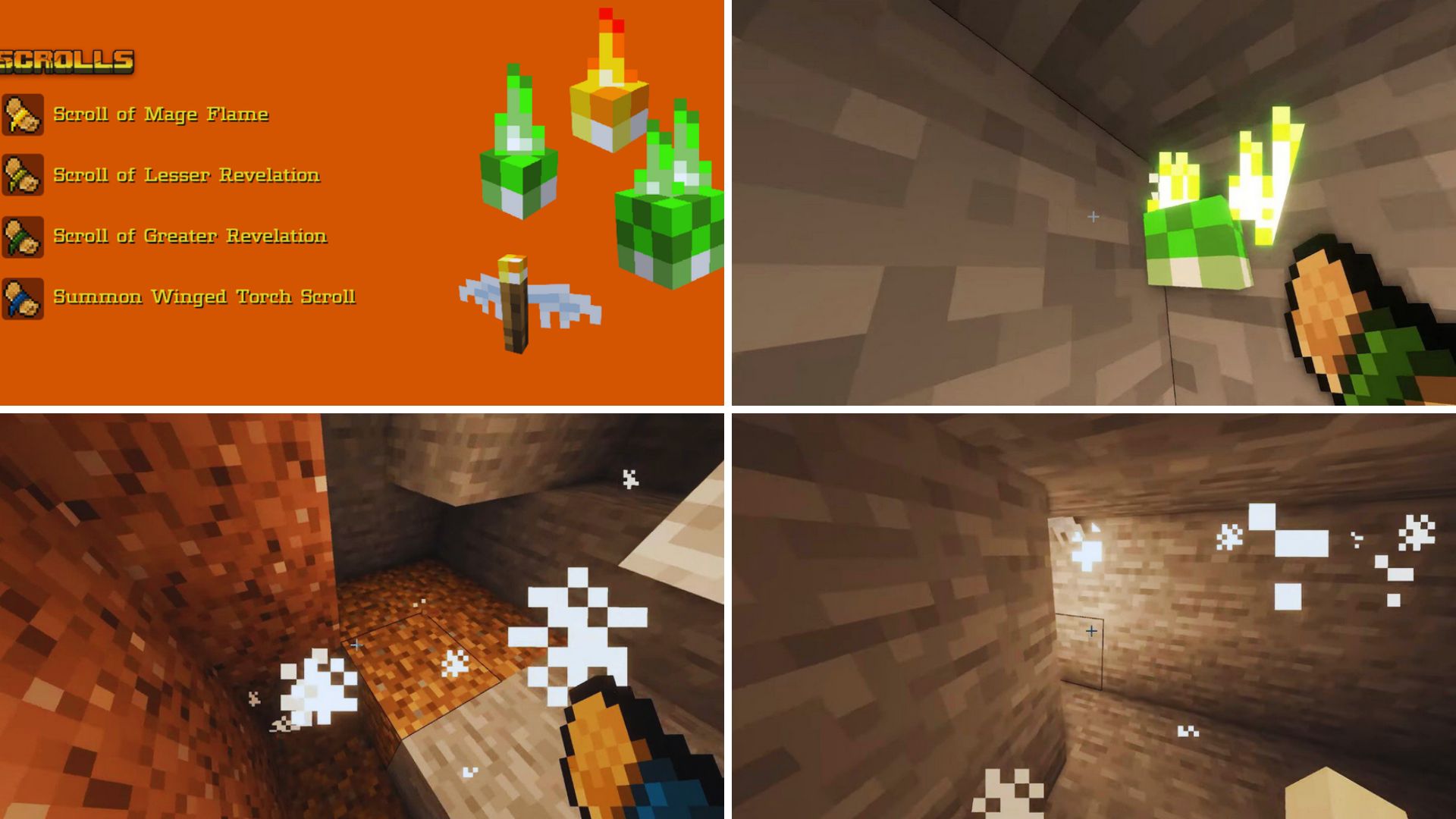 Crafting and Using the Mage Flame Scrolls
The Mage Flame Mod introduces a new item called Mage Flame Scrolls. These scrolls can be crafted using vanilla ingredients such as paper, coal, and glowstone dust. Once crafted, the scrolls can be used to create a light source that will follow the player around as they explore. Each scroll has a limited duration, which means players will need to craft more scrolls to continue using the Mage Flame Mod. The best part is that the scrolls can be used in both the overworld and the nether.
Different Levels of Brightness
One of the best features of the Mage Flame Mod is the ability to adjust the brightness of the light source. Players can choose from six different levels of brightness depending on their preference. This is done by simply holding down the right mouse button while the Mage Flame Scroll is active. The higher the brightness level, the more resources the scroll will consume, so players will need to find a balance between brightness and resource management.
Customizable Colors
Another exciting feature of the Mage Flame Mod is the ability to customize the color of the light source. Players can choose from six different colors – red, orange, yellow, green, blue, and purple. This is done by simply pressing the 'C' key while the Mage Flame Scroll is active. Each color consumes a different amount of resources, so players will have to manage their resources carefully if they want to use a specific color for an extended period.
Compatibility with Other Mods
If you're someone who enjoys using mods in Minecraft, you'll be happy to know that the Mage Flame Mod is compatible with several other mods. Some of these mods include Optifine, Biomes O' Plenty, and Quark. This means that players can use the Mage Flame Mod alongside their favorite mods without any issues.
📥 How to install:
How to Use Forge to Install Minecraft Mods (Client Side)
How To Install The Fabric Mod Loader After Downloading It
The newest Minecraft Mods are available right now.
Mage Flame Mod – Download 
Game Ver 1.18.2
Forge version:

Fabric version:

Game Ver 1.19.2, 1.19.1, 1.19

Forge version:

Fabric version:

Game Ver 1.19.3
Forge version:

Fabric version:

Game Ver 1.19.4
Forge version:

Fabric version: