For every Minecraft player around the world, this is a great game and extremely attractive. With enthusiasm and creativity, any player can build a perfect Minecraft world according to their will.
Besides the outstanding advantages, this game has a few disadvantages that players need to overcome. Typically the image brightness in this game is not reasonable. For example, the place that needs to be bright is not bright. The place that does not need to be bright is so bright that the player cannot see anything clearly.
And Gammabright Mod will fix these shortcomings for you perfectly.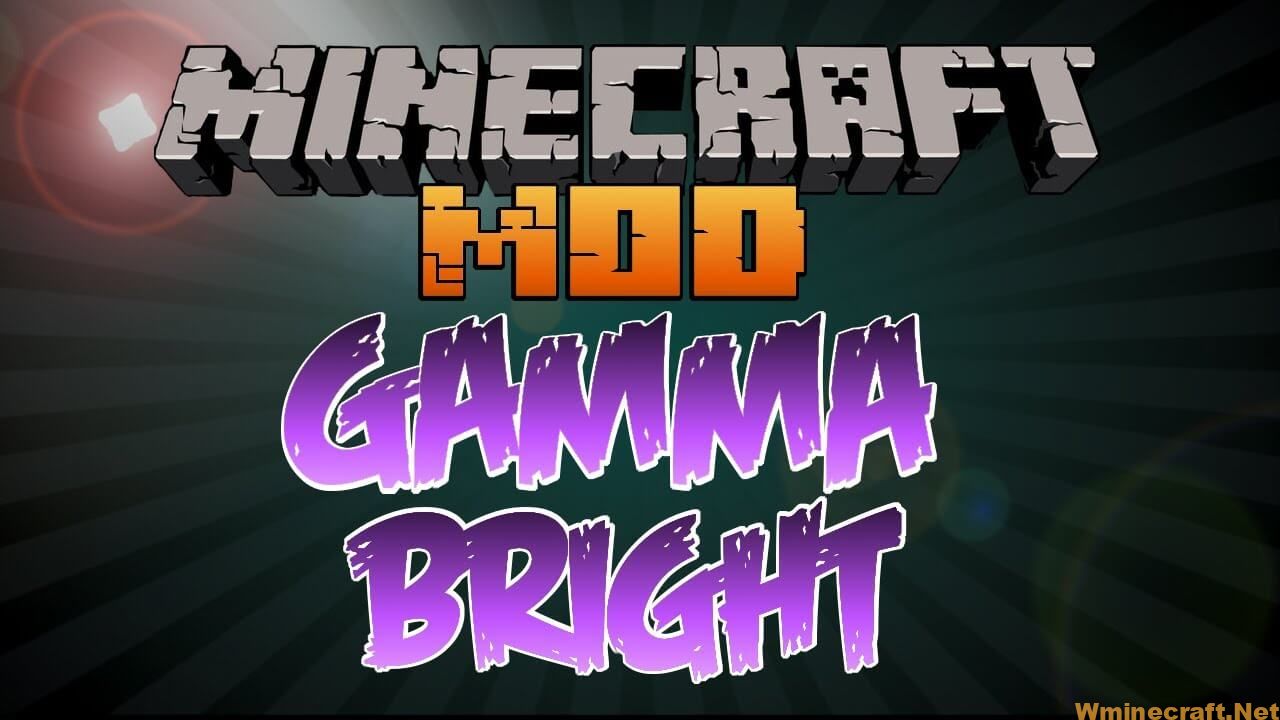 Overview of the Gammabright Mod
This Minecraft mod game supports lighting adjustment is quite popular areas such as slots, mines, caves, and under lakes. In particular, it improves the lighting of areas right on the ground quite well, helping players see all objects clearly and more honestly.
The Gammabright Mod was created on June 20, 2014, by "digitalalshadowhawk" on Curseforge.com. Until now, there are still quite a lot of players who love and use this game mod. The author of this mod still tries to update and fix it according to the user's wishes if possible. Therefore, you should try to download and experience this useful game mod.
Relative Post:
Overview of Better Builder's Wands Mod for Minecraft players
Camera Mod 1.16.5-1.15.2-1.12.2- Allows you to take pictures in Minecraft
Dynamic Surroundings Mod for Minecraft (Dynamic Weather)
Unique Features of the Gammabright Mod
User-friendly interface, simple and easy to operate

Apply LiteLoader to install the mod and maintain the most stable FPS (Frame Per Second)

See the percentages of brightness increase through the on-screen brightness indicator.

Locate mobs before they see you.

Quickly adjust game screen brightness with arrow keys.

Adjust brightness in-game with just one touch.

The player's eyes are no longer uncomfortable when playing games at night.

See more clearly when mining in dark caves, ravines, and underwater.

Locate enemies faster in PvP battles.

Support video gamers playing games by increasing brightness.
Screenshots: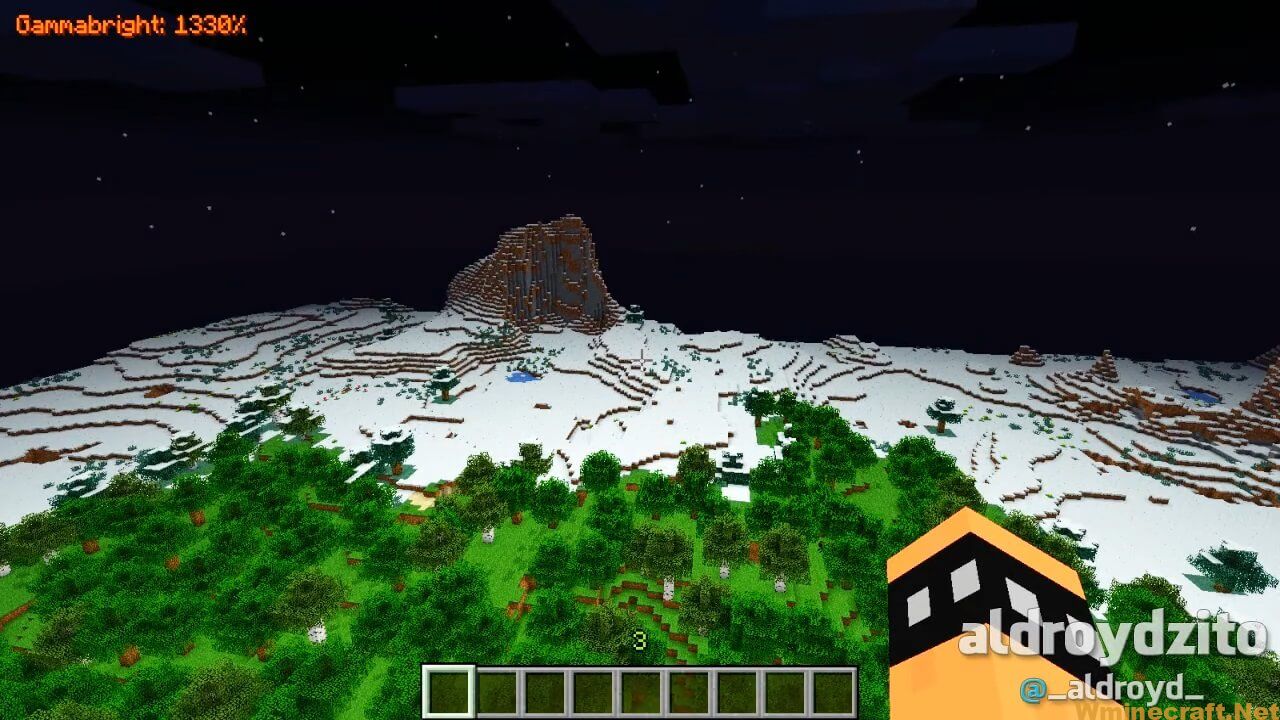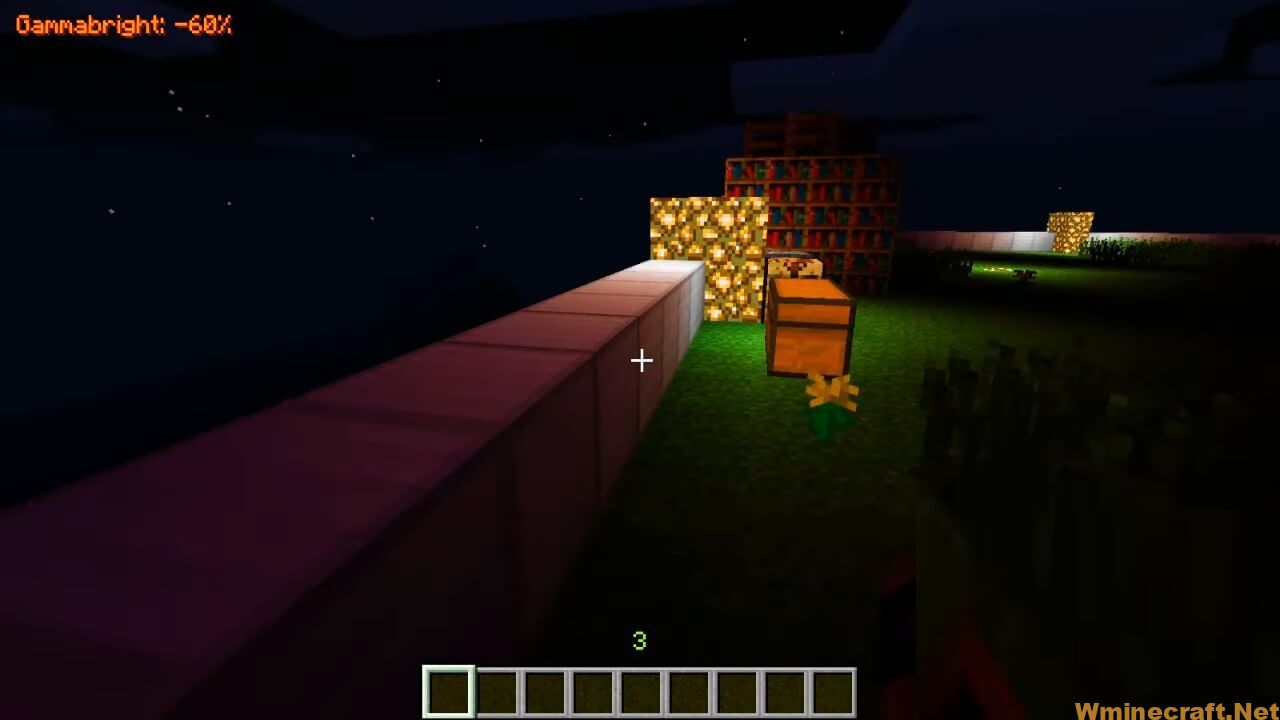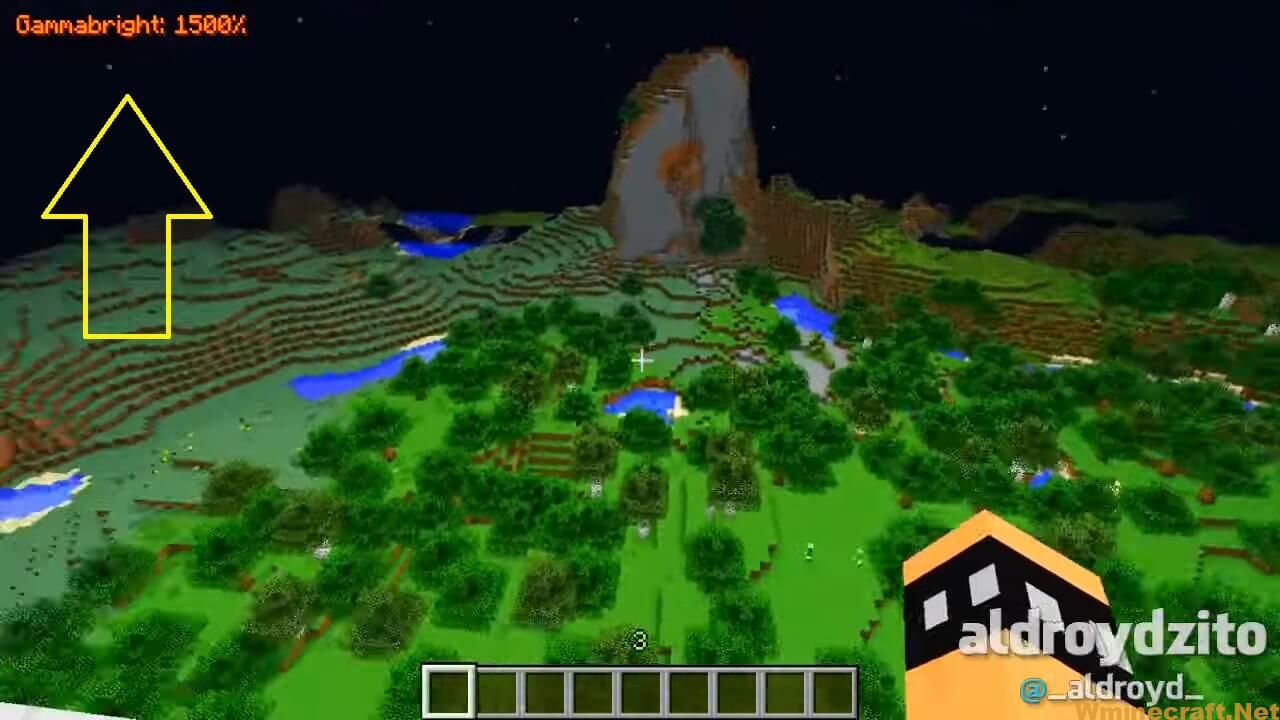 Note: the percentage of brightness displayed on the screen when the mod is turned on will be synchronized with the brightness percentage on the slider.
How to use Gammabright Mod for Minecraft
Press G (default) to enable or disable Gammabright. The default brightness is 1500% (maximum). If it is turned on, turning it on/off again will display/hide the text "Gammabright: ????%".
Press the right arrow key to increase brightness from it (10% per tick). If sneaking at the same time, brightness will increase by 20% with each tick. Note: maximum brightness is limited to 1500%, the larger values ​​will not affect.
Press the left arrow key to decrease brightness from Gammabright (10% per tick). If sneaking at the same time, brightness decreases by 20% per tick. Note that the minimum brightness is limited to -500%, lower values ​​have no effect.
Press the down arrow key to reset brightness to default (1500%). If the current value is the default or the value is negative, the brightness will be set to 0%.

Press the down arrow key to temporarily display the brightness indicator. If sneaking at the same time, the indicator is still displayed while the mod is on.

All keybinding for this mod can be changed in the Controls menu like any other keybinding.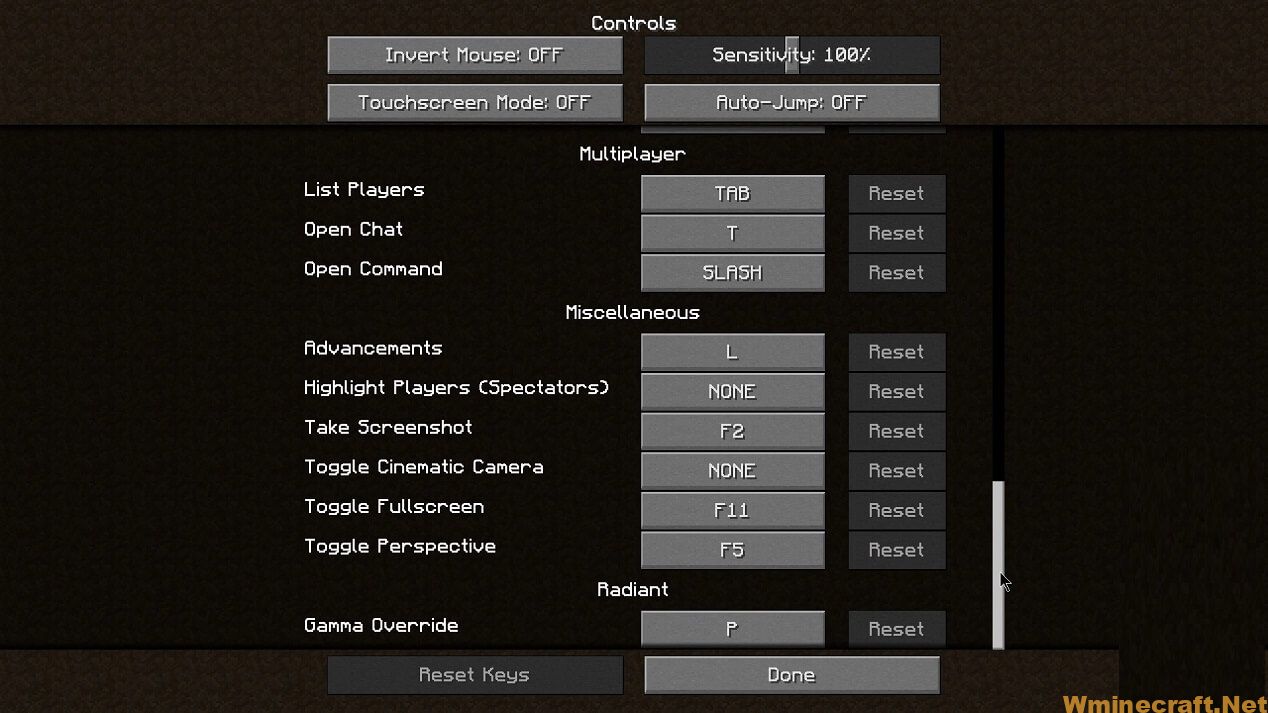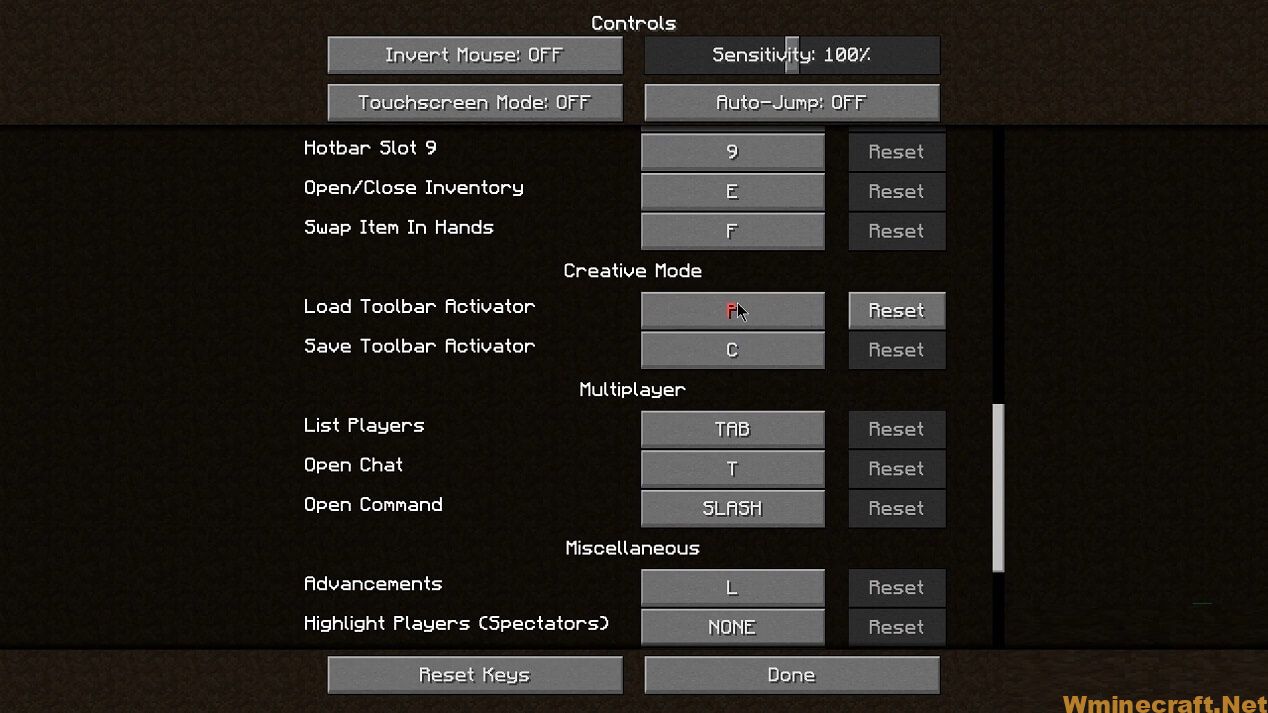 Configuration:
Show Content »»
(config located at ".minecraftliteconfigcommongammabright.json")
Information supplied here applies to LiteLoader versions of Gammabright ONLY.
Start Minecraft at least once with Gammabright installed if file is not present.
brightnessValue – Default: 15.0 (1500%)
Brightness value Gammabright will set to by default. At the default of 15.0, everything is lit up to its max. Anything lower begins to cause blocks and entities to darken (though it may not always be noticeable). If you'd prefer a lower brightness as the default, feel free to decrease this value to your preferred setting. (FYI: 0.0 = "Moody", 1.0 = "Bright") Note: Must be between brightness limits of -5.0 and 15.0.
increment – Default: 0.1 (10%)
Amount the arrow keys adjust the brightness by per tick.
increment_sneak – Default: 0.2 (20%)
Amount the arrow keys adjust the brightness by per tick (while sneaking).
textPosX – Default: 4
The distance right the brightness text is from the left border of the window (x-axis).
textPosY – Default: 4
The distance down the brightness text is from the top border of the window (y-axis).
hideText – Default: false
Whether or not the brightness text should be hidden by default.
autoEnable – Default: false
Whether or not Gammabright should enable automatically every world load.
checkUpdate – Default: true
Enable for Gammabright to check for an update on first world load. Disable if you want to ignore this.
With the features we mentioned above, you can consider adding Gammabright Mod to your Minecraft game mod collection to enrich the world in your game. We hope that through this article, you will have more useful information about it and have a more relaxing and enjoyable gaming experience.
Mod requires installation by mod:
How to install:
How to Use Forge to Install Minecraft Mods (Client Side)
How To Install The Fabric Mod Loader After Downloading It
The newest Minecraft Mods are available right now.
Previews:
 Download Links:
Gammabright Mod For Minecraft 1.5.2 – 1.7.10 -1.10.2 – 1.12.2
For Minecraft 1.5.2
For Minecraft 1.6.2
For Minecraft 1.6.4
Forge: Download from Server

Liteloader: Download from Server 
For Minecraft 1.7.2
LiteLoader: Download from Server
For Minecraft 1.7.10
LiteLoader: Download from Server
For Minecraft 1.8.9
LiteLoader: Download from Server 
For Minecraft 1.9.0
LiteLoader: Download from Server
For Minecraft 1.9.4
LiteLoader: Download from Server
For Minecraft 1.10.2
LiteLoader: Download from Server
For Minecraft 1.11.0
LiteLoader: Download from Server
For Minecraft 1.11.2
LiteLoader: Download from Server
For Minecraft 1.12
LiteLoader: Download from Server 
For Minecraft 1.12.1
For Minecraft 1.12.2
LiteLoader: Download from Server
Author: Shadow_Hawk, KyStride  ❘ 362,786 views