Building Gadgets Mod is a mod that aims to make building a little bit easier. Building Gadgets Mod 1.16.5/1.15.2, which has just been released, introduces two tools: Building Helper and Building Guide. Building Helper provides an outline of the block you are placing so it can be placed quickly and accurately without having to build all the way around the foundation first, while Building Guide provides an outline for assembling large structures such as walls or floors with relative ease by providing a guide for each row as you go up in height
How to install Download Building Gadgets Mod for Minecraft?
Follows 5 Steps below to install Download Building Gadgets Mod for Minecraft on Windows and Mac :
1. Download and install Minecraft Forge, you can read the instructions below the article.
2. Download the Building Gadgets Mod for Minecraft.
3. Open the . minecraft folder and then enter the mods folder. Important: Some older versions of Forge may not have the 'Open Mods Folder' button. If this is the case, create the directory under the name mods.
Windows:
Press the Windows key +R at the same time
Type %appdata% and press enter
Find folder Minecraft and then look for the Mods folder within that
Mac:
Click on the desktop and then press Command+Shift+G all at the same time
Type ~/Library and press enter
Open the folder Application Support and then Minecraft.
4. From here, drag in the mods file downloaded (.jar or .zip) you wish to add.
5. Run Minecraft, and you should now see the new mod installed in the list!
Enjoy Download Building Gadgets Mod for Minecraft, If there is an error, please comment on this article we will support.
Features of Building Gadgets Mod
Construction tools:
Tools to help you build projects faster. Just right-click to set block, Sneak and right-click to set custom block style.
Builder modes:
Build to Me: build from blocks and square faces that you look towards the player's current position.
Vertical Column: build the block in a vertical column with the same height as the modification range.
Horizontal Column: build blocks in rows.
Vertical Wall: build a wall with a size x range (e.g., 3×3, 5×5) and similar to a vertical column.
Horizontal Wall: build a wall of blocks facing the player.
Stairs: build stairs.
Exchange tools:
Will swap the block you are looking at with the block the toolsets. Right-click to change block and Sneak and right-click to set the type of block to use.
Exchange modes include Wall, Horizontal Column, and Vertical Column.
Tools / Gadgets
The Building Gadget allows you to build structures using a set of different Building Modes.
The Exchanging Gadget provides basic exchanging abilities using a set of different Exchanging Modes.
The Copy Paste Gadget allows you to select a large radius to copy and paste in a different location.
The Destruction Gadget allows you to void a large area.
Blocks
The Template Manager provides a visual preview of the build whilst also providing the ability to copy new Templates into the Copy Paste Gadget.
The Construction Paste is an item that can be used to mimic blocks (note the blocks heading 😀) appearance acting as a cheaper or more convenient source of building resources.
Key Bindings
Mode Switch – default key G

Opens a radial menu that allows the mode to be set, along with various settings relevant to that mode.

Range / Rotate/Mirror / Overlay – default key R

Decrease the range if using Shift / Sneak; increases the range otherwise.
Mirrors the saved template if using Shift / Sneak; rotates the saved template otherwise.
toggles the rendering of the in-world overlay.

Anchor – default key H

Stick / locks the visual indicator to its current position, so you can see what your build will look like before committing. With an anchor active you can right click to build the anchor, or press the hotkey again to remove the anchor without building.

Undo – default key U

Undoes the last build you executed (max 10 by default – see config).
Undoes the last build you executed (max 1 by default – see config).

Material List – Default key M

Both the Copy Paste Gadget and the Template Item can both have a material list shown at a press of a button. Make sure the item is in your main hand and simply press M or your configured button. A nice scrollable list will be shown with resource requirements.

Binding

All the above gadgets are able to take advantage of Binding. This is where you press ctr / cmd shift and right click on an inventory block. You can find out more about binding here Gadget Inventory Binding
Building Gadgets Mod Screenshots: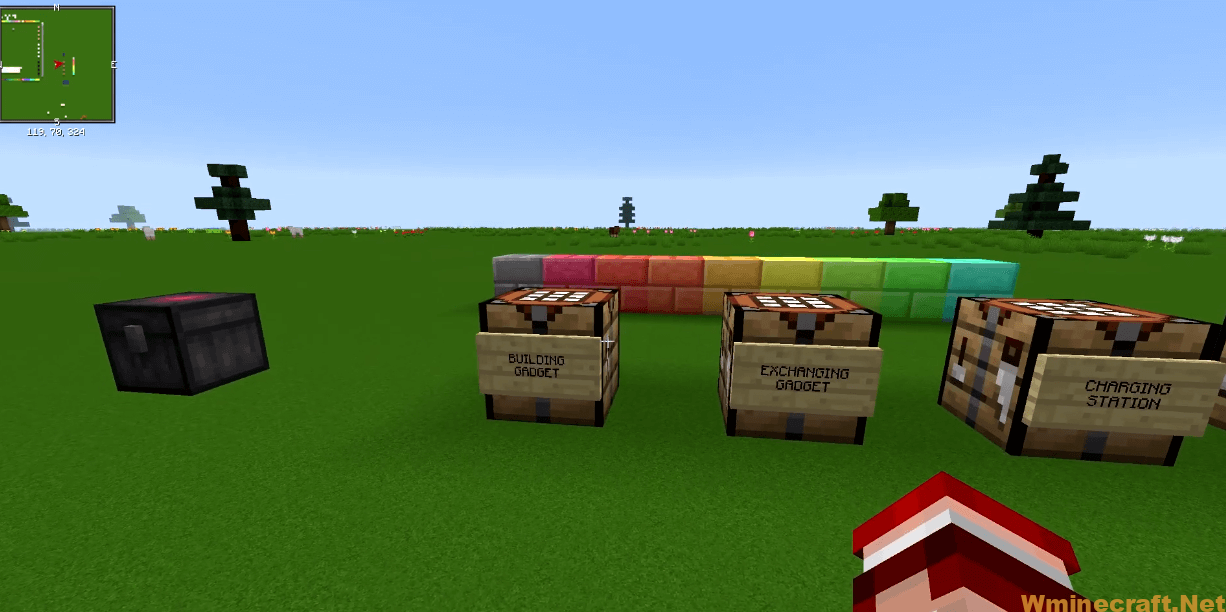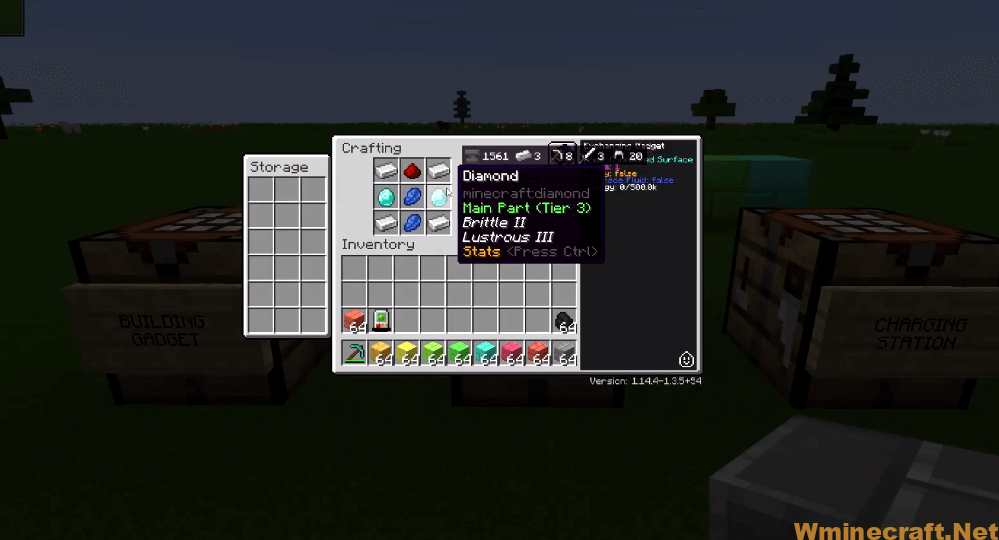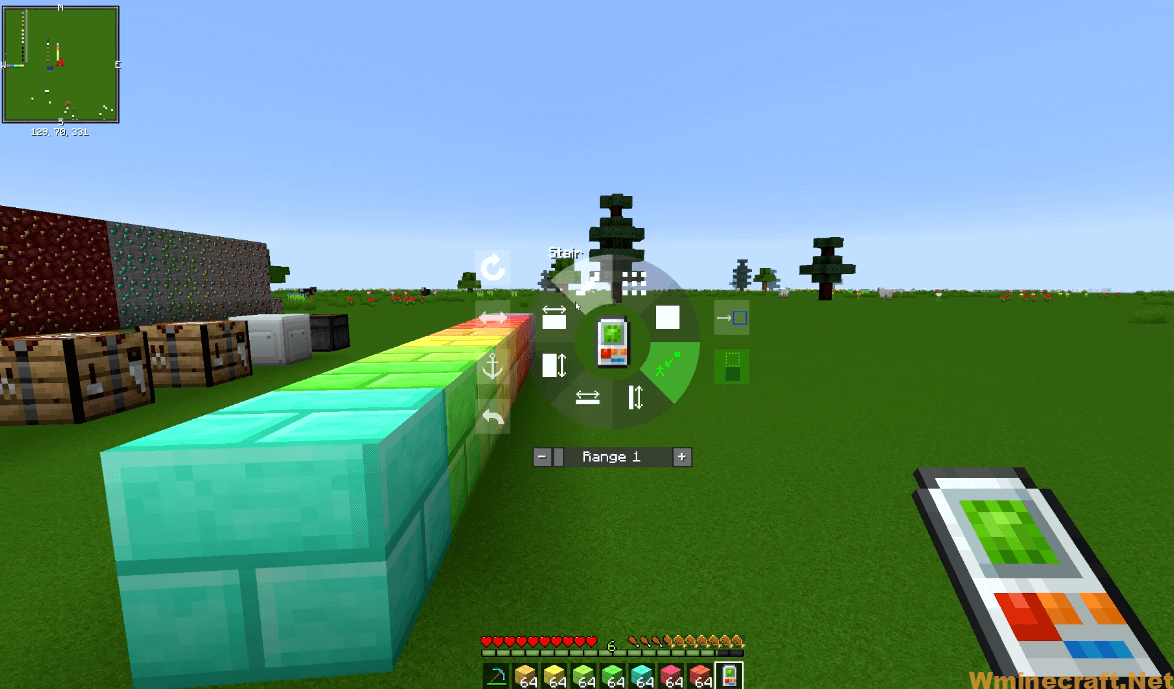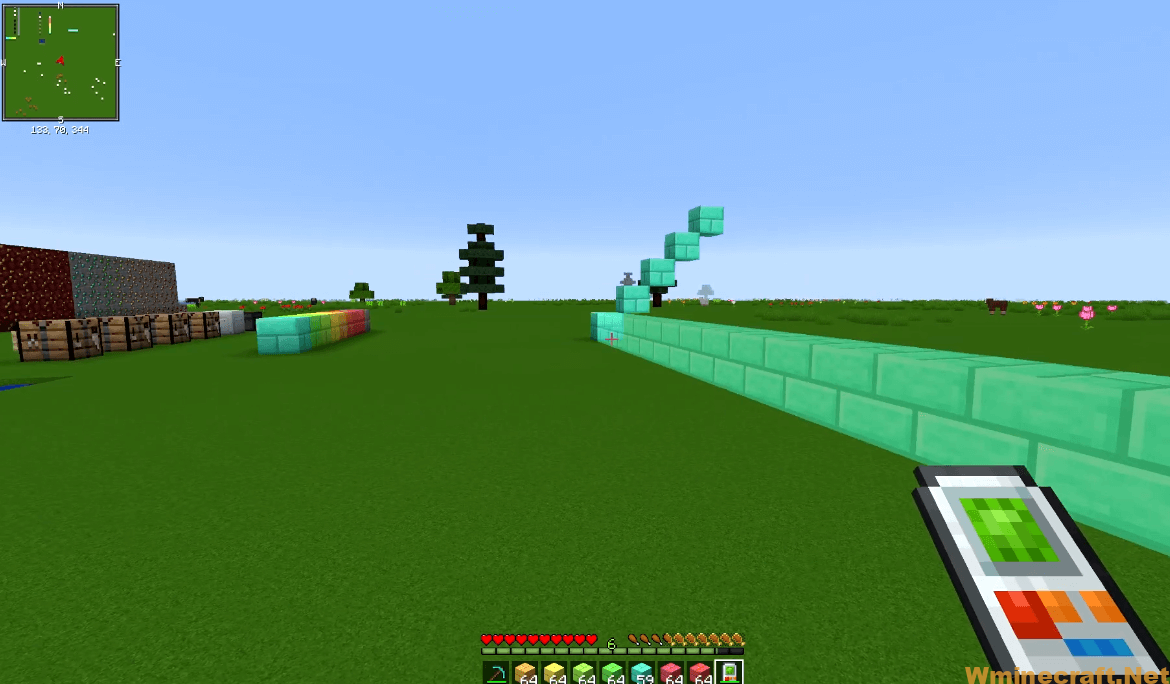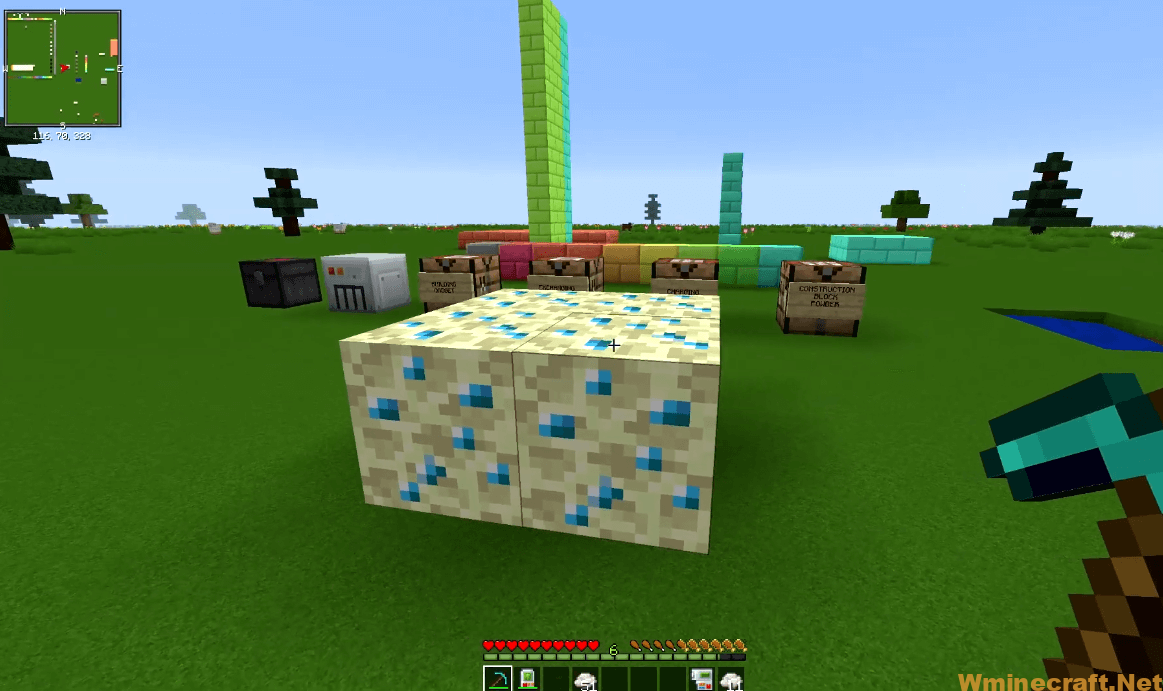 Building Gadgets Mod 1.16.5/1.15.2 Download Links:
For Minecraft 1.12.2:

For Minecraft 1.14.4:

For Minecraft 1.15.2:

For Minecraft 1.16.3:

For Minecraft 1.16.4:

For Minecraft 1.16.5:

How To Download and Install Minecraft Forge (Modding API)?
Minecraft Forge is a free, open-source server that allows players to install and run Minecraft mods. 4 steps to install forge for windows, mac, Linux
1. Download Minecraft Forge at the website, select the version of Minecraft you want to run, then download the installer using your browser.
2. Open the .jar file you just downloaded (Run installer as Administrator), make sure Java is installed on your operating system
3. Select Install Client or Install Server if you want to install for your server, and click OK. Wait about 2 minutes, and you will see a success message.
4. Launch Minecraft and select the Forge profile, then click Play.
5. You will see Minecraft Forge in the lower-left corner and the Mods button under Multiplayer.
Congratulations on successfully installing Minecraft Forge and experimenting with Building Gadgets Mod for Minecraft downloaded.
If there are errors, please comment on this article.