Ever felt bored of the Minecraft Villagers? Do you wish they sold more valuable items? More Villagers aims to fix that by adding multiple new villager jobs, all with unique trades, workstations, and advancements!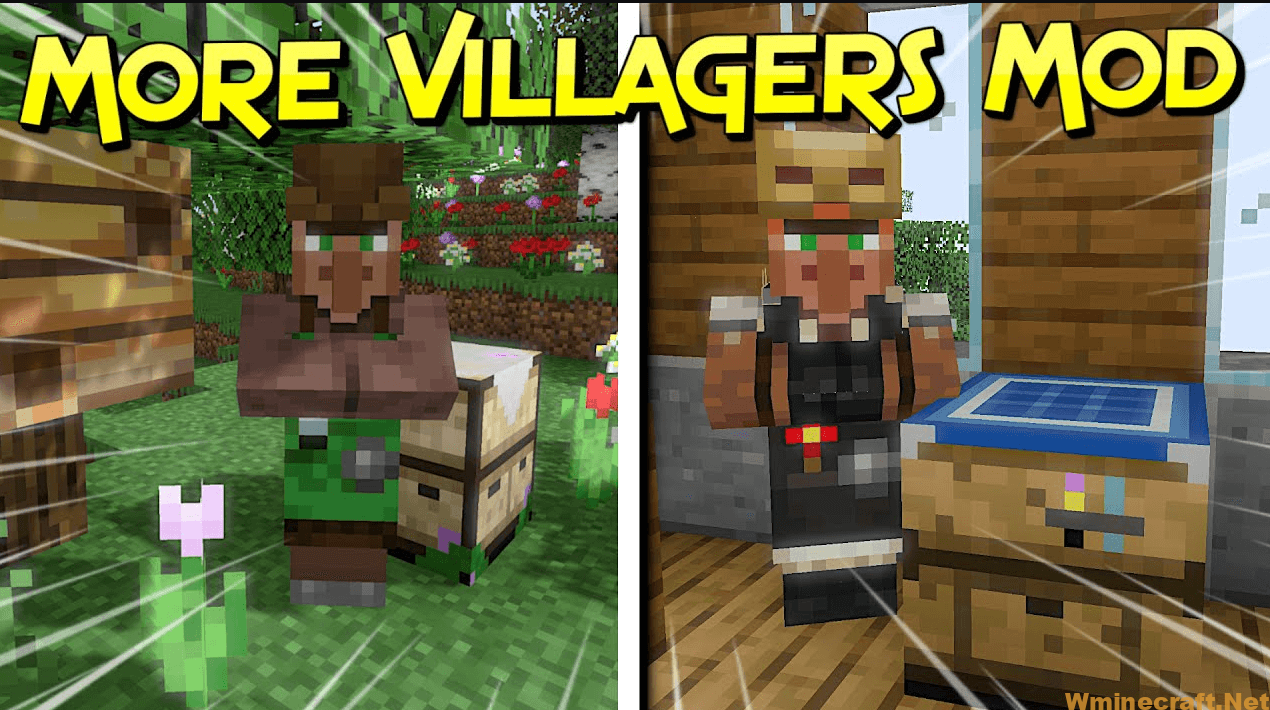 How to install:
How to Use Forge to Install Minecraft Mods (Client Side)
How To Install The Fabric Mod Loader After Downloading It
The newest Minecraft Mods are available right now.
List of Villager Professions, Trades, and Workstations
OCEANOGRAPHER 
Workstation: Oceanography Table
Level 1 Trades:
14 Prismarine -> 1 Emerald
2 Emerald -> 4 Sea Lanterns
Level 2 Trades:
14 Prismarine Bricks -> 1 Emerald
4 Emeralds -> 2 Sponges
Level 3 Trades:
12 Dark Prismarine -> 1 Emerald
13 Emeralds -> 1 Buried Treasure Map
Level 4 Trades:
3 Emeralds -> 1 Nautilus Shell
8 Emeralds -> 1 Heart Of The Sea
Level 5 Trades:
32 Emeralds -> 1 Trident
NETHEROLOGIST
Workstation: Decayed Workbench
Level 1 Trades:
24 Basalt -> 1 Emerald
1 Emerald -> 10 Nether Brick
Level 2 Trades:
24 Blackstone -> 1 Emerald
4 Emeralds -> 1 Quartz Ore
Level 3 Trades:
4 Obsidian -> 1 Emerald
13 Emeralds -> 1 Nether Fortress Map (this trade is only available if the villager is in the Nether dimension)
Level 4 Trades:
4 Gold Ingots -> 1 Emerald
14 Emeralds -> 1 Bastion Remnant Map (this trade is only available if the villager is in the Nether dimension)
Level 5 Trades:
20 Emeralds -> 1 Pigstep Music Disc
FORESTER
Workstation: Forestry Table
Level 1 Trades:
6 Oak Sapling -> 1 Emerald
1 Emerald -> 6 Oak Log
6 Birch Sapling -> 1 Emerald
1 Emerald -> 6 Birch Log
Level 2 Trades:
6 Spruce Sapling -> 1 Emerald
1 Emerald -> 6 Spruce Log
6 Dark Oak Sapling -> 1 Emerald
1 Emerald -> 6 Dark Oak Log
Level 3 Trades:
6 Acacia Sapling -> 1 Emerald
1 Emerald -> 6 Acacia Log
6 Jungle Sapling -> 1 Emerald
1 Emerald -> 6 Jungle Log
Level 4 Trades:
1 Emerald -> 6 Warped Stem
1 Emerald -> 6 Crimson Stem
Level 5 Trades:
17-31 Emeralds -> 1 Diamond Axe (Efficiency/Unbreaking)
17-31 Emeralds -> 1 Diamond Hoe (Efficiency/Unbreaking)
ENDEROLOGIST
Workstation: Purpur Altar
Level 1 Trades:
24 Endstone -> 1 Emerald
4 Emeralds -> 3 End Rods
Level 2 Trades:
20 Popped Chorus Fruit -> 1 Emerald
5 Emeralds -> 1 Phantom Membrane
Level 3 Trades:
14 Ender Pearl -> 1 Emerald
3 Emeralds -> 8 Firework Rockets
Level 4 Trades:
6 Emerald -> 2 Dragon Breath
14 Emeralds -> 1 End City Map (this trade is only available if the villager is in the End dimension)
Level 5 Trades:
12 Emeralds -> 1 Shulker Shell
20 Emeralds -> 1 Dragon Head
ENGINEER
Workstation: Blueprint Table
Level 1 Trades:
20 Redstone -> 1 Emerald
4 Emerald -> 3 Repeater
Level 2 Trades: (2 out of 3 are chosen randomly)
12 Redstone Torches -> 1 Emerald
3 Emerald -> 3 Dropper
4 Emerald -> 1 Dispenser
Level 3 Trades: (2 out of 3 are chosen randomly)
4 Redstone Lamp -> 1 Emerald
4 Emerald -> 1 Observer
5 Emerald -> 1 Comparator
Level 4 Trades:
5 Emerald -> 1 Piston
6 Emerald -> 1 Sticky Piston
Level 5 Trades:
5 Emerald -> 2 Daylight Sensor
7 Emerald -> 1 Hopper
FLORIST
Workstation:  Gardening Table
Level 1 Trades:
1 emerald -> 8 of a random flower
1 emerald -> 8 of a random flower
Level 2 Trades:
24 Lilypads -> 1 Emerald
3 Emerald -> 1 Honey Comb
Level 3 Trades:
24 Vines -> 1 Emerald
6 Emeralds -> 1 Honey Bottle
Level 4 Trades:
3 flower pots -> 1 Emerald
13 Emeralds -> Swamp Explorer Map (points you to swamp biome)
Level 5 Trades:
6 Emeralds -> 1 Bee Hive
14 Emeralds -> Jungle Explorer Map (points you to jungle biome)
HUNTER
Workstation: Hunting Post
Level 1 Trades:
32 Bones -> 1 Emerald
5 Emeralds -> 2 Slimeballs
Level 2 Trades:
24 Spider Eyes -> 1 Emerald
5 Emeralds -> 1 Fermented Spider Eye
Level 3 Trades:
20 Gunpowder -> 1 Emerald
5 Emeralds -> 1 Magma Cream
Level 4 Trades:
5 Emeralds -> 1 Blaze Rod
13 Emeralds -> 1 Outpost Explorer Map
Level 5 Trades:
8 Emeralds -> 1 Ghast Tear
8 Emeralds -> 1 Rabbit's Foot
More Villagers Mod Screenshots: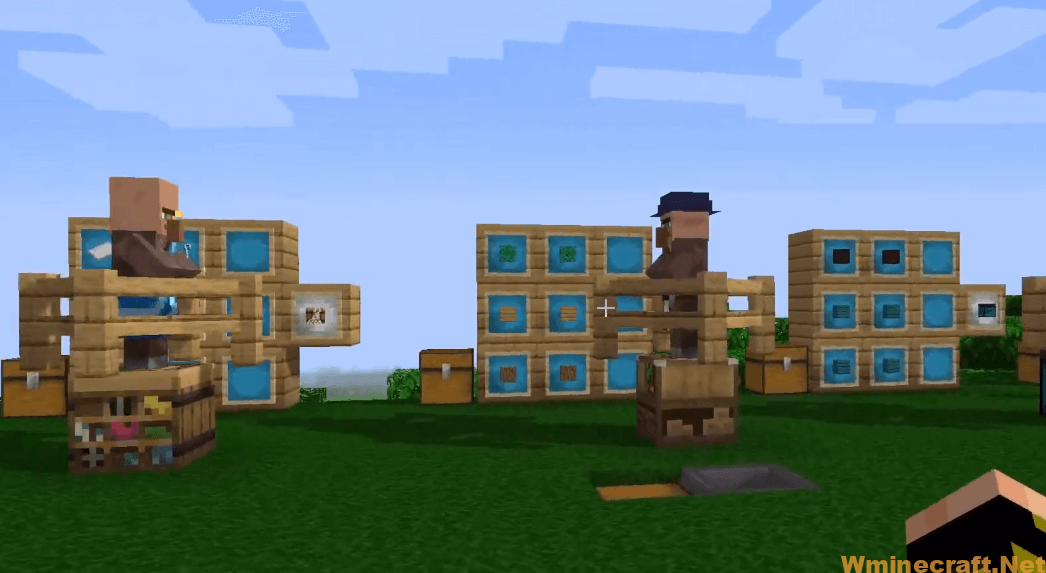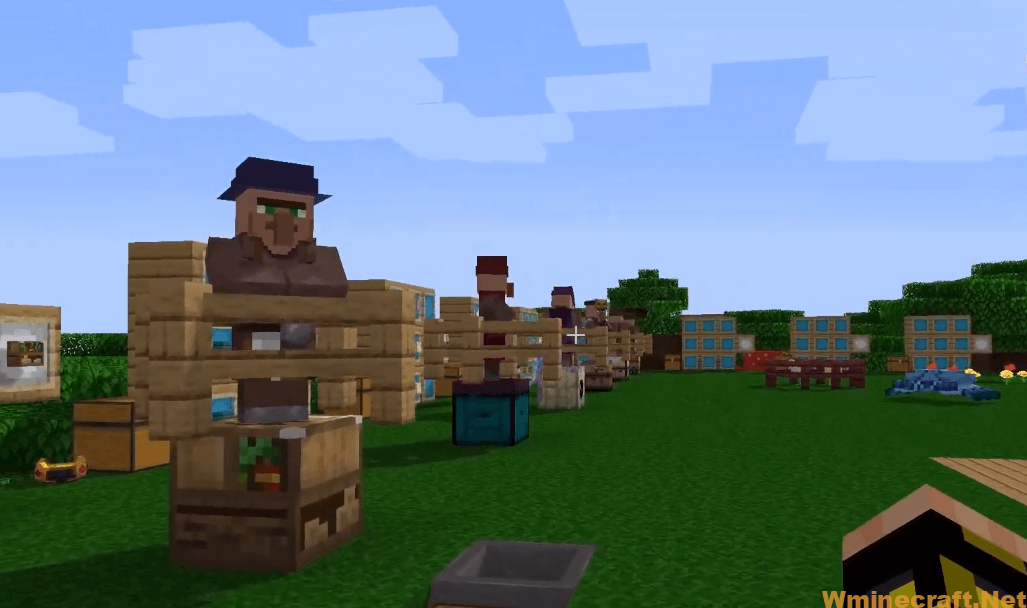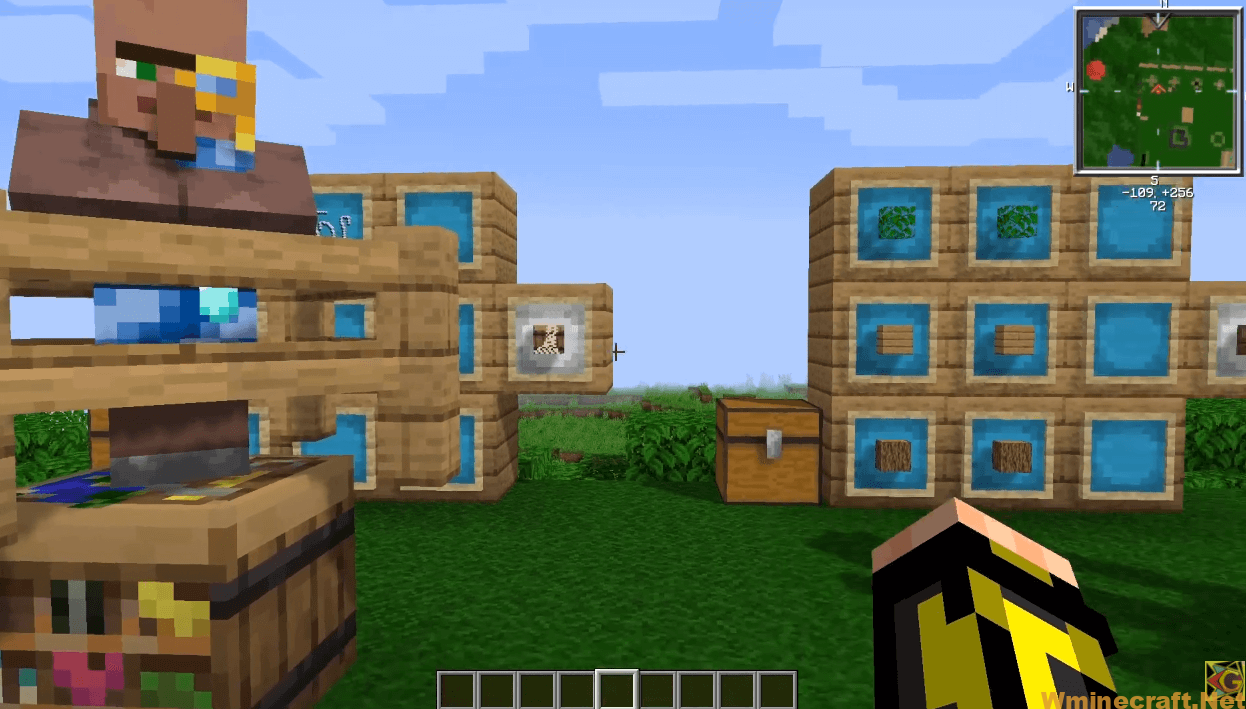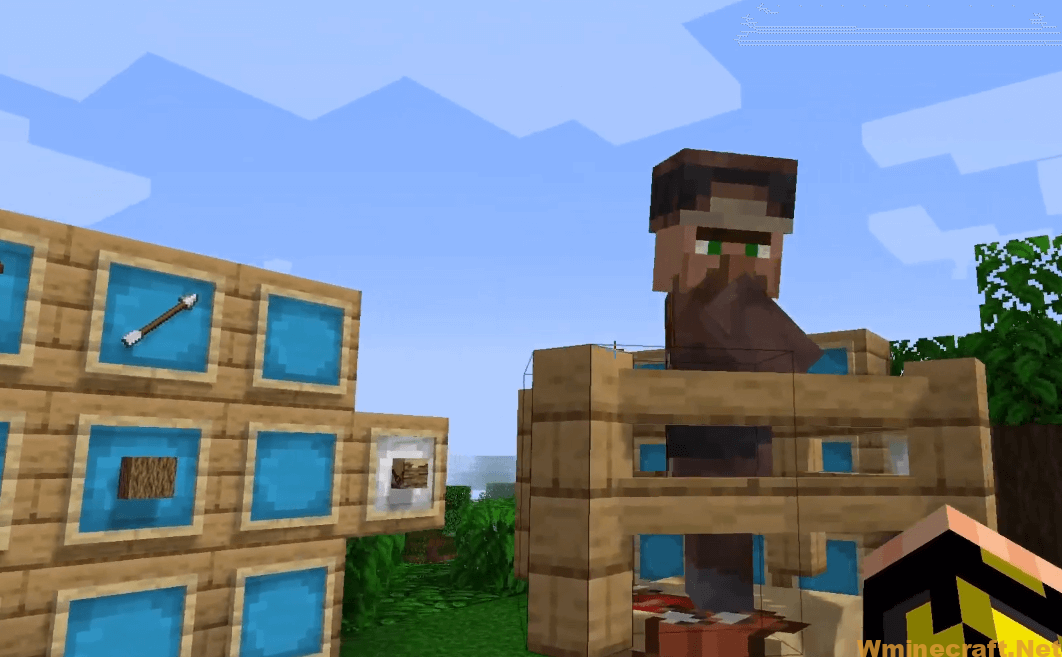 More Villagers Mod 1.17 Download Links:
Minecraft Game version 1.16.5:

Minecraft Game version 1.17: