Guide API 1.12.2-1.11.2… allows modders to easily create in-game documentation
If you are a fan of the creative Minecraft open world game, you should definitely add this Guide API game to increase fun and earn more valuable items while playing.
During the designing mod process, there is a problem that almost mod developers have to face is how to teach players to use the mod to its fullest potentials. Although mods have tons of great features, the players sometimes cannot take advantage of all to support for their gameplay. There are a lot of features that the players do not use because they do not know how to. Thanks to Guide Api Mod, mod developers will not have to worry about this problem. It allows modders to easily create in-game documentation, a simpler and more convenient way for information transmission to the players.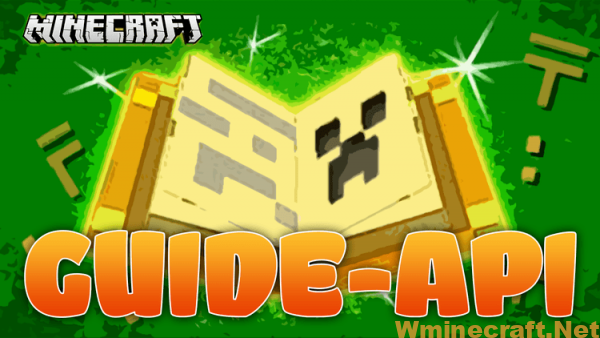 See more:
TooManyItems (TMI) for Minecraft 1.12.2/1.8/1.7.10 
Extra Utilities 2 (1.12.2-1.7.10) Download 
Litematica Mod for Minecraft 1.16.5/1.15.2 [With Fabric]
The Guide Api Mod helps developers of modpack create books of the game with essential contents to use for many different purposes like the construction of the system, map contents, mod, by editing JSON file. All they have to do is just fill that book with all the necessary information that needs to be communicated to the players. Now, they will not have to teach players how to play outside the game through video as well as other ways as before. Once the players run the mod, they will be able to conveniently read all information through the in-game book and that makes the whole learning process much easier.
Screenshots:
Welcome Page
(Un)localized String page
Image page (Text versions available as well)
Crafting Recipes:
Shaped Crafting Recipe
Shapeless Crafting Recipe
Requires:
How to install Guide API
Make sure you have installed Minecraft Forge 1.12.2.
Download the mod for your version of the game.
Put it in the 'mods' folder, which is located in the game folder.
Minecraft Forge (Modding API) Installation Guide
5 steps to successfully install Forge Minecraft
1. Access and Download select Minecraft forge version, then download the installer.
2. Requires installing Java on a computer. Open the .jar file you just downloaded, make sure 'Install Client' is selected, and click the OK button.
3. Run Minecraft and select the Forge profile, then click Play.
4. Select the Minecraft Forge menu on the left and the Mods button below Multiplayer.
5. Successfully, you can enjoy the mod just installed.
Guide API for Minecraft Download Links:
Minecraft version 1.7.10:

Minecraft version 1.8.0:

Minecraft version 1.8.9:
Minecraft version 1.9.0:

Minecraft version 1.9.4:

Minecraft version 1.10.2:

Minecraft version 1.11.2-1.11:

Minecraft version 1.12.2 – 1.12.1 – 1.12:

Author: Tombenpotter, TehNutJenkins  ❘ 192,812 views | Source: Curseforge