Is the only thing you remember in Minecraft are dinosaurs? With the help of Fossils and Archeology Revival Mod for Minecraft, many of these creatures can not only be created in Creative mode. You will be able to hunt for remains to bring those forgotten creatures back to the world of Minecraft.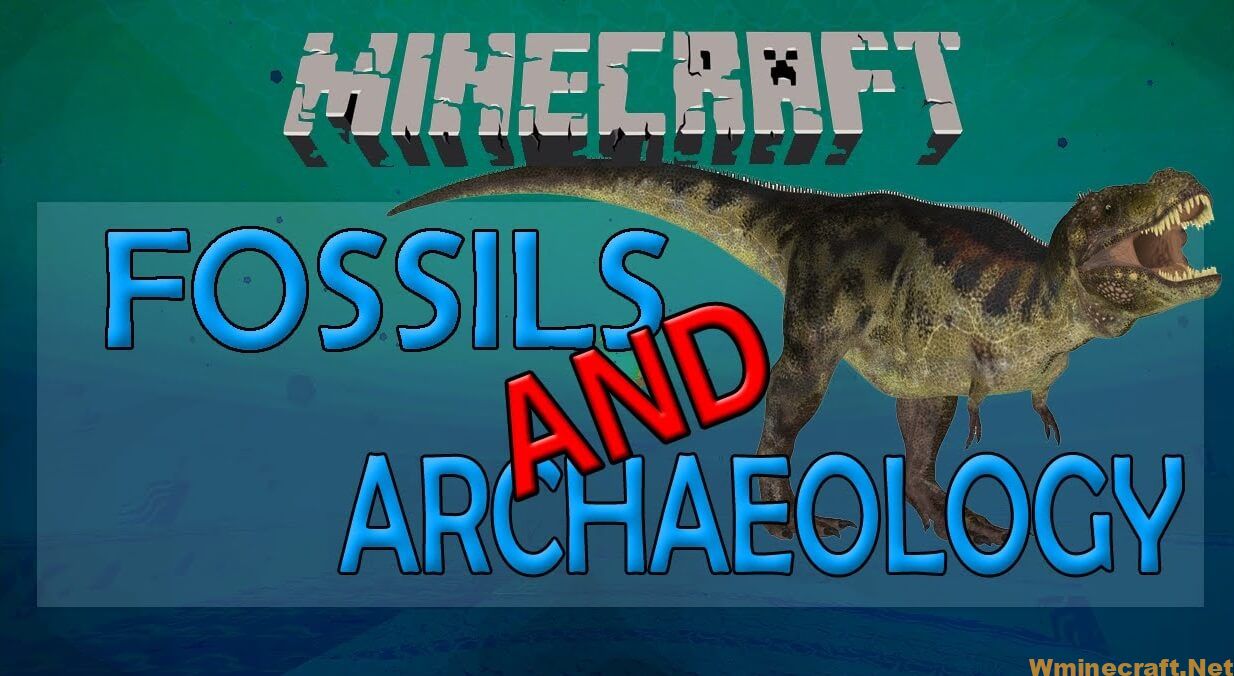 The Minecraft Universe has a substantial extension of explorable space, but something is undoubtedly lacking. Dinosaurs.
In addition to bringing extinct animals back to life, the Fossils & Archeology Revival mod also adds a ton of other items including fossils, eggs, ancient tools and blocks, DNA, and lab apparatus. This mod includes all the features you could possibly need to create your own Jurassic Park.
The coolest part is that you may dig around your world like an archeologist and discover DNA and fossils that are identical to those found in our own. Additionally, using the ingredients you've gathered, you can create your very own dinosaurs in a lab.
To gather the fossils from the fossil blocks is the objective. Although they resemble stone blocks, when they are shattered, they reveal bones, artifacts, or bio-fossils.
The secret of creation lies in the bio-fossils. They'll need to be examined, and there's a possibility that they'll produce dinosaur DNA. Once you have the DNA, you can grow it into the specific dinosaur egg that it originated from. After that, just set the egg down and wait.
This mod is really intricate and beautifully done. It gives the player another adventure to complete and gives the game a fresh dynamic. Checking the Wiki for tutorials and supplementary content is strongly encouraged.
Overview of Fossil/Archeology Mod for Minecraft
The Fossil Archeology Mod is very special. This mod adds a lot of features to the game. It is true to say that Fossil Archeology Mod is one of the Mods that completely changed Minecraft. Hence, the Fossil Archeology Mod may not be suitable for many people, but it is like playing a Custom Game inside Minecraft. This mod adds more mobs to the game.
Relative Post:
Mine Mine no Mi Mod 1.14.4 And Things You Should Know
Pixelmon Mod 1.15.2-1.12.2-1.10.2 – Pokemon GO Minecraft)
LotsOMobs Mod 1.12.2-1.9-1.7.10 – Review and Download
And dinosaurs, yes, there are dinosaurs in Minecraft!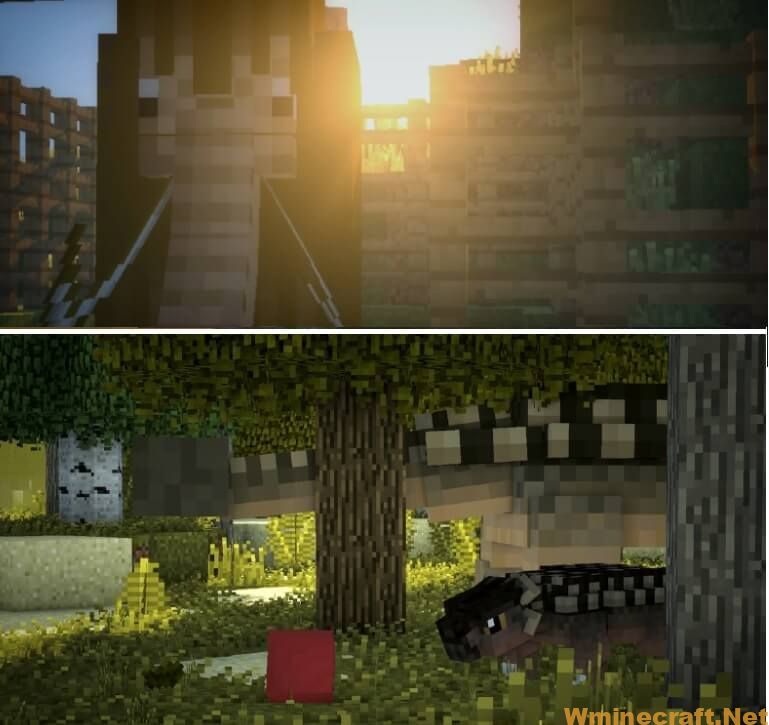 Flammarilva has initially been the author of Fossil / Archeology Mod. But due to circumstances that could not continue to develop, Flammarilva released the project as open source. After that, Armbrust actively revived the mod. He put together a small group to do that. Many thanks to Flammarilva for the great mod and Armbrust for making the Fossil / Archeology Mod back as well.
The fact of the matter is that Fossil / Archeology Mod for Minecraft offers a variety of dinosaurs.
They are revived through bone discovery, DNA extraction, embryogenesis, and egg making. In addition to dinosaurs, there are other prehistoric creatures like mammoths, bulldogs, terror birds, dodos, and more.
Currently, there are about 50 different prehistoric creatures provided by this mod.
On the other hand, there is an archeological site for exploring more or collecting beautiful new blocks. Fossils and Archeology Revival now also has built-in support for Thaumcraft, Just Enough Items, CraftTweaker, and Tinker's Construct.
Versions 1.12.2 and 1.7.10 added many new elements to the game. Now players will find fossils and ancient buildings, where you will find new objects. The mod is based on collecting these fossils, from which you can extract DNA using machines. That makes you become a real archaeologist. This DNA can artificially renew to create many different types, innumerable harmless species, and some quite aggressive species.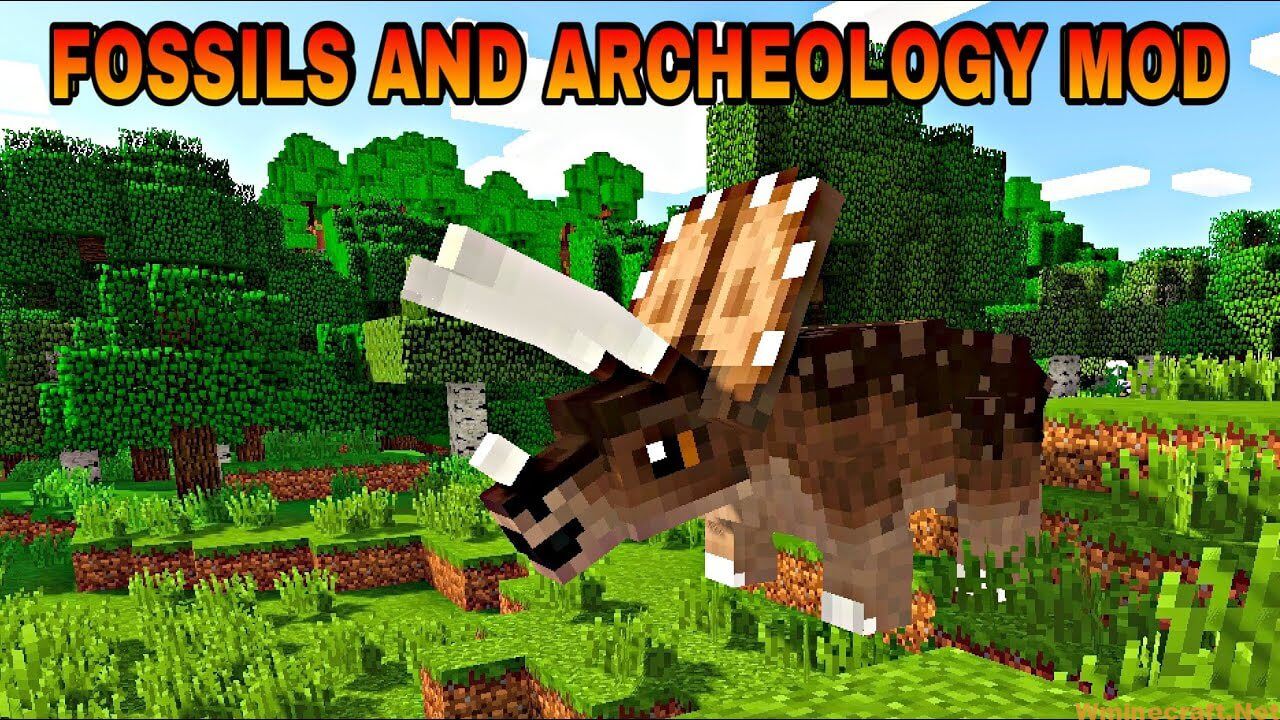 All in all Fossil / Archeology Mod for Minecraft introduces less than ten types of dinosaurs in your Minecraft world. This mod provides a layout of a Jurassic Park-style movie. You will find Brachiosaurus, Stegosaurus, and they are divided into Omnivorous and Carnivorous categories.
Be careful. Releasing these creatures into your Minecraft world might harm you. This mod is too complicated, but it gives players another adventure to complete. Hence you should check out Wiki for more content and tutorials.
Build your own Jurassic Park with Fossil / Archeology Mod for Minecraft now
Mod requires installation by mod:
LLibrary
How to install
First, your computer must have Minecraft Forge installed to download the mod.
Then, navigate to the folder containing Minecraft.
For Windows computers, from the Start menu, open Run, enter the command %appdata% and click the Run button.
On a Mac, from Open Finder, hold Alt then Go -> Library in the top menu bar. Open the Application Support folder to find Minecraft.
Put the newly downloaded mod (.Jar file) into the Mods folder. When opening a Minecraft game, press the Mods button to try the mod just installed.
Showcase:
Minecraft Forge (Modding API) Installation Guide
5 steps to successfully install Forge Minecraft
1. Access and Download select Minecraft forge version, then download the installer.
2. Requires installing Java on a computer. Open the .jar file you just downloaded, make sure 'Install Client' is selected, and click the OK button.
3. Run Minecraft and select the Forge profile, then click Play.
4. Select the Minecraft Forge menu on the left and the Mods button below Multiplayer.
5. Successfully, you can enjoy the mod just installed.
Download Links:
Fossils and Archeology Revival Mod For Minecraft 1.5.2 – 1.12.2
For Minecraft 1.5.2
Download From Server : 
For Minecraft 1.6.4
Download From Server : 
For Minecraft 1.7.10/1.7.2
Download From Server : 
For Minecraft 1.12.2
Download From Server : 
Author: alex1the1666, gegy1000, 4f6f3b, iLexiconn, tyranno66  ❘ 791,262 views