Each mod game in Minecraft has an important role in making the experience in the game more wonderful and interesting. Moreover, they also add a lot of features and satisfy the creativity of each player. 
In particular, Damage Indicators Mod developed by ToroCraft gives the user a very useful feature – showing the health bars and damage stats of all entities. Let us explore the details of ToroCraft's Damage Indicators Mod.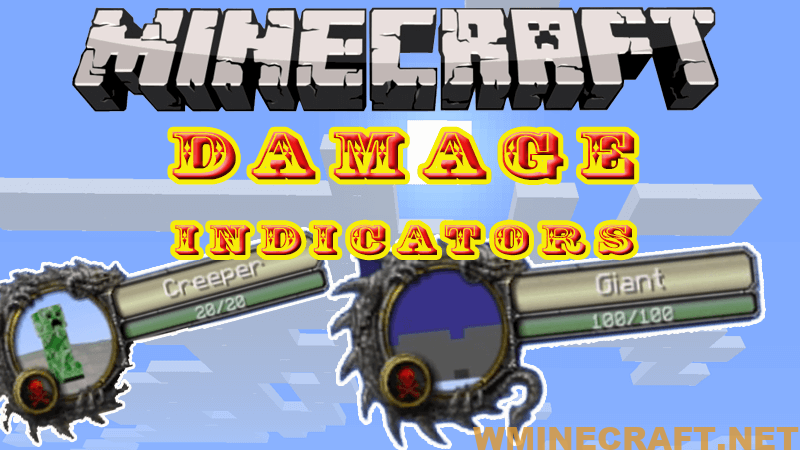 I was so excited when I found out about the ToroCraft Damage Indicators Mod! It makes it so much easier to see how much damage I'm doing to an enemy, and how much damage they're doing to me. Plus, the health bars are really helpful too – now I can tell at a glance if an enemy is almost dead or not. This mod is a life-saver (literally)!
What is ToroCraft's Damage Indicators Mod?
For those who play Minecraft games, everyone knows that this world-famous game does not have features available. Of course, players need to create and add game mods to their game worlds.
Have you ever felt quite uncomfortable fighting with mobs in Minecraft without knowing how much damage you did?
But don't worry because now you have a Damage Indicators game mod created by ToroCraft- a veteran member of CurseForge.com on June 2, 2016. And this mod designer is always listening to everyone's opinion, fixing bugs and updating it to bring the latest and most suitable Damage Indicators versions for Minecraft.
As its name implies, ToroCraft's Damage Indicators Mod is a game mod specially created to display the player's damage index on mobs. Certainly, players will not be able to miss this game mod.
Relative Post:
Damage Indicators Mod 1.16.5-1.15.2-1.12.2-1.10.2-1.7.10 – Status of mob
Mob Grinding Utils (1.16.5->1.12.2) – Download for Minecraft
Download Artifacts Mod 1.16.5,1.15.2 and 1.12.2
The great features that ToroCraft's Damage Indicators Mod brings to Minecraft players
In general, ToroCraft's Damage Indicators Mod is easy to install, easy to use, and is compatible with most Minecraft servers, including Vani servers. This game mod does not change too much about the interface and configuration of the game. In particular, it does not reduce the FPS (Frame Per Second) like other game mods. 
Having been downloaded and used by more than 3 million people, the Damage Indicators of ToroCraft is definitely a game mod that Minecraft players should try.
This game mod will add the ability to display damage indicators that mob damage and health bar. Damage stats can be increased or decreased, clearly indicated around the entity you're fighting. The damage you deal with by hand or by any weapon will appear with red numbers on the entity.
The health bars appear at the top left of the entities with a user-friendly interface. The life bar can be a green/red bar or it can be a bar with 5 red hearts. The bar size and indicator colours can be customized according to the player's wishes easily.
Custom configuration options are available by editing a TOML file for Forging or a JSON file for Fabric. Fabric also supports a built-in mod menu for players for simple and quick configuration set-up.
Furthermore, it shows the defence, damage caused by the mob, as well as all other effects of the mob. The special thing is that this mod can work in multiplayer mode.
The green helmet symbol means this crowd will not attack you.
In short, ToroCraft's Damage Indicators Mod is quite a useful tool and is loved by many Minecraft players today. If you have any problem with this game mod, you can respond directly to ToroCraft via this website https://www.curseforge.com/minecraft/mc-mods/torohealth-damage-indicators. He will help you as much as possible.
Relative post: Damage Indicators Mod 1.12.2 AUTHOR: RICH1051414
Mods/Installing Requires:
How to install the ToroCraft's Damage Indicators Mod with Minecraft Forge
1. Download Minecraft Forge Installer,Fabric Modloader, Fabric APIand Download the ToroHealth Damage Indicators.
2. Right-click Forge Installer, Run as Administrator and click OK to install Forge.
(You can skip this step if you have Minecraft Forge installed)
3. Open Start on desktop> Open Run (Or you can use the Windows + R
keyboard shortcut)
4. Type% appdata% into Run and press Enter.
5. Go to /.minecraft/mods folder
6. Place the jar file of the mod you downloaded in the mod folder and then run
Minecraft.
Minecraft Forge (Modding API) Installation Guide
5 steps to successfully install Forge Minecraft
1. Access and Download select Minecraft forge version, then download the installer.
2. Requires installing Java on a computer. Open the .jar file you just downloaded, make sure 'Install Client' is selected, and click the OK button.
3. Run Minecraft and select the Forge profile, then click Play.
4. Select the Minecraft Forge menu on the left and the Mods button below Multiplayer.
5. Successfully, you can enjoy the mod just installed.
Download Damage Indicators Mod for Minecraft 1.19, 1.18.2:
Minecraft Game version 1.8.9
Minecraft Game version 1.9.4
Minecraft Game version 1.10.2
Minecraft Game version 1.11
Minecraft Game version 1.11.2
Minecraft Game version 1.12
Minecraft Game version 1.12.1
Minecraft Game version 1.12.2
Minecraft Game version 1.14.4
Fabric version: Download From Server 
Minecraft Game version 1.15.2
Fabric version: Download From Server
Minecraft Game version 1.16.1
Forge version: Download From Server

Fabric version: Download From Server
Minecraft Game version 1.16.2
Forge version: Download From Server

Fabric version: Download From Server
Minecraft Game version 1.16.3
Forge version: Download From Server

Fabric version: Download From Server
Minecraft Game version 1.17.1
Fabric version: Download From Server
Minecraft Game version 1.18.2
Forge version: Download from Server 

Fabric version: Download from Server 
Minecraft Game version 1.19
Fabric version: Download from Server 
Relative post: Damage Indicators Mod 1.12.2 Author: RICH1051414, Source: Curse