Chunk Animator is a mod that is not too strange to those who have learned about this game. Currently, Chunk Animator Mod 1.18/1.17.1/1.16.5,1.15.2/1.12.2 has added many new features that you may be interested in.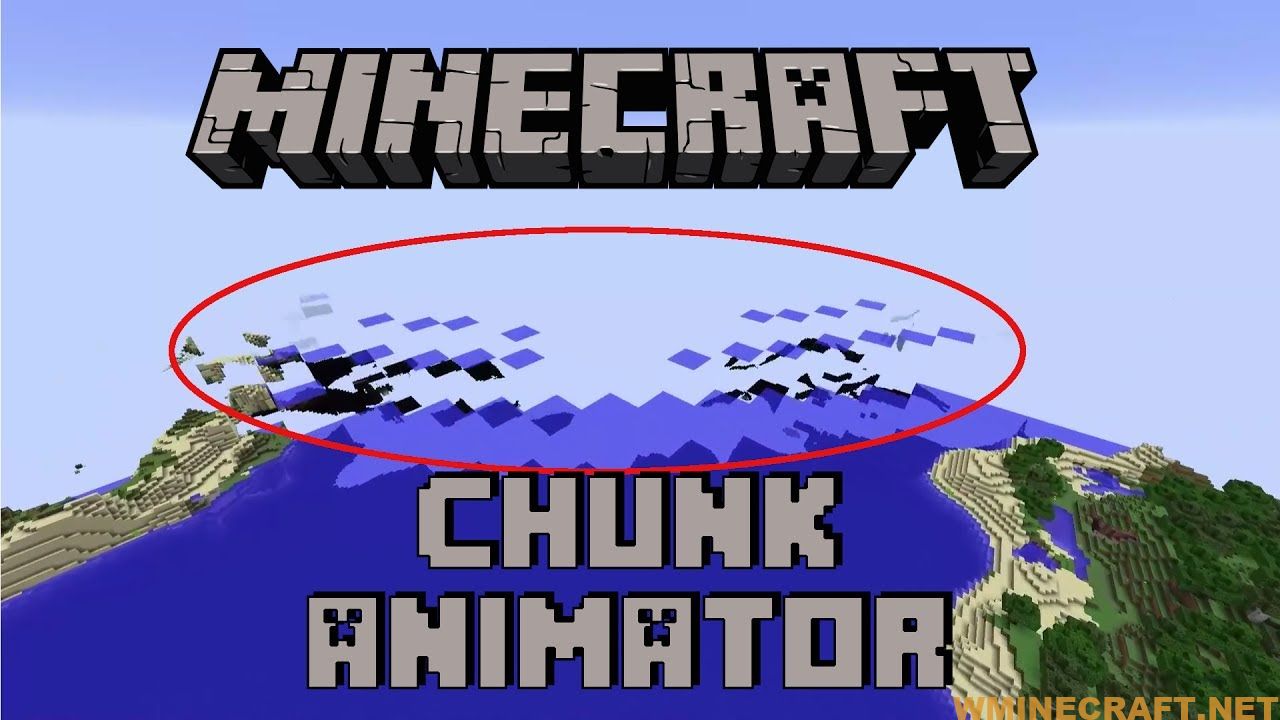 Chunk Animator Mod animates the appearance of chunks so that they don't just instantly appear.
When new chunk is loaded in vanilla minecraft they simply "appear instantly", with this mod they can be animated to either appear from below or above. This mod shouldn't impact fps considerably because all it does is render chunks "somewhere else".
Relative Post:
FPS Reducer Mod 1.16.5/1.15.2 helps reduce unnecessary CPU and GPU
Instant Structures Mod 1.16.3-1.15.2 for Minecraft – Survival and creativity
Dragon Ball Z Data Pack 1.16.4 (Become Super Saiyan in Vanilla)
How to use:
Once you install this mod it will be in mode 0, that means that all chunks will appear from below. In the config file you can switch between 5 modes and also change the duration of the animation. In addition you can also enable an option that makes chunks that are close to the player not animate.
This mod supports forges config menu so you can switch between modes, easing function etc. ingame.
How to install the Chunk Animator Mod
1. Download Minecraft Forge Installer, and Download the Mod.
2. Right-click Forge Installer, Run as Administrator and click OK to install Forge.
(You can skip this step if you have Minecraft Forge installed)
3. Open Start on desktop> Open Run (Or you can use the Windows + R
keyboard shortcut)
4. Type% appdata% into Run and press Enter.
5. Go to /.minecraft/mods folder
6. Place the jar file of the mod you downloaded in the mod folder and then run
Minecraft.
Minecraft Forge (Modding API) Installation Guide
5 steps to successfully install Forge Minecraft
1. Access and Download select Minecraft forge version, then download the installer.
2. Requires installing Java on a computer. Open the .jar file you just downloaded, make sure 'Install Client' is selected, and click the OK button.
3. Run Minecraft and select the Forge profile, then click Play.
4. Select the Minecraft Forge menu on the left and the Mods button below Multiplayer.
5. Successfully, you can enjoy the mod just installed.
Download Chunk Animator Mod for Minecraft 1.18, 1.17.1/1.16.5 -1 .7.10
Minecraft Game version 1.7.10
Link Download :
Minecraft Game version 1.8.0
Link Download :
Minecraft Game version 1.8.9
Link Download :
Minecraft Game version 1.9.0
Link Download :
Minecraft Game version 1.10.2-1.9.4
Link Download :
Minecraft Game version 1.11.2-1.11
Link Download :
Minecraft Game version 1.12.2- 1.12.1- 1.12
Link Download :
Minecraft Game version 1.13.2
Link Download :
Minecraft Game version 1.16.5 :
Link Download :
Minecraft Game version 1.17.1:
Link Download :
Minecraft Game version 1.18: