Mod Menu is a useful add-on for the Fabric loader, which allows you to see a list of installed mods and it`s description. Mod Menu has been created by SvyatoslavP. Mod menu is an addon that can be very useful especially for players playing with a lot of addons. ModMenu provides many functions such as entering folder with mods in one click or turning off display in the list of auxiliary libraries.

How to install Mod Menu
Make sure you have installed Fabric Mod Loader and Fabric API.
Download the mod for your version of the game.
Put it in the 'mods' folder, which is located in the game folder.
Features: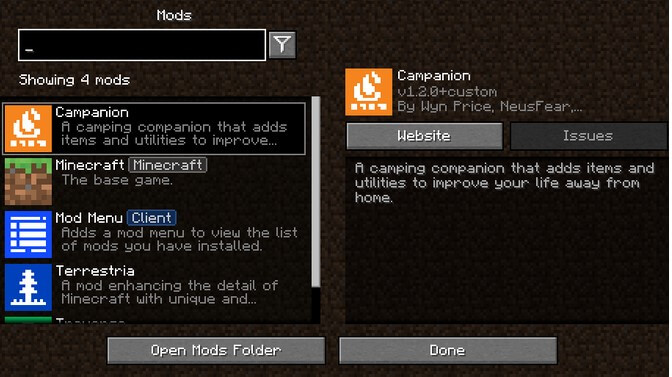 The menu is searchable and sortable, libraries can be hidden.
Client-side and API mods are marked with a special badge in the list.
When clicking a mod in the list, its homepage, issues link and description are displayed.
The mod details page also lets the user configure the mod, if available (can be disabled for modpacks via config).
Icon

The icon shown in the Mods screen comes from the icon specified in your fabric.mod.json (as per the spec, it must be square).
Name
The mod's name is displayed.
Mod ID
The mod id is displayed when hovering over the mod name on the right panel.

Mod Menu 1.17.1, 1.16.5 Download Links:
Minecraft Game version 1.16.5:

Minecraft Game version 1.17.1:

Minecraft Game version 1.18: