Antique Atlas Mod 1.17.1 is a beautiful and valuable interactive map of Minecraft Mod for Minecraft players. Your adventure to explore and expand your magical blocky world will be much better, thanks to Antique Atlas Mod.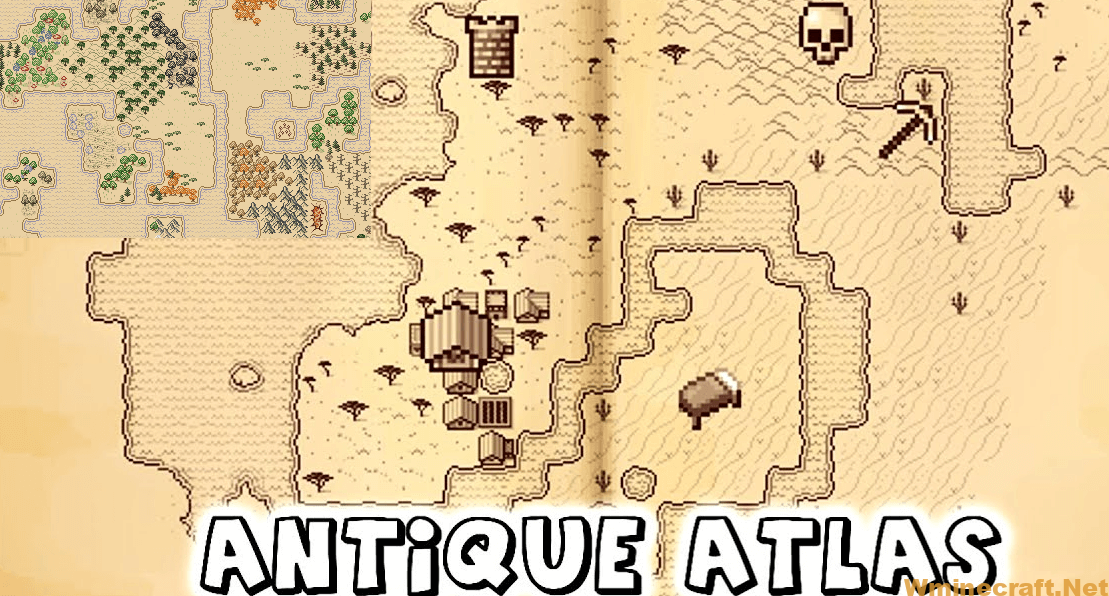 Overview of Antique Atlas Mod

Antique Atlas Mod adds an item called Antique Atlas to the Minecraft game. Antique Atlas is a map-like book with endless scrolling, zooming, and custom labeling.
The map is generated around the player by calculating the average biome in each 16×16 chunk. It's like a nice old map, which stores all the locations you've assembled, thereby allowing the player to review all the sites. You can navigate this map by dragging with your mouse, clicking the top arrow button, or pressing the up arrow button on your computer keyboard. Use +/- keys or scroll the mouse to zoom in and out quickly.
Basic Features of Antique Atlas Mod
Mark with labels.
Export a minimap with 1 village.
Zoom in and out, make notes on the scale bar.
Export map images.
Although it is a support mod in the form of a minimap, the Antique Atlas Mod is a specific item, similar to the map item in the original game.
Although the original game had a map, it was almost useless given its limited size. If you want to expand your creative world, you need flexible and infinite maps like Antique Atlas Mod.
Screenshots: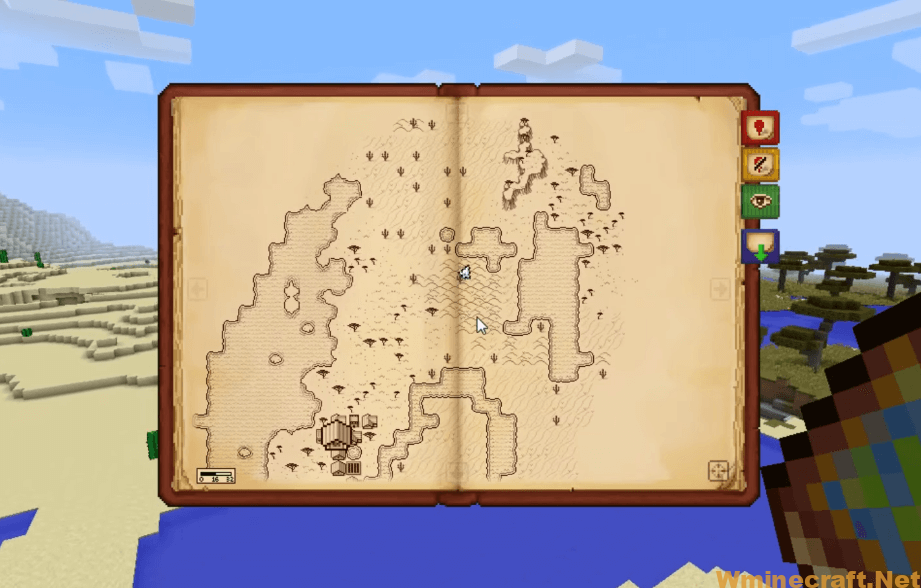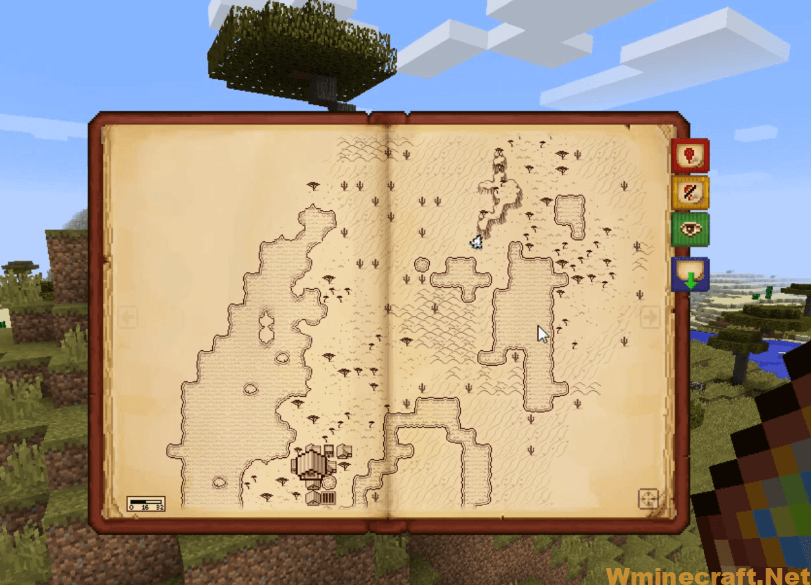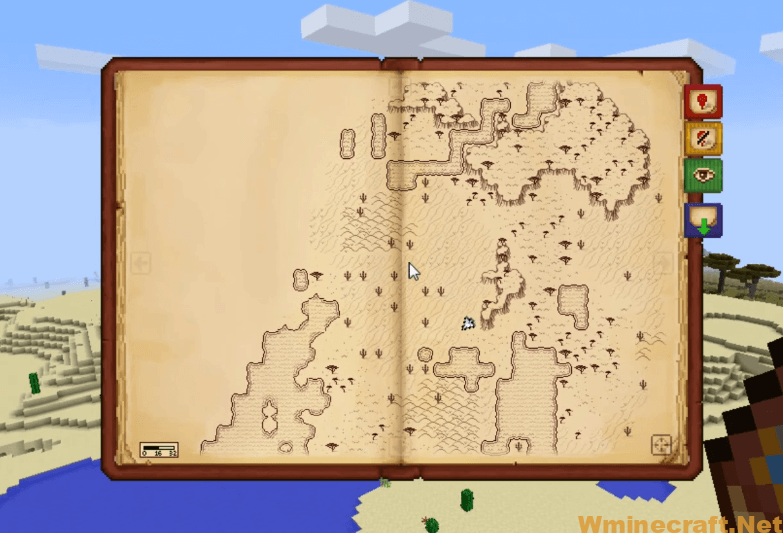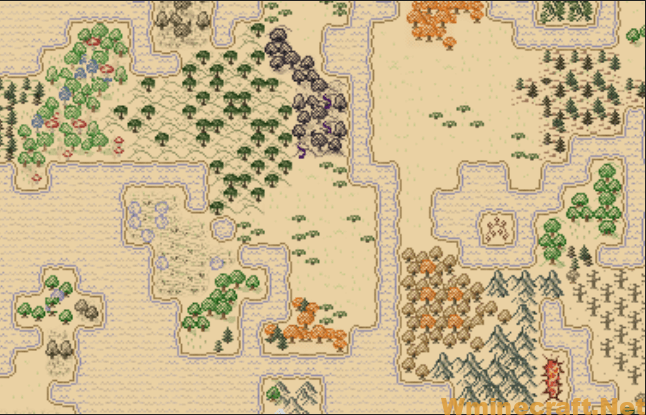 How to install:
1. Copy the file "AntiqueAtlasExtra.zip" from the archive to the folder ".minecraft/resourcepacks"
2. Launch Minecraft, go to Settings > Resource Packs and enable the resource pack "Golriths Anqitue Atlas".
How to enable Biomes O'Plenty / Thaumcraft:
1. Replace the file "texture_sets.json" in the folder ".minecraft/config/antiqueatlas" with the one in the archive.
2. Similarly replace the file "biome_textures.json" or manually edit it using a text editor to copy the lines which correspond to the custom biomes from the file "biome_textures.json" in the archive file.
3. Make sure that biome IDs in this config match the actual biome IDs in use in your BoP/Thaumcraft installations. You can use NEI to do a biome ID dump. Change the biome IDs in your "biome_textures.json" accordingly so that they match their intended textures.
Download Links:
For Minecraft 1.5.2:
For Minecraft 1.6.4:
For Minecraft 1.7.2:
For Minecraft 1.7.10:
For Minecraft 1.8.0:
For Minecraft 1.8.9:
For Minecraft 1.10.2/1.9.4:
For Minecraft 1.11.2:
For Minecraft 1.12:
For Minecraft 1.12.2:
For Minecraft 1.14.3/1.14.2: Fabric version:
For Minecraft 1.14.4: Fabric version:
For Minecraft 1.15.2: Fabric version:
For Minecraft 1.16.1: Fabric version:
For Minecraft 1.16.4: Fabric version:
For Minecraft 1.16.5:
Forge version:

Fabric version:

For Minecraft 1.17.1:
Forge version:

Fabric version: