SimpleCore API for Minecraft 1.17.1-1.12.2 is a mod required by AleXndrTheGr8st's mods.
Not required (or available) for Simple Ores2 and all add-ons for Minecraft/Forge 1.14.4 to 1.16.5,1.17.1.
Required for Simple Ores2 and all add-ons for Minecraft/Forge 1.12.2 and earlier.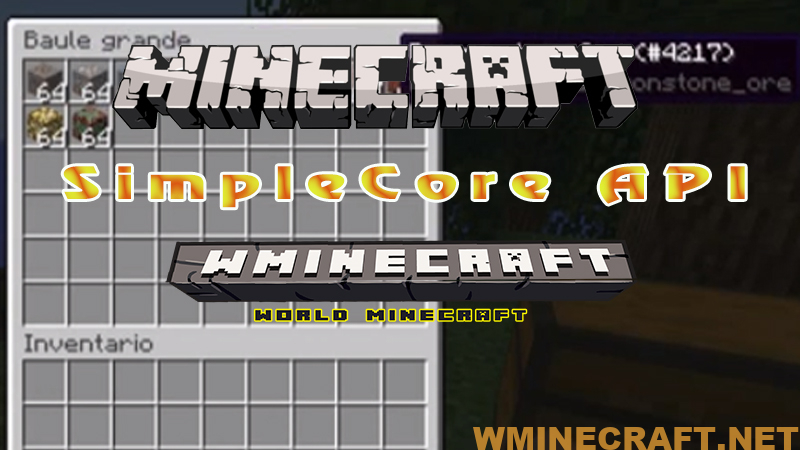 See more:
TooManyItems (TMI) for Minecraft 1.12.2/1.8/1.7.10 
Extra Utilities 2 (1.12.2-1.7.10) Download 
Litematica Mod for Minecraft 1.16.5/1.15.2 [With Fabric]
How to install SimpleCore API for Minecraft
To run this Mod you must first install Minecraft Forge
See instructions for downloading and installing Minecraft Forge
After you have installed Forge successfully
Now on the main screen of your computer, hold down the Windows R key
After the frame as you press (% appdata%) and press Enter
Navigate to the Mods folder and copy the downloaded File and Paste into it
Minecraft Forge (Modding API) Installation Guide
5 steps to successfully install Forge Minecraft
1. Access and Download select Minecraft forge version, then download the installer.
2. Requires installing Java on a computer. Open the .jar file you just downloaded, make sure 'Install Client' is selected, and click the OK button.
3. Run Minecraft and select the Forge profile, then click Play.
4. Select the Minecraft Forge menu on the left and the Mods button below Multiplayer.
5. Successfully, you can enjoy the mod just installed.
SimpleCore API Download Links:
Minecraft Game version 1.7.10:
Minecraft Game version 1.8.0:
Minecraft Game version 1.8.9:
Minecraft Game version 1.9.4:
Minecraft Game version 1.10.2:
Minecraft Game version 1.11.2 – 1.11:
Minecraft Game version 1.12.2, 1.12.1, 1.12:
Minecraft Game version 1.16.3:
Minecraft Game version 1.16.4:
Minecraft Game version 1.16.5:
Minecraft Game version 1.17.1:
Author: AleXndrTheGr8st, Sinhika – Rating: 4.42 − 53 votes – Source: Curse